We love Lviv. The city feels like one big party. Looking for things to do in Lviv? You won't have to look hard.
Your biggest problem will be fitting it all in: Our list of things to do in Lviv includes our favorite restaurants, galleries and cultural hotspots in this vibrant Ukrainian city. Let's take a closer look at this quirky destination!
Jump to a section of this article
1) Visit one of Lviv's many museums
We recommend first getting a feel for the culture of the city. Visiting Lviv is fun in part because there are so many amazing museums here. The Lviv National Museum, the Museum of Ethnography and Applied Art, the Natural History Museum, the Arsenal Museum, the Pharmacy Museum, the Underground of Lviv and the Lviv Historical Museum are all highly recommended. Take your pick!
2) Pick up a vyshyvanka at the Vernisazh market
Want to do some shopping during your visit to Lviv? You'll definitely want to visit the Vernisazh, a market where you can find pictures, handmade goods, souvenirs, and antiques. Why not pick up a traditional Ukrainian vyshyvanka, an embroidered blouse or shirt. They're beautiful, handmade and very unique. It will be a perfect souvenir of your holiday in Ukraine.
3) Step into the Lviv Opera House
In the evening we recommend going to one of the most beautiful places in Lviv: the Lviv Opera house. Here you can see a world-class classical performance or opera, and admire the stunning design of the building.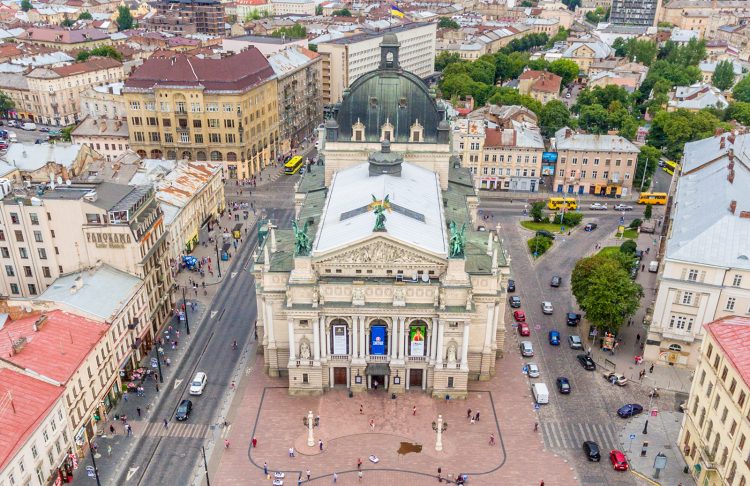 4) Enjoy Lviv's famous rooftop restaurants
While you're visiting the city you won't want to miss out on Lviv's rooftop cafes and restaurants. These are quirky spots where you can enjoy a view over Lviv's skyline, along with coffee, a light snack or a drink. Especially at sunset!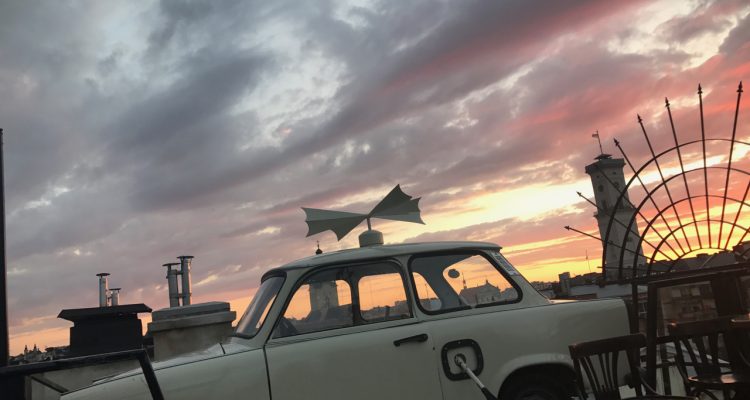 5) Sample local Ukrainian pastries
It's wonderful to wake up in this city. That's because visiting Lviv gives you the chance to take advantage of the delicious cheesecakes and strudels many Ukrainian grandmothers are famous for. Fresca, Veronika, Cukernia and the Lviv Galician Cheesecake and Strudel Bakery are our favorite places to get sweet treats for breakfast.
6) Find out why Lviv is the chocolate capital of Ukraine
The seven-story Lviv Chocolate Manufacture is a real treat for chocolate lovers. Watch it being made on the ground floor. Shop for chocolate on the next few floors, where you'll find many inventive confections. Enjoy some chocolate in the cafe on the next floors and admire the view from the rooftop terrace.
7) Visit Lviv's Coffee Mine
That's right, coffee is mined right beneath Lviv's Old Town. Or at least that's what they'll tell you at Lviv Coffee Mining Manufacture. As you walk in you'll see the mining equipment in full flow.
8) Take a walk in the park
If the weather is good while you're visiting Lviv, you should go for a walk in one of the city's many lovely parks. There is plenty of green space where you can take a breather from the bustle of the streets, if only for an hour.
9) Visit Lviv's High Castle
If you're feeling active or you want to work up an appetite, climb up to High Castle. Here you can enjoy a breathtaking panorama over the whole city and explore Lviv's history. At more than 400 meters, this is the highest point in Lviv.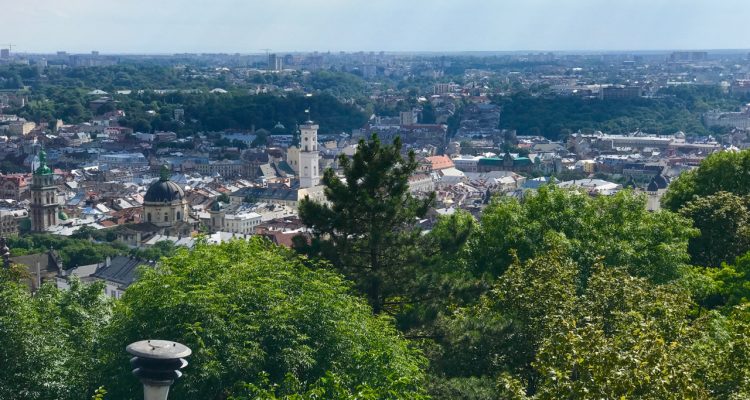 10) Enjoy Ukrainian cuisine at Lviv's best restaurants
If you'd like to enjoy some traditional cuisine while you're visiting Lviv, we highly recommend Baczewski Restaurant. It's one of our favorite things to do in Lviv. The restaurant was created by the Baczewskis, an old Lviv family. At one time they owned the first mass-production vodka factory in the world. The restaurant is dedicated to preserving the history and legends of the family. As for the vodka, you can try more than 80 types of spirits here, along with fantastic Ukrainian cuisine. It's a very popular spot for a buffet breakfast too, with free-flowing vodka, if that's your morning tipple.
11) Go sightseeing in Lviv's Old Town
In the mood for some sightseeing? Patocka Palace, Kopernika street, Venice Palace on Rynok Square, and the House of Scientists near the Ivan Franko National University of Lviv are all great options. Lviv's Old Town is scenic and atmospheric. Don't forget to take your camera!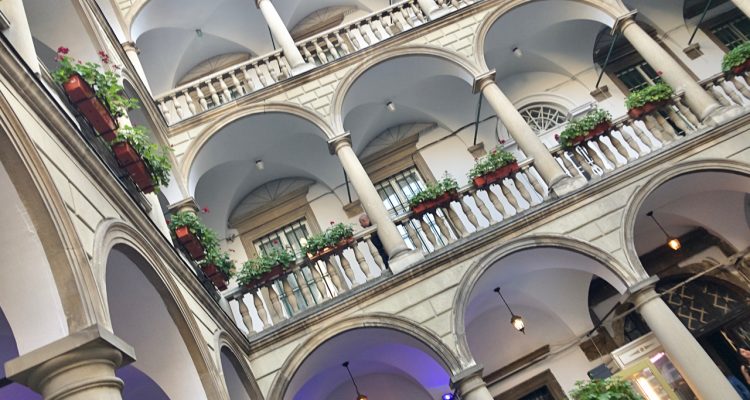 12) Climb the Town Hall Tower
This climb is definitely not one for the faint of heart. There are 306 steps up to the viewing platform, Your efforts will be rewarded with 360 degree views over the rooftops of old town, at 65m the viewing terrace is the best vantage point you can get.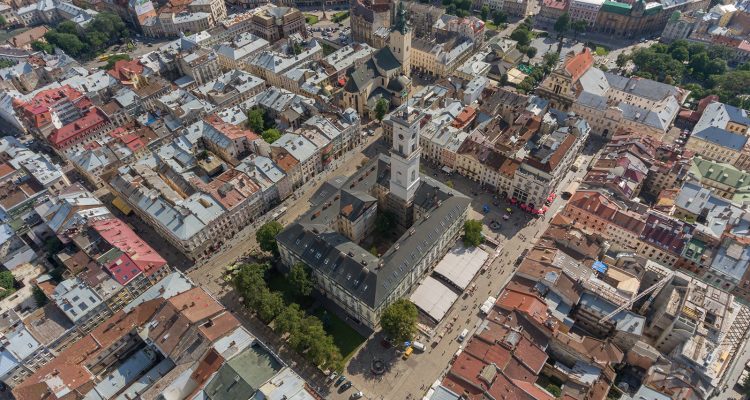 13) Visit the quirkiest restaurant in Ukraine
If you'd like to see another side of Ukraine and Lviv, visit Kryivka, one of the most unique restaurants in Lviv. The address is a secret because this is the last hiding place of the Ukrainian Insurgent Army from World War II. It's the most-visited restaurant in Europe, with a million diners every year. Ask someone to help you find it and knock on the door. Say the passwords "Slava Ukraini" (Glory to Ukraine) and "Heroyam Slava" (Glory to Heroes), and don't forget to mention that you aren't "moskal" (Russian). We're not kidding! Our recommendation: go for a drink and the experience but don't plan to eat here, as the food's not so good. The same group that owns Kryivka has a whole chain of "creative restaurants." Find out more when you book your trip with us. We'll tell you our favorites.
14) Take a nighttime tour of Luchakiv Cemetery
If you don't mind a little spooky adventure and you want to finish your holiday in Lviv by doing something interesting, you can go on a guided nighttime tour of the Luchakiv Cemetery. The graves here come to life after dark. Tombs and crypts are illuminated by icon lamps and lanterns. It's fascinating, and just might be one of the highlights of your stay in Lviv.
15) Celebrate at one of Lviv's festivals
That special holiday atmosphere is always present in Lviv, no matter what time of year it is. This city is the festival capital of Ukraine, after all! From jazz festivals to coffee and chocolate festivals, there really are things to do in Lviv for any one, at any time. Check out Lviv's official festival schedule to learn more.
Our founder Jay and marketing manager Charlie visited Lviv in summer 2017 and shot this video that will give you a taste of what's in store for you in the fun capital of Ukraine.
Planning to visit Lviv? Maybe you'd like to travel in Ukraine, or anywhere in Central and Eastern Europe. We'd love to help you plan your dream vacation. Please get in touch or check out our website to learn more!

Nataly was one of our Central Europe Destination Managers from 2013-2018, based in Prague. Originally from Ukraine, Prague has been her home for many years. She loves exploring the Czech Republic and neighboring countries whenever the opportunity arises.