Dracula just might be the most famous monster ever created. Bram Stoker's story has never been out of print since its first publication in 1897. Count Dracula is a big draw for tourists to Romania in general and Bran Castle in Transylvania in particular. The sinister vampire has been portrayed in countless films and television series, even inspiring several children's TV characters from the vegetarian Count Duckula to Count von Count on Sesame Street.
Jump to a section of this article
Bram Stoker's Dracula
But where did Stoker get his inspiration? Bram Stoker, an Irish writer living in London who had never visited Eastern Europe, was fascinated by the legends around Vlad III of Transylvania. Vlad III was a fearsome military commander. You might know him better by the epithet Vlad the Impaler. Back in the medieval era stories spread by word of mouth so it's not too hard to imagine how the man whose favorite method of execution involved a spike being inserted somewhere you definitely don't want anything inserted, skilfully missing all major organs then exiting through the mouth, ended up as 'this monster drinks his victims' blood'.
Who was the real "Dracula"?
Vlad Dracula was better known to his enemies as Vlad the Impaler. He was born in 1431 in Sighisoara and ruled the Wallachia region of Romania at various times between 1456 and 1462. Vlad's father (also called Vlad) was prince of Wallachia from 1436 to 1442 and was also a ferocious warrior, a member of the Dragon Order, or 'Dracul' order in the local dialect. That's where the name comes from.
Born Vlad III, Son of Dracula, Vlad was denied his rightful seat on his father's throne. That's why he became a warrior, cruel and obsessed with revenge. He set out to slaughter anyone who opposed his reign. To upset his enemies, Vlad "innovated" an early style of psychological warfare. He impaled his enemies on spikes, sometimes entire town populations, to send a message to his enemies. He was also said to drink the blood of those he killed. The result, while gruesome, actually did a great deal to bring law and order to Romania.
It also sparked a legend which continues to fascinate today. Interestingly though, Stoker's Dracula wasn't published in Romanian until the 1990s. It turns out there are no vampire legends or stories in Romania folklore, though other countries do have such things. It turns out Stoker conflated a number of different legends and ended up creating an amalgam of them in the character of Count Dracula.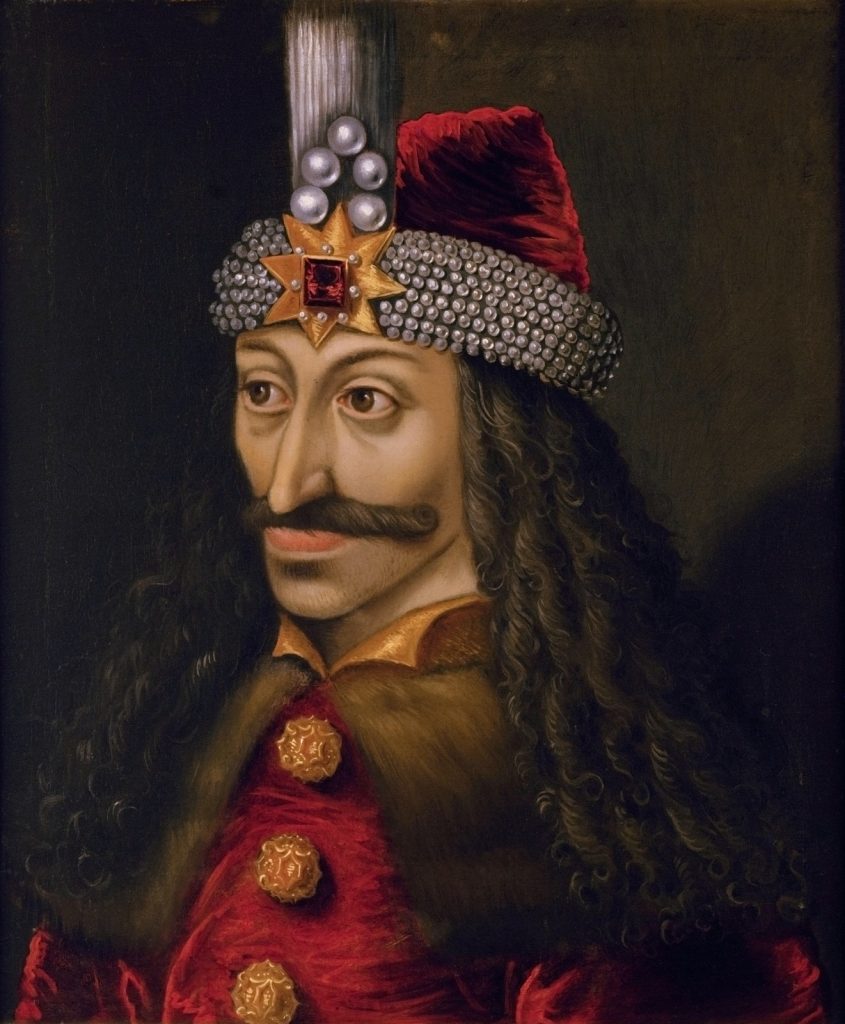 Dracula in Transylvania today
Bram Stoker never actually visited Romania. But he certainly did his homework. The book contains many details about actual places in Romania you can still visit. Most of these are connected with the life of Vlad III. These would start with Sighisoara, where Vlad was born. Today his former home is a restaurant and a weapons museum. (More about that below)
Several other places in Transylvania have connections to Dracula. These include the Old Princely Court in Bucharest. Vlad built it in the 15th century. Vlad's remains are said to be buried at Snagov Monastery. You'll also want to see the city of Brasov, where Vlad led raids against the Saxons. Of course, Bran Castle, Vlad's very own, according to the book, is not to be missed either
.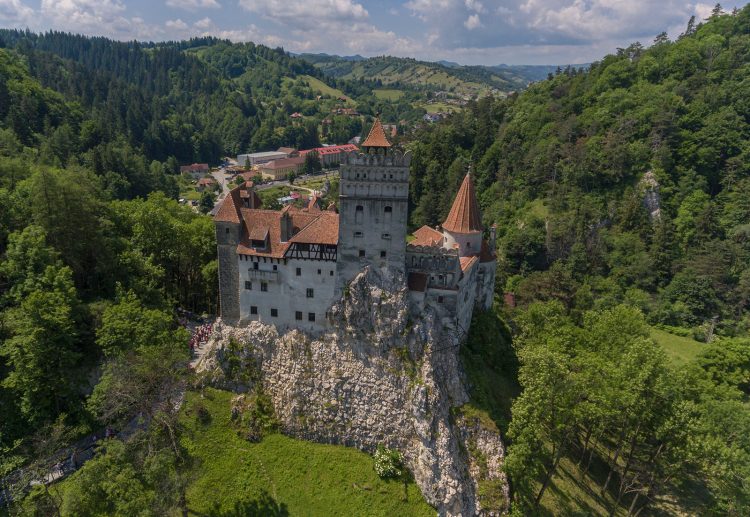 Visiting "Dracula's castle"
Anyone visiting Romania to explore the legend of Dracula in Transylvania will have plenty to see. There are several castles and fortresses connected with Dracula in Transylvania. Bran Castle (pictured above) is an iconic castle perched high atop a cliff overlooking a river and a valley. It is considered Dracula's Castle, because it is the only castle in Transylvania that fits Stoker's description. The truth of it is that at most he may have spent a night or two there when passing through Bran Gorge. That doesn't stop the tacky souvenir hawkers from trying to cash in though. Looming over the surrounding countryside, it has an atmosphere that's gothic, just a little creepy, and all its own.
Bran Castle is located near Brasov. Today it is a monument and a privately run museum, having been restituted to the descendants of the Romanian royal family. Apart from a few Vlad-related exhibits it is mainly a museum of the Romanian royal family as it was the favorite retreat of Queen Marie.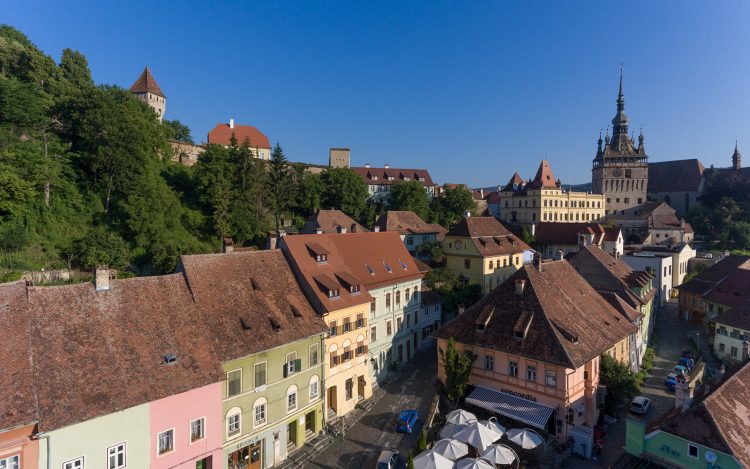 What to see in Sighisoara
The only major destination genuinely connected with the real Dracula in Transylvania is Sighisoara. This is a shining gem of a city. Its magical cobbled streets are graced with nine towers. There are burgher houses and ornate churches that, dare we say, rival the atmospheres of Prague or Vienna. Besides Vlad Dracula's house, highlights include the Citadel, the Clock Tower and the Scholars' Stairs. Built in 1642, the covered staircase was meant to protect schoolchildren and churchgoers on their winter climb to school and church.
Sighisoara is a designated UNESCO World Heritage Site. There's much to discover. The Church on the Hill has 500-year-old frescoes. The Church of the Dominican Monastery boasts a renaissance altarpiece, a baroque pulpit and a 17th century organ.
It's odd how such an uplifting city can have a legend like Dracula attached to it. But the city embraces its darker side. There's both a Weapons Collection (housed in Vlad Dracula's house) and a Torture Museum. There's a Festival of Medieval Arts and Crafts in July. Year-round you can experience Transylvanian craftsmanship in the History Museum. Spending an extra day here means you'll get to discover the city at night. It's calm and quiet after many of the day trippers have moved on. You could cover the sights in a few hours, but Sighisoara is an excellent place to have some relaxing down time and is arguably the most atmospheric of the three towns in Transylvania that we offer.
There's more to Romania than Dracula
There is so much more to Romania than the legend of Dracula and you will find most local guides are keen to downplay the Bram Stoker's Dracula angle as it means nothing to them personally. It is a rich and diverse country with beautiful countryside, hearty cuisine and stunning architecture. Anyone planning a holiday in Central and Eastern Europe should add Romania to their travel plan. You won't be disappointed!
Planning a holiday in Romania? We can create a Romania travel package that will wow you. Get in touch to learn more!

Charlie is head of marketing at JayWay Travel. A long-term Prague resident, his interests are cooking, eating out, cycling, skiing and of course, travel.