Don't just eat while in Vienna, dine! And dine in style. The Austrian capital is known for its architecture and design, but don't simply take a picture of it during the day – feast (or have a cake and coffee break) in one of these truly 'designer' eateries.
Jump to a section of this article
Loos American Bar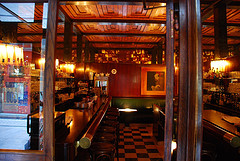 Adolf Loos is one of the foremost names in Viennese architecture. After an inspiring visit to the US, of all the structures that he could have built, a bar is what he chose. The Loos American Bar is compact, timeless and sophisticated, showing off Loos' love of luxury and fine lines.
Loos American Bar
Kärntner Durchgang 10
Österreicher im MAK
For a more updated place designed by Viennese architects head to the Austrian Museum of Applied Arts/Contemporary Art (MAK) and their restaurant, Österreicher im MAK. Using a classic Viennese restaurant as their starting point, the architects dangled gorgeous chandeliers from above with contemporary furnishings on the floor. Chefs keep the modern vibe going from the kitchen, offering fresh takes on traditional cuisines with a focus on regional products.
Österreicher im MAK
Stubenring 5
Palmenhaus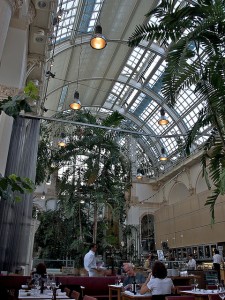 For a more imperial Viennese coffee, stop by the gorgeous Art Nouveau Palmenhaus, easily one of the city's most beautiful cafes. Originally a greenhouse built in 1822, it was redone in 1901 and this is the structure you are visiting today, one of the best examples of Jugendstil greenhouses probably in existence. You can enjoy a greenery filled homemade pastry during the day, or visit in the evening for a glass of wine or dinner.
Palmenhaus
Burggarten 1
das möbel
While a couch isn't the best choice for a souvenir, you may find yourself re-evaluating your baggage limit after visiting das möbel. Going in for a coffee, you are actually giving the furniture a test sit – the pieces in this café are original, and for sale.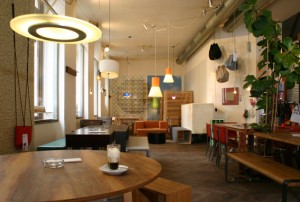 Innovative designers are picked to produce and display their best designs, meaning the lamps, tables, chairs, coatracks, etc. are constantly changing, no two pieces are alike and everything is available to buy.
das möbel
Burggasse 10
Photos courtesy of:
Loos Bar – Marcus Trimble @Flickr
Österreicher im MAK – Ayaaa @Flickr
Palmenhaus – Stephen Coles @Flickr
courtesy of das möbel
Planning a trip to Vienna? We'd love to put together a Vienna travel package just for you. Get in touch to find out more!

Jacy is a travel journalist who likes art, culture, design and architecture. When not in Prague, she's most likely wandering the streets of other European cities, checking out their neighborhoods, their art and their coffee.