Of all the cities in Europe, Vienna has perhaps the richest and most deeply seated Jewish heritage. Despite persistent and recurring waves of anti-Semitism, of which the Holocaust was only the most recent, Vienna's Jewish community has remained vibrant and significant and today Vienna's Jewish heritage & sights are some of the richest in Europe.
It's impossible to overestimate the contribution of the Jewish community to the social, cultural and political life of Vienna. In the 20th century alone, Vienna's Jewish community included brilliant figures such as Sigmund Freud, Gustav Mahler, the writers Stefan Zweig and Arthur Schnitzler, and Theodor Herzl, the founder of the modern Zionist movement. In fact, three of the four Austrian Nobel Prize winners were Jewish.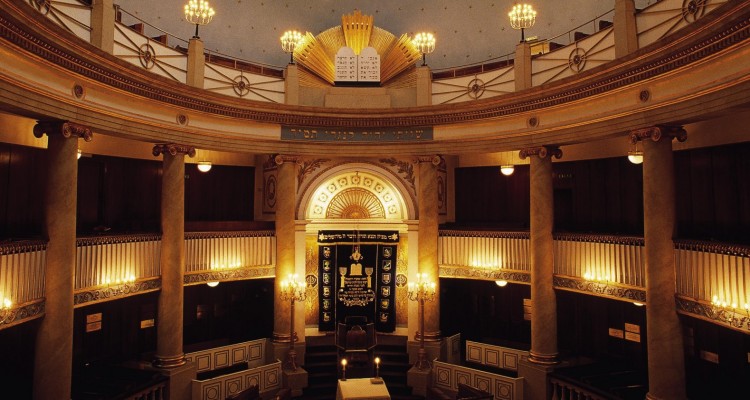 Vienna's Jewish history stretches back to the 12th century. By the early 1400s, Jews made up about 5% of the city's population. But soon a wave of violent repression drove them out. The community was allowed to return a few decades later to Leopoldstadt, where they established their own settlement. But Viennese Jews continued to face ups and downs of acceptance and bigotry. Following the revolution of 1848, Jewish cultural life began to flourish, though anti-Semitic sentiment remained to a certain extent.
This period of relative peace and prosperity came to a dramatic end on March 12, 1938, when Hitler marched into Vienna. Almost immediately, a harsh period of violence and anti-Jewish sentiment took over the city. November 9, 1938 saw the notorious Kristallnacht, when Jewish businesses and synagogues were torched and about 6,000 Jews were captured and sent to Dachau. By the end of World War II, fewer than 1,000 Viennese Jews were still alive.
Today, after much struggle, Jewish culture in Vienna is flourishing again. Due mostly to immigration from the East, the city's Jewish population has slowly been growing. Today about 14,000 Jews live in Vienna, and there are 15 synagogues, along with numerous impressive sights, including the Jewish Quarter, which is in the center of the city. Here are some of the highlights of Vienna's Jewish heritage sights.
Jump to a section of this article
The Jewish Museum of Vienna
One of the largest Jewish museums in Europe, The Jewish Museum of Vienna has locations at Dorotheergasse and Judenplatz. The first focuses on the long history of Jews in Vienna, while the latter houses the archeological remains of a 500-year old synagogue and a monument to Holocaust victims. If you only see one Jewish place of interest in the city, this should be it. If you'd like, we can arrange a special Jewish Heritage walking tour for groups, led by a guide from the museum. The cost is 40 euro per group and the tour lasts about one hour.
Museum Judenplatz
Just three blocks from St. Ruprecht's Church, Museum Judenplatz, the second part of The Jewish Museum, is housed on the central square of the Jewish quarter. There's a huge monument of cultural heritage in the center, and it's also a pristine, quiet place. The museum has a rich collection devoted to Jewish history.
Gestapo Victims Memorial
Situated in a park in Morzinplatz you'll find a memorial that pays tribute to the Jewish victims of the Gestapo in Vienna and elsewhere during World War II.
The Jewish Welcome Service Center
A center of knowledge and information about all aspects of Jewish life and cultural heritage in Vienna, The Jewish Welcome Service Center at Stephansplatz is an excellent place to get acquainted with all of the most important Jewish areas in the city. It's also where you can find out about any cultural events that may be taking place during your stay.
The Stadttempel
The only synagogue to survive World War II and today Vienna's main synagogue, The Stadttempel, which is on Seitenstettengasse, is also called Seitenstettengasse Temple. A beautiful building both inside and out, it is open daily for guided tours and also for services. There is also a rich program of cultural events here, so check their calendar.
Misrachi
For religious services while you're visiting the city, go to Misrachi. Here you will find one of the true centers of Jewish heritage and culture in Vienna.
Theodor Herzl Stairway
Named for the founder of the Zionist movement, the Theodor Herzl Stairway (Stiege) is a rather nondescript set of stairs between Marc-Aurel-Straße and Sterngasse. A statue and a memorial plaque reveal their historic significance.
Kosher Restaurants
There are many kosher restaurants and delis in Vienna, especially in and around the Jewish Quarter, so it shouldn't be difficult to find one that suits your tastes. Cafe Eskeles, inside the Jewish museum, has a nice terrace and delicious meals. Restaurant Alef Alef on Seitenstettengasse is always highly rated. Konditorei Neuntel is a pleasant cafe offering a wide range of kosher cakes and fresh coffee.
Explore Central Europe's Rich Jewish Heritage Yourself
JayWay will happily put together tailored tours of Vienna's Jewish heritage & sights, if you are interested. We can put together a Jewish-heritage focused Central Europe itinerary to cover any of the cities you're interested in.

Stephan Delbos is an internationally published writer and editor. Born in the US, he has lived, worked and traveled in Europe for a decade. He's fond of oysters and arid martinis.