There's no doubt about it, Wolfgang Amadeus Mozart (1756-1791) is Salzburg's most famous son. It has been more than 200 years since the death of the genius composer, but everywhere you look there seem to be traces of Mozart in Salzburg. Whether you're a music lover or a history buff, the city offers no shortage of opportunities to get in touch with the composer's life and work. So we've rounded up some of the best places to find Mozart in Salzburg.
Overture: Where to begin
It makes sense to begin your tour with the place where Mozart was born. You'll find this at 9 Getreidegasse. One of two Mozart museums in Salzburg, 
Mozart's birthplace
 has been turned into an interesting exhibit about the composer's life and work. It's a must-see for any fan. After seeing this Mozart museum you'll also want to stop by the
Mozart Residence
 on Makartplatz 8, where the composer and his family moved in 1773. It is also a very good museum dedicated to this innovator of classical composition.
The 
Salzburg Cathedral
 is the best place to continue your exploration of Mozart in Salzburg, in part because it's one of the city's most impressive baroque buildings. But it's also the church where the composer was baptized, in the font that still stands to the left of the entrance. Years later, when Mozart was already established, he wrote several pieces of music that were performed here.
If you want to come to a scholarly appreciation of Mozart, you should visit the
Bibliotheca Mozartiana
 at 26 Schwarzstrasse. This library has a collection of more than 35,000 books about Mozart, the most extensive such collection in the world.
Symphony: The sweeter side of Mozart
The next stop on your exploration should be Café Tomaselli, which is located at 9 Alter Markt. It's a classic Salzburg cafe that has been around since the days when Mozart walked the city streets. The composer was a frequent guest of the cafe, which preserves the vibrant grandeur of the past. After enjoying a coffee and a slice of cake you should set off on a stroll through Old Town, which still looks as Mozart would have known it. On the aptly named Mozart Square you can stop at Mozart's statue, which was the first monument dedicated to the composer when it was erected in 1844.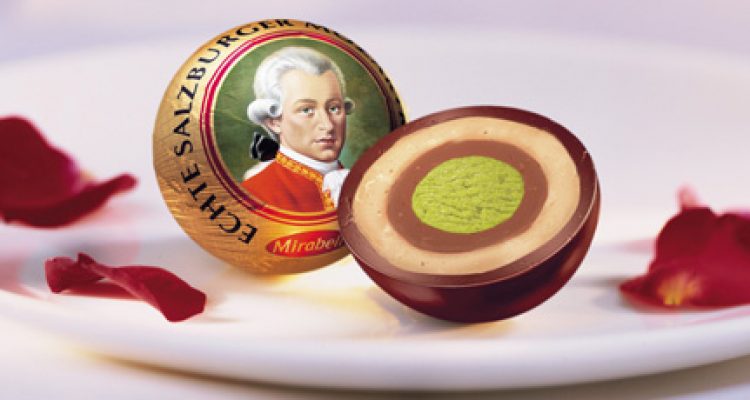 Taste Mozart's chocolate nutty balls
Since you're exploring the culinary side of Mozart's life as well as his music, you'll certainly want to make a stop at Konditorei Fürst at 13 Brodgasse. Here you can taste the world-famous Mozart chocolates known as Mozartkugeln. This isn't the only place you can find these sweet treats in Salzburg, but it is where they originated. Local patissier Paul Fürst invented the pistachio marzipan chocolate nougat bite at Konditorei Fürst, which still produces them. The one above has been pictured more to direct you what not to try, The red and gold wrapper Mozartkugeln are machine-made and usually from lesser ingredients. Blue and silver is what you should be looking for. They're much more expensive because they're handmade and use the finest ingredients but they taste much better. Once you've tried the real thing the mass-produced ones will never be good enough.
Coda: Mozart comes to life
No exploration of Mozart in Salzburg would be complete without hearing some of his music. Luckily there are plenty of opportunities to do so.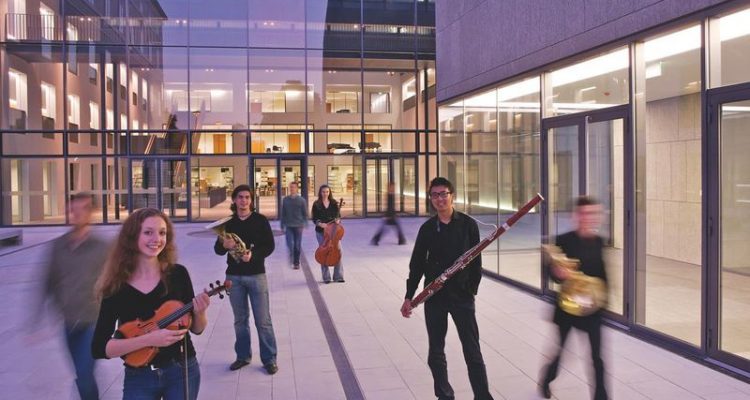 One of the best is the Mozarteum, a modern theater and concert hall that has a regular performance series, often featuring Austria's best young musicians. A Mozart opera at the Salzburg Marionette Theater is another great option.
As you can see, Mozart is still very much alive in Salzburg. You could say his music still echoes in the cobblestone streets and gorgeous architecture.
Need more tips for your visit to Salzburg? Get in touch to learn more!
All photos courtesy of Tourismus Salzburg.

Stephan Delbos is an internationally published writer and editor. Born in the US, he has lived, worked and traveled in Europe for a decade. He's fond of oysters and arid martinis.