Oh, Italy. It's hard to decide which city and region to love best. Regal Rome? Vivacious Venice? Luscious Naples? There's something wonderful about each of them. But Puglia is in a class by itself. Some call it "the real Italy." There are plenty of things to do in Puglia and we can't say enough about the place, from the beaches to the bakeries and everything in between. So let's take a closer look at this lovely region!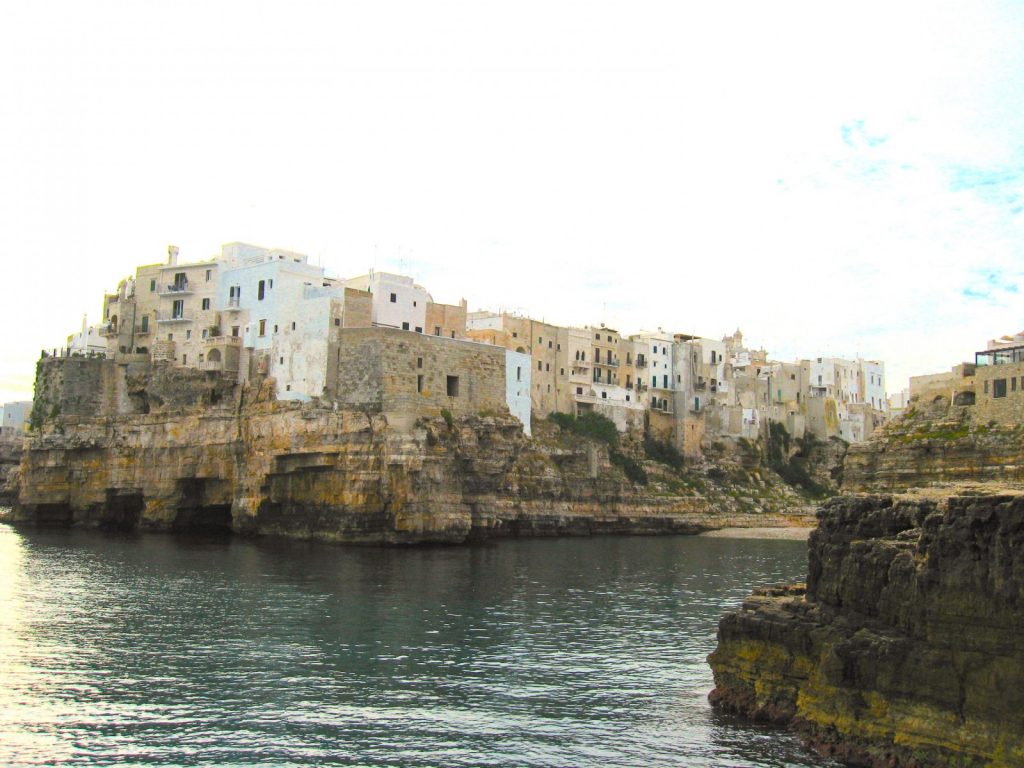 Jump to a section of this article
Take a Peek at Polignano a Mare
There are several very scenic little towns on the coast in Puglia and they're all easy to reach by car or train. Polignano a Mare is one of our favorites. A visit here is one of the best things to do in Puglia. Once a fishing village, this is a cozy place to spend a day or even to stay overnight. The cliffs along the water offer wonderful views over the sea and the beach is tucked between cliffs lined with houses. If you're visiting on June 2 2019 you might find the town packed with spectators for the annual Red Bull cliff diving event. There are several tasty restaurants on the square, serving fresh seafood and other Italian fare. It's nice to spend a day wandering among the sleepy winding streets. And really, don't miss the beach!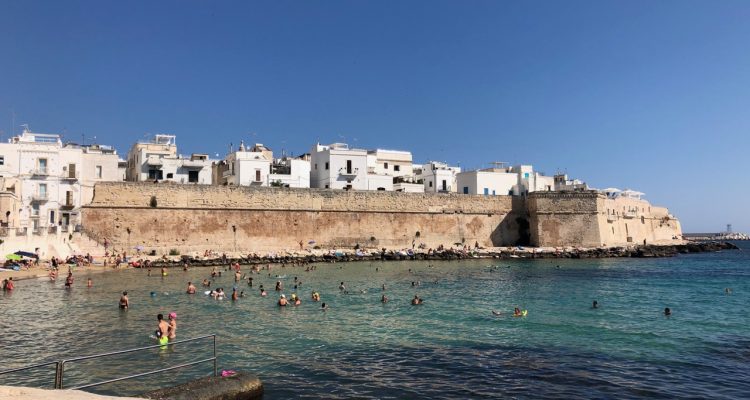 Monopolize Monopoli
Monopoli is another quaint little coastal town that's definitely worth visiting. Again, the beach here is amazing, tucked amongst the cliffs where local fishermen set off each day in their small wooden boats. This is the perfect place to stop for a day of sightseeing, or just relaxing on the beach. There are some very nice restaurants and tavernas here and although becoming a very popular vacation destination, still most of the holidaymakers are Italian so the local feeling is retained. Monopoli is also home to one of our favorte gelaterias in Italy, therefore the world.
Taste the Breasts of the Nun Cakes
It's no secret that Italian cooking is world-class, but you might be surprised to taste some of the more curious local baked goods in Puglia. Some of the most famous (or infamous, depending on whom you ask), are the Tette delle monache Chantilly-creme-filled cakes, otherwise known as "Breasts of the nun." You'll notice in one of the photos above that we have carefully cross-sectioned the cake so you can see the filling. We'll tip you off as to where to find the very best examples as you explore Puglia with us.
Go swimming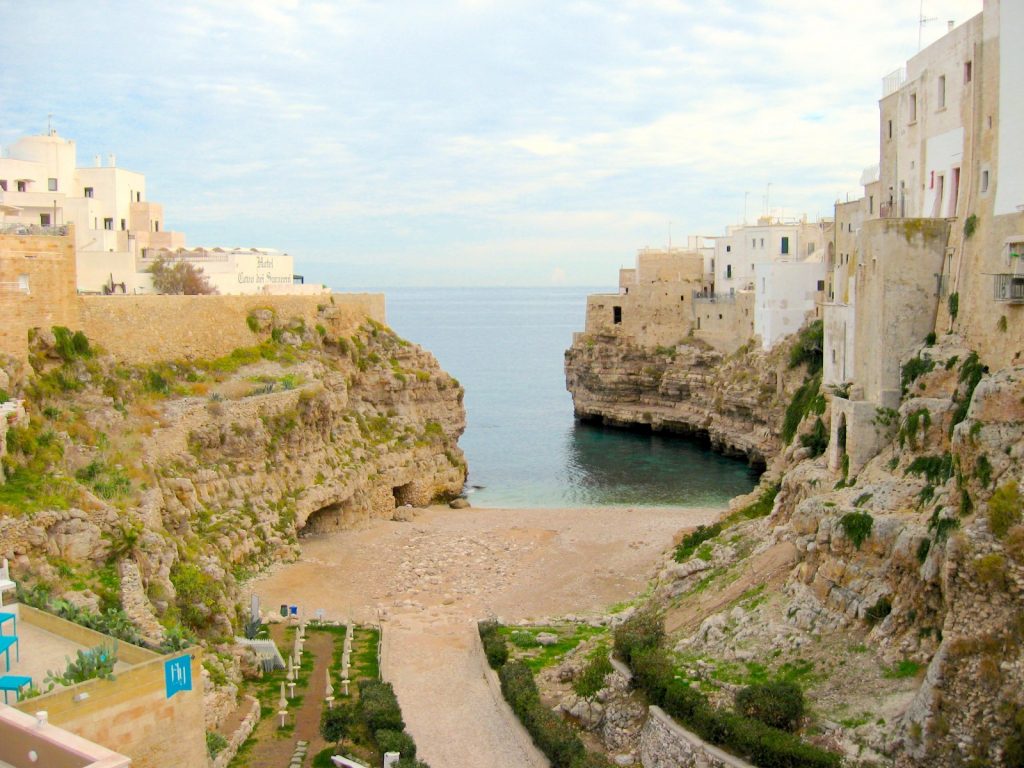 The beaches in Puglia tend to be dramatic, surrounded by cliffs and coves and only accessible by footpaths and long stairwayswinding down from the road. The water here is warm in the summer and swimming or lounging on these beaches is an experience in itself, since the scenery is so dramatic. Because of the siesta that closes shops every afternoon when the sun is hottest, early afternoon is the perfect time to take a load off and head to the beach with some snacks and drinks.
Buy something in Bari
If you're flying into Puglia, chances are you'll be landing at the airport in Bari. This larger city doesn't quite have the charm of the smaller towns up and down the coast, but it's still worth spending some time here. There are many fantastic stores in Bari, especially if you're into tailoring and fashion. Many fine men and women's tailors have shops here, so it can be fun to wander the streets with a gelato, window-shopping or popping into some of the workshops where craftsmen still make clothes the old fashioned way. Then head down to the marina, where you'll find a fantastic fish market and plenty of local color.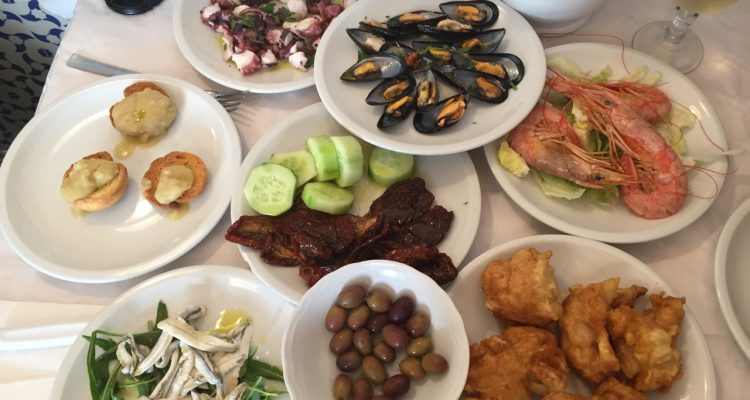 Sample the seafood
Fishing has historically been a primary industry in Puglia. To this day many residents of the smaller villages head out each morning on fishing boats. So the seafood here is pretty fantastic. If you're a fan, try a little of everything. It's hard to go wrong when you're sitting outside a taverna by the water, drinking a crisp, cool white wine and sampling the local fruits of the sea.
Slow down and relax
The main thing to remember when you're visiting Italy is that you're on vacation, right? So slow down and relax. Everything is a little more laid back here, especially in the smaller towns. Afternoon siestas are still the norm, so don't expect to be able to buy anything from shops or restaurants between about 1pm and 3pm. You can check the local hours wherever you visit, but it's wise to plan your days around this pause. Stock up on snacks in the morning and spend the siesta at the beach or wandering through the deserted back streets. Then do like the Italians do and enjoy a later dinner.
Rent a car, or take the train
Puglia is very easy to explore by train, because there's a train that runs up and down the coast from Bari, stopping at all the seaside towns worth visiting. If you want to keep it simple, you certainly could fly into Bari and explore the region by train. But if you want maximum efficiency and if you want to visit some of the harder-to-reach places inland, it's definitely a good idea to rent a car – we can include either option in your Puglia vacation package. You'll be able to explore at your leisure and go anywhere you want.
Check out the Trulli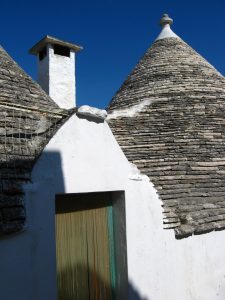 Trulli are ancient stone mound houses that have been in the area for thousands of years. In Alberobello, a UNESCO-listed destination, you can see Trulli that people still live in today. A traditional trullo is built as a cylinder with a conical limestone-tiled roof. They're built without cement and whitewashed with thick paint. You'll also see eyes and astrological symbols painted on the roof to ward off evil.
Alberobello will certainly be crowded with tourists, and for good reason. These structures are like nothing you've seen before and it's amazing to wander up and down the hills, peeking into these unique stone houses.
Don't stress about the "coperto"
Most restaurants in Italy charge a "coperto," or a cover charge. This extra expense is automatically added to the bill. You might feel like you're getting ripped off if you see that you're being charged for something that isn't specified. But don't stress! That's just the way it's done here. Tipping isn't really a thing, so the coperto is a way to make sure that everyone gets what they're owed. Just pay the coperto, don't make a scene, and don't worry about tipping 10%. Instead, round up to the nearest euro or two.
Avoid August
Puglia really is an ideal place for a summer vacation. You've got fresh seafood, perfect beaches and more than enough chances for relaxation and adventure. What could be better? Well, that's the problem: the secret's out. And the region can get crowded fast, especially those tiny beaches tucked in between cliffs. In general I'd recommend avoiding August if you're planning to visit Puglia. It's high season, it's crowded, it's hot, and it's harder to find the amenities you need. That said, if August is the only time you can come, then don't hesitate! But if you have a choice, plan for a slower month.
Are you planning a trip to Puglia? We're Italy travel experts. We'd love to help you plan the perfect vacation. Just get in touch to find out more!

Stephan Delbos is an internationally published writer and editor. Born in the US, he has lived, worked and traveled in Europe for a decade. He's fond of oysters and arid martinis.