Some very relaxing news for visitors to Central and Eastern Europe: a new international project has united the best spa towns in Central and Eastern Europe in an effort to earn UNESCO recognition. The Great Spas of Europe project is the result of eight years of collaboration between the Czech Republic, the UK, Germany, Austria, Italy, France and Belgium. They hope to receive UNESCO-listed status because they have remained traditional spa towns, offering mineral water treatments, and beautifully preserved from modernization.
Up until the early 20th century, spa towns throughout Europe treated ailments using local mineral waters and other traditional techniques. Typically, each spa town focused on one specific type of ailment, depending on the properties of the water in the natural springs in that area. In some countries, including the Czech Republic, spa stays are still covered by health insurance. But there are very few spa towns in Europe that continue to exist as they did in the past. This is the key to this new international project.
This got us thinking about some of the best spa towns in Central and Eastern and farther afield, destinations that aren't necessarily part of the Great Spas of Europe project but are still well worth a visit. So let's take a closer look at the tradition of ritual relaxation and the beautiful towns where you can still enjoy it.
Jump to a section of this article
Austria
Baden bei Wien: Close to Vienna, this spa town has been famous for its suphurous mineral springs for centuries. The water in the springs here can reach 36 degrees Celsius, and soaking has long been a favored treatment for Austrians seeking relief from a variety of illnesses.
But you can do much more than soak and bathe here. The spas in Baden bei Wien offer a variety of both traditional and modern therapies, including mud packs and massages as well as holistic diet plans. One of the main attractions is the Baden thermal beach, the largest seashore in Austria. You'll find a beautiful Art Deco building as well as a pool that will be fun for the whole family.
The Czech Republic
Františkovy Lázně: On the border with Germany, Františkovy Lázně has been known as a restorative spa town since the late 14th century. Back then, the spring water here was bottled and consumed for its healthy effects. The first inn in Františkovy Lázně goes back to about 1705, at which time the waters here were famous throughout Europe.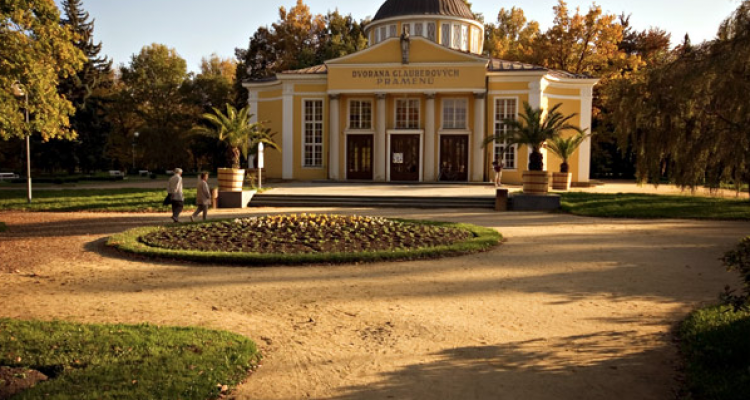 The spring water in Františkovy Lázně is high in dissolved carbon dioxide, which is said to improve cardiovascular function and lower blood pressure and inflammation. These days there are 12 springs in operation, along with several health centers where you can enjoy a variety of treatments.
This is a charming, peaceful town, the perfect destination for a relaxing overnight trip during your holiday in Central Europe.
Karlovy Vary: Known as Carlsbad in German, Karlovy Vary is the largest and most renowned spa town in the Czech Republic. Located in a lush valley on the Tepla River near the German border, Karlovy Vary is about two hours by car from Prague. According to legend, Charles IV (the same Charles that Prague's iconic bridge is named after) discovered the hot springs in Karlovy Vary while hunting in the forest. People have come to Karlovy Vary for hundreds of years to enjoy the natural springs and the peaceful atmosphere. Visitors to Karlovy Vary can treat themselves to relaxing massages, whirlpool baths, warm wraps and other treatments in the many luxury hotel spas. More austere spa treatments are also available. A week at the spa is a frequent cure prescribed by Czech doctors.
Mariánské Lázně: The second-largest spa town in the Czech Republic after Karlovy Vary, Mariánské Lázně is full of parks, colonnades, pavilions and much more.
During the Austro-Hungarian Empire, Mariánské Lázně was the spa playground for the rich and famous. Some of the most famous figures of European culture used to visit, including Goethe, Wagner, Chopin and many others. Today there are a number of springs here, and the entire atmosphere of the town is gorgeous and very relaxing. The classic infrastructure remains and you can easily see why so many important people used to spend time here.
In German, Mariánské Lázně is Marienbad. You might have heard of the famous French film Last Year at Marienbad, released in 1961. It is required viewing for anyone who comes to visit!
Germany
Bad Ems: A small town in the Rheinland, Bad Ems is located on the river Lahn and situated within the beautiful Nassau Nature Park. It has been known as a spa for hundreds of years, reaching its high point of popularity in the 19th century, when it was frequented by monarchs and artists from throughout Europe.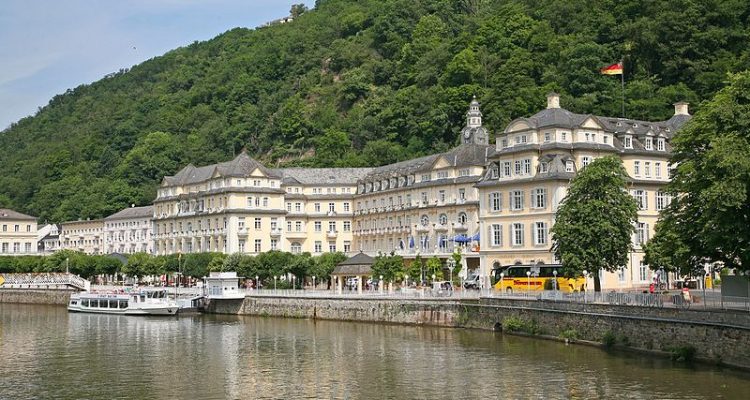 Flowing from 15 springs, the local mineral water has a high salt and mineral content, which is used to produced Ems Salt. When inhaled, the water has a beneficial effect on sore throats and other respiratory illnesses.
The new Emser Therme brings these traditional wellness techniques into the modern age. This is one of the most beautiful spa complexes in Germany. It even has a sauna floating on the river! The surrounding nature reserve also offers numerous opportunities for cycling, hiking paragliding, horseback riding and more. When you visit Bad Ems you'll also be located close to the Upper Middle Rhine Valley, which has a place on the UNESCO World Heritage List for its palaces, castles and lovely vineyards.
Baden-Baden: The New York Times has said that Baden-Baden is a spa town where the Belle Époque meets Instagram. More than some of the other spas in the project, Baden-Baden has a taste of contemporary high society. But that also makes it more in tune with the needs of tourists and travelers. Make now mistake though, the spa tradition in Baden-Baden goes back some 2,000 years. Even the ancient Romans used to soak their weary bones in the natural springs.
In German, "Baden" means "Bath." The problem was, there were so many towns named Bath among the best spas of Central and Eastern Europe, it was decided make the name of this one double, to make it stand out. And it certainly does. You'll find Baden-Baden on the southwestern part of Germany, close to Stuttgart and the French border.
Bad Kissingen: Like the rest of the best spas in Central and Eastern Europe, Bad Kissingen, in the center of Germany, has a long history as a spa town. The architecture in Old Town goes back to the Renaissance period, in the 16th century to be exact. If you take a walk outside of the center, you can admire the ruins of Bodenlaube, a castle from 1180 which overlooks the town.
The spring water here comes from seven mineral springs, four of which are potable. The water comes out of bronze taps and is administered at set times in the morning and afternoon. After drinking the waters, locals and visitors take slow walks though the beautiful parks surrounding the springs.
When you visit Bad Kissingen, don't forget to stop into the concert hall, where a 13-member orchestra plays twice daily. It's the perfect diversion for a day of total relaxation!
If you're on the road in Germany there are several spas that will make the perfect stops for a relaxing layover between destinations. Bad Elster is located between Munich and Dresden, a lovely spa with healing mineral springs. Another option, closer to Salzburg and Munich, is Bad Füssing, which is also highly recommended.
Hungary
The Gellert Spa
The Gellert Spa in Budapest is probably the city's most famous thermal spa, known for its gorgeous art nouveau architecture, its convenient location on the left bank of the Danube, and its pleasant indoor and outdoor pools, naturally heated by warm spring water. The baths first opened in 1918, boasting a wide range of wellness treatments and a water source in the deep subterranean springs used by the Knights of St. John in the 12th century and later by the Turks. The waters are rich with minerals, each of which offers a different healing property. But Gellert is also just a great place to go for a swim. Tickets can be purchased in the entrance hall for 5,700 forints, or about $20.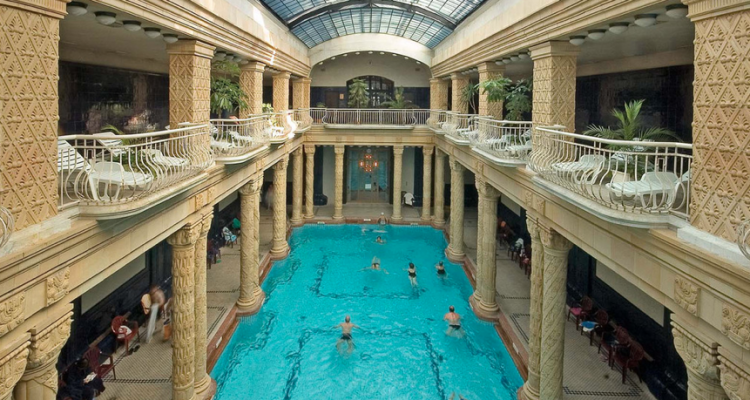 Other spas in Budapest that we recommend include Rudas Spa, a smaller, recently renovated Turkish bath, has an open-air jacuzzi overlooking the Danube. Budapest is famous for its spas and baths, so there are many to choose from. To learn more about the best spas in Budapest, check out this blog post!
We also recommend getting outside of the city to explore some of Hungary's spas which are more peaceful. Near Eger, there is an open-air spa village called Egerszalok. There is a huge salt hill and medicinal hot water that is extraordinary. It's a resort that's popular with locals, which is always a good sign. Near Pecs, there is a village called Harkany where there is another thermal spa, with medicinal mineral water. It is popular among Austrians, they come here often for treatments. In these places the spa experience can be easily combined with wine tasting, both are in historical wine regions.
Along Lake Balaton,  We have another thermal lake, called Heviz, which translates to Hot Water. It's a spa town, with many hotels and possibilities to relax. There is also a cave-bath, of course thermal, in Miskolctapolca, closer to the Slovak border.
Italy
Montecatini Terme: In Tuscany about an hour from Florence, Montecatini Terme is best known for its famously beautiful—if you like art nouveau, and who doesn't?—Parco delle Terme spa complex. But this is also a center for the arts, with the Montecatini Contemporary Art art museum housing greats like Joan Miró.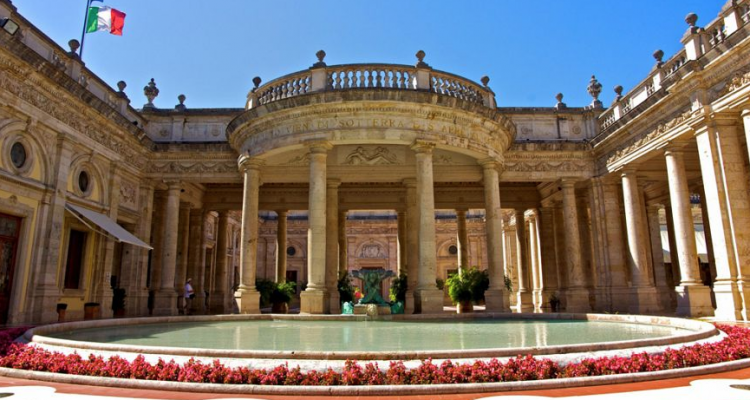 Like all the best spas in Central and Eastern Europe, Montecatini Terme is known for its spring waters, which you can drink and bathe in. Strolling through the beautiful park in the center of town you can stop at nine thermal centers constructed in beautiful Art Nouveau style. It's like an open-air museum! Also keep your eyes open for the magnificent monuments and fountains that dot the town. One of the buildings, the Palazzina Regia, was once the summer home of the Medici family. Clearly they knew how to relax in style!
And if you're not totally averse to exercise, you can ride a funicular up the mountain to the village of Montecatini Alto. Here you can enjoy the medieval and Romanesque architecture, and admire the gorgeous views over the spa town and the valley beyond.
The springs of Tuscany: Tuscany has its fair share of natural springs that are famous for their healing and relaxing waters. Bagni San Filippo is one of the most beautiful, a place where the spa compliments the surrounding landscape. Best of all, it's free and open to the public. Terme di Saturnia is another lovely destination that is worth a visit.
In Sicily and elsewhere, there are some other amazing springs and spas. The most famous include Terme Vulcaniche, Masse di San Sisto (in Viterbo, close to Rome), and Terme Libere di Bormio, in Lombardia.
Poland
On the way from Krakow to Zakopane, you can visit the Terma Bukowina thermal baths, which are fantastic. Another option is Goracy Potok, another spa very popular with locals.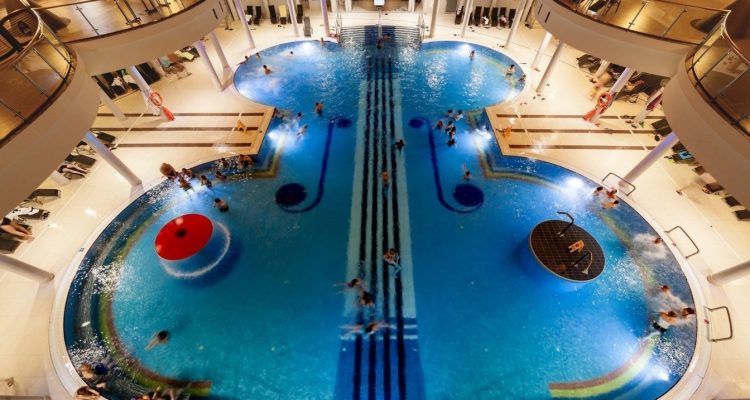 If you're in Krakow and looking to relax, we highly recommend Hammam Szeherezada, a Turkish bath and spa that is very highly rated. It's a great way to unwind from the bustle of the city.
Romania
Therme: This is an excellent spa center in Bucharest. The largest thermal wellness center in Romania, it has thermal water, indoor and outdoor pools, saunas, massage, water playground for kids, restaurants. In between lounging and enjoying spa treatments you can even sunbathe on the largest urban beach in Europe!
Are you planning a holiday to visit the best spa towns in Central and Eastern Europe? We're Central and Eastern Europe travel specialists. Just get in touch to start planning the perfect trip!

Stephan Delbos is an internationally published writer and editor. Born in the US, he has lived, worked and traveled in Europe for a decade. He's fond of oysters and arid martinis.