This week we continue our book blog series with the legendary city of Berlin.
Berlin has been the fastest-changing city in Europe since the wall came down in the late 1980s. It is the capital of Germany and the country's largest city. From the Brandenburg Gate to the Reichstag and Checkpoint Charlie, Berlin is a sprawling destination with plenty of impressive landmarks. There are many distinct neighborhoods to explore in Berlin. While Kreuzberg is cool and bohemian, Mitte and Charlottenburg are more affluent.
So it's no surprise that many diverse books have been written about the city. As a result, every traveler will find a Berlin book to help make their holiday more exciting. Check out our list of great books about Berlin!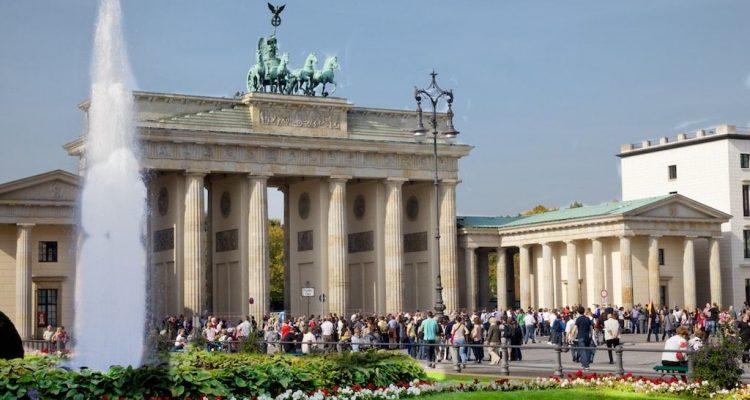 Berlin Childhood by Walter Benjamin
Walter Benjamin was one of the most significant German-Jewish writers and thinkers of the 20th century. And in this extraordinary biography he brings to life Berlin at the end of the 19th century. But he does so not by telling tall tales and adventures. Instead he focuses on the minute details that made the place unique. So through these fragments, the reader is able to experience what life was like in Berlin at the turn of the 20th century. Therefore we live Benjamin's childhood along with him, visiting the zoos, schools and public pools that made up the map of his young existence.
Berlin Alexanderplatz by Alfred Döblin
Many consider this one of the greatest German novels of the 20th century. It is astonishing in its ambition and scope. Berlin Alexanderplatz chronicles the lives that criss cross in Berlin, represented by the famous and chaotic Alexanderplatz. Döblin connects numerous strands across the political and social strata of Berlin, weaving an adventurous tale of the everyday. And of course, it all takes place in one of the world's most fascinating cities. So reading this novel will give you a truly local point of view on the events and history that have shaped the worldview of every Berliner. 
Goodbye to Berlin by Christopher Isherwood
Christopher Isherwood was a famous prose stylist and this fictionalized autobiography is among his best work. Showcasing the glamorous and the infamous sides of Berlin between World War I and World War II, Isherwood captures a legendary moment in the history of this city. It was like America's roaring '20s, with fewer rules. Of course, this heady time would come to a sudden end with Hitler's rise to power and the onset of World War II. Somehow Isherwood foreshadows these violent events and also maintains a gripping narrative. 
Berlin Notebook by Joshua Weiner
Like much of Europe, Berlin has faced a migrant crisis in recent years. During 2015 and 2016 the American poet and critic Joshua Weiner lived in Berlin, immersing himself in German language and literature as well as the contemporary concerns of Germany as a whole. Therefore, intermixed with interviews, reportage, and meditations on life in Europe's fastest-growing capital city, this account shows Weiner thinking about the language and literature of the country. He weaves together strands of its ancient and more recent history with meditations on Goethe, Brecht, Arendt, Heidegger, Joseph Roth and other writers and cultural figures who inflect our thinking about refugees, nationhood, and our ethical connection to strangers.
The Innocent by Ian McEwan
McEwan, one of the most lauded contemporary British novelists, has a tendency to bring to life whatever he sets his pen to. This book is no exception. Published just after the fall of the Berlin wall, this mystery novel is set in 1955, the height of the Cold War. McEwan spins a complex and interesting tale. He captures the noir grit of the intrigue of that period. Danger lurks around every corner for protagonist Leonard Markham, an inexperienced twenty-five-year-old British Post Office engineer sent to the city for work. Above all, this is an evocative, exciting read.
English Bookstores in Berlin
Buchhandlung Walther König an der Museumsinsel
This is a quaint bookstore near Museum Island. It specializes in books about art, culture and philosophy. Because many of the books are in English, if your tastes tilt toward the intellectual you'll have no trouble finding something that catches your eye. They have an amazing selection of richly illustrated coffee table books as well as magazines from around the world.
Address: Burgstraße 27
Shakespeare and Sons
The Berlin outpost of a Prague-based bookstore, Shakespeare and Sons has a huge selection of new and used books in English. Above all, it's a space where you can sit back and relax with a great book, a coffee and a delicious bagel from the bagel shop occupying the same space. One of our favorite spots in Berlin, this place is always on our list when we visit the city.
Address: Warschauer Str. 71
Saint George's English Bookshop
A Berlin institution, Saint George's has been around for ages. Because they're one of the original authorities on English-language books in Berlin, they're sure to have what you're looking for. The staff are friendly and always willing to help you dig through the shelves, which contain a rich array of best sellers and obscure gems for bibliophile travelers.
Address: Wörther Str. 27
Are you planning a visit to Berlin? We're Germany travel experts. Just get in touch to start planning the perfect tailored holiday. 

Stephan Delbos is an internationally published writer and editor. Born in the US, he has lived, worked and traveled in Europe for a decade. He's fond of oysters and arid martinis.