This week we continue our books for travel blog series with the legendary city of Venice!
One of the highlights of Italy, Venice is a place with unmistakeable romantic charm. It's a truly unique destination unlike any other. There are more than 100 islands in the Venetian lagoon that make up the city. They're connected by a series of canals and overflowing with impressive palaces. On the surface, Venice may not appear to be very large. But once you step foot in the car-free streets and tight alleyways, this maze of a city will have you exploring for days. Venice is full of churches, museums and other sights of interests. There's something new to discover around every corner and over every bridge.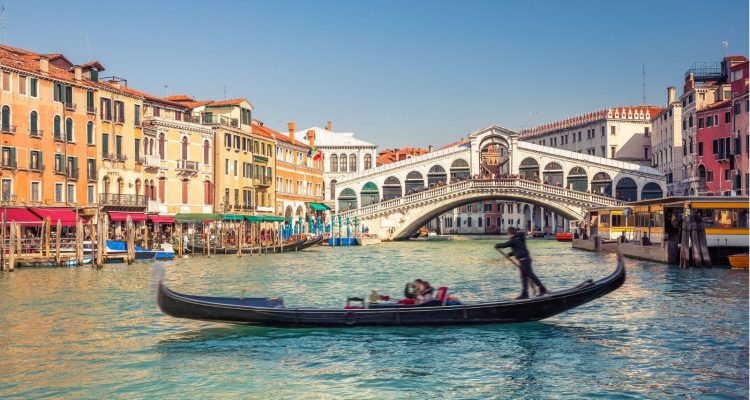 Thanks to that special architecture and its… shall we say intimate relationship with water, it's not hard to understand why Venice has been so uniquely inspiring to writers. A port city, Venice has always had something international about it as well, and giants of literature from all nations and all historical ages have dropped anchor here and put words on pages, in and about the city. The following are just a few of my personal faborites.
By the way, if you're looking for literary Venice, one place you'll certainly want to visit is the cemetery on Isola di San Michele. There you'll find the graves of poets Ezra Pound and Josef Brodsky as well as composer Igor Stravinsky, among other notable cultural figures. You can get there by water taxi.  But even if graveyards aren't your thing you can still read these books before you get there. Or buy them at the English-language bookshops suggested at the end of the post!
The Cantos by Ezra Pound
One of the most influential American poets of the 20th century, Ezra Pound lived in Italy for many years, and visited Venice on numerous occasions. He knew Italian history like the back of his hand and that knowledge is on display in The Cantos, a book-length collection of poems that was his life's work. Several of the poems are set in Venice, referencing some of the city's most famous architecture, like the Doge's Palace and St. Mark's Square, among others. Reading The Cantos is like reading an alternative guide to the city, complete with historical background and creative depictions of this legendary destination.
The Merchant of Venice by William Shakespeare
No reading list for visitors to Venice would be complete without a mention of The Merchant of Venice. Focused on the lives of Venetian nobles, the play revolves around the drama created when one character, Bassanio, must take a loan from Shylock, a moneylender. Bassanio's friend Antonio volunteers to be the loan's guarantor, and when the time comes to pay up, the narrative reaches a fever pitch. The setting is Venice, of course, and the play also memorably brings to life archetypal characters from that period. Even though Shakespeare has been accused of antisemitism because of his portrayal of Shylock, an aggressive Jewish moneylender, The Merchant of Venice remains a must-read work of English-language literature, especially for those traveling to Venice.
Death in Venice by Thomas Mann
One of the most memorable–and shortest–novels by the great German writer Thomas Mann, Death in Venice is truly a classic. The novel's depiction of Aschenbach, a famous writer who feels his powers have waned in old age, is touching and accurate. When Aschenbach goes to Venice for rest and inspiration, Mann turns his considerable descriptive powers to the mysterious and alluring city, with surprises around every corner and love just out of reach. Things don't work out very well for Aschenbach, but that won't put a damper on your visit to Venice. Mann envisions the city as a character in itself and his insights will give you a new appreciation for the timeless architecture and atmosphere of Venice.
The Aspern Papers by Henry James
A literary detective novel meets Venice travelogue, The Aspern Papers is a gripping novel by Henry James. Set in Venice in the 19th century, it follows the adventures of Morton Vint, a critic who travels to the city to acquire poet Jeffrey Aspern's romantic letters to his lover Juliana Bordereau. The problem is, Juliana is keeping the letters as a closely guarded secret. What follows is an intriguing tale of interpersonal intrigue and manipulation as Vint tries anything he can to locate the famous correspondence.  There's no better setting for such an interior adventure than the city of Venice, whose twisting, turning narrow streets can some times can border on the claustrophobic.
English-language bookstores in Venice
Venice is a small city, but there are no shortage of bookstores here, attesting to the city's reputation as a literary landmark and an inspiring destination for writers and readers alike.
Libreria Studium
A charming little bookshop that's a lot bigger inside than it looks outside. Libreria Studium is an institution, with more than two decades of history, which along with art, is one of the specialities here. You'll find it just down the street from the doors of San Marco.
Address: Calle Larga S. Marco, 337, 30124
Libreria Toletta
Like many bookstores in Venice, Libreeria Toletta carries mostly books in Italian. But there is a selection of English books here, and stopping by means you'll be able to browse among the Venice intelligentsia.
Address: Saca della Toleta, 1214
Libereria Acqua Alta
Even if you aren't planning to buy anything, you'll definitely want to stop by Libreeria Acqua Alta. As the name suggests, this place has gone under the flood waters more than once. No matter, it's the most beautiful bookstore in the world according to its owners and faithful regulars. All the amazing towers of book are stacked inside bathtubs and bins that are waterproof. If you wander around enough you might even find a gondola in one room!
Address: Calle Lunga Santa Maria Formosa, 5176, 30122
Are you planning a trip to Venice? We're Italy travel experts. Just get in touch to start planning the perfect holiday!

Stephan Delbos is an internationally published writer and editor. Born in the US, he has lived, worked and traveled in Europe for a decade. He's fond of oysters and arid martinis.