A feast of fresh vegetables, top-quality meat, spices, butter, and sugar, the best Turkish food comprises simple yet hearty dishes, the kind of food that local people eat every day.
Traditional Turkish food is one of the country's main draws. The diverse cuisine of Turkey represents the mishmash of cultures and communities that have come through the country, from the Mediterranean influence along the coast to more Middle Eastern-inspired dishes from the southeast. In this guide, we're taking you on a culinary journey into the best Turkish food you should try during your trip to Turkey.
The Best Savory Turkish Dishes
MENEMEN
Breakfast is always a big deal in Turkey. So much so that many Turkish restaurants specialize in traditional Turkish breakfast. While the full spread of many small plates is great on a weekend, every day is good for menemen. This dish of eggs lightly scrambled with tomatoes and green peppers in a metal bowl can be dressed up with cheese, sausage, or other toppings, and it's always a satisfying way to start the day. If you're partial to shakshuka, give menemen a try when you're in Turkey. The ingredients are similar – the difference is that in a shakshuka the eggs are added at the end of the process and left whole.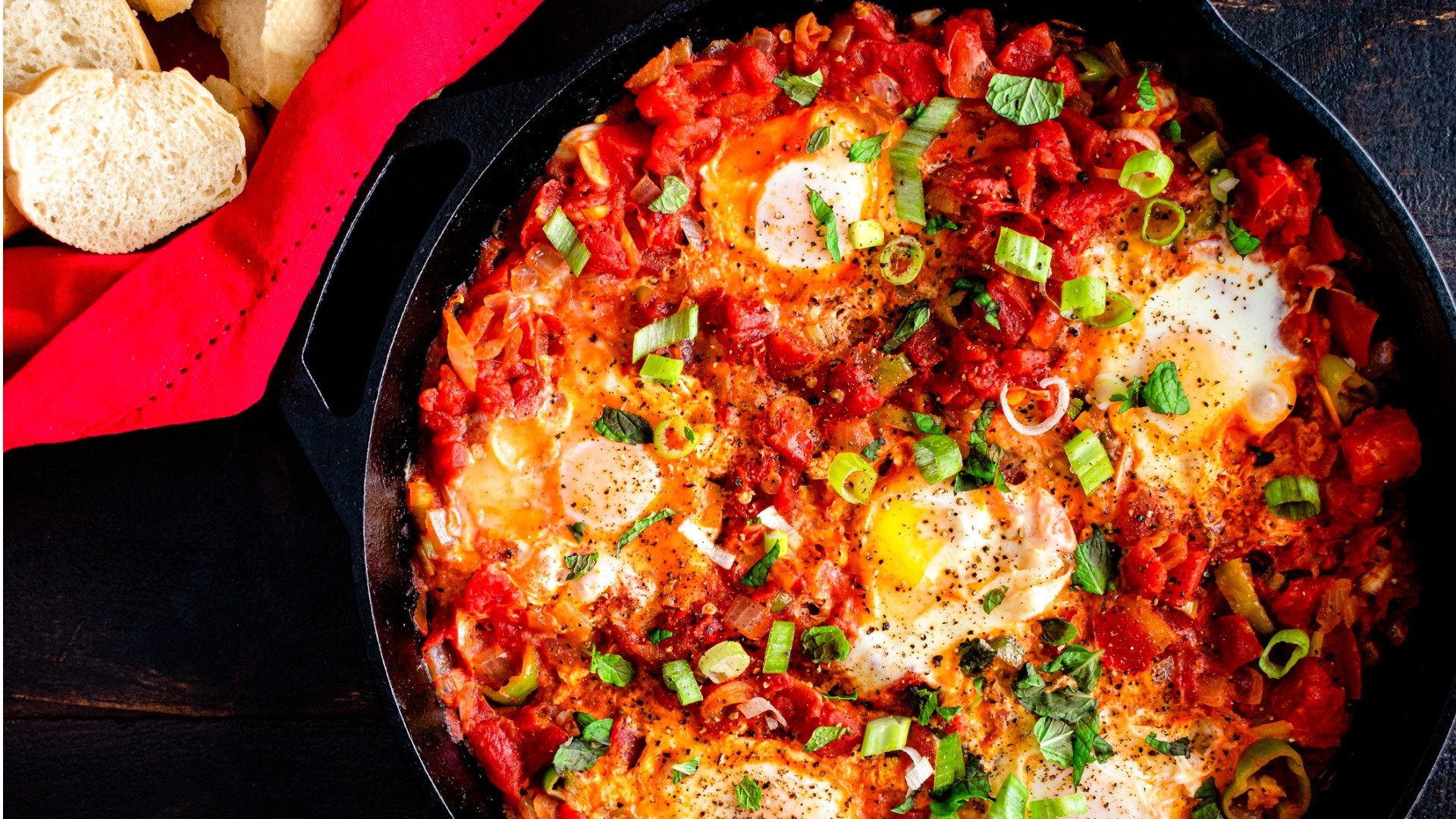 SİMİT
Simit might seem simple, but this iconic street snack is really special. The Turkish take on the famous bagel, simit is a thin round breaded pastry dipped in pomegranate molasses and covered in sesame seeds. It's just as good eaten plain as it is with cheese or an olive spread. Simit is sold in bakeries and at little kiosks all over Istanbul and the rest of the country.
KUMPİR
Since we are on the subject of Turkish street food, let's talk about kumpir. No one makes a baked potato like Turkey. Kumpir is like a baked potato gone wild, where the potato is mashed together with butter and cheese while an endless selection of toppings that you can choose from awaits. The Istanbul neighborhood of Ortaköy is well known for its kumpir stands, but you can taste kumpir all over the country.
GÖZLEME
Like a Turkish crepe, gozleme consists of thinly rolled out dough folded over with some filling, most commonly spinach or cheese or potato, and grilled over a curved metal griddle. This simple but hearty meal is traditionally made by village women, even in Istanbul.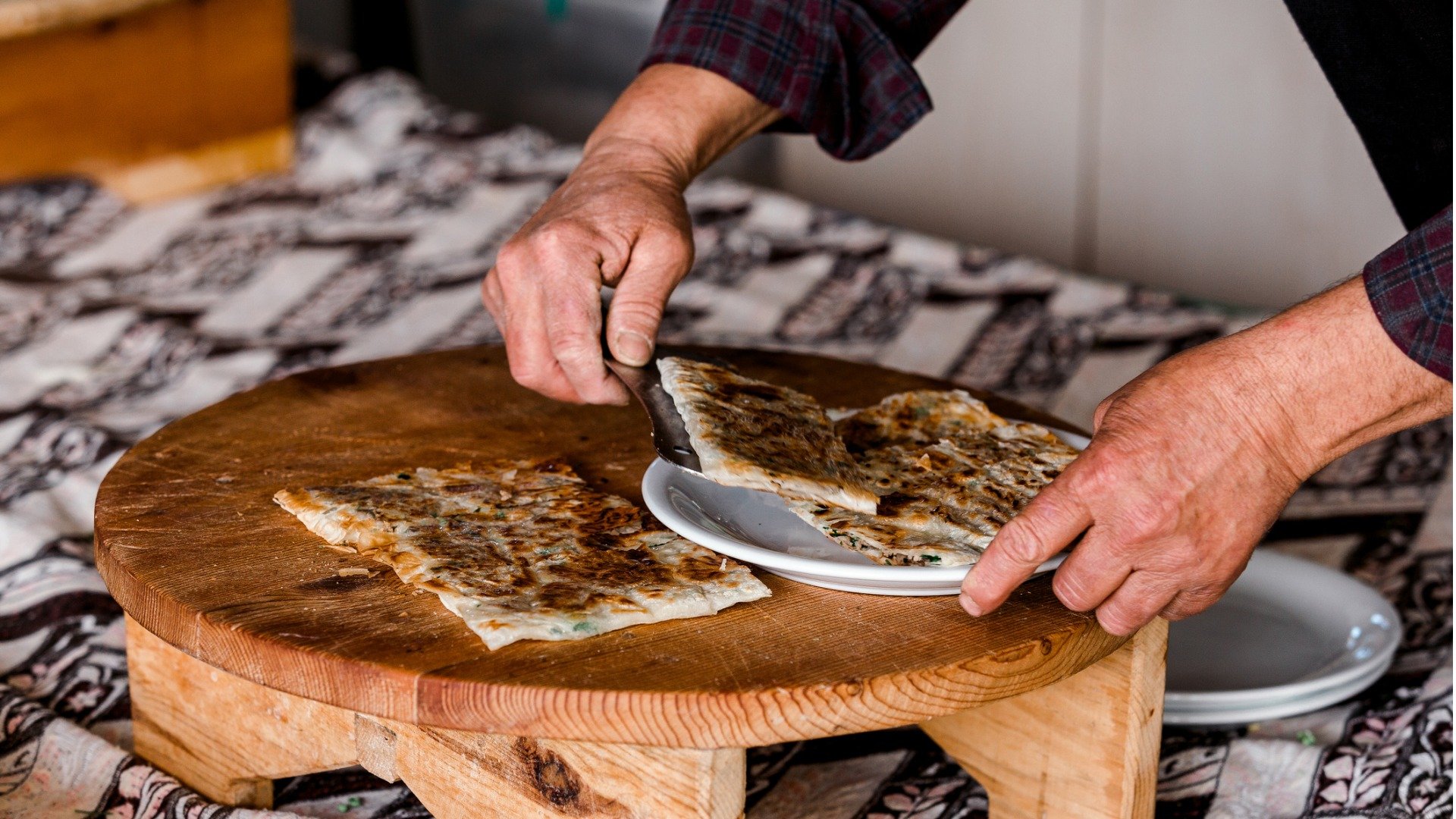 LAHMACUN
Sometimes called Turkish pizza, lahmacun is both simpler and more transcendent. The dough is rolled out into thin circles and topped with a thinly-spread layer of minced lamb mixed with spices, and then cooked to a perfect crispy-chewy balance in an oven. The right way to eat a lahmacun is to squeeze some lemon over it while it's still hot from the oven, add some parsley, and then roll the whole thing up like a burrito. Even better, accompany it with a glass of ayran, a salty yogurt drink.
MERCİMEK ÇORBASI
Soup is a common way to start a meal in Turkey, and the most popular soup is mercimek corbasi, a pureed red lentil soup. Add red pepper flakes and some lemon, cut a chunk of freshly baked bread, and enjoy this warm and simple starter, which can be found in any Turkish restaurant throughout the country.
MANTI
These Turkish dumplings can come in various sizes, but they are almost always filled with seasoned meat and topped with a garlic and yogurt sauce, butter or oil, and sometimes tomato sauce, too. Garnish with dried mint and sumac for an extra tang. It's the perfect comfort food for colder weather, but there's never a bad time to eat manti for a taste of the best Turkish food.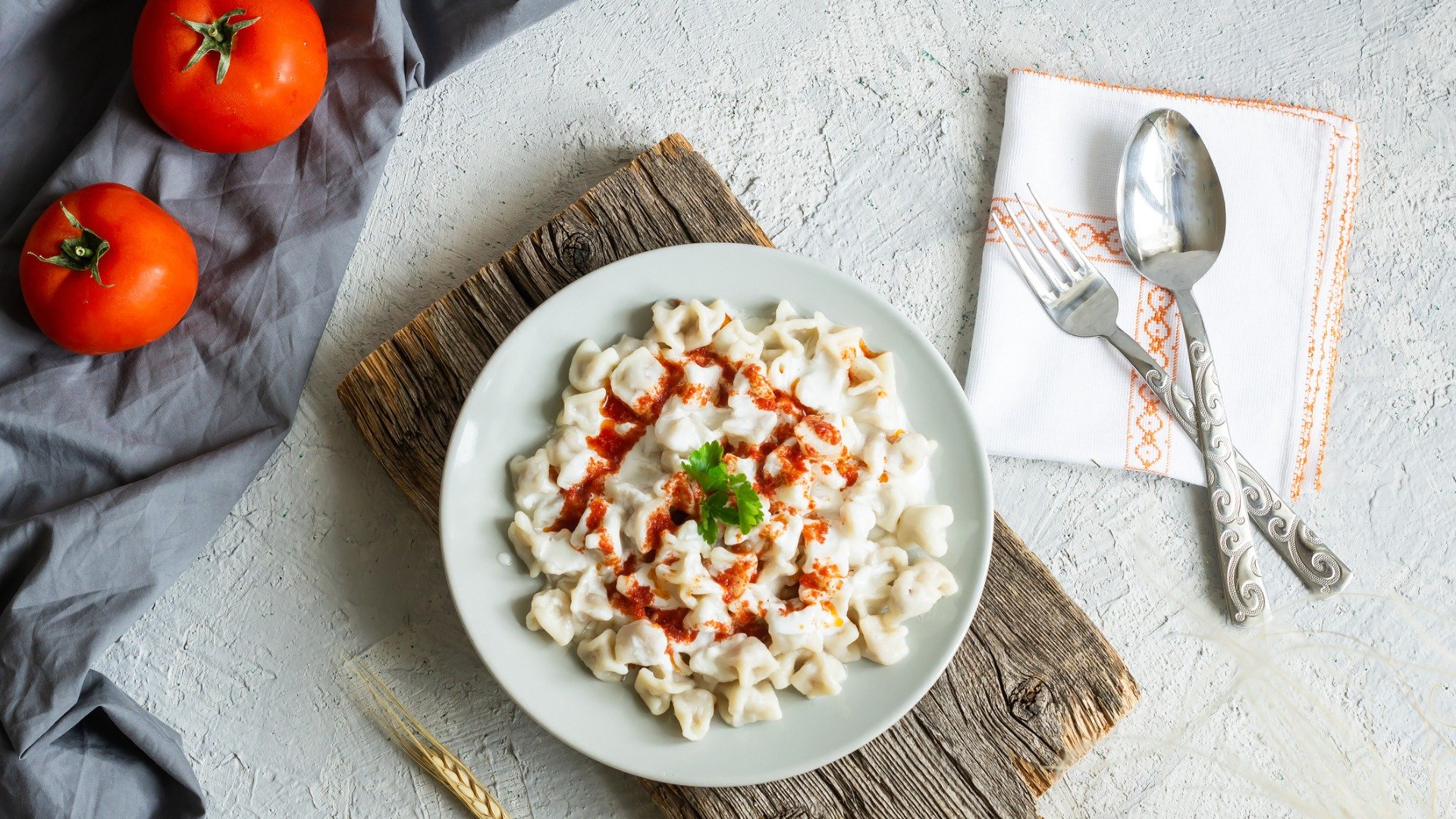 İMAM BAYILDI
Dating back to Ottoman times, imam bayildi is a dish of eggplants stuffed with tomato and garlic and simmered in olive oil until they melt in your mouth. It's popular as both a main dish and a side dish and is served warm. Imam bayildi translates to the imam fainted, perhaps because this vegetarian dish is so swoon-worthy.
ÇİĞ KÖFTE
Though the name means raw meatball, cig kofte is now one of the best vegetable dishes in Turkey. Fine bulgur is kneaded with spices and tomato and pepper paste and then shaped into small oblong balls. The typical way to eat cig kofte is with a squeeze of lemon, wrapped in lettuce. Traditionally, cig kofte was made with raw minced meat, either beef or lamb. Nowadays, raw meat is rare to find and usually not legal to serve, so the cig kofte you encounter in Turkey will most likely be the vegetarian version. But it wouldn't hurt to ask before you order, just so you're on the safe side.
HAMSI
Originating in the Black Sea, this traditional dish of anchovy-like fish is a favorite either as a main dish with a side of rice or as one of the best Turkish meze dishes, ideal to wash down with a glass or two of strong Turkish raki.
KEBAB
No list of the best Turkish food is complete without a mention of Turkish kebab. There are many kebab types to try in Turkey. While all Turkish kebabs are worth sampling, Adana kebabs may as well be the best of the bunch. Adana is a city in southern Turkey, known for its spicy cuisine, so the ground meat used for Adana kebab is mixed with red pepper spice and grilled with fresh tomatoes and green peppers. Other staple meat dishes of Turkish cuisine are shish kebab and doner kebab.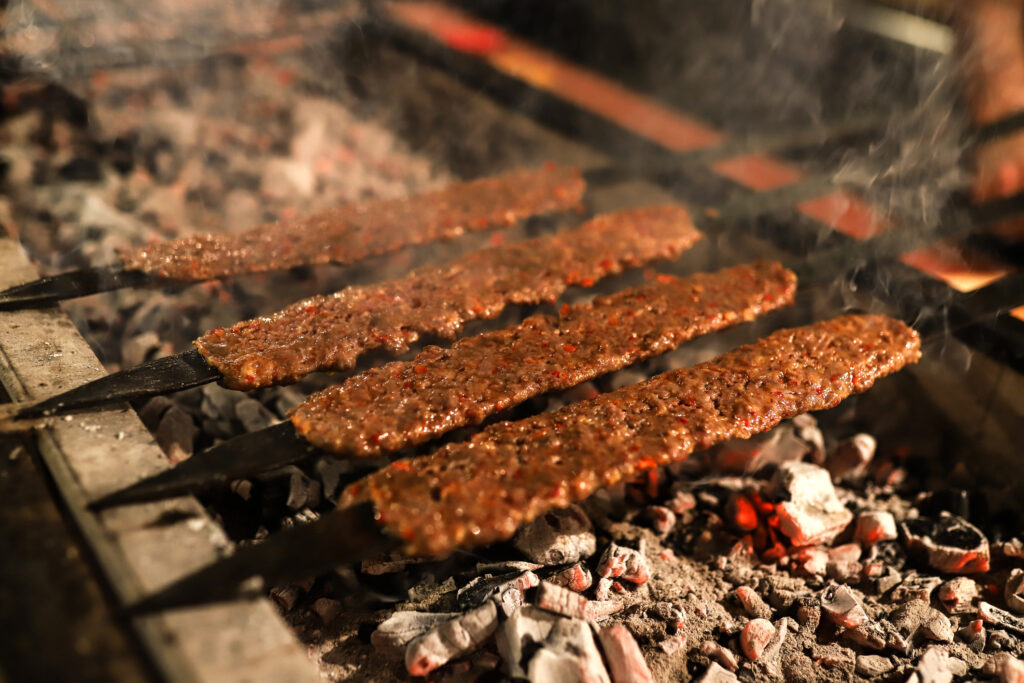 The Sweet Side of Turkish Cuisine
LOKUM
Otherwise known as Turkish delight, lokum comes in many flavors, but it's always tiny and covered in icing sugar. While in Turkey, make sure you pair it with a cup of flavorful Turkish coffee or Turkish tea. Turkish delight is also one of the best souvenirs to buy in Turkey.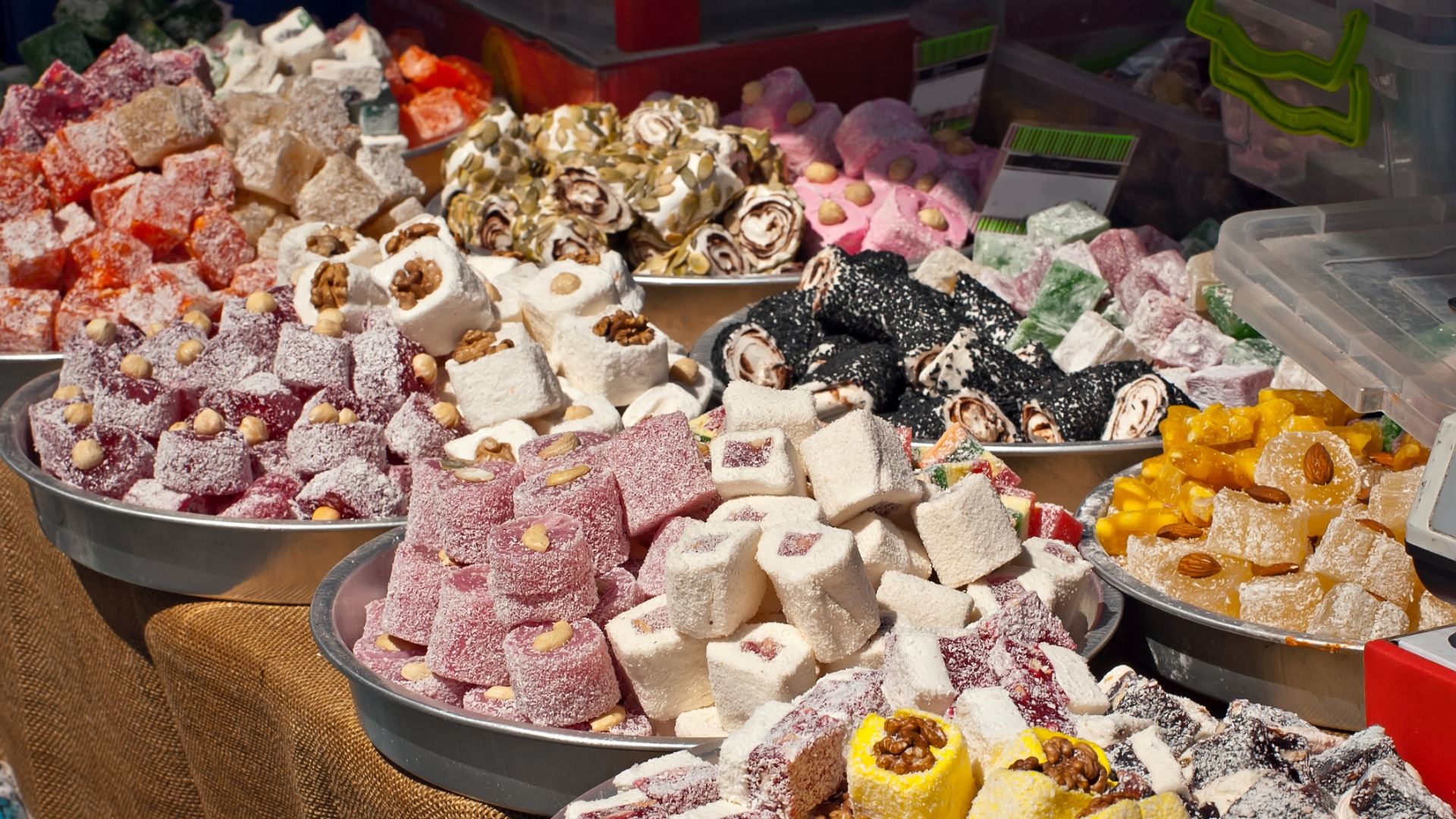 BAKLAVA
Every sweet tooth can be satisfied by baklava. Thin filo dough is layered with pistachio or walnut and soaked in honey or sugar syrup for a perfectly crunchy-sweet Turkish dessert. While there are many different varieties of baklava, almost all include either walnuts or pistachios.
KUNEFE
Once you've tried all types of baklava, it's time to be introduced to the queen of Turkish desserts, the divine kunefe. With layers of string filo and sweet cheese doused in butter and syrup, kunefe is as filling as it sounds, so you might probably want to share one among two people. Or not. Make sure you order your kunefe topped with kaymak, a traditional Turkish clotted cream, or dondurma.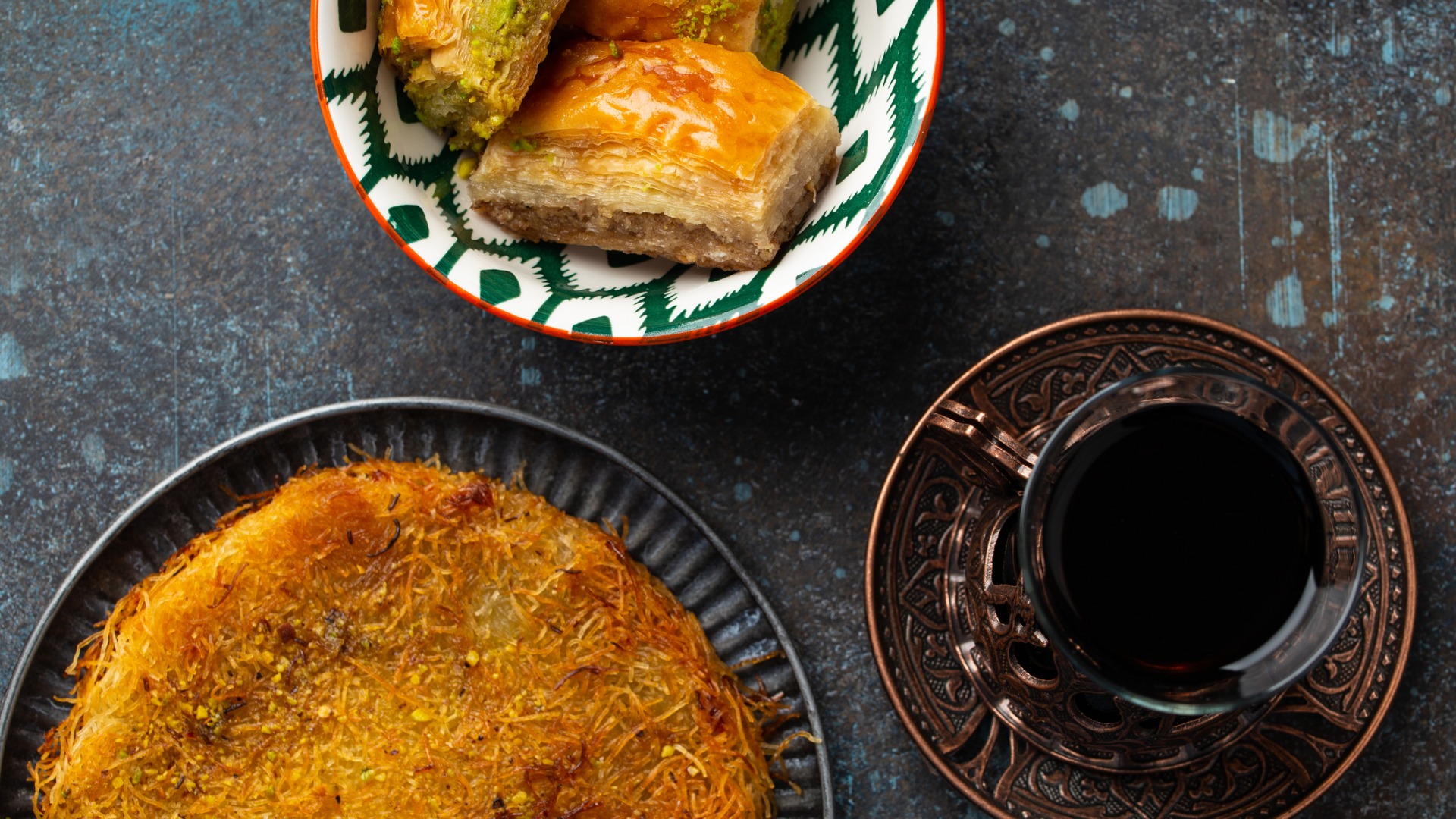 DONDURMA
Dondurma is the traditional Turkish ice cream. Similar in taste to the Italian gelato, dondurma differs a lot in texture as it's very chewy and thick. Also, it doesn't melt easily, which allows dondurma street vendors to play jokes on unsuspecting tourists who watch in awe as their freshly filled dondurma cone magically disappears from their hands only to reappear seconds later. Trust us when we say that this is a show in its own right!
We're pretty sure that this article on the best Turkish food left you craving the country's scrumptious tastes alongside dreaming of its varied landscapes and diverse culture.
Katie is one of the foremost experts on travel in Turkey and has called Istanbul home since 2013 and blogs about life there monthly. As a widely published travel writer, you'll find Katie's work published by National Geographic, Lonely Planet, The Guardian, and the BBC.