As the quirky capital of the Germans, you'd expect Berlin to have a few decent spots to drink. And you'd be more than right. Here you'll find a variety of popular spots for a brew or two, from a venerable ballroom to the banks of a canal to several rooftops, and everything in between.

Jump to a section of this article
Klunkerkranich
Berlin is famous for its hardcore techno scene, with clubs in former industrial spaces that attract top talent, such as infamous Berghain, but charmingly laidback Klunkerkranich is a more inviting place to hang out. Day or night, the club has one of the city's best views, and is free before 6 PM. With its roots in the same anything-goes mentality that made Berlin a clubbing capital in the 90s, this rooftop bar, cafe, and community garden was founded by veterans of the underground scene who wanted something more legitimate, and ended up building their dream atop a mall's parking garage (access the club by taking an elevator to the penultimate floor, then walk through the nearly empty garage to the rooftop). Take your time to absorb the details, from various cranes (the place's namesake) and a massive faux Koons balloon dog, to a massive "bird favela" (in German it rhymes) made from seemingly endless birdhouses. The line gets pretty long in early evening, so show up early if you'd like to catch the sunset, or arrive a bit later for its jazz nights.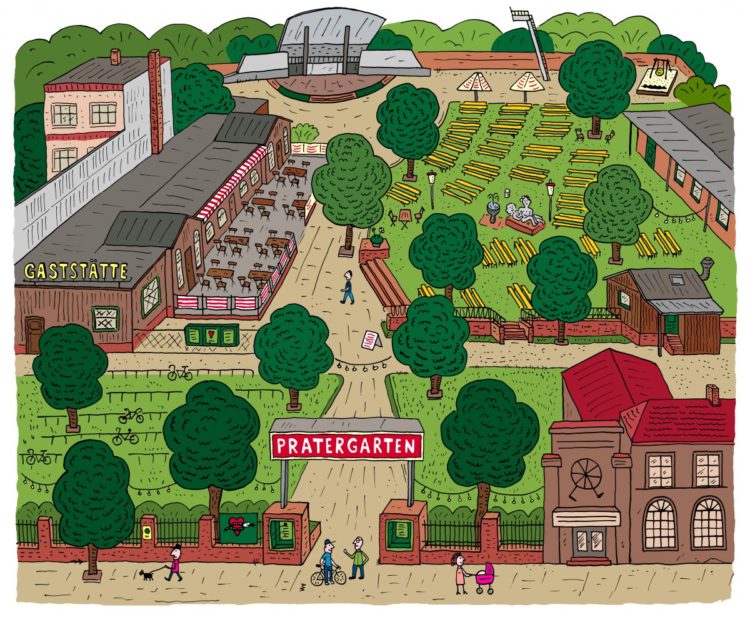 Prater
Since its humble birth as a ramshackle hut selling beer in 1837, the Prater has become an institution. Now the city's oldest beer garden, it's been open from April to September since 1852 (save for understandable intermissions during World War II and in the early 90s). The Prater's restaurant is open-year round, offering beloved seasonal local classics like goose and white asparagus. The Prater was once famous for its ballroom and theater, which offered everything from operettas to marionette and vaudeville shows, a combination that attracted a diverse audience. The Prater still features occasional theater, and one of the city's oldest art galleries, but is especially popular due to its old-fashioned, lush beer garden. Be sure to try the Prater's own pilsners, but keep in mind that the beer garden is still a cash-only place.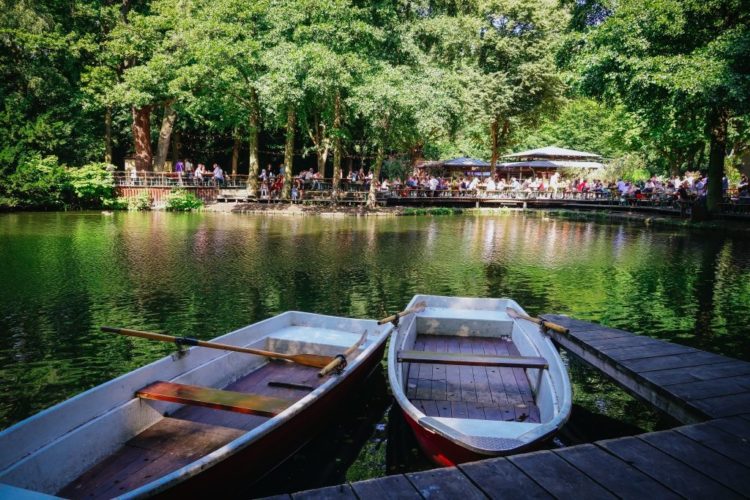 Cafe am Neuen See
The relaxing atmosphere at Cafe am Neuen See (Cafe on New Lake) more than makes up for its surprisingly small variety of beers on offer. This beer garden (the name is a slight misnomer) is tucked away in a corner of the Tiergarten near embassy row (we recommend visiting the Nordic Embassies, a modern complex shared by the Danish, Icelandic, Norwegian, Swedish, and Finnish embassies, all of which have distinctive buildings, but share a common entrance and art exhibition area), this is also a short walk from the Victory Column, a must-see. This makes a great spot to relax after a busy summer's day, and becomes a romantic candlelit space in the evening. You can also rent a rowboat from the cafe to explore the lake yourself.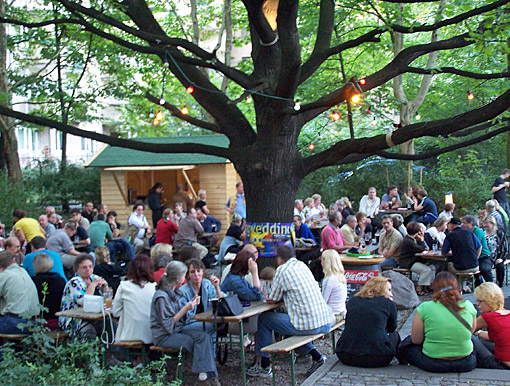 Eschenbräu
Hidden away in the courtyard of an unassuming postwar apartment building in the district of Wedding, Eschenbräu is the city's oldest microbrewery, and a true treasure. A fun, cozy spot in winter, come summer there is a small beer garden, where you can enjoy the brewery's three main beers (including a traditional Old Berliner Dark), or one of its 21 seasonal specials (one of which is named for Jimmy Carter). We recommend the Panke Gold, a lager that smells like a fruity IPA and is named for a nearby river. Open daily after three, you'll find plenty of regulars and beer connoisseurs here, and can fill your stomach with flammkuchen, the Alsatian take on pizza. If you're looking for something more filling, we recommend Falafel Al Amin across the street, which stands out in a district already stuffed with good Arabic food (try the makali falafel).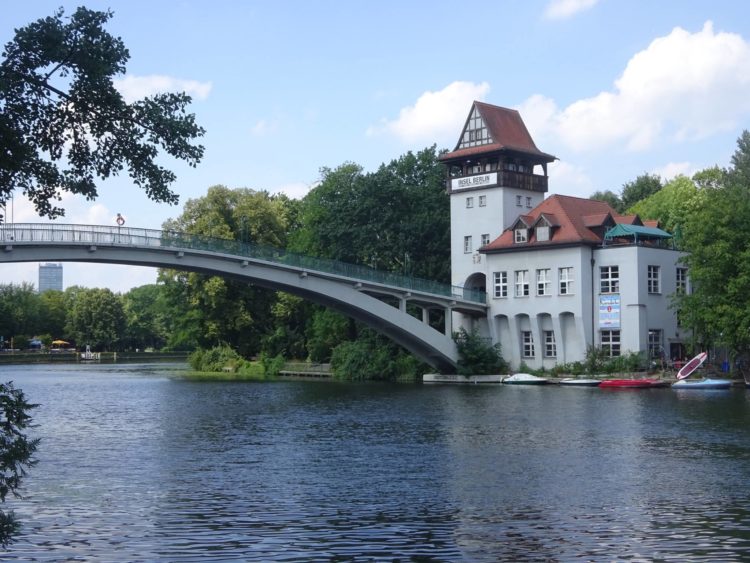 Insel der Jugend
The Isle of Youth is a charming spot in an area rife with great places to enjoy a beer. Located in the historic Treptow Park, the romantic arched Abbey Bridge will bring you to this small island, and its charming cafe and bar area. There's an ample lawn, and plenty of places to sit by the water, but you can rent a variety of boats, enjoy live music on Sundays, or even watch a film at the open-air cinema. A nearby youth club legally ensures that the surrounding area is kept relatively quiet. The park itself features a promenade, gardens, abandoned amusement park, and extraordinary Soviet war memorial.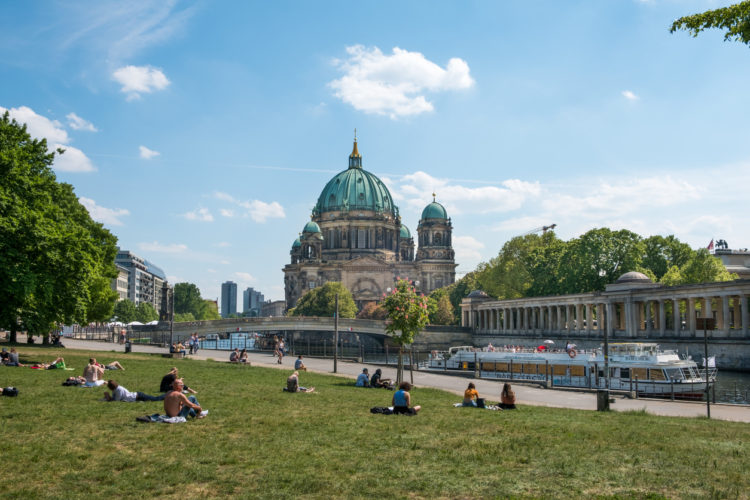 Monbijoupark and James-Simon-Park
Close to many of our accommodations, these two parks stretch out along the Spree, across from the northern tip of Museum Island. There are plenty of bars and stands selling drinks and food, so we don't recommend any one in particular (save perhaps for the "summer beach bar") but instead suggest grabbing a few drinks, and sitting by the riverfront promenade. Although no longer home to the royal Monbijou Palace, Monbijou Park is kid-friendly, with a children's public pool, playground, and the historic Fairy Tale Hut, a theater that performs fairy tales for young and old alike. James Simon Park is smaller, but has a number of bars and restaurants beneath the elevated tracks that cut it off from Monbijou.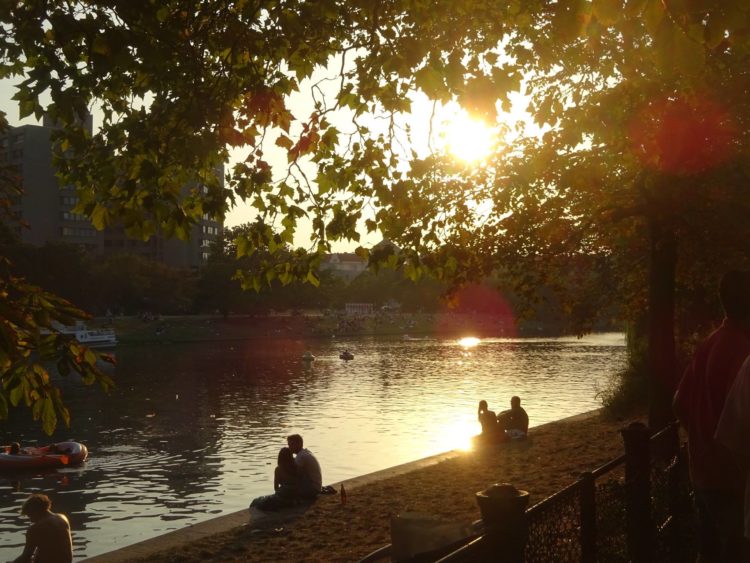 Landwehrkanal
The banks of this canal are a popular place for locals to hangout with a few drinks. You can motor up and down the canal on a tour boat, but when the weather's nice, you're more likely to see locals floating downstream on inner tubes, inflatable boats, or canoes, loaded with beers. We recommend visiting the section that passes through Kreuzberg, from Böckler Park (with its restaurant boat and many swans) to the cherry trees of the Butterfly Lawn (Schmetterlingswiese) south of Görlitzer Park, where it intersects the Neukölln Ship Canal (Neuköllner Schifffahrtskanal). If you're feeling energetic, you can follow the latter canal, which will take you past several excellent cafes. On Tuesdays and Fridays, be sure to visit the popular Turkish Market, held along the Landwehr Canal's southern bank, in the heart of Kreuzberg. Also known as the BiOriental market (a three-way pun) this bustling market offers plenty of snacks, produce, and crafts. The same area hosts clothing and textile markets on Saturdays and every other Sunday. The canal itself is historic. In 1962, a group of East Germans stole a boat, armored the wheelhouse with steel plates, and successfully escaped to the West under a hail of bullets (thanks in part to West German police, who fired back at an East German patrol boat). The scenic stretch that passes through the Tiergarten past the zoo is also where you can find a memorial to communist Rosa Luxemburg, whose body was dumped into the water by a far-right militia in 1919.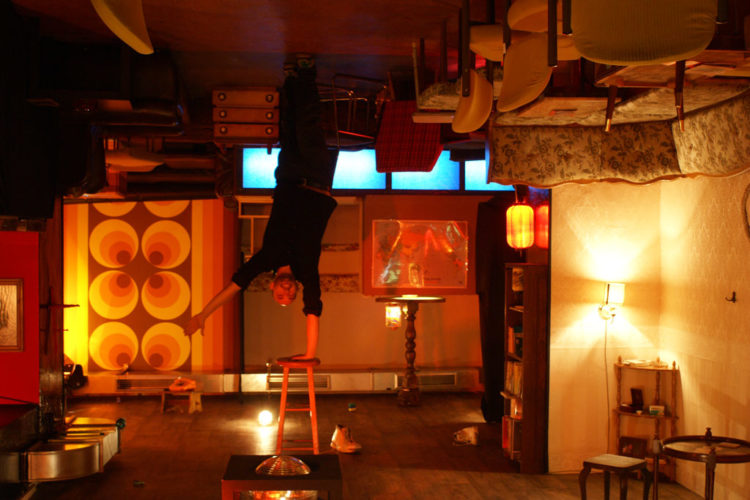 Madame Claude 
Madame Claude is worth visiting for its trademark quirk alone–everything is upside-down, with an apartment's worth of furniture and decor hanging from the ceiling–but is fortunately good for more than just a few photos. Located in a former brothel, the place hosts events (usually musical) nightly. Berlin is a creative place, and this isn't the only upside-down-themed place in the district (to the west is Upside-Down, an upscale restaurant and a bar centered around Georg Baselitz's famed inverted paintings), but Claude is worth a stay after the initial shock.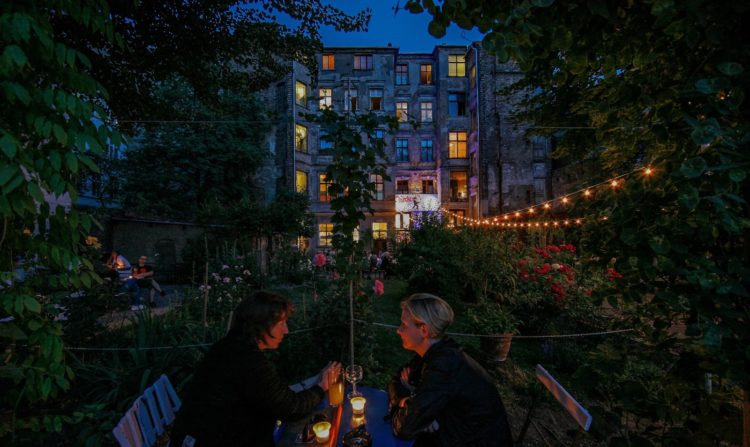 Clärchens Ballhaus
Berlin's most famous dance hall, Clärchen's Ballroom opened in 1913, and doesn't seem to have changed much since (save for the forlorn facade, which is set to be renovated in 2020). Which is one reason the place served as the setting for part of Inglorious Basterds. There are frequent concerts, and nightly dances in the mirrored main hall, but this venerable institution has a good restaurant, a charming beer garden, and a short walk from many of our Berlin accommodations.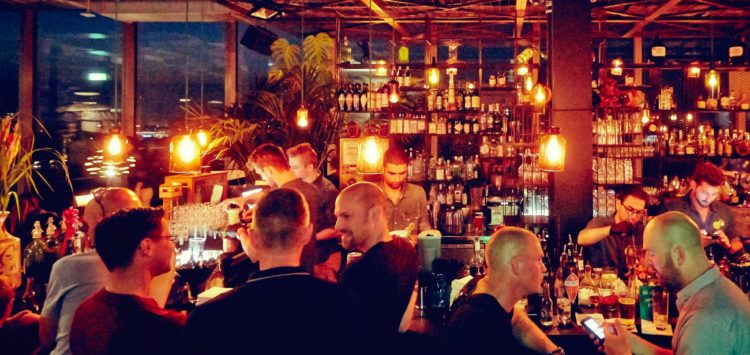 Monkey Bar
A very short walk from one of our accommodations, Monkey Bar sits atop one of our partners, the 25hours Hotel Bikini Berlin, which is itself above the 1950s Bikini-Haus (if you're creative enough, you can see how the mall and office building's third floor might resemble a bare midriff). The hotel has a jungle theme due to its location between the city's concrete jungle, and the Tiergarten's zoo, while the bar continues that theme, being located above the zoo's actual monkey house. The hotel's sunlit NENI restaurant transforms into Monkey Bar after midnight, but keeps the panoramic indoor and terrace views, and serves snacks from the restaurant kitchen. Accessible from the street by express elevator, you don't need to stay at the hotel to enjoy this spot, and its live music and chill atmosphere. While the bar closes at 2, you don't need to stay long to see why it was voted "best hotel bar" at the 2015 European Hospitality Awards.
Berlin's reputation for beer and partying is well deserved, but with millions of people living their lives there, every district is riddled with neat spots (except Bohnsdorf on the periphery, where there doesn't seem to be anything to do beyond buying furniture). With the help of our local staff, we'll be happy to guide you to whatever you're looking for, from the above, to other secrets, such as a small bar with a secret entrance that leads to a hidden basement bowling alley, or a former DDR broadcasting center by the river that sells excellent pizzas alongside beer. Let us know what you're feeling, and we'll provide!

Born and raised in Wisconsin, Kevin lived in Estonia and Finland for several years, traveling widely through Central and Eastern Europe, before settling down in Berlin. Having studied the cultures, histories, and economics of the countries along the Baltic Sea for his Master's degree, Kevin has the knowledge and experience to help you plan the perfect trip anywhere in the region, and also works as JayWay's main writer and editor.