By guest blogger Kerwin McKenzie, who took part in the #JayWayRomania blogger project in June 2017.
My first visit to Romania was in June 2008 and all I did was visit Bucharest for one night. My friend and I took a local bus from the airport into the city and we had a wonderful time. But we had to leave first thing the next morning, so we didn't get to see much. But with my latest trip, I was able to get a good feel for nine amazing and unique places to visit in Romania.
Jump to a section of this article
How to get to Romania
If you're already in Europe, you can actually fly into the airports nearest to the cities you want to see when you visit Romania. If you're not in Europe, you'll have to fly into the capital city of Bucharest. From here JayWay will arrange transportation to the city you're visiting. It's one of the perks of booking a tour with them.
Here's a look at the airports for the cities I visited: Bucharest Henri Coanda International Airport (OTP) and Sibiu International Airport (SBZ). I visited the Transylvania region, so there's also the Târgu Mureș International Airport (TGM), also known as the Transylvania International Airport, serving the region.
You may also take a combination of busses and trains when you travel in Romania, and of course JayWay will arrange to get you from the stations to your hotel.
Now let's look at these fine cities:
Brașov
The Transylvania region of Romania is a treasure trove of unfamiliar destinations because most travelers, like me on my first visit, only make it to the capital city of Bucharest. The average person probably thinks of Dracula when they hear of Transylvania, but the region has so much more to offer. Brașov, pronounced "Brashov," is one of those places.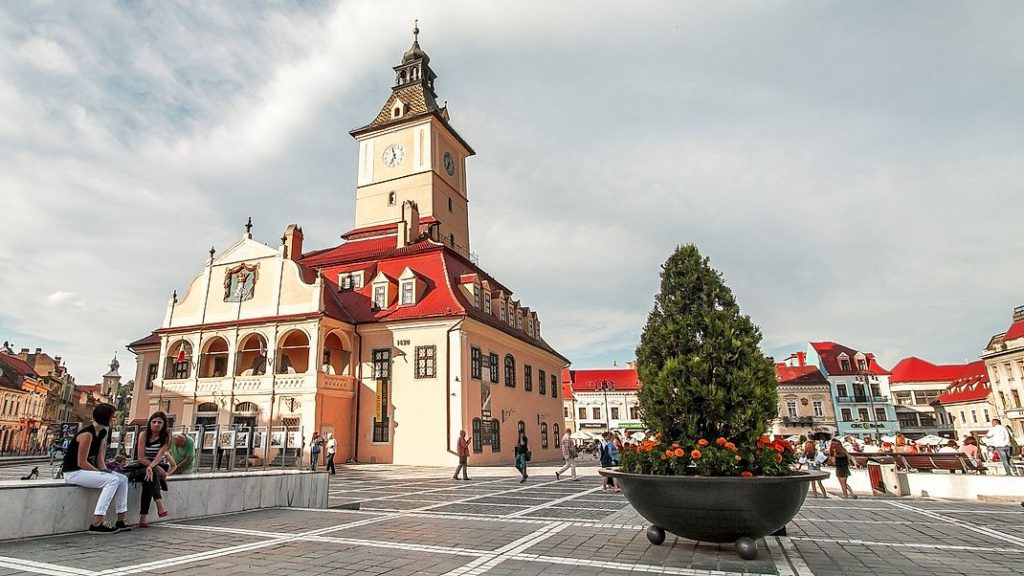 Brașov is located in central Romania, just north of Sinaia and east of Sibiu. The city is accessible by trains from Bucharest, Sibiu and Sighișoara and other surrounding cities. The nearest commercial airport is the Sibiu International Airport (SBZ).
There are many small hotels in the area, so you won't have any issues finding a place to stay. I stayed at the Hotel Casa Wagner which is on the main square and within walking distance of all the best tourist sites. There are lots of stairs in this hotel, so bear that in mind when booking. They have a daily breakfast which will get your day started on the right foot. I enjoyed staying here because every day I could just step onto the square, then look up to my left and see the "Brașov" sign on the hill overlooking the square.
Brașov is a walking town. The largest attraction is the Black Church, located at one end of the town square. Yes, it is black. You can also walk around the city and enjoy the many restaurants and sights. Plus, you can go skiing in the winter time at the resort on the hill not too far away. On your way up, check out the White Tower. From there you can get a scenic view of the city. If you're adventurous enough, you can also take a ride down the mountain road on a bicycle. This is not for the faint of heart, let me tell you. Oh, and supposedly, Brașov has the narrowest street in Europe.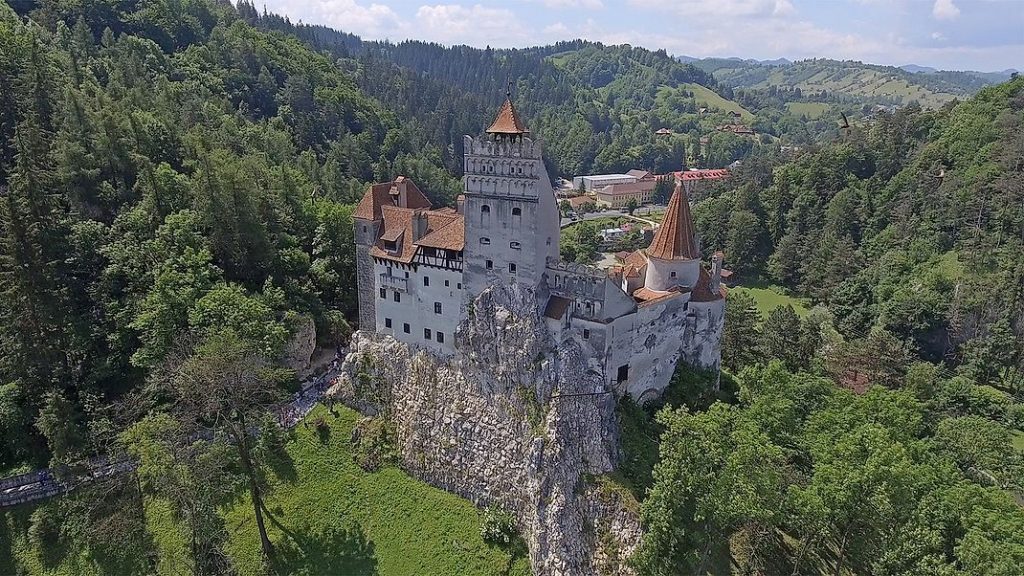 For the record, this is the largest town closest to Bran Castle, the "home" of Count Dracula. It's a beautiful castle that sits on a hill. You are allowed to tour most of its rooms; it isn't as scary as you'd think. Around the castle you'll find shops selling Dracula memorabilia, so it's really designed for tourism and to capitalize on the Count Dracula myth. Still, it's a fun place to visit.
Canionul Șapte Scări (7 Ladders Canyon), Brașov
This is perhaps one of the most beautiful places I've ever visited and it's also one of the scariest things I've done in ages. I really stepped out of my comfort zone on this one. If you like waterfalls, hiking and mountains and you have a sense of adventure, then this one is for you.
Canionul Șapte Scări (7 Ladders Canyon) is located in Brașov county just south of the city of Brașov. It's northwest of Bucharest. The seven waterfalls are from the Șapte Scări river.
You cannot and should not do this adventure without a guide. I highly recommend Cosmin, who was booked through JayWay Travel. This young man is the Romanian version of Bear Grylls, if you're familiar with him. He's an adventurer who lives off the land when he hikes. He also takes celebrities on hikes as well. Cosmin is pretty amazing and a very simple guy, but he's a real mountain man so you're safe with him.
There are no hotels in the mountains, so you can camp out or stay in nearby Brașov.
Your guide will take you up to the start of the falls and help you to tackle the trail. This initial part of the trip is a mild hike on a paved road and then a trail. Take rain gear with you, as you'll be hiking through a rain forest. If it rains, you'll get soaked because there's only one place to take shelter and you might not be close to it. On our way back it rained heavily and we got soaked even though we did take shelter under some trees. Take good comfortable shoes that you don't mind getting wet because you'll cross some streams and you might slip and fall in. But I'm not saying I did! Also, the terrain is pretty steep in places, so be aware of that. But this really is an amazing experience. I'm sure you'll enjoy it.
The cost at the time I did the trip is 10 lei for adults and 5 for children and students with an ID card. There are also zip lines in the area that cost 50 lei, if you feel so inclined.
Bâlea Lake, Sibiu
If you love mountains, snow and great views, you'll love Bâlea Lake. You won't want to leave, trust me! This lake is also home to the Ice Hotel when it's frozen during the winter. I visited in June and it was still a tad cold; the lake wasn't frozen, but there was snow on the ground.
Bâlea Lake is located in the Făgăraș mountains of Romania, near Sibiu. It's actually a glacial lake. You can drive there via the Transfăgărășan Highway or through the mountain pass. You could also take a cable car to access the lake.
The nearest commercial airport is the Sibiu International Airport (SBZ) and of course you can fly into Bucharest as well.
Driving up to this lake is half the fun, whether you take the Transfăgărășan Highway or drive up the winding road from the other side. Make sure to check in advance, as the mountain pass could be closed. It usually re-opens in mid-June, otherwise you can only access the lake from the Transfăgărășan Highway side.
The crisp fresh air and the views make this a journey worth taking. Once at the lake, you'll have a choice of two restaurants, and there are also two hotels in the area in case you don't want to stay in Sibiu or the neighboring towns. Ensure you have warm clothing as you are way up in the mountains at 2,034 meters (6,673 feet).
The Transfăgărășan Highway, Sibiu, Romania
If you just want to go somewhere different I'd suggest this. The road is winding, the views are amazing, and you have to pay attention. It's the Transfăgărășan Highway, built by the dictator, Ceausescu. It's chilly even in the middle of summer because the top of the road is pretty high at 2,034 meters (6,673 feet). It starts in the town of Cârțișoara and goes up from there.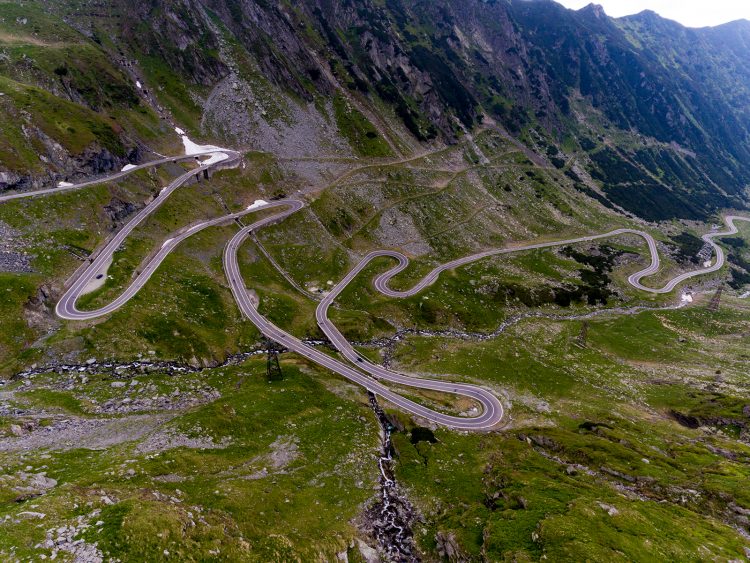 Even Top Gear did an episode here. They actually closed off the area so the production company could do their filming. It's an amazing piece of roadway that you can't imagine. You just have to experience it.
The views from any point along the highway are breathtaking. You have to take great care when driving as it's quite treacherous in places. Stop at the top and enjoy the view. When the road straightens out at the bottom, stop again to enjoy the different view while you listen to the stream that runs from Bâlea Lake. It's very therapeutic and worth every moment.
The area is also great for motorbikes. You'll see a few as you take your journey.
Rupea Fortress
Need a place to stop and enjoy Transylvania just outside of Brașov? This is it. You can see for miles from here, which is why the fort was built in the first place. There's miles and miles of beautiful countryside overlooking the town of Rupea.
Rupea Fortress is located just northwest of Brașov. It's also worth a visit. In terms of food, there's a small food stand at the fortress itself. You could also visit Rupea for meals. It's a small town, so there aren't many options.
There are small hotels available in nearby Rupea and of course, you can also stay in Brașov.
Sibiu
For some reason I can't pronounce the name of this city properly. Seems simple enough, right? I tried many times, our guide on the trip, who is from Sibiu, tried to help, but no go. It wasn't until I went to the Hotel Central Park in Sighișoara (another interesting pronunciation), that the owner said, just think "C-B-U" and it finally clicked.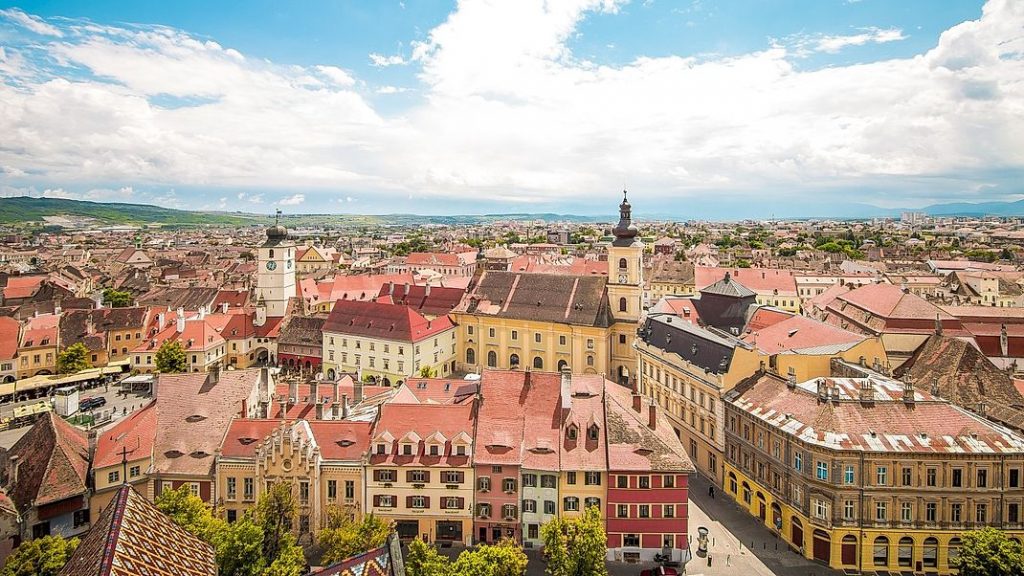 So why should you go to Sibiu? It's a quaint city with plenty of history, historic churches, delicious food and friendly people, and you'll also learn how to pronounce it correctly!
Sibiu is located in central Romania in the Transylvania region. It's almost due west of Brașov, and southwest of Sighișoara.
The city has its own international airport just a few minutes outside of the center. It's also accessible by buses and trains.
Sibiu holds its own in terms of accommodation. You can find large hotel chains such as Accor, Hilton and Ramada, plus local brands such as the Continental Forum Sibiu, where I stayed. There are also hostel accommodations available right in the center of the city.
This was once a medieval walled city and parts of the towers and walls are still standing and in good condition. You've just got to see them! The city is in a valley which is very noticeable once you go inside the towers of the main church and climb all the way to the top. From there you can see for miles. We were fortunate enough to see an approaching storm, and we were lucky to have shelter in the tower!
There are many restaurants and little shops along the square. Make sure you try the local ice cream and pastries, and also the tasty corn on the cob.
There's lots to do here in terms of historical sites: churches, a synagogue, public parks, cobblestoned streets, the town square, even a zoo. It's a true walking city and that's what I recommend doing.
Walk across Lier's Bridge (Liar's Bridge) which connects the Lower and the Upper Town and dates back to 1859. Legend says that if you sit on the bridge and tell a lie, it will collapse. Be warned!
Cristian, Sibiu
Religion plays a very important and historical role in Romanian society. Cristian is a Saxton town that is just outside of Sibiu as you pass the Sibiu International Airport. One neat thing about this area is that it is home to many storks. The city actually built nests especially for the birds that stop here to roost during migrations. As you drive through the town, you can see these huge nests atop light poles and if you're lucky, you'll see a stork. They are huge!
The town also has a Bacon Tower at the local fortified church (Biserica Sfântul Servatius). Yeah, you have to see it. It's literally a tower where to this day they store bacon as well as other foods in jars.
It's a quiet and unusual town, plus you'll see farmers driving around with their farm equipment. I was mesmerized by the stork nests and I know you will be as well.
There are many Saxon homes still preserved, some of which are bed and breakfasts, so you can stay in the town or in Sibiu. I'm sure if you ask nicely, you can visit the homes.
Sighișoara, Romania
Sighișoara is located in the Transylvania region of Romania and is the birthplace of Vlad the Impaler who is a real person with a morbid history. Today, there's a cafe below the house. You can just head upstairs and check out the room where Vlad was born. The main tourist attraction in this town is the Citadel and the home of Vlad Dracul. Dracula is actually based on Vlad and is not a real person. People still come here to see the birthplace of Dracula though. I don't think the locals like the whole Dracula myth, but they go along with it.
You can get here by air, via bus or train. The train station is just on the edge of town.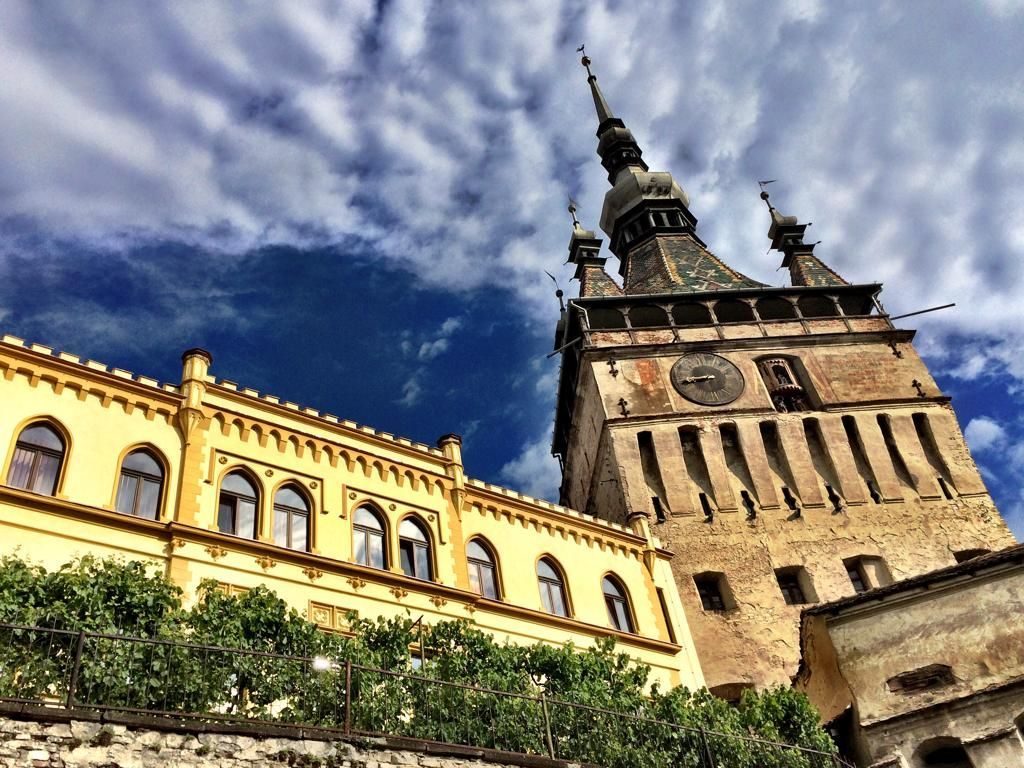 There are a few local places to stay in Sighișoara. These include the Hotel Central Park which is right on the main street and also an old Post Office (Gasthaus Altepost Pension) which is where I stayed. I loved it. There's even a DoubleTree here if you want to get points for future Hilton stays or also redeem points.
There are plenty of places to eat in Sighișoara. Just follow your nose and the crowds, although I did not really see much of a crowd when I visited. JayWay can recommend the best restaurants.
Be sure to walk through the covered walkway that leads up to the church on the hill and explore the adjoining cemetery. Then head back down and enjoy the picturesque views of the city below. There's something about those red roofs; I can't quite place my fingers on it.
Bucharest
This city is very rich in history. There's lots to do, see and explore. It's up and coming and even has a copy of the Arc de Triomphe. It's also not a very expensive city at all.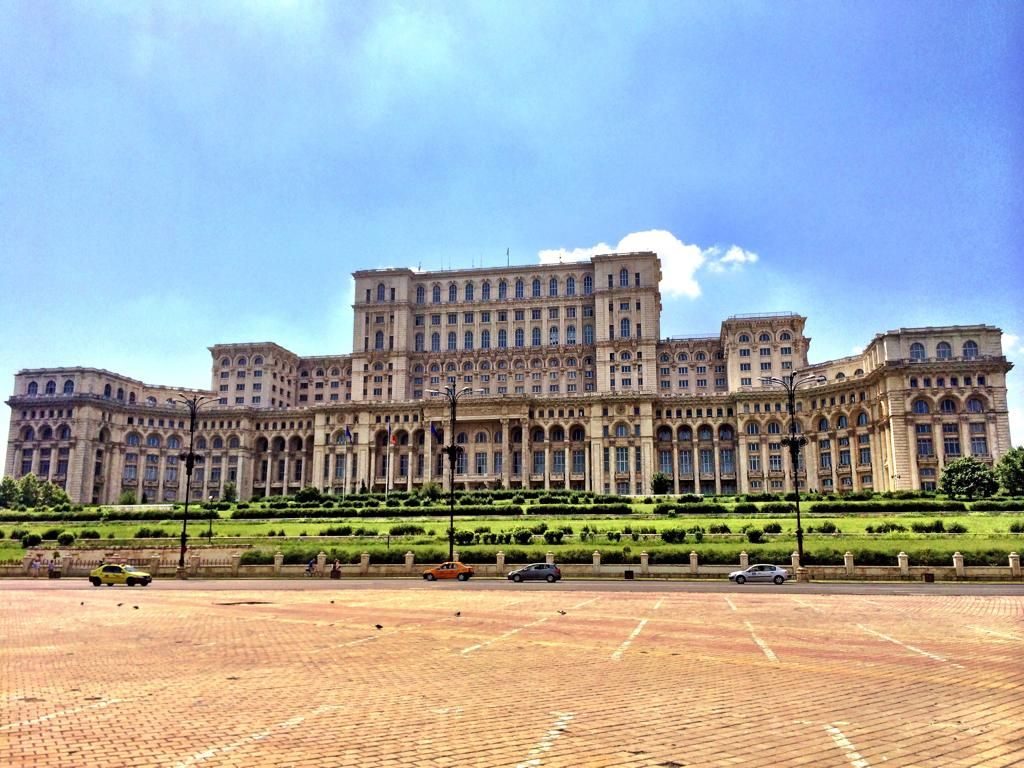 I first visited Bucharest in June 2008. It was a short visit, so I did not get a chance to see much. This time that changed though. I had no hand in arranging anything for this trip as JayWay took care of everything. This included airport pickup, the hotel stay, meals as well as tours from a local guide named Flavia who is amazing. She taught me more about the city than I needed to know.
The nearest airport is the Bucharest International Airport (OTP). The city is also accessible by bus and international train and they have Uber if you need it.
Hotels are not an issue here as there are local brands as well as international chains. There's actually an Intercontinental Hotel here which plays a major part in the city's history. It's at the very center of the city and is the tallest hotel in Bucharest with amazing panoramic views. It was the hotel of choice for international dignitaries as well as the foreign press during the '70s.
There are tons of restaurants in Bucharest, especially in Old Town. There are also food stalls all over the place. Stop by and have a local delicacy.
Here are some recommendations for things to do in Bucharest:
Arc de Triomphe: This is a replica of the one in Paris minus the traffic.

Nicolae Ceausescu's Palace of Parliament: I highly recommend this. You'll get to see a small window into the Romanian Parliament via a tour of the facilities. It's very grand, let me tell you.

Revolution Square: This is where the revolution started. It's a bit eerie as you explore it, but you must.

The Intercontinental Hotel: This building also played a part in the revolution.

Odd Statues: This one is of a naked guy holding a she-wolf. You may actually walk right past it and not notice it.

Beautiful Parks: Bucharest has a number of very beautiful parks. Wander through them at your leisure.

Museums: There is no shortage of museums here, including a living museum with homes from all over Romania.

Churches: There are lots of churches in Bucharest. Most are Russian Orthodox.
All in all, I had a wonderful time visiting Romania. I'd love to return very soon. Have you been to Romania? How was your experience?
————————-
Kerwin is an ex-airline employee who travels more than 250,000 miles a year. He writes up-to-date airport, destination and ground transportation guides, plus airline and hotel reviews with a mission to motivate airline employees to use their travel benefits at Passrider.com.
He has flown 172 airlines and visited 121 countries and he teaches travelers how to be loyal to travel brands at www.Cruisinaltitude.com. He recently launched a new website, www.UnfamiliarDestinations.com.
The views are all Kerwin's own although the trip was facilitated by JayWay Travel.