Prague has had no shortage of famous inhabitants throughout history, but in the art world there are few whose reputations surpass that of Alphonse Mucha, one of the most famous painters of the Art Nouveau movement of the late 19th and early 20th centuries.
Chances are you'd recognize Mucha's work, even if you don't know his name. One of the busiest and most iconic painters of his era, Mucha enjoyed a rich career in Prague and Paris, where he designed advertisements for everything from theater performances to cigarette papers. Later in life his thoughts returned to his homeland and he created a magnificent and colossal work, The Slav Epic, a series of 20 large-scale murals, each depicting a different turning point in the history and mythology of the Slavic people. Intended as a gift to his country when he died in 1939, The Slav Epic is set to go on temporary display in the Municipal House (see below), but it remains a point of contention, with arguments between Mucha's descendants and the city litigating on who actually owns the paintings and what should be done with them.
You can experience Mucha's work first-hand in several interesting buildings throughout the city.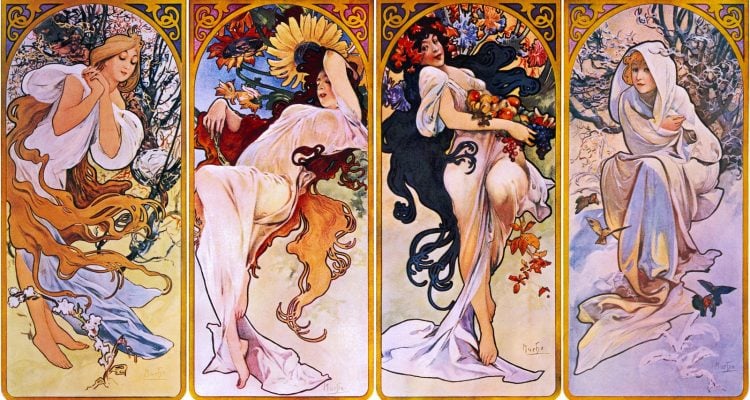 Jump to a section of this article
The Alphonse Mucha Museum
While the central location, just off Wenceslas Square, and the prominent gift shop can make this quaint museum feel a little too obviously intended for tourists, it is by far the best place to get a comprehensive understanding of Mucha's life and to see an eclectic collection of his work. Mucha's commercial work for French brands and theater productions form the core of the collection, and there are several excellent photographs of Mucha in the studio that help recreate the artist's life and times.
Mucha's signature style is well on display here, but to understand the depth and variety of his work it's good to see what he created elsewhere in the city.
Smetana Hall, The Municipal House
A visit to Smetana Hall in Prague's Municipal House has the charm of allowing you to enjoy a concert and also contemplate Mucha's paintings, which adorn the walls and ceilings. The building itself is an Art Nouveau gem, but inside is where the real treasure lies. Apart from a fantastically opulent French restaurant, the Municipal House also plays host to an art museum and the aforementioned Smetana Hall, where you can hear performances from a range of symphonies and virtuosos. But be sure to look up, because there is a series of fantastic Mucha paintings on the ceiling and the walls, depicting scenes from Slavic rural life. You can also pause to admire the lovely Art Nouveau furnishings that really make this venue stand out.
Saint Vitus Cathedral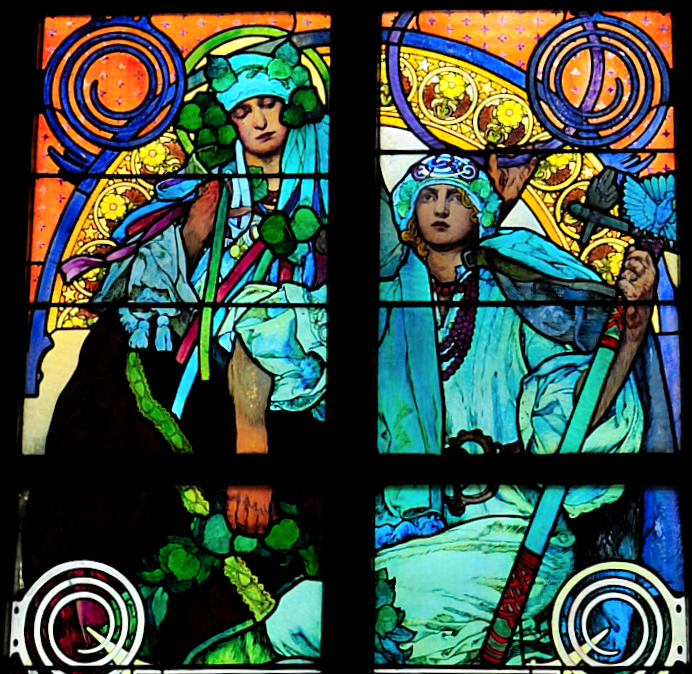 Mucha designed one of the many stained glass windows that decorate Saint Vitus Cathedral. Like much of his late work, it is concerned with Slavic history. The window shows a young St. Wenceslas with his grandmother St. Ludmila, surrounded by scenes from the lives of Saints Cyril and Methodius. It's wonderful to see the lightness of Mucha's best work in a "light" medium. Try to get there on a sunny day!
The Slav Epic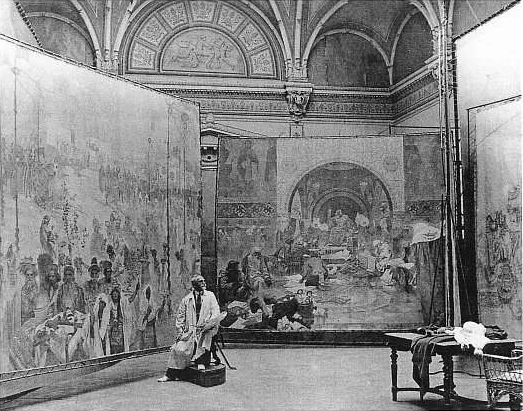 This is Mucha on a massive scale. In many respects the culmination of the artist's life and work, these 20 huge canvases explore, illustrate and celebrate the myths and history of the Slavic people. It's difficult to capture their grand magnificence in words. Their size alone makes them powerful, but that sheer size combined with Mucha's radiant style really makes for a special experience. The Slav Epic has had a number of homes over the years and as mentioned is a point of contention. Due to the nature of its bequest, the artist's family strongly believes the city owes the work its own dedicated building and various districts of Prague and city hall are competing to offer it a home. As of the time of writing (early 2018) the Slav Epic is expected to be exhibited in the Municipal House but no date has been announced.
Are you thinking about a holiday in Prague? We'd love to create a bespoke Czech Republic vacation package for you. Just get in touch to learn more!

Stephan Delbos is an internationally published writer and editor. Born in the US, he has lived, worked and traveled in Europe for a decade. He's fond of oysters and arid martinis.