Even after 42 gloomy years under communism, and enduring the destruction of much of its once monumental architecture, Bucharest retains some of its once renowned elegance. Victory Avenue has preserved some of its palaces, and the restored Lipscani area, which forms the Old Town, is as glamorous as ever. The city's typically vibrant lifestyle has returned, and a new generation of bistros, patisseries, and cafés (especially cafés) has flooded Bucharest's streets. But why the preference for French terminology and styles?
In the 19th century, Bucharest was nicknamed the "Little Paris" for its numerous French neoclassical and baroque buildings. At that time, many talented youngsters would study at the Ecole des Beaux-Arts in Paris, then back at home would get to work spreading the beautiful architectural arts they had learned abroad.
As they spoke a Romance language, it was easier for Romanians to study in France instead of Germany or Britain. Moreover, in the latter half of the 19th century, France was an artistic world leader, with its haute couture fashion, newly invented haute cuisine, and many other cultural ideas.
As the French language was widespread among educated Romanians, it was easy for young Romanians to be influenced by and further spread French trends. Amazingly enough, these currents remained part of Romanian pop culture throughout the 20th century, even during the Soviet occupation and resulting communist regime, when artistic manifestations, libertine celebrations, and intellectual activity not sanctioned by state censors were usually rewarded by fines, imprisonment, or even deportation.
Now Bucharest has recovered its eclectic spirit, as shown by its neighborhood theaters and cafés, and the bohemian lifestyle that defined our grandparents and great-grandparents before the dictatorship that took power in 1938, and the communist era that followed.
---
Artist Café
THEATER & SOCIAL EVENTS IN THE OLD TOWN'S HEART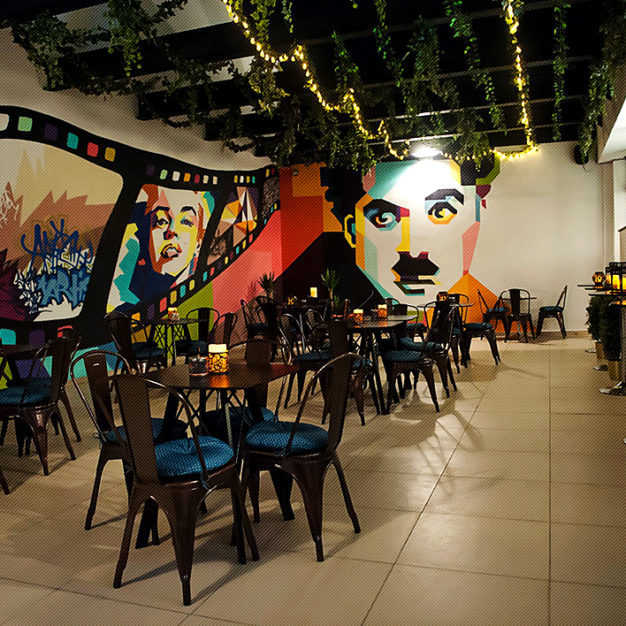 Located in the heart of the Old Town, on the historic Lipscani Street, Artist Café is more than a classic café with a modern twist. It's a social venue, as all cafés should be. With a multipurpose space and elegant but fresh design, it's a place where you can enjoy a coffee while reading a book or even as you watch a live show! Yes, this place is also a mini-theatre with various live plays, stand-up comedy, improv, and even interactive plays for children. Artist Café has a large selection of coffee, cocktails, and tea as well as a nice terrace. The central café's theme naturally revolves around artists, with Charlie Chaplin among other celebrities appearing in various paintings, photographs, and other decorations.
Address: Strada Lipscani 30, București 030167, Romania
---
BOB Coffee Lab –
NEW WAVE OF SPECIALITY COFFEESHOPS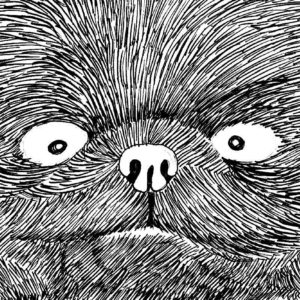 You really have to meet the guys working at Bob Coffee Lab! Oh, and drink their coffee! As the name suggests, this is a specialized coffee shop and café, dedicated to any kind of coffee lover, but especially to experts. This café has its own computerized "Roasting Laboratory" equipped with state of the art equipment. The chief roaster and barista are super skilled, as proven by the numerous awards they have won from across the globe. The whole team is very friendly and funny, and the café is located inside a 19th century neo-Romanian style house on Charles de Gaulle Square, just across from the main entrance to the beautiful King Michael Park.
Address: Piața Charles de Gaulle 3, București, Romania
---
Grand Café Van Gogh
THE CHARM OF BELLE ÉPOQUE BUCHAREST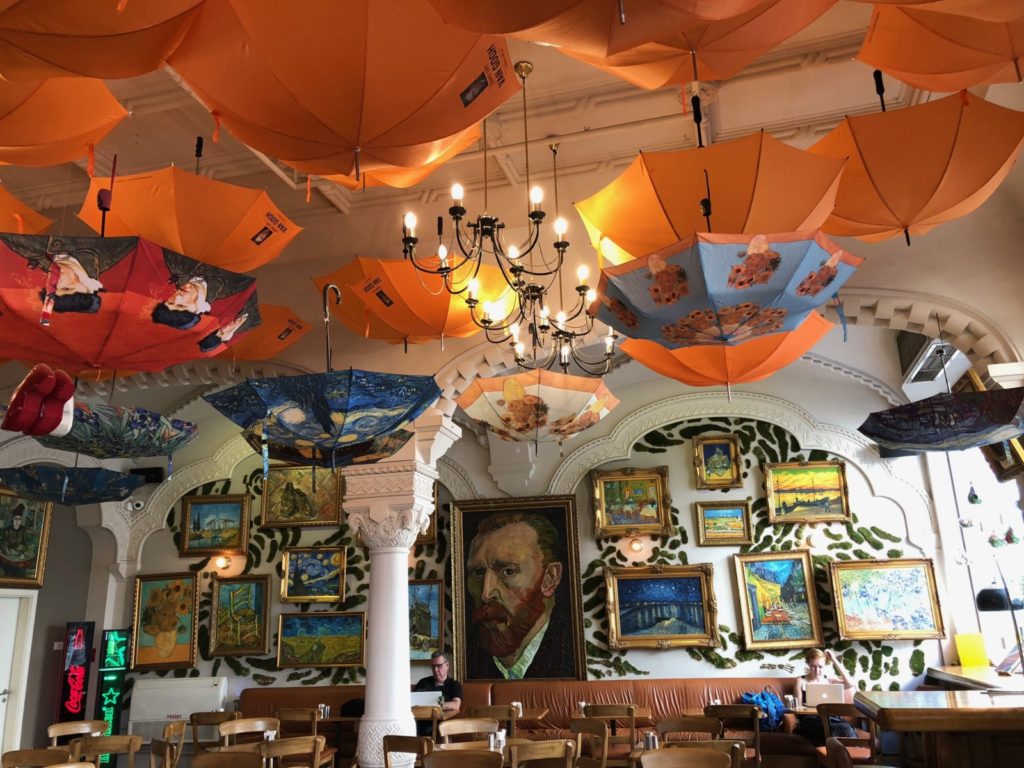 The Lipscani area is a popular place for Bucharest's citizens to relive the city's Belle Époque zenith. If there's a café that looks like our grandparents' photos of the city's golden age, it's the Van Gogh. Located between King Carol's former Stock Exchange Palace, and the Pinacoteca Art Palace, and directly across from the National Bank Palace, this new yet old café couldn't dream of a better location. As you can imagine, the interior is classic yet colorful, with nice ornate columns, and of course loads of paintings hanging on the walls. This is the perfect place for a coffee coupled with breakfast or brunch, as the Grand Café Van Gogh doubles as a bistro.
Address: Strada Smârdan 9, București 030167, Romania
---
Artichoke
COOL HIPSTER CAFÉ AND CREATIVE ARTISTIC HUB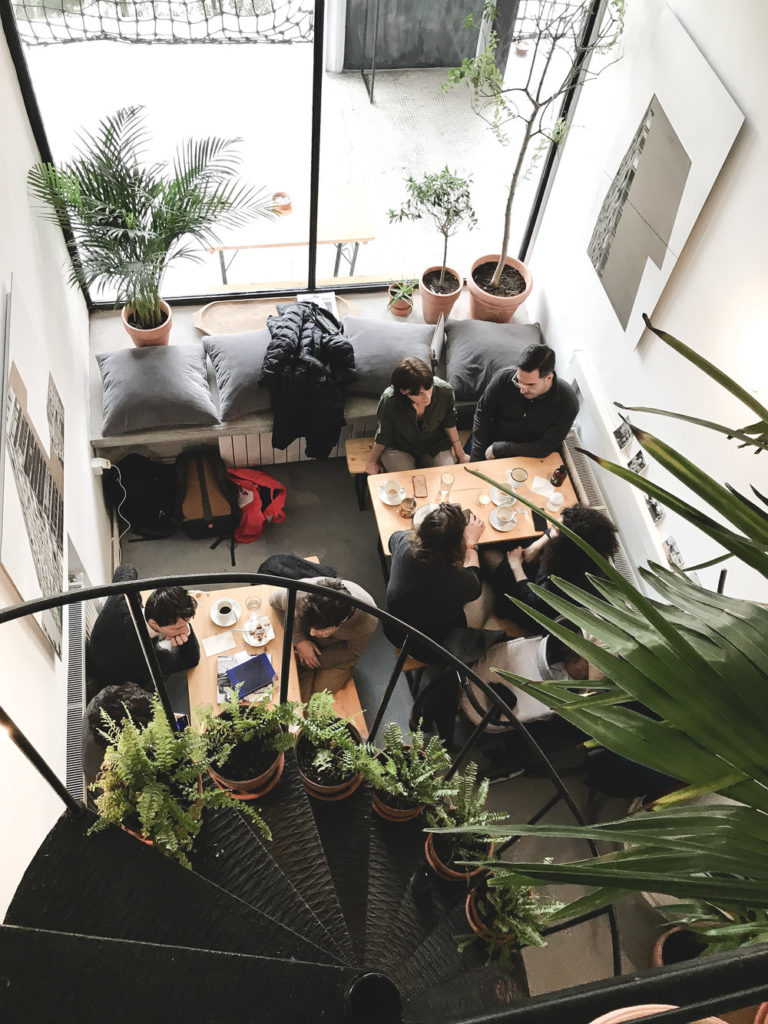 Artichoke is definitely a nice and fresh addition to central Bucharest's cafés, located on the historic Victory Avenue right next to the Byzantine-style Kretzulescu Church. The front gallery is a perfect terrace, with its arched columns, while the decor inside and out is enriched by plenty of beautiful plants and photography, reflecting the passions of the café's owners. Their first love is obviously coffee, and Artichoke serves London specialty coffee, homemade juices, Transylvanian organic teas, and coffee-friendly cakes. Additionally, this is a social hub among visual arts enthusiasts thanks to its regular photography exhibitions and other events that build bridges between art markers and consumers. As Artichoke's website explains, "we strongly believe everyone's creativity is fuelled by social interactions, so our aim is to create a place that inspires people to take small, everyday actions that can add up to a big difference in the city."
Address: Calea Victoriei 45, București 010062, Romania
---
Café Verona
CHARMING GARDEN AND OASIS OF CALM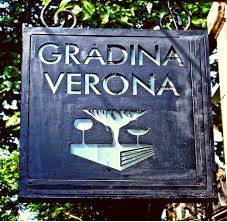 Located on a tiny side street close to the busy Romana Square, Café Verona is literally an oasis of calm, with a gorgeous garden hidden away from the noise of city life. The garden and café share a space with the adjacent Carturesti bookstore, so art and coffee go hand in hand, with numerous book launches, exhibitions and other cultural events taking place. Aside from good coffee, you can also visit for lunch or even dinner, as Verona also functions as a bistro. No matter what time of the day you pop in, this will be an incredibly relaxing experience, surrounded by flowers, trees, and a Zen atmosphere.
Address: Strada Pictor Arthur Verona 13-15, București 010312,
---
Forma
A COFFEE SHOP AND AN ART GALLERY IN ONE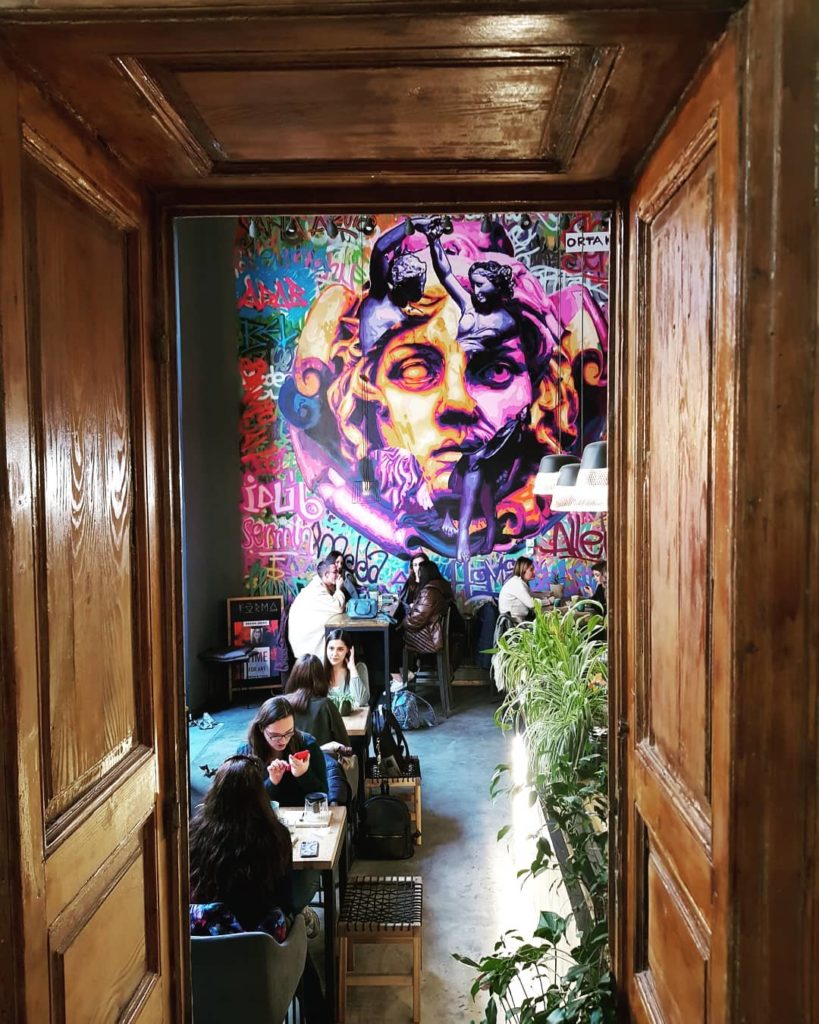 To quote the owner, "Forma is the brainchild of a wanderer, an art lover and a taste alchemist. A place dedicated to impassioned people". Located in the Old Town next to the Stock Exchange Palace, this café has a unique design, mixing quality street art and graffiti, with a modern art gallery on its upper floor, and a fresh vibe throughout, despite the historic building it is housed within.
Address: Strada Ion Ghica 4, București 030167, Romania
As you have seen, Bucharest has a thriving café scene, with a variety of places combining quality food and drink with strong ties to the local arts community, and to the city's glory days. In addition to the places mentioned above, we also recommend visiting Coffee Factory, The Urbanist, Beans & Dots, Origo, and Sheida.


Olivia is our woman in Bucharest. With experience in running her own travel management company she's an accomplished travel planner and also provides on-the-ground assistance for our guests visiting her beautiful country.