Europe offers many pleasures, from soaring peaks to beaches, but you can often find those at home as well. A more unusual highlight is the continent's castles. From remote ruins to overcrowded tourist traps, there are thousands to choose from in the Czech Republic alone, and most travelers seem to have a few on their bucket list. Here are some of our favorites, which combine centuries of history, dramatic architecture, memorable treasures, and equally unforgettable legends. This is part one of a two-part post, this one focusing on castles in Central Europe and the Adriatic region. The next article covers fortresses a bit further east.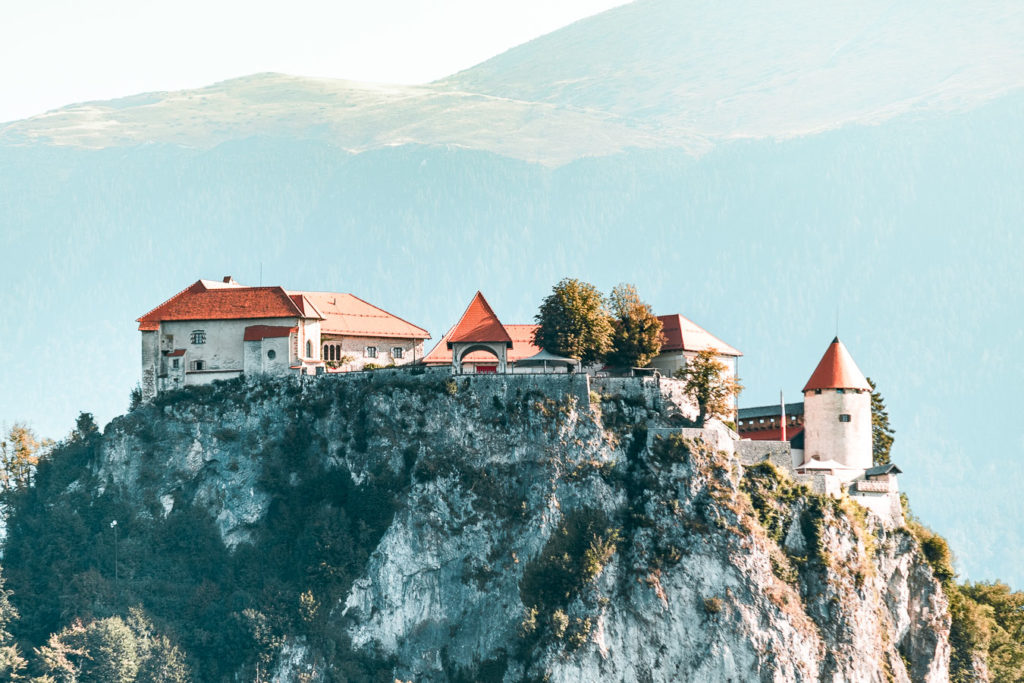 Jump to a section of this article
Bled
Bled Castle may be small, but its views are mighty. Located atop a cliff overlooking Lake Bled, its insular church, and the town of Bled, this is Slovenia's oldest castle, dating back to at least 1011. A mix of Romanesque and Renaissance styles thanks to its Holy Roman builders, the castle features preserved illusionist frescoes, a forge, reproduction Gutenberg press (you can try out yourself) and a good wine cellar. 
As with many older castles, Bled Castle has legends tied to it. One of them is tied to Hartman Kreigh, the castle's cruel, greedy castellan around the beginning of the 16th century. Following his death, his widowed wife Poliksena grieved for him deeply, and had the gold she had helped him collect cast into a bell, for the chapel on Bled Island. The boat carrying the new bell sank in a storm, taking the bell and crew with it. Poliksena became a nun, moving to a convent in Rome, where the Pope heard her story, and had a new bell installed on the island. However, the original bell can supposedly still be heard occasionally, ringing from deep within the lake.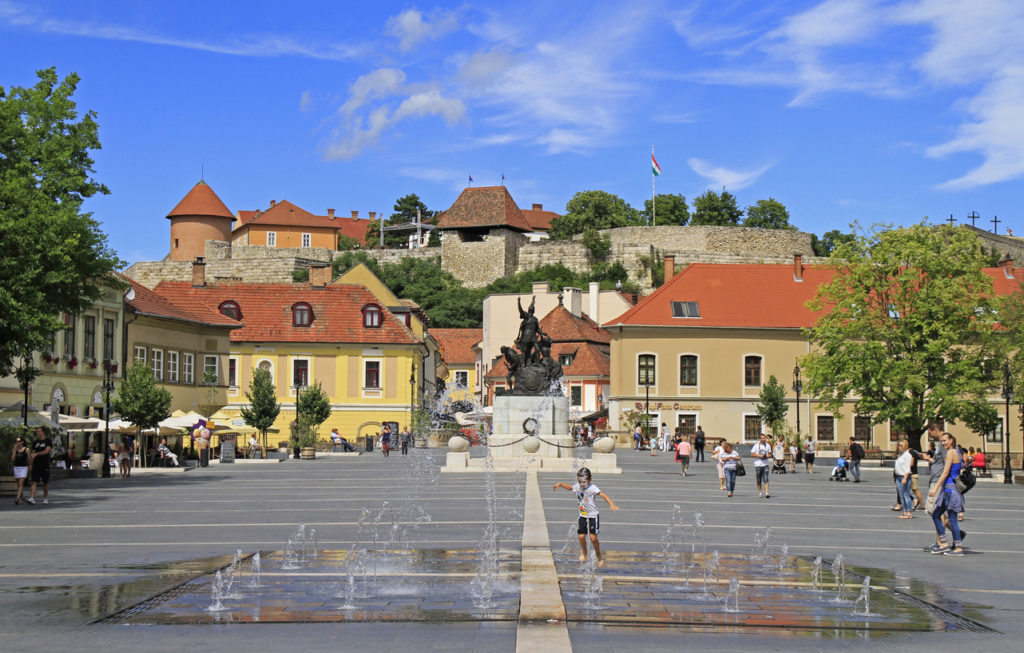 Eger
Eger is mostly famous for its surrounding vineyards, which produce excellent reds, such as the "Bull's Blood" blend. But the pride of the Hungarian town itself is the castle. There, in 1522, locals fought off a Turkish invasion, despite being outnumbered 20 to 1 (naturally, popular legend puts the ratio at 80 to 1). The original castle built atop Varhegy hill was ruined by Mongols in 1241, so a replacement was built by Hungarians shortly after, which was later expanded into a Gothic palace. The 1522 defense, by a mix of soldiers (one of whom devised brilliant firebombs), and local peasants (including women), has been celebrated by patriots for the last 500 years, thanks in part to its inclusion in Geza Gardonyi's popular 1899 novel "Eclipse of the Crescent Moon" (AKA "Stars of Eger."). The castle's conquest in 1596 has remained more obscure.
Partially rebuilt, visitors can find a museum devoted to the castle and its heroes, as well as displays of paintings, ancient vases, wax figures, and more. Every weekend from March to October, you can watch a reenactment of the siege. After getting your fill of the theatrics and history, fill your belly at the Macok Bistro, at the foot of the fortress.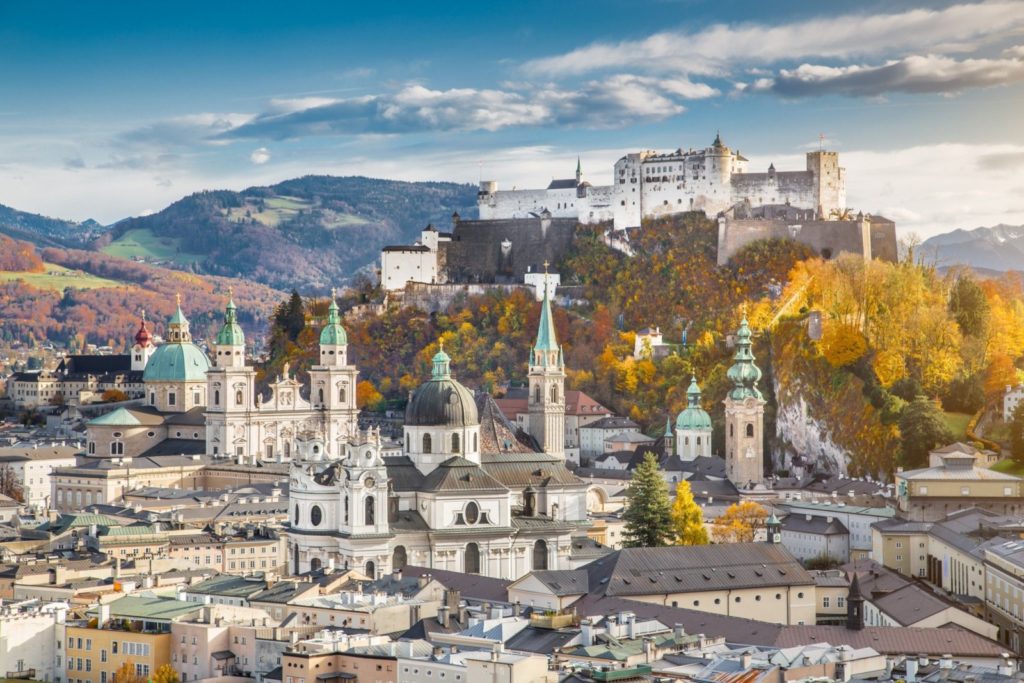 Hohensalzburg
One of Europe's largest castles, Hohensalzburg ("High Salzburg") Fortress was built in the 11th century by the archbishops who ran Salzburg for centuries, but its current looks date back to 1500. Enthroned atop a commanding hill, this imposing fortress covers the Salzburg's highest point, offering incredible views of the city and the Alps in return. Accessible by foot or modern funicular, inside you can find various museums inside, focusing on topics from puppets to Salzburg's infantry regiment, which fought in remote parts of the Alps during World War I, to the castle itself. Only besieged once (unsuccessfully), the fortress was more than just a military structure, as evidenced by its chapel, giant organ, and the luxurious archbishop's apartments. Perhaps the most unusual aspect of the fortress is the Reisszug, a cable railroad that dates back to the 15th century, arguable making it the world's oldest railroad.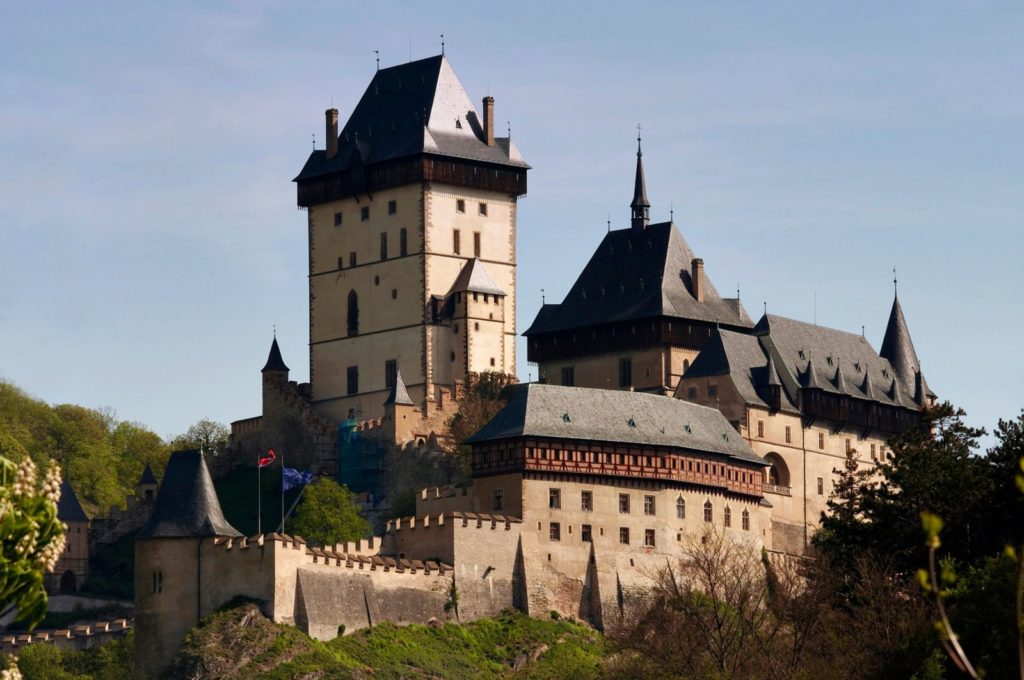 Karlstejn
Matching what most people see when asked to imagine a castle, imposing Karlstejn is, among Czechs, one of the most popular of the country's 2,000+ castles (more than anywhere else, per square mile). Some if this might be down to its proximity to Prague, but it's impressive nonetheless. Built by Charles IV as a treasury for the Czech and Holy Roman Empire's crown jewels, the Gothic castle looks as formidable as you'd hope on the exterior, and the interior still features treasures. Highlights include the Chapel of the Holy Cross within the soaring Great Tower, which has walls covered in gems and 129 panel paintings, and a gilded dome with Venetian glass simulating a starry sky.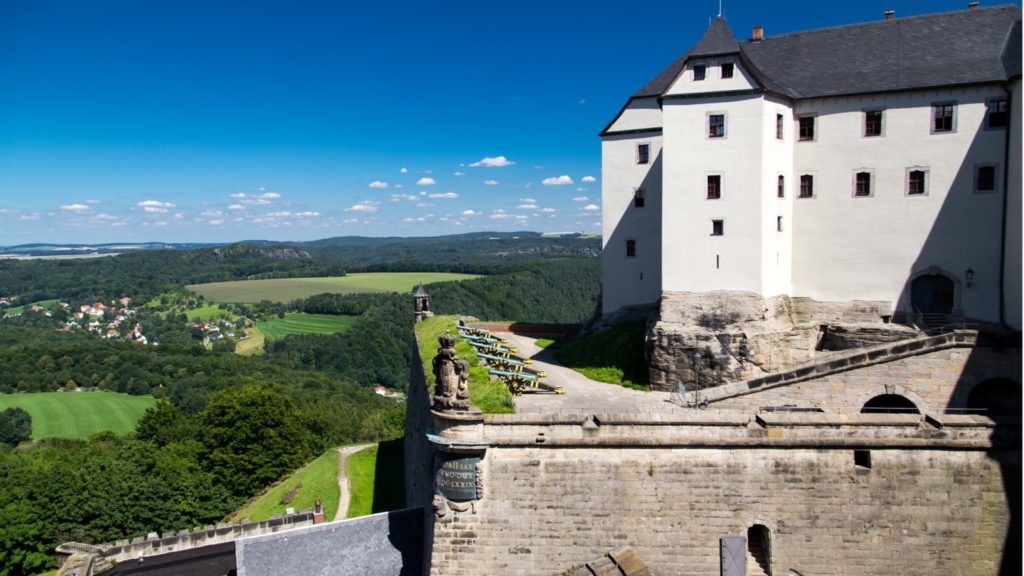 Königstein 
Take a train along the Elbe between Dresden and Prague, and you'll be rewarded with remarkable views of the Saxon/Bohemian Switzerland (depending on which side of the German/Czech border you're on). This region's dramatic sandstone wonders have drawn tourists since the very birth of modern tourism and the "Grand Tour," but towering above them all is the Königstein Fortress. One of Europe's largest hilltop fortifications, Königstein ("King's Rock) stands atop a German mesa, its thick walls rising where the natural cliffs leave off. Originally one of the impressive Bohemian castles built atop the area's rock formations, Königstein was expanded by Saxony in the 16th century, gaining Europe's second deepest well, and the world's largest wine barrel (which held 250,000 liters).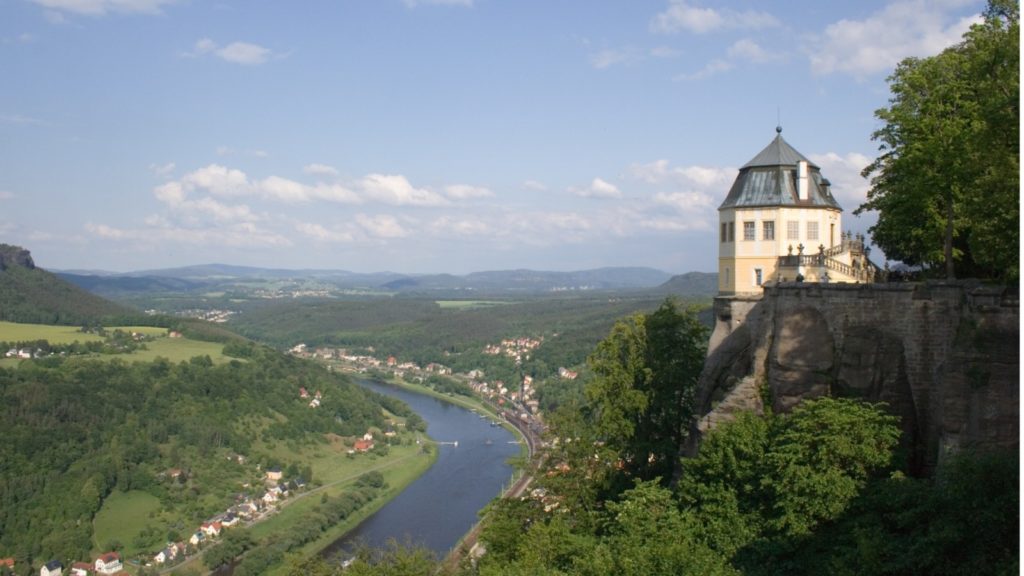 This impregnable "Saxon Bastille" has never been conquered, and was used to guard Saxony's most valuable treasures, from gold to art to nobles. With its steep walls, Königstein also saw service as a state prison, holding prisoners of war and political prisoners. These included poor Johann Friedrich Böttger, the European inventor of fine china, who was locked up to prevent the secret recipe behind this alchemist's "white gold" from escaping. Only one man ever escaped: Henri Giraud, a Free French general who had also escaped from a German camp during World War I (he made it back to France both times).
Today, Königstein contains part of the Bundeswehr Military History Museum, which has its main building in Dresden. The fortress is visible from Dresden's S-Bahn commuter train, and is a great reward after the short hike up from the town and train station of Königstein, thanks to its views of the Czech Republic and surrounding rock formations (immortalized in Caspar David Friedrich's painting "Wanderer Above the Sea of Fog").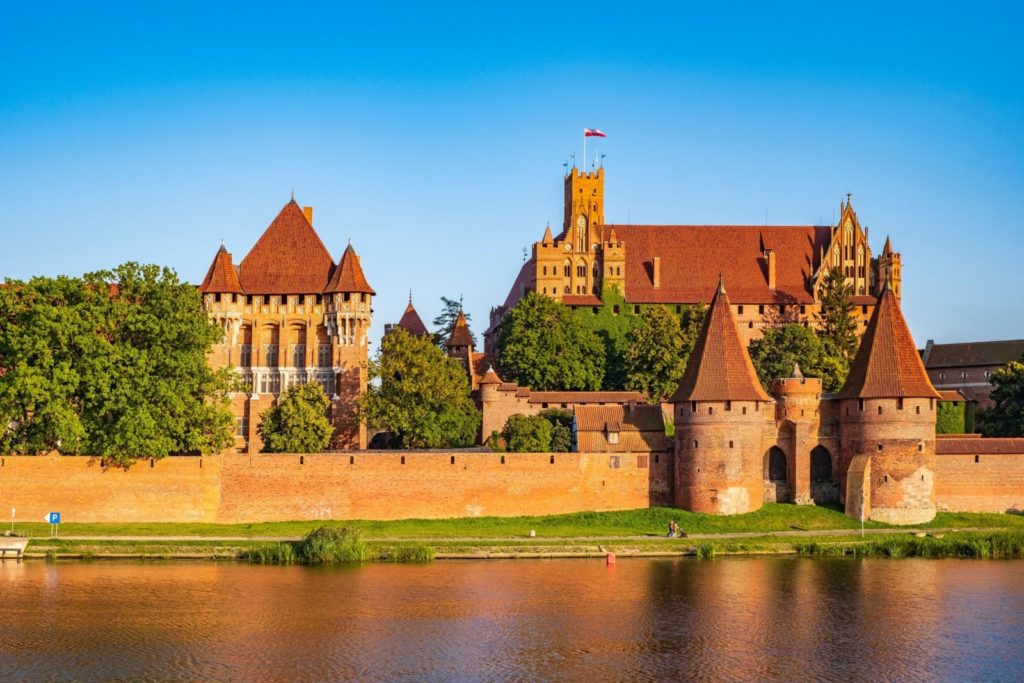 Malbork 
The world's largest castle by land area, Poland's Malbork Castle was founded as Marienburg, the capital of the Teutonic Knights (AKA the Teutonic Order), and still looks the part, centuries after they disappeared. This UNESCO-listed Brick Gothic beauty was built in the 13th century, after the Order had been evicted from the Middle East, and consists of three separate castles, separated by various layers of fortifications, which could house about 3,000 people at its peak. Over time, the fortress passed back and forth between Poles, Prussians, and Swedes. Europe's largest brick complex, Malbork is a popular day trip from Gdansk (an hour away), or stop for travelers passing between Warsaw and Gdansk.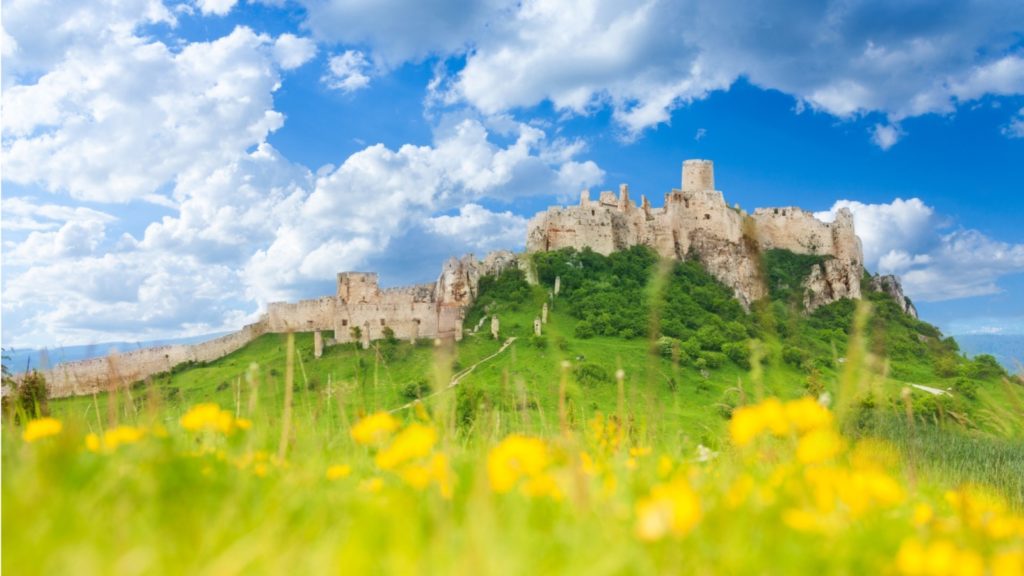 Spis
Slovakia's UNESCO-listed Spis is one of Europe's largest castles, thanks to its extensive ridgetop outer walls. Built as a Romanesque castle atop an even older fortress by 12th century Hungarians, this site evolved over generations, becoming the center of the surrounding Szepes region (hence the name). During the Renaissance, the castle was transformed into a manor, but was eventually abandoned when its aristocratic owners chose to move to newer palaces. After mysteriously burning down in 1780, the castle began to fall apart, but has since been partially rebuilt, and features a museum. Spis is a popular stop for travelers in central Slovakia, especially those passing between Kosice and the High Tatra Mountains.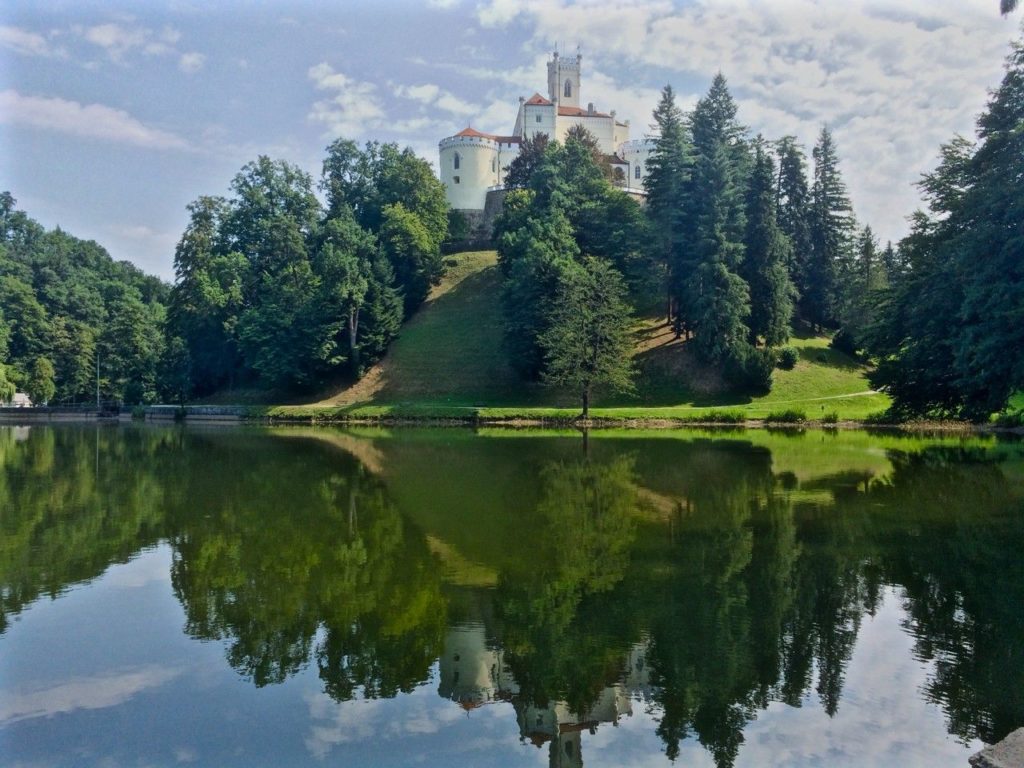 Trakoscan
Initially a small 13th century Romanesque fortress, then the home of various aristocratic families until they died out, Croatia's Trakoscan Castle, just south of the Slovene border near Zagreb, seemed destined for obscurity. Even the source of the name is unclear, though it may come from the German Drachenstein, or "Dragon Stone." That changed in the mid-19th century, when its new owners decided to turn the castle ruins into a grand Neo-Gothic manor, surrounded by beautiful Romanticist English-style gardens full of exotic trees. The valley below was even dammed and stocked with fish, forming the long, shallow Lake Trakoscan. The fully restored hilltop castle naturally offers excellent views of the park and lake below, as well as the wooded hills and vineyards of the surrounding Hrvatsko Zagorje district.
Click here for part two, a look at some beloved wonders further to the east.

Born and raised in Wisconsin, Kevin lived in Estonia and Finland for several years, traveling widely through Central and Eastern Europe, before settling down in Berlin. Having studied the cultures, histories, and economics of the countries along the Baltic Sea for his Master's degree, Kevin has the knowledge and experience to help you plan the perfect trip anywhere in the region, and also works as JayWay's main writer and editor.