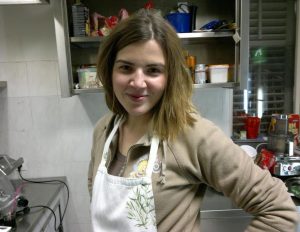 When the quarantine started, the only thing on my mind was what to eat. My next door neighbor and I focused on making plans about what to cook and bake – the kitchen was the most dangerous place in my house for the first few days.
I always liked to bake, finding it to be a kind of therapy that really relaxes me. I "blame" my mother and my grandmothers for this, as they were always baking some delicacy or another, and the house always smelled nice. Bit by bit, I started baking things on my own. I still remember the first cake I made, which I called a "Fried Egg," based on its appearance. It was a sponge cake with vanilla cream, and apricots on top. The pride I felt is how I really got hooked.
While I was thinking about some local recipes I realized how hard it is to determine if something is truly local. A lot of "local" recipes were actually imported from or heavily influenced by our neighbors, but here are a few which I find to be really local or traditional.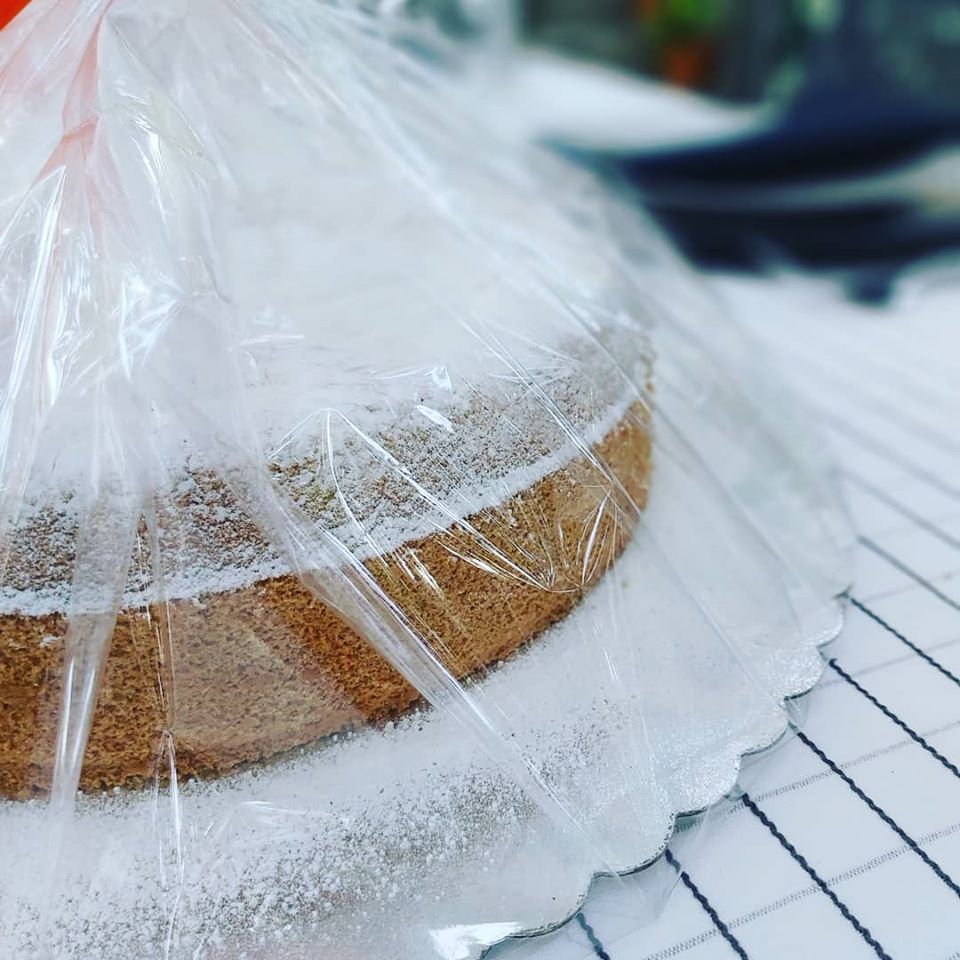 Padispanj
I was the saddest kid on Earth when my mum was baking this cake, as I used to think it was too simple. No cream, or anything, just sponge – the cake couldn't be more boring. And I never understood why everyone liked it. Fortunately, as I grew older, I started to like it.
Padispanj was a big thing back in the old days. There was a tradition (still honored in some places), where the entire village would come to the house of a woman about to be wed, to bring her presents. And where there are presents, cakes are a must! Receiving Padispanj was seen as an honor.
This cake is quite simple to prepare, as it has only three ingredients – eggs, sugar, and flour. Before cake tins, Padispanj was baked in a simple round pot. The cake's simplicity makes its ingredients important. The cake's color comes from egg yolks, so high-quality eggs are key. Homegrown chickens usually give the best eggs. Of course, they can be hard to find, so you can substitute for them with eggs from free-range chickens. Still, any chicken eggs should work, you just might end up with a cake that looks a bit pale.
I use 10 eggs in a 26cm wide cake tray, but you can also use 8 or 6. This recipe could even be made with just 4-5 eggs, in which case you would need a smaller cake tin, so the cake doesn't become too thin.
Ingredients: (if you use fewer eggs, use the same ratio of sugar and flour, so 8 spoonfuls each of sugar and flour for eight eggs, etc).
10 eggs
10 tablespoons of sugar
10 tablespoons of flour
a pinch of salt
Grease the cake tin, then line is with wax paper. Heat the oven to 150C. If the oven is warmer, the middle part of the cake might rise less, forming a depression.
Separate the egg whites from the yolks. Add sugar to the yolks and beat it for 15-20 minutes. This is the most important part, because the longer you beat it, the fluffier the mixture will be. After beating them, add the flour spoonful by spoonful, and mix it together. Here you can also add a bit of water or even maybe a bit of squeezed orange juice or lemon zest, but this is optional.
Next, it's time to beat the egg whites. Add a pinch of salt and beat them well. Once they are done, gently stir them into the yolk mixture with a wooden spoon. It is important to do this manually, because you will loose the fluffiness if you use a mixer.
Put the mixture in the tin, and bake for about 45 minutes. You can use the toothpick trick to make sure it has been baked, inserting a toothpick into the center of the cake – if it comes out dry, the cake has been baked. Once it has cooled down, you can decorate it with icing.
Of course, if it's too plain, you can borrow my childhood "trick" and sweeten it with some jam or chocolate!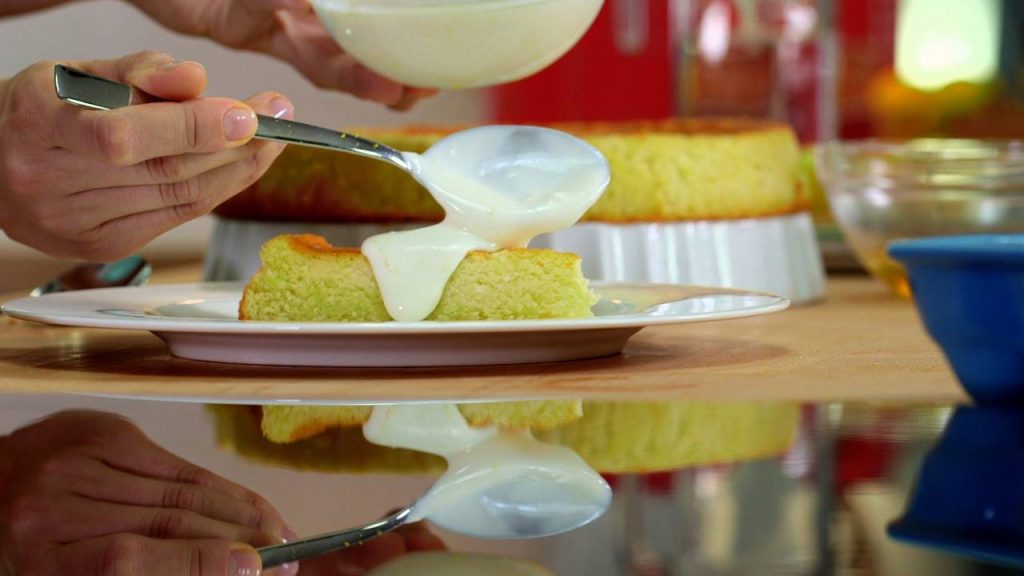 Olive oil cake
This recipe I borrowed from the Croatian pastry chef Tea Mamut.I love this cake's combination of olive oil and lemons. This was my first time using olive oil in desserts, and it lends a really interesting flavor. When I made it the first time, my housemates told me I was crazy, "spilling" oil on cakes, and following a nonsense recipe. I baked the cakes, went for a walk, and when I came back, half of it was already gone! So much for me being the crazy one.
Ingredients: (for a 26cm cake tin)
150 g flour
1/2 tsp baking powder
4 eggs
150 g sugar
125 ml yogurt
80 g ground almonds
150 ml olive oil
zest from 1 lemon
1/2 tsp salt
for syrup:
juice from 2 lemons
1 tbsp sugar
1 dcl water
Mix all the dry ingredients in one bowl. In another bowl, mix the yogurt, olive oil, salt and lemon zest. In a third bowl, mix eggs with sugar until pale and fluffy.
Combine the dry ingredients with the yogurt mixture and mix briefly. Add the egg mixture, and stir a bit. Put the mixture in the cake tin and bake around 20min at 180 C.
Add the syrup ingredients in a small pot and cook until the sugar melts. Pour it over a warm cake.
I like to serve this cake with a mixture of Greek yogurt, a bit of honey and a few blueberries, but this is really optional.
Stonska Torta (Ston Cake)
This cake is traditionally made in the town of Ston. This cake is unusual to say the least, as its main ingredient is macaroni. This original cake has a long tradition, and was saved for Christmas and Easter, but can now be found in every restaurant in Ston, as well as in Dubrovnik if you're lucky. The Dubrovnik City Cafe has it from time to time, and it's not bad at all!
It may look complicated to make, but is in fact very simple. It can take some time to prepare, but is really worth it!
Ingredients: (for a 26cm cake tin)
for dough:
500 g flour (you can mix 350 g of plain (all purpose) flour with 150 g of pastry flour)
500 g macaroni (preferably ziti macaroni)
a pinch of salt
1 tsp baking powder
30 ml oil (olive oil is best, but sunflower oil is also good)
1 egg
10 ml wine vinegar
10 ml lukewarm water
for filling:
350 g ground walnuts
100 g ground almonds
150 g cocoa powder
400 g sugar
1 tsp cinnamon
lemon zest (1 lemon)
4 tsp vanilla sugar
250 g butter
8 eggs
Mix the flour, salt, baking powder, oil, egg, vinegar, and lukewarm water together. Once the mixture has become dough, let it rest for 30 minutes.
In the meantime, cook the macaroni until it is al dente. If it's undercooked, it won't bake properly, and if it's overcooked, it will fall apart later.
In one bowl, mix the walnuts, almonds, cocoa powder, vanilla sugar, cinnamon, lemon zest, and 300 g of sugar. In another, bowl mix eggs with the remaining 100 g of sugar.
Grease the cake tin, cover it in flour, then shake out the excess flour that doesn't stick to the sides.
Roll the dough, and place it in the tin. The dough should stretch past the tin's edges, as with some pies. Put around 1 cm of the walnut mixture on the bottom, then cover it with some macaroni, and repeat this process until you come to the top of the tin. When you reach that point, pour the melted butter and egg mixture over the tin. Use the dough that comes out over the top of the tin to cover up the cake, then grease it with melted butter to prevent the cake from drying out in the oven.
Bake around at 180 C for 60 minutes. Once the cake has been baked, let it cool for two hours before removing the tin, lest the cake break. I promise you that waiting it the hardest part. You can also decorate the cake's top with sugar, before finally enjoying it.
Ready, set, bake!

Ivana came to JayWay with plenty of experience in tourism, alongside a degree in Tourism and Marketing. Although she worked with several big British tour operators over the years, Ivana found that working with big group tours wasn't for her, since she preferred to get to know the people she was working for, and devote time to them, so JayWay was a perfect fit. Ivana naturally loves to travel, and is a big foodie, but she especially loves to read a good book, and enjoy excellent Croatian wine.