German history is fascinating, and if you are interested in the beginnings of World War II and Adolf Hitler's rise to power, our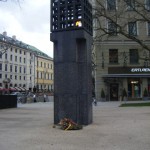 Third Reich tour is highly recommended.
The fast-paced tour led by Jeff is packed with historic facts, from Hitler's birth, upbringing and failed attempts to be an artist in Austria, to his experience in World War I to his move to Munich. You'll hit a variety of sights, even though many are not the originals (about 80% of Munich was destroyed in the war, and places left standing are often something else.) We saw former beer halls where Hitler began making speeches and gathering followers to the Memorial to the Victims of Nazism. You'll hear the story of the famed Beer Hall Putsch, in which Hitler attempted to seize power of Bavaria in November 1923. Protesters and police clashed at the Feldherrnhalle which, after Hitler came to power, held a memorial to the murdered Nazis. You'll see the building where the memorial was hung, as well as the small street behind it. Under Hitler, a policeman was posted at the memorial and passers-by were required to give it the Nazi salute. Many people avoided doing this by circling the building from the back. Hitler was subsequently arrested, found guilty of treason and sentenced to five years in prison. He ended up serving only nine months and writing his book "Mein Kampf."
The tour ends in what is now a music academy, but was Hitler's Munich headquarters. It was here he met with the leaders of Great Britain, Italy and France in 1938 for the Munich Peace Agreement which seceded part of Czechoslovakia to Germany. Standing in the entry hall, gazing up to the Fuhrer's former office is a bit chilling.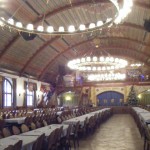 The historical details of the tour are the most interesting. The atmosphere is really brought alive by Jeff's commentary and anecdotes. While much is known about Hitler after he came to power, seeing the places and streets where he began his rise is a fascinating way to spend a few hours.
Planning a trip to Munich? We'd love to put together a Munich travel package just for you. Get in touch to find out more!
Top photo: Memorial to the victims of Nazism
Second photo: Hofbräuhaus meeting room

Jacy is a travel journalist who likes art, culture, design and architecture. When not in Prague, she's most likely wandering the streets of other European cities, checking out their neighborhoods, their art and their coffee.