Croatia's southernmost region, Dalmatia includes most of the country's coast and most popular destinations, such as Dubrovnik, Split, and Hvar. As you would hope, this area is known for more than just the spotted dogs popular with firemen and Disney's filmmakers. Thanks to its bountiful seafood, warm climate, and centuries of trade with and occupation by Greeks, Italians, and Turks, Dalmatia boasts much of the healthy, tasty cuisine the Mediterranean is known for.
Yes, Dalmatia has plenty of olive oil, shellfish, and pasta, as well as some words that may look familiar if you squint, like "rizot" ("risotto") and "skampi" ("scampi.") But the region has its own unique dishes, and tasty takes on classics found elsewhere. When our guests meet our on the ground team members, they often ask what traditional, local dishes they can try in Croatia, so here are a few favorites recommended by our local staff.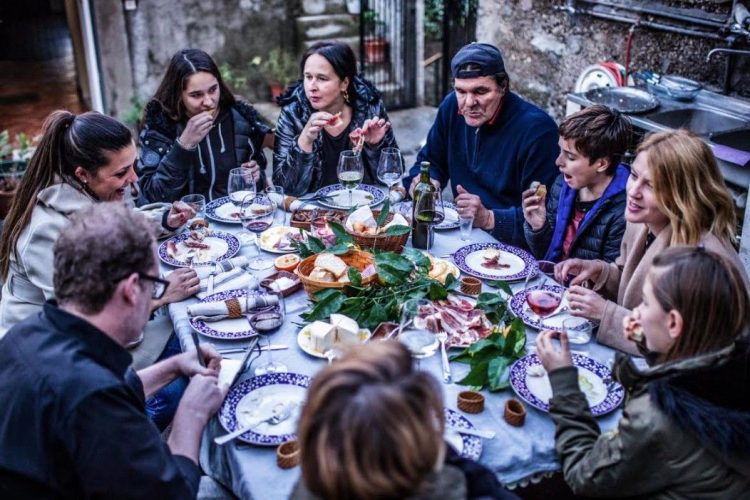 Jump to a section of this article
Pasticada
Let's start out with one of the most beloved and important Dalmatian dishes. Although popular throughout Croatia, pasticada has its roots in Dalmatia, where it's often saved for important meals, such as weddings. Every family has its own take on this heirloom. Often served with pasta or gnocchi, this rich dish involves stuffing beef with herbs, vegetables, and bacon, then marinating and salting it overnight (or, according to some recipes, for several days). The meat is then roasted and cooked in a mix of more bacon, herbs, and vegetables, as well as local dessert wine, for up to five hours. Before serving, the vegetables are then blended into a sauce.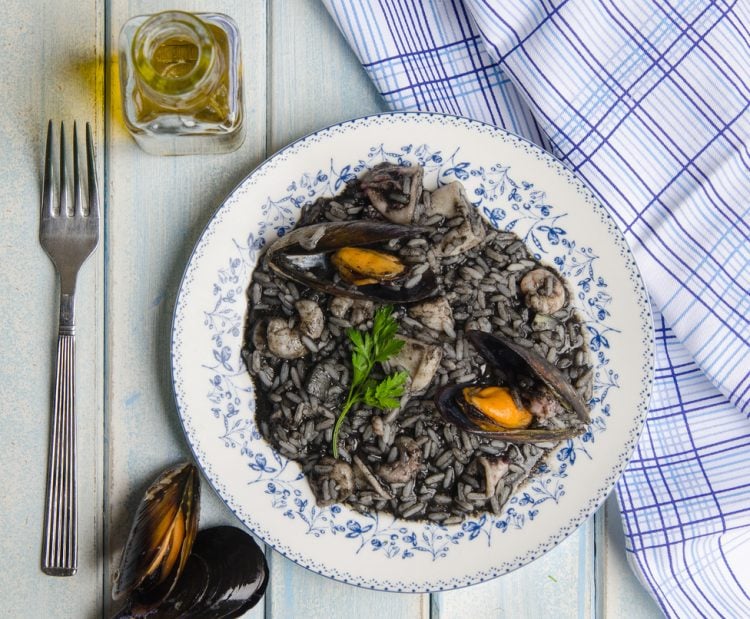 Crni Rizot (Black Risotto)
A staple of seafood restaurants, crni rizot ("black risotto") lives up to its name, colored black by the ink of the squid or cuttlefish used to flavor it. Other seafood is mixed in, usually shellfish. We heartily recommend this dish, which is also a Venetian specialty, a reminder of the centuries of contact and shared leadership between Venice and Dalmatia. Just be careful, the ink can temporarily stain your mouth and insides!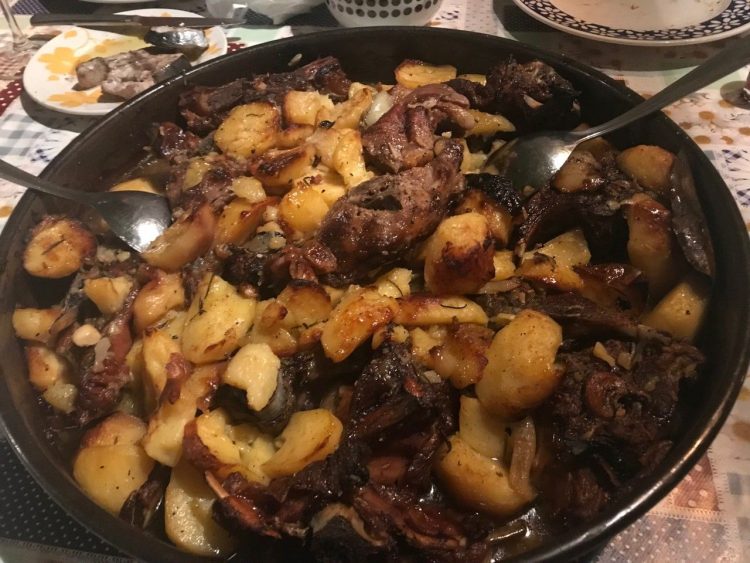 Peka
Another classic, the "peka" is a metal dome or lid, used to cook food for hours. Mixed with herbs and spices (such as a mix of honey and cognac) and oil, the ingredients are placed in a fireplace, and the lid covered with embers. You can find practically anything that fits under the dome on offer, from chicken to fish, but the classic is veal and lamb, with potatoes and other vegetables. We also recommend trying octopus cooked this way.
Since the food is slow-cooked for so long before eating, peka has to be preordered, but it's well worth the wait. This dish is sometimes listed as "ispod peke," ("under the lid.") For one of the best sources of this time-honored traditional meal, we can offer a visit to a family in Dubrovnik, whose dinner, with peka at its center, is so legendary that it's been featured in the Wall Street Journal and National Geographic Travel. Our own marketing director, a gourmand, declared it the best meal he's had in Dalmatia, of many!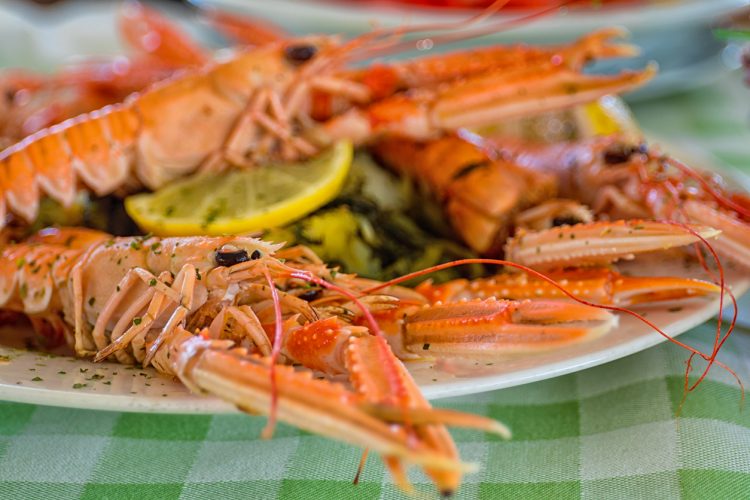 Skampi na Buzaru
"Na buzaru" means "to stew," but is used to refer to recipes centered around seafood, generally shellfish and crustaceans, which are cooked in a mix of white wine, herbs, breadcrumbs, and plenty of garlic. The result is a messy but fun finger food. This is one of our best ways to eat fresh scampi, since it brings out their sweet taste.

Brudet
This is another staple in coastal Croatia (and Montenegro). Several types of fish are stewed together with red wine, tomato sauce and onions, and chilli peppers are often added at the end. Depending on the region (and family), the broth can be soaked up with polenta, bread, or even potatoes. The name probably comes from the Venetian word "brodeto," or "broth," as hinted by the name of a nearly identical soup found in Corfu, "bourdeto."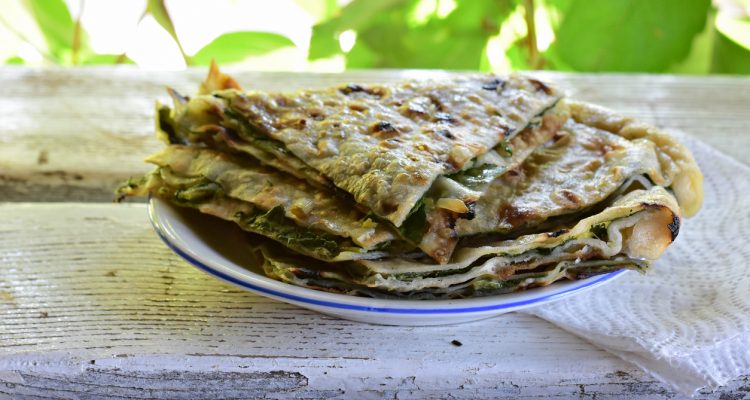 Soparnik
Soparnik is a simple pie usually made of Swiss chard with some onions and parsley, although there are some sweet versions filled with nuts, caramel, or dried fruit. This Dalmatian delicacy is especially common in the center of the region, between Split and Omis. Made for holidays and special occasions since medieval times, this humble pie is an official part of Croatia's "Intangible Cultural Heritage." Fortunately for us, it is now available daily, and very much tangible.

Punjene paprike
Behind the name is something very familiar to Americans and any European alike: stuffed peppers. We felt these should be added to the list, not just in case you're feeling homesick, but because they're omnipresent in Dalmatia, especially in summer. Each region of Croatia has its own take on this dependable vegetable, much as most parts of East and Central Europe do. In addition to rice, tomato sauce, and spices, the secret ingredient in Dalmatia is veal, while the dish itself is often served with mashed potatoes.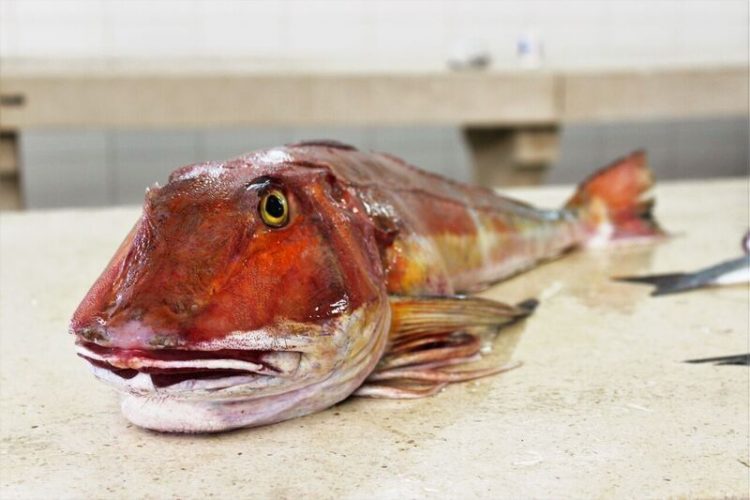 Grilled fish
Dalmatians are as fond of the grill as their neighbors to the east, but they have more access to a wide variety of fish. With sardines, mackerel, anchovies, tuna, sand smelt, bonito, if you're fond of oily fish, you're in especially good luck.
From skampi to soparnik, Dalmatia delights in delectable delicacies. If this article has your mouth watering and stomach rumbling, we'll be happy to show you around coastal Croatia, from its best restaurants to its most traditional customs. With the aid of our local staff, who you'll meet in person and stay in contact without throughout the trip through a phone you will receive, we'll ensure your stay is stress-free, memorable, and delicious!

Born and raised in Wisconsin, Kevin lived in Estonia and Finland for several years, traveling widely through Central and Eastern Europe, before settling down in Berlin. Having studied the cultures, histories, and economics of the countries along the Baltic Sea for his Master's degree, Kevin has the knowledge and experience to help you plan the perfect trip anywhere in the region, and also works as JayWay's main writer and editor.