Florence is an undeniably scenic city, but the best way to get oriented is to find a good view. We asked local staff and guides for some favorite vistas. Below you'll find a variety of places for photos and plotting, from rooftop bars to historic towers and gardens.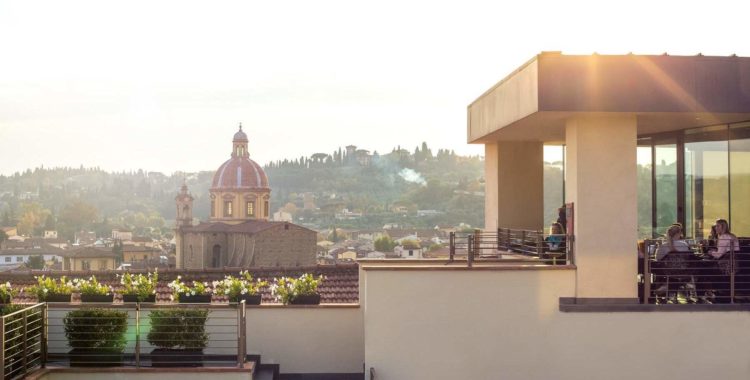 Jump to a section of this article
SE·STO on Arno Rooftop Bar
This is, yes, a rooftop bar, as well as a highly rated (and priced) restaurant aiming for a Michelin star, with help from a head chef trained at a Michelin-honored restaurant. Even the indoor section uses glass walls to make the most of its central, sixth-floor views. Sesto on Arno's decor is modern and elegant but warm, and the food is likewise modern with strong Italian influences. Beneath the restaurant, you'll find the Westin Excelsior Florence, just across the river from the baroque San Frediano in Cestello church.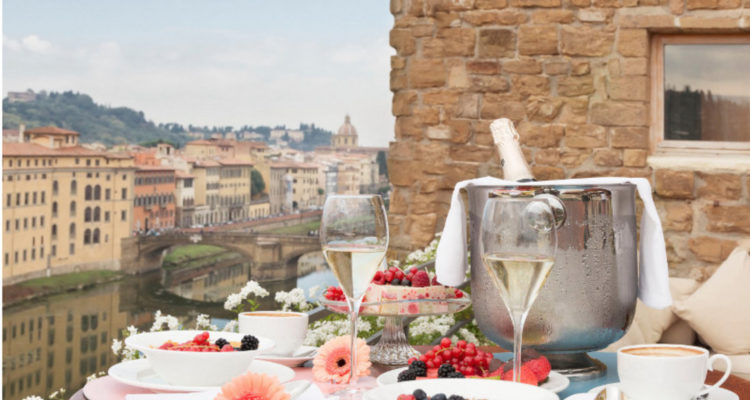 Located atop the 4-star Hotel Continentale, this chic riverside cocktail lounge has great views due to its location within the city center, although views to the west are partially blocked by a medieval tower. While the bar opens at 1 PM, you can reserve a table for breakfast, weather permitting.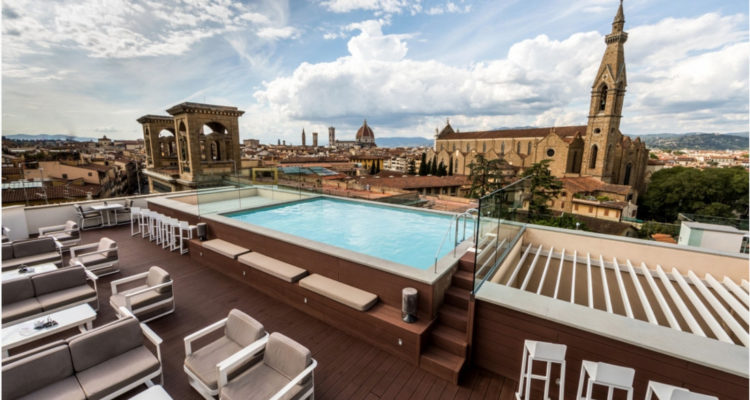 Yes, this place's theme is "America," but the excellent view, food, and drinks more than make up for this. As does the pool. As with the other two rooftop bars we recommend, this riverside place has good drinks and service, and a vista that explains its prices. Although the pool only open to guests of the 4-star Plaza Lucchesi Hotel that lies underneath, after 7:30 the bar opens to the public on a reservation-only basis.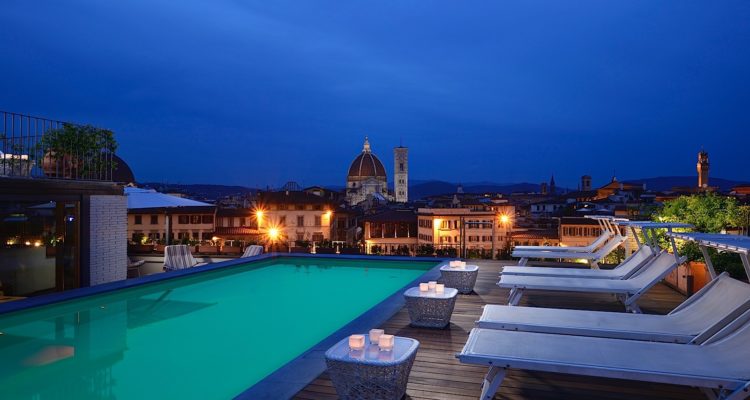 Sky Lounge
For the ultimate in romantic settings, book the Sky Lounge, atop the 4-star Grand Hotel Minerva (one of our partners) This entire rooftop terrace can be reserved for a candlelit dinner, with room for up to eight people, or reserved for 20 partiers. Located near (and with a direct view of) the Duomo, this is a popular option for anniversary dinners, and wedding proposals.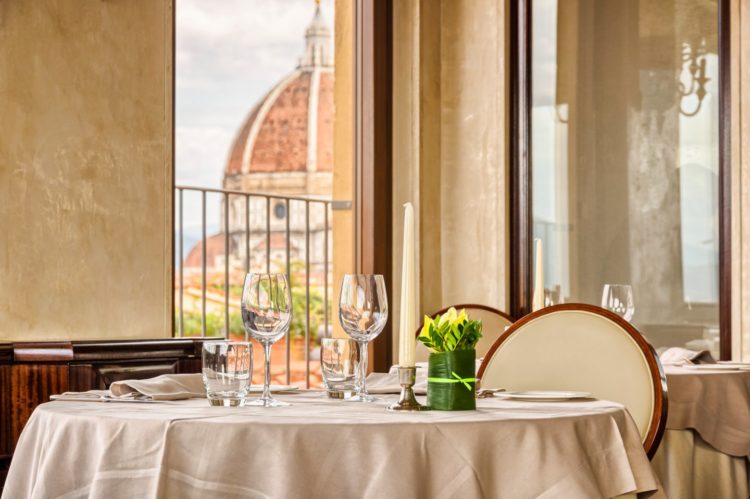 This rooftop restaurant can be found five stories up, atop the Grand Hotel Baglioni, a block from the Sky Lounge. No rooftop with drinking and dining is closer to the Duomo. This restaurant is famous, which often makes it crowded, even though it focuses on, and attracts, celebrities and other elites. This is the closest rooftop for drinking and dining to the Duomo, making for a truly amazing view. 

Piazzale Michelangelo
There are plenty of places for great views without paying 5-star prices for food and drink. Michelangelo Square is easily reached by car, bus, or even a 20 minute walk from Florence's center, and is perhaps the city's best free view. Located across the river from the historic center, this is one of the city's most iconic angles, and the view of the city and its bridges will surely look a bit familiar (especially if you pause to buy postcards during your stay in Florence). The view of city walls, the Bardini Gardens, and olive groves to one side, and mountains beyond on a clear day alone make up for the walk up to this plaza. True to its name, the plaza itself has bronze copies of Michelangelo's works in Florence, including David. Take your own snacks and drink to enjoy while you savor the view.
Biblioteca delle Oblate
If you want a fantastic view of the Duomo's dome, head to the Oblate Library a block away at Via dell'Oriuolo, 24. Located in a 14th century convent, this pleasant public library's main draw to those who don't read much Italian is the rooftop cafeteria, which has surprisingly great food and drinks (alcoholic and otherwise), yet is affordable and popular with students. With its easy elevator access to the street, this is a great spot to catch your breath and plan what's next.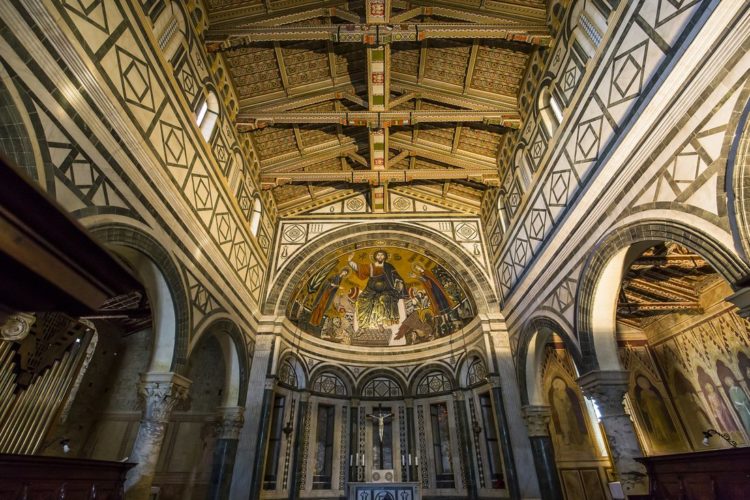 San Miniato al Monte
The church of Saint Minias on the Mountain is devoted to Florence's first Christian martyr, who is said to have been an Armenian prince who survived several lethal tortures, only to be decapitated. Losing his head didn't stop him, though, as he merely picked it up and carried it back to his hermitage, where the church was later erected. The current church recently celebrated its 1,000th birthday, but despite its archaic architecture, remains in excellent shape (thanks in part to Michelangelo, who wrapped the facade with mattresses during a siege), with high wooden beams, and plenty of mosaics and paint. Crowning one of Florence's highest points, St. Minias on the Mountain is a memorable example of Romanesque architecture, complete with a geometrically carved marble facade. Surrounded by defensive walls, the church complex includes a cemetery home to local notables, and a cloister.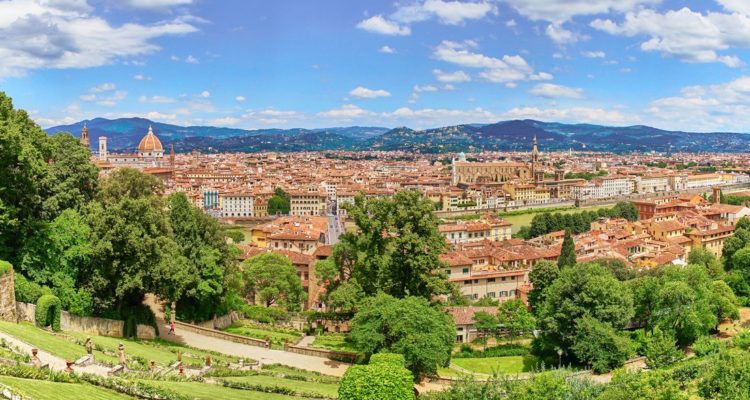 Giardino Bardini
Located near Michelangelo Square, the Bardini Garden's woods, orchards, and ornate garden proper only opened to the public recently. Flanked by medieval city walls, this scenic site offers a grand panorama of the city, including the church of Saint Minias on the Mountain. Stroll along the grounds and you'll find an Italianate garden with baroque staircase, an English wood with an Anglo-Chinese garden, and an agricultural park with a pergola covered by wisteria and a fruit grove. A short walk away, the Boboli Gardens and 16th century Belvedere Fort offer further views and greenery, as well as frequent art shows. We recommend following the new Greenway Florence trail from the riverside to this park, then continuing on to Michelangelo Square and the San Miniato church.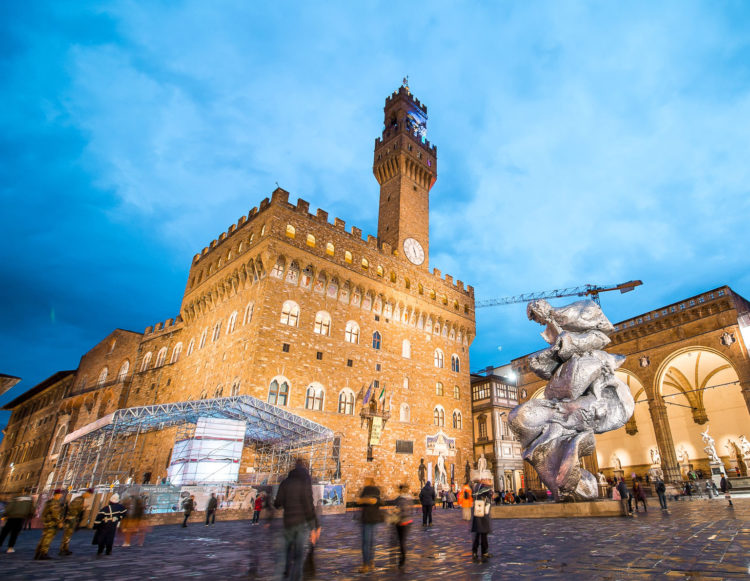 Palazzo Vecchio
Those expecting the city's most famous tower to have winning views are unlikely to be disappointed. Overlooking the Piazza della Signoria (the city's unofficial center and main square), this fortified 14th century structure is enhanced by its tall clock tower. At over 300 feet, it's a steep climb, and closes in the event of rain. While Michelangelo's David no longer stands by the main entrance, the solid copy is still quite photogenic, and the real thing is hiding out at the nearby Galleria dell'Accademia. The interior is no less beautiful, with chambers and rooms decorated by artists including Michelangelo (one of his lost paintings is thought to be hidden in a secret cavity behind a fresco)  and Da Vinci. New Michelangelo works are still coming to light. You really should be sure to check out the main chamber, the Salone dei Cinquecento.

Duomo 
Crowned with the world's largest brick dome, Florence's Cathedral is one of the world's largest churches, and delivers great views. Unfortunately, it lacks one thing: overall views of the cathedral itself! Visitors to the Duomo, officially known as the Cattedrale di Santa Maria del Fiore, should expect crowds and lines. The Duomo itself is free, but you'll need a pre-booked ticket to climb the 464 steps up to the dome, or 414 steps to the panorama provided by the cathedral complex's showy freestanding Giotto's Tower. While both views are impressive, the dome is naturally best for seeing the city, and the tower lets you get a better idea of the dome's sheer size.
Whether you want to get your bearings, or have a memorable anniversary dinner, we've got you covered. Let us know what you're looking for, and we'll get you above the crowds, and make your stay memorable.

Born and raised in Wisconsin, Kevin lived in Estonia and Finland for several years, traveling widely through Central and Eastern Europe, before settling down in Berlin. Having studied the cultures, histories, and economics of the countries along the Baltic Sea for his Master's degree, Kevin has the knowledge and experience to help you plan the perfect trip anywhere in the region, and also works as JayWay's main writer and editor.