Franz Liszt, or Liszt Ferenc as he is known in his native Hungary, was the world's first rock star. He didn't play rock music of course, but the internationally renowned composer was also a hugely talented pianist who made a fortune as a touring virtuoso. His world-wide fame certainly hasn't detracted from his reputation in his home country, as is evidenced most clearly in the continued vibrance of The Franz Liszt Academy of Music in Budapest.
The Liszt Academy is one of Budapest's architectural and cultural gems. It's a must-see destination for visitors with an interest in music and Hungarian cultural life. A performance in the stunning concert hall is just one of the pleasures to be experienced when you visit, as the Academy also functions as a music school and museum.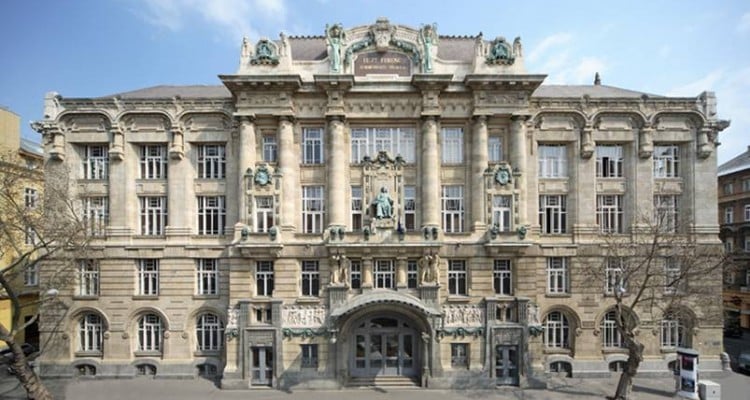 Besides being a musical genius, Liszt was known for encouraging the work of younger composers, with some of Europe's most famous — including Bedrich Smetana, among many others — owing him a debt of gratitude for moral and monetary support. So it's fitting that one of Liszt's most lasting contributions is his musical academy, which remains prestigious in Hungary and throughout the world, offering both excellent instruction in music and a rich cultural program.
The history of the academy stretches back to the late 19th century, when Liszt and several of his colleagues established it as a place where students could study music with some of the country's most talented composers. A pioneer for musical education in Hungary, Liszt first set up the academy in his residence, until the current building was constructed with government support. The Academy's creation was intimately linked to the burgeoning national, political and cultural identity of Budapest, following the 1873 unification of the formerly separate cities of Pest, Buda and Obuda, which helped establish Budapest as the capital of the Austro-Hungarian Empire.
The building itself, which has recently been refurbished, is notable in its own right. The first reinforced concrete building in Budapest, it is the product of chief engineer Szilard Zielinski, who also created some of the best-known public structures in the city, including Varosligeti Bridge. Built in Art Noveau style, the Liszt Academy building is one of the city's architectural gems. With its gorgeous facade, complete with Liszt statue, the building is impressive before you even walk in. The interior is adorned with statues and ceramic inlays that make it a pleasure to explore, and of course the concert hall is truly impressive, both in looks and acoustics. 
Today, the academy is still very much active as a cultural center, offering residencies for musicians as well as a music school where some of the most talented students from around the world can come to study. But even if you're not looking to become the next Liszt, you can still enjoy much of what the Liszt Academy has to offer, by taking advantage of the guided tours of the historic building as well as the frequent concerts.
Tours of the Liszt Academy start every day at 1:30pm and last approximately 50 minutes. With the help of an expert guide, you'll see all the highlights of the building and get to know its rich and varied history, which stretches back nearly 150 years. There's an impressive program of concerts taking place almost every day. Performers range from international chamber orchestras to larger ensembles, contemporary dance troupes and more. The Academy also houses valuable collections of books and musical manuscripts from Liszt and his contemporaries, as well as a wing for the preservation of Hungarian folk music.
Tours can be booked on the spot, but reserving tickets to concerts in advance is highly recommended. And since there is often more than one concert per day, you're sure to find something that impresses you during your stay in this lovely city on the Danube.
Planning a trip to Budapest? We'd love to put together a Budapest travel package just for you. Get in touch to find out more!

Stephan Delbos is an internationally published writer and editor. Born in the US, he has lived, worked and traveled in Europe for a decade. He's fond of oysters and arid martinis.