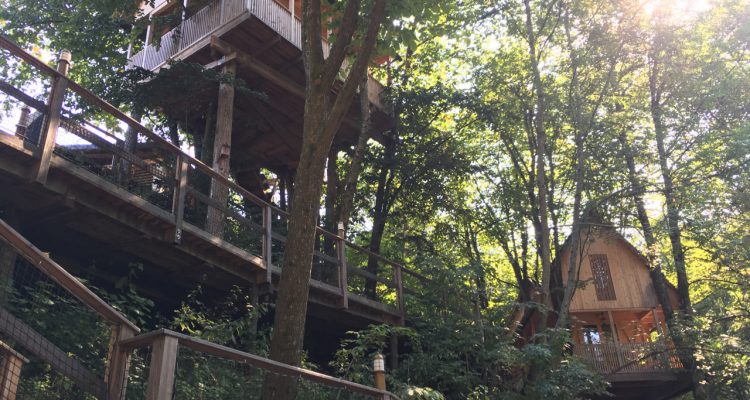 We have some truly unique properties among our offering, such as the Bond-like cliff-face hotel Villa Dubrovnik, the imposingly grand Gresham Palace in Budapest or the landmark site-turned-hotel in Prague's Dancing House but nothing is quite like Garden Village Bled.
Wait, what's glamping?
If you've never heard of glamping, well Garden Village is a perfect example. Glamping is a portmanteau of glamor and camping, defined as "a form of camping involving accommodation and facilities more luxurious than those associated with traditional camping." Wifi and running water in a tent? Well that's what you'll get here, with several other special touches too.
Meet Garden Village Bled
Spending the night under canvas doesn't have to mean roughing it, in fact at Garden Village Bled, it couldn't be further from the truth. Take your pick of a luxury tent for 4 with a full bathroom with shower, a two person over-water tent with very well appointed shared facilities or for those looking to live out their Tarzan fantasies, a treehouse for 4 with en-suite bathroom. There are also a couple of regular apartments. We've just added this unique option to our accommodation line-up in Bled, Slovenia and we think you'll love spending a few nights there enjoying the outdoor lifestyle with a touch of luxury.
The accommodations are something special but what really shines here is the setting itself. The resort makes use of all the natural elements around, the hillside and a stream, which runs beneath the over-water tents, and featuring a totally natural no-chemicals swimming pond. You'll also be surrounded with fresh, organic, fruits and vegetables which you're free to pick when ripe but you can also enjoy in the dishes served in the on-site restaurant.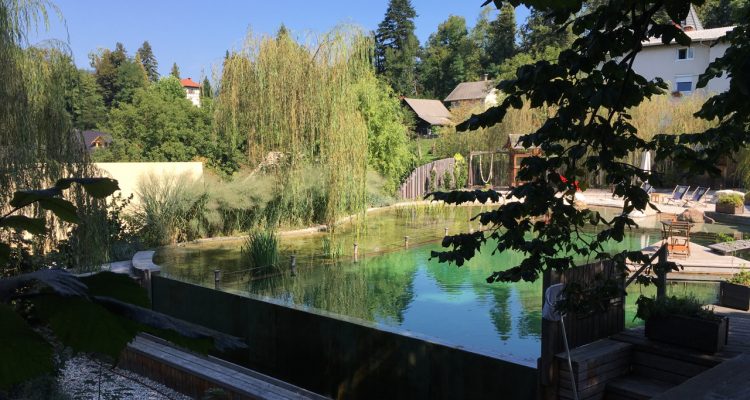 Glamping tents
Amble downhill and you'll arrive at the glamping tents. These sleep 4 comfortably, with double beds on the ground floor and a mezzanine (yes, a mezzanine in a tent). There's a fully equipped bathroom with shower in back and in front you'll find a hot tub.
Pier tents
If a glamping tent is out of your price range (or it seems a waste for just two people) then you could opt for a pier tent. So called because they are located on piers above the aforementioned stream. You need to be ok with the sound of running water here though, there's no tap to turn the stream off at night. Being much smaller the cosy pier tents don't have space for a private bathroom so there are shared bathrooms in a wooden lodge close by.
Tree houses
Live out your Tarzan fantasies and take a tree house. With two double beds, one per storey, there's space enough for 4. There's heating when necessary in spring and autumn, a full bathroom with shower and a rocking chair for you to relax in. The honeymoon treehouse is in the tallest tree and features a liftable staircase to make sure you're not disturbed.
Wellness
In keeping with the high-end feel of the place, you'll find wellness facilities such as a sauna, spa therapies and one of our favorites, massage cabanas in the treetops.
Dining
The onsite restaurant, 'Greenhouse' – a very descriptive name, focuses on fresh, seasonal organic produce, keeping things as local as possible. A unique touch here is the square of turf you'll find in the middle of the table. It's relaid frequently to keep it verdant!
Putting together a European vacation? We'd love to plan a package just for you. Get in touch to find out more!

Charlie is head of marketing at JayWay Travel. A long-term Prague resident, his interests are cooking, eating out, cycling, skiing and of course, travel.