If you are a lover of the sea then an unmissable part of visiting the Albanian Riviera is taking a boat tour of Grama Bay. More than just a simple boat tour, this day out combines history, cave exploration, breathtaking scenery, and guaranteed fun. I was fortunate to enjoy this particular tour this past summer.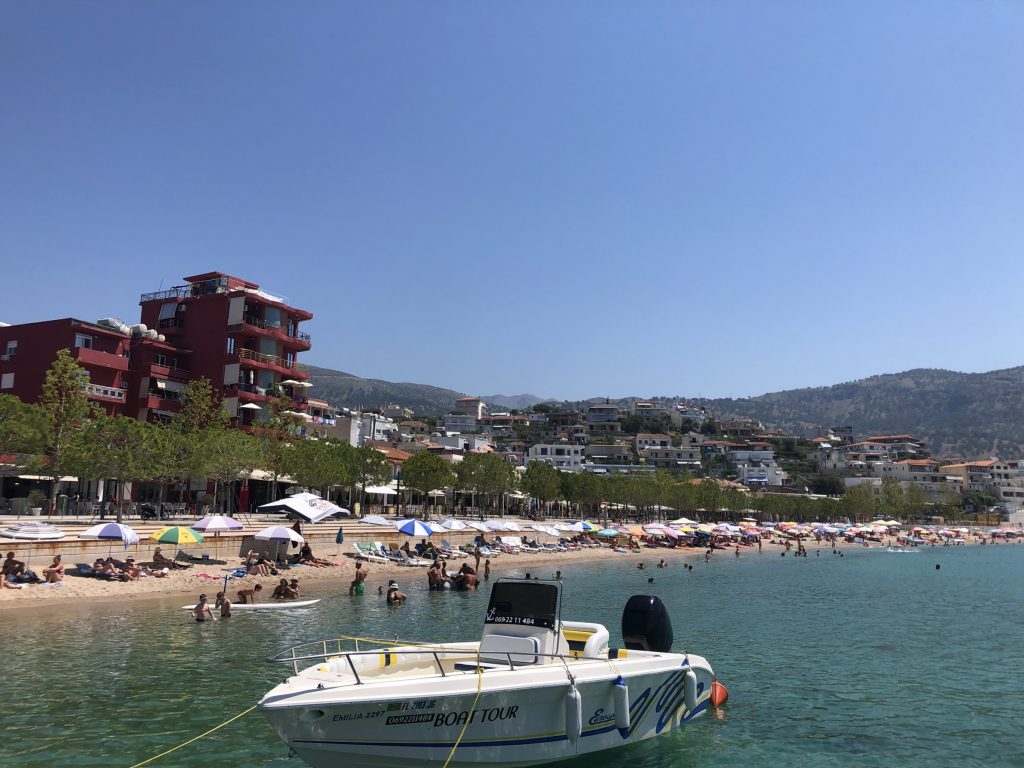 Grama Bay is the main attraction but it's actually the very last destination of the tour. On the way, you will explore and swim in many bays and have the chance to go ashore on several beaches.
Jump to a section of this article
Lively Livadh
The adventure starts from the small port of Himara to continue with the beach of Livadh, one of the most majestic and unknown villages of Albania. While you will not stop for a swim in Livadh during this tour we definitively recommend you take at least a half-day to visit before it becomes commercial and full of tourists. Livadh is about 5 minutes' drive from the town of Himara and has an amazing restaurant, at Miamar Hotel.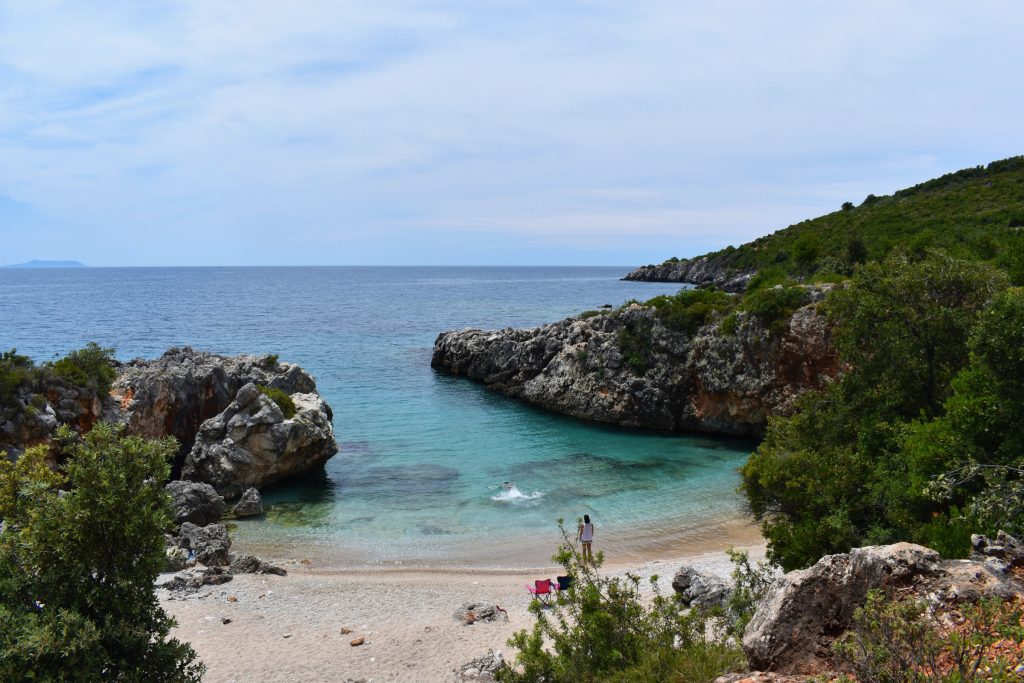 The next destination you come to is the village of Jale. Jale used to be an abandoned beach frequented only by backpackers but in just a few short years it has transformed into one of the main high-end party spots for rich locals and young tourists. It offers amazing views and unique hotels, but noise levels make earplugs an essential item here!
Gawp at Gjipe's Beach and Canyons
Just a few minutes after Jale, you will see Gjipe Beach and Gjipe Canyons. You will blink twice and will want to relocate there. Unfortunately, there are no accommodations at all in Gjipe and the only solution would be a tent and goodwill. There is also no accessible road to reach Gjipe by car so one needs to walk at least 20 min each way on a rocky path. This makes a boat tour by far the easiest way to admire this jaw-dropping spot.
Dhermi or Drymades?
Once you go past Gjipe you will finally see the famous Dhermi Beach. The village of Dhermi itself it is divided into two areas: Dhermi Beach and Drymades Beach (which is the Greek translation of the name Dhermi). If you're visiting Dhermi without a guide sometime, you should be quite careful if asking for directions, as locals most of the time will call both beaches Dhermi.
Dhermi was one of the very few villages that had tourism also during Albania's communist era. Back then vacations were a rare luxury and it took about 7-8 hours drive to reach the village from Tirana. You can also see the dictator's villa where he used to go for summer vacations. It is still under government administration and not open to visitors, so you'll have to observe from a distance.
Today both Dhermi and Drymades offer a wide variety of hotels and private accommodations as well as many seafood restaurants, live music, beach bars, and water sports.
Here, on your boat tour, you will be able to visit the Pirates' Cave where you can lose yourself in another time. Pirates would shelter here as they protected themselves from the strong winds of the Ionian sea.
Posh Palasa
The next beach of your tour will be Palasa Beach. Totally deserted until 3 years ago, now Palasa Beach hosts hundreds of high-class villas and has become one of the most expensive areas of the south. We would still not recommend this area, as apart from its good marketing, it does not offer anything more than any other area in the south.
With Palasa Beach being the last inhabited area, we finally start our real adventure. Wild rocks, pine trees, and blue waters will take your breath away. If you are lucky enough (which I was not) you will be able to see dolphins swimming and jumping around.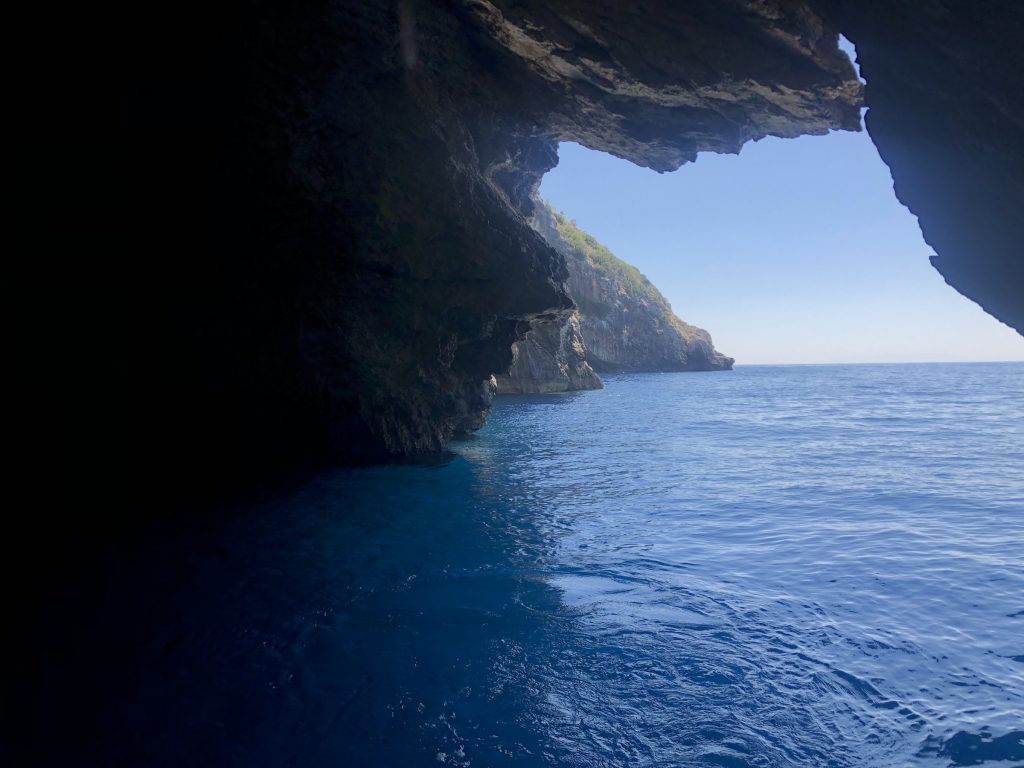 Albania has a Blue Cave too
On the way to Grama Bay you will visit many caves from the Pigeons cave to the Lovers cave but my favorite one is absolutely the Blue Cave, with its amazing colors and views. You can enjoy jumping from the rock formations, swim and take photos.
St Andrew's Bay
The penultimate stop you'll make is a half-hour at St. Andrew's Bay. This is a perfectly isolated bay, with steep cliffs surrounding it. Its astonishing colors and waters will make you fall in love.
Found out why it's called Grama Bay
The last stop is Grama Bay. As soon as you reach it you will be surprised at the rock formation of this cove. In ancient times, Grama Bay was used for stone quarrying, traces of which are still visible in the form of dramatic cliffs.
Grama Beach is located at the foot of the western slope of Karaburun, in the Bay of Grama. The secluded and safe bay has long served as a place of refuge for ships fleeing storms. "Grama" comes from the Greek word for "letter" ("gramma", which is also the source of the English word "grammar.") This is no coincidence, as ancient sailors and quarry workers have left thousands of inscriptions with their names. Grama Bay is also known as Grammata Bay because grammata is the plural form of gramma. The bay now has 1,500 inscriptions from the past 2,300 years, some from historical figures like Pompey or Sulla. Sadly these particular inscriptions require a hike, and more time, to see. You'll have an hour and a half to enjoy the waters, the history, and a cold beer from the one small cafe/restaurant on the bay.
Heading Home to Himara
On the way back I promise you will have a firmly-fixed smile and a memorable day. Once you reach Himara, to cap off the perfect day, we suggest dining Esperia, a restaurant located just on the side of the port, where they serve mouth-watering seafood and delicious local wine.

Lorina's strong background in both travel and travel marketing make her ideal for her dual role as marketing executive and destination manager/city host for Albania. Albania is still slowly becoming known to Americans as the exciting destination it is, and Lorina's role allows her to shape our offering in the region to showcase the best of it. Being based in Tirana, her hometown, she relishes every opportunity to meet our guests and welcome them to her country.