There's no denying that Croatians love meat, even though the country is blessed with an abundance of fish and seafood. Meat often takes the central point at the family dining table and some of the best Croatian dishes are meat-based. Many of them echo various cultures and have a great history behind them. Without further ado, here are six top Croatian meat dishes you shouldn't miss when visiting.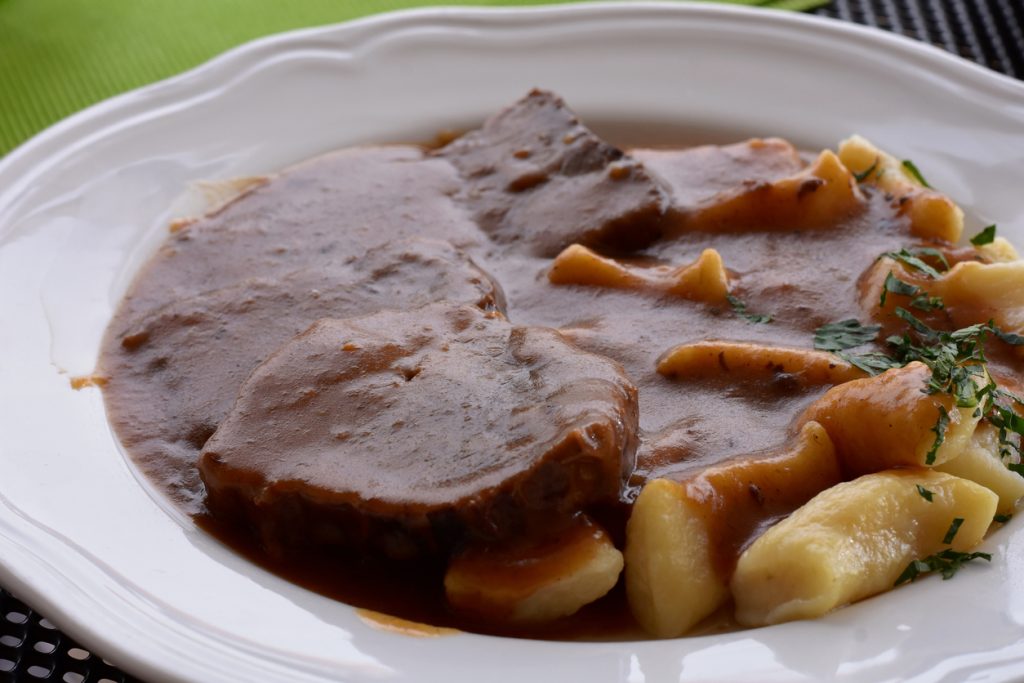 Jump to a section of this article
Dalmatian Pašticada
Dalmatian pašticada is a traditional Dalmatian beef dish dating back to the 15th century. The oldest preserved recipe was found in Dubrovnik. Every household in Dalmatia proudly cherishes its own recipe. There are slight differences in seasoning and preparation, but the final result is always super tender meat (you can eat with just a fork) in a delicious sweet yet sour sauce, served with gnocchi or pasta.
How to make pašticada at home
The preparation of pašticada is quite complex. First, you need to pick the right piece of beef, the tenderloin. Make small pockets in it, and stuff them with garlic, carrots, and bacon. Next, you have to put the meat in salt and vinegar marinade and let it soak for a day before you can proceed to cooking. The beef is slowly roasted with onions, parsley, celery, carrots, nutmeg, prunes, tomato paste, and prošek, a sweet dessert wine from the south of Dalmatia. Once the meat is extra tender, you take it out and blend the vegetables into a sauce. For the complete experience, the gnocchi or pasta served with pašticada should be homemade. Pašticada is traditionally served on Christmas Day, at weddings, or on some other special family occasions.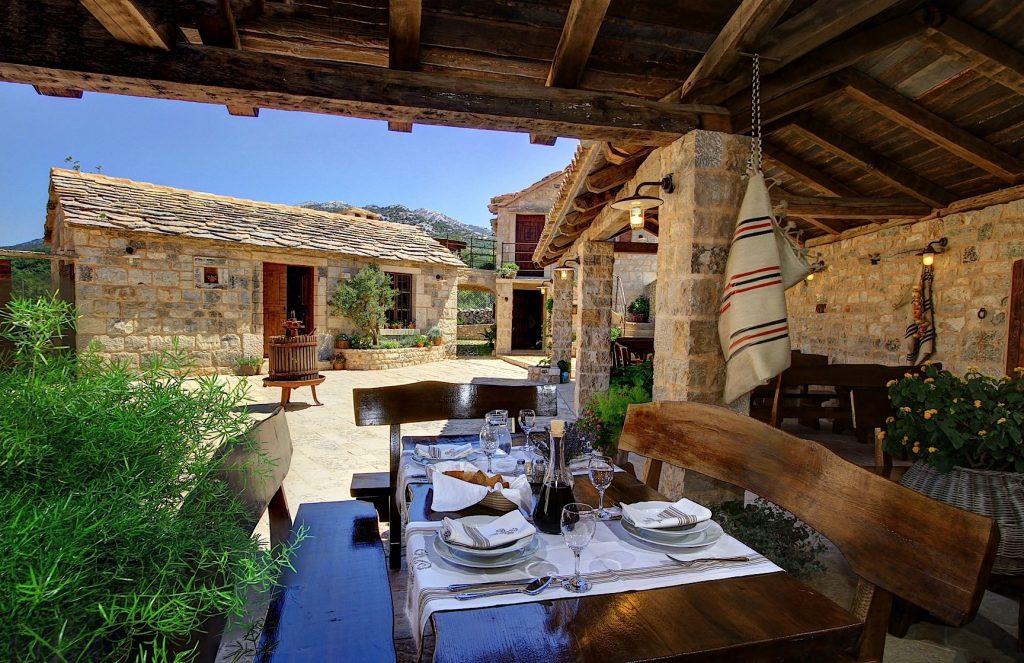 The best Pašticada we've found
The rhapsody of flavors is hard to put into words, so once in Dalmatia, we urge you to try it. We still haven't found someone who doesn't like it. It is important to try a properly made pašticada. To get that experience, we recommend visiting the Stella Croatica family estate in the town of Klis, near Split. This beautiful property is surrounded by a gorgeous Mediterranean garde. All the ingredients of their pašticada are fresh and organic.
Sarma (Stuffed Cabbage Rolls)
The name sarma comes from the Turkish word sarmak, which means "wrapped." Turkish cuisine is a culinary legacy of the great Ottoman Empire, which conquered and ruled much of the Middle East, North Africa, and Eastern Europe between the 14th and early 20th centuries.
The majority of countries in the Balkans were, at one point in history, a part of the Ottoman Empire. That includes some parts of Croatia. Each country adapted the Ottoman dish to their own culinary traditions. There are many varieties under different names, so you might have heard of dolma, yaprak, warak, etc. The main difference is in the wrap – some are made with cabbage, some with vine leaves, kale, or Swiss chard. They are filled with rice (sometimes bulgur) or minced meat, or both.
The Croatian sarma is made with sour cabbage wrap and minced meat – either beef, pork or a mix of the two – and rice filling. Croatians mostly eat it in the wintertime, traditionally on New Year's Eve or as one of the courses at weddings.
Try your hand at some sarma
Although there is a standard recipe, each sarma dish tastes unique. Cabbage leaves come in different shapes and sizes, can be harder or softer, more or less salty and sour, etc. Meat quality and ratio also affect the taste. The meat is mixed with onions, rice, salt, pepper, and sometimes bacon to make the stuffing for the leaves. Each little sarma is carefully wrapped and placed inside a pot. The gaps between the little wraps are filled with bacon, dry sausages or meat, or more sour cabbage. You add water and some paprika powder and let it cook for a few hours.
For the best taste, you should cook it in a clay cauldron, but a regular pot works as well. Many claim that sarma tastes even better after a day or two, as the flavors become richer. The best part is that you can freeze it and reheat it, and it will taste the same! It also works well with a side of mashed potatoes.
Punjene Paprike (Stuffed Peppers)
Stuffed peppers are a staple of Croatian summer cuisine. What sarma is to wintertime, punjene paprike are to summertime. Although Croatians do not like to spend too much time near the heat of a pan or the oven from May to September, stuffed peppers are considered an exception. The aroma is an unavoidable and unforgettable childhood memory for most. Rumor has it that every Croatian possesses an innate ability to smell the subtle ingredient shifts in punjene paprike being prepared in houses up to one mile away, although that might be hearsay. Summer is the season for the bell pepper and people like to take advantage of that, as homegrown varieties always taste much better than store-bought.
Punjene paprike are usually cooked in the evening hours (it is just too hot during the day) and also because, like sarma, they taste even better the following day. If you do attempt to make them, please remember you can never make just a few of them! As a fast snack or comfort food, the great thing is that you can freeze them to reheat and eat whenever you feel like.
Many possible origins, many variations
It is hard to determine where exactly stuffed peppers originate from but there are various versions from the Americas, across Europe and all the way to India. They are most commonly consumed in Central and Eastern Europe. Bosnia has the filovana paprika, Slovenia calls them polnjena paprika while Hungary keeps it 'simple' with töltött paprika. The differences between these stuffed pepper recipes may be subtle to an outsider but ask a Croatian if they are all the same and you may as well be asking a Texan if they are Canadian. A more patient local may point out that there are as many recipes for stuffed peppers as there are cooks who prepare them.
How to make Punjene Paprike at home
The preparation of the filling is very similar to the aforementioned sarma. First, the peppers are cleaned by removing the stalk, stem, and seeds. The hollowed portion is then filled with a combination of minced meat, rice and spices (salt, pepper, parsley, and garlic). The choice of minced meat is yours however, a beef and pork mixture is the norm. It is important that the hole is not too big so the stuffing doesn't fall out while cooking. The peppers are filled almost to the top with some space to allow the meat to 'rise' while cooking.
There are as many recipes for stuffed peppers as there are cooks who prepare them.
There are also variations when deciding how to fill your punjene paprike. Some choose to fill the peppers with a raw meat mixture, some sauté chopped onions until softened then add meat solely to brown it while others like to just sauté the onions, quickly 'toast' the rice and add it to the meat. After stuffing, the next step is to warm some oil in the pan, add some onions until soft, then some tomato sauce/tomato puree, water and add the peppers so the top is facing up.
If you have any meat leftovers you can make small meatballs and cook them in the pot too. They don't require much attention, just a shake now and then so they don't burn. If you like a thicker sauce you can add some breadcrumbs at the very end or flour at the beginning, but that really depends on the chef. The overall cooking time should be around one and a half hours. If you want to remove oil from the equation, you can bake them in the oven instead of cooking them. Both varieties leave you with delicious punjene paprike but those cooked in the oven are generally a little bit lighter. No matter which manner you decide for your preparation, a good tip is that they are best served with mashed potatoes.
Zagrebački (Zagreb Steak)
This classic schnitzel is a favorite in Croatia's capital and named for it. It is a breaded veal steak filled with ham and cheese that offers a delicious combination of textures and flavors. Only the best parts of veal are used to make zagrebački, although you will find versions with pork, chicken, or turkey. Zagrebački is very similar to the world-famous Cordon Bleu. However, while Cordon Bleu can be fried or roasted, roasting zagrebački is considered a crime among the locals.
Do try this at home
There are only a few ingredients you will need for zagrebački: a juicy piece of veal – ideally loin or rump – salt and pepper, eggs, low-fat ham, cheese, and breadcrumbs. The meat needs to be pounded thin and seasoned with salt and pepper. You place a slice of ham and a slice of cheese on one half of the steak and fold it. Beat eggs with a fork to make them frothy and dip the meat in egg and roll in breadcrumbs.
flatten but not too much, fill so it doesn't leak, and cook so it doesn't burn
The preparation, according to experienced locals, is simple: flatten but not too much, fill so it doesn't leak, and cook so it doesn't burn. The result is a golden-yellow schnitzel that is crispy on the outside, super-soft on the inside. It's the slice of cheese that melts while frying that takes it over the top. Locals serve it with rizi-bizi – rice and peas risotto, and a slice of lemon to sprinkle it with lemon juice. In restaurants, you will often find it served with French fries and tartar sauce.
Roasted Turkey with Mlinci Pasta
Roasted turkey with mlinci pasta is a typical dish in the northern region of Croatia called Zagorje, directly north of Zagreb. This heavy dish is usually prepared for a special occasion or as a Sunday dinner, especially in the wintertime.
Turkeys in Croatia
Turkey was brought to Croatia from Italy by the Pauline Fathers around the 15th century. The birds took well to the climate in the Zagorje region, which is why to this day this dish is still a regional specialty there. Mlinci, which go as a side dish with the turkey, are a bit hard to describe. Most would say they are a cross between a pasta and a flatbread. In 2019, mlinci became the 23rd Croatian product to be listed on the Register of Protected Designations of Origin and Protected Geographical Indications by the European Commission.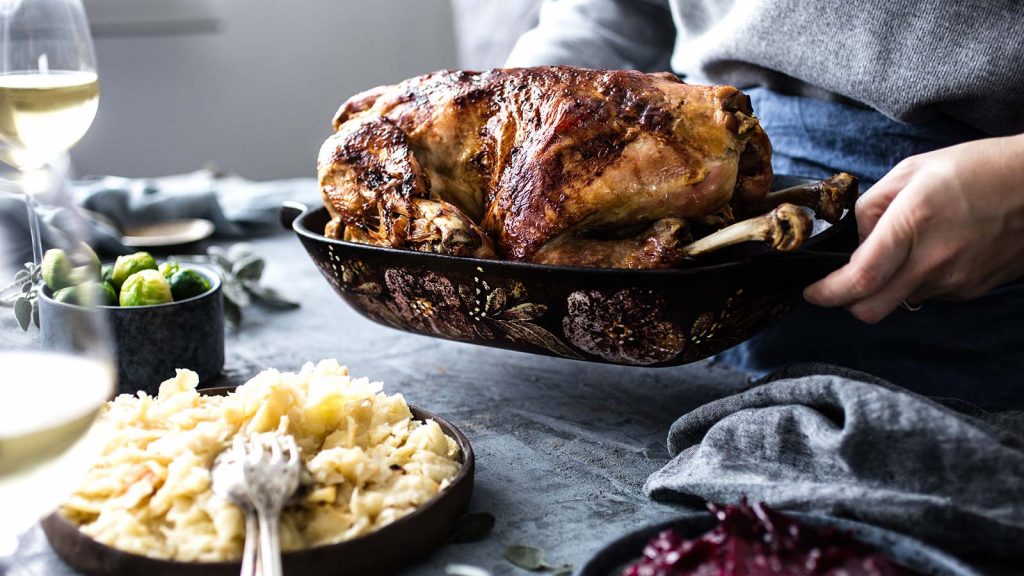 A centuries-old dish
According to one source, mlinci dates back to the year 1573, around the beginning of the peasant revolt against the nobility. Food then was very simple, and meat was prepared only on special occasions. The leader of the revolt, Matija Gubec, always prepared festive dishes during meetings with the peasant leaders, as to him, the revolt was a special occasion. Unfortunately for Matija, his wife was not a great cook. She knew how to prepare meats, but her bread was hard and barely edible. One night, instead of feeding the peasant leaders bad bread, she decided to crush it into the meat sauce and served it that way. Luckily for her, it became a delicacy and according to this source, her original recipe is kept in the treasury at the Zagreb Cathedral.
A simple but delicious recipe
The preparation of the dish is quite simple still to this day. First, the turkey needs to be properly washed and brined so it stays moist while baking. Dry turkey is a faux paux that transcends many cultures. After brining the turkey, it should be rubbed with seasonal spices and baked at a low temperature so it doesn't dry out. It is also important that it is baked with fat (again, nobody likes a dry turkey).
As for mlinci, the preparation is very simple – flour, water, and salt. The mixture needs to be rolled out and then, ironically, dried. When preparing them as a side dish for turkey, the mlinci need to be broken into small pieces and cooked in boiling water for just a few minutes so they soften a bit. After draining, they should be tossed with the roasted turkey drippings to soak up the flavor. Serving them like this is the traditional way, but if you like them crispy, you can put them back in the oven for a few minutes!
Čobanac
Čobanac, a shepherd's stew, is a dish from the region of Slavonia in the east of Croatia. The name comes from the word čoban – shepherd, as they were the ones that initially prepared this dish. They cooked it outdoors, on an open fire. While they were taking cows or sheep to pasture, they would collect wood, light a fire, and put a cauldron over it. This tradition lives on today, although you can cook it in a big pot at home, the flames are optional!
There are many different recipes passed through generations, all of them start with the main ingredients: three types of meat. Beef, pork, or venison, as long as you combine at least three. Cut the meat into cubes and let it simmer with water and vegetables – usually onions, carrots, celery, tomatoes, and bell peppers – for around three hours. The mixture is seasoned with salt, pepper, and both sweet and spicy red paprika. The color should be intense red, so intense that it is hard to wash it out if you drop it on your shirt! Back in the day, shepherds ate it with just bread, and nowadays you can eat it with polenta, gnocchi, or pasta.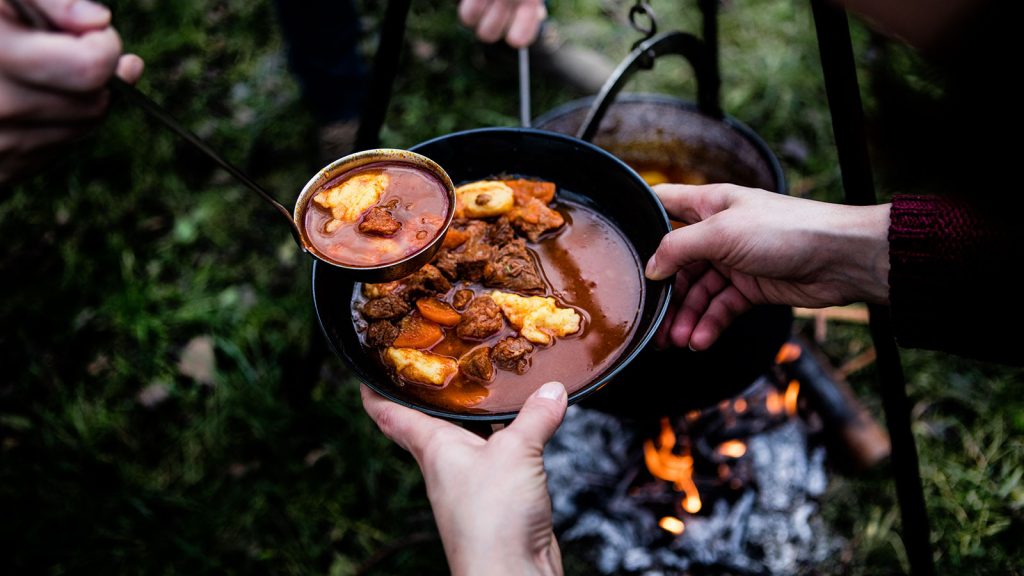 Attend a čobanac cook-off
Every year, there are numerous competitions all over continental (inland) Croatia, where participants compete in preparing čobanac. Many people attend these events because everyone knows that the best čobanac is made in large quantities and eaten in good company.
Eating local is the key
Croatian food varies from one region to another. It might be easier to find a good pašticada in Dalmatia and čobanac in continental Croatia. Any traditional Croatian restaurant that values its reputation should have at least one or two of these dishes on their menu. But don't get discouraged if you're not a huge meat eater, there are plenty of traditional Croatian dishes that don't include meat!
What About Peka?
You might be wondering why a traditional lamb and/or veal peka doesn't get a mention here. That's because we've written a whole separate article about peka, extolling the virtues of the most recognizable Croatian meaty main.

Ivana came to JayWay with plenty of experience in tourism, alongside a degree in Tourism and Marketing. Although she worked with several big British tour operators over the years, Ivana found that working with big group tours wasn't for her, since she preferred to get to know the people she was working for, and devote time to them, so JayWay was a perfect fit. Ivana naturally loves to travel, and is a big foodie, but she especially loves to read a good book, and enjoy excellent Croatian wine.