It's no secret that we love Istria. That's why we've organized an extraordinary excursion to explore this unique and utterly gorgeous peninsula on the Adriatic Sea when you're staying in Rovinj. Often compared to Tuscany, Istria is a destination that will fulfill all your vacation dreams, with delicious cuisine, scenic landscapes,  ancient history and quaint hilltop towns.
Two of our favorite towns in Istria are Motovun and Groznjan. These are definitely must-sees when you're visiting the region, whether you take an excursion or if you're self-driving you could also see them independently, just be careful to park in a marked (and paid for!) spot when you visit. Let's take a closer look at them, shall we?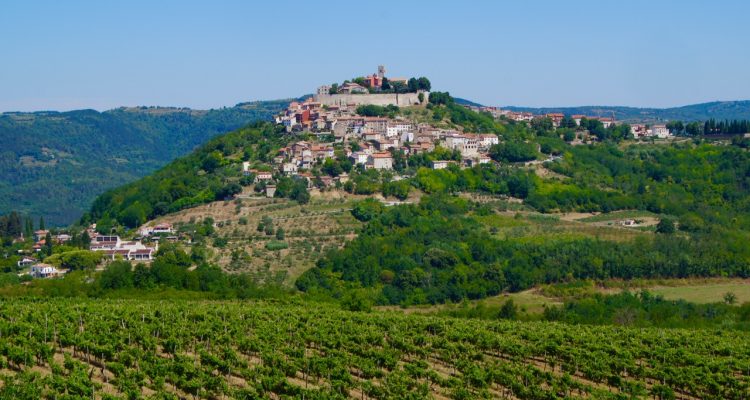 The Marvelous Motovun
Truly one of the most captivating places in the region, Motovun is a medieval hilltop town situated in northern Istria. Whether you're looking for delectable local dishes or ancient architecture, you'll find something alluring here. You can't help drawing comparisons with Tuscany's hilltop towns either and that's entirely understandable. You'll even spot the Venetian Winged Lion symbol in various places around town and it is packed with examples of Venetian colonial architecture, even the town's defensive walls are from that period.
Some of the notable architecture here includes the Romanesque Municipal Palace located in the central square, and the Parish Church of Saint Stephen, built in the 17th century. There's a transportational quality to the incredible buildings here, and a walk through the town center is like a trip back in time.
But there is more than architecture to enjoy here. The town is surrounded by vineyards, where you can sample the region's finest wines. It's easy to take a day trip here, sampling the vintages and stopping in at one of the many local tavernas. If you're feeling especially adventurous, you can even rent a hot air balloon to float over the landscape. And, if you're visiting between September and December you can taste some of the world-famous Istrian white truffles.
There's also a vibrant cultural calendar in Motovun, with a film festival taking place every July, as well as numerous concerts and theater events throughout the year.
All in all, Motuvun is a marvelous destination for a day trip that seems sleepy sometimes but is in fact packed with more than enough for all types of travelers to enjoy.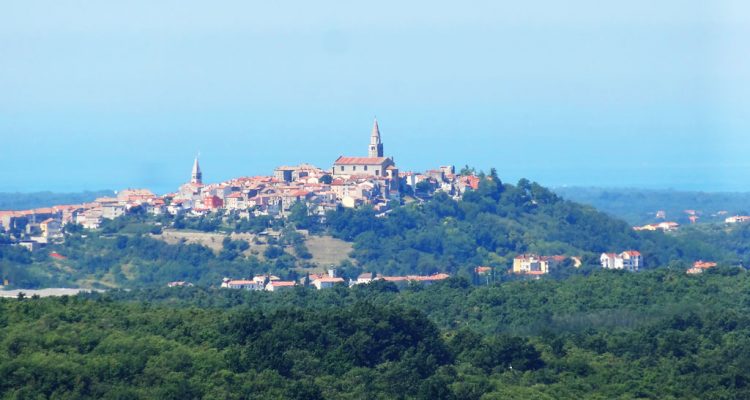 The Gorgeous Groznjan
Like many towns in the region, Groznjan is most alive during the summer time. From May to September, the narrow streets and alleyways are vibrant and a lot of fun. A cultural centerpiece of the region, Groznjan boasts many artists and musicians, most of whom show off their talents in the numerous workshops and performances that light up the town during the warmer months.
The picturesque little streets of Groznjan become a maze of arts and culture during the summer, and there's no better place in the region to get in touch with Istrian culture. Stroll along, savoring the temping smells of cooking and stopping off at one of the many clubs and cafes hosting live music. From jazz to classical, there are performances of just about every style imaginable.
The collage quality of Groznjan's atmosphere matches the sense of Istria being a cultural crossroads. And remember, just outside of town a landscape of breathtaking natural scenery awaits.
It's easy to see why we're so enthusiastic about Istria. Get in touch, we'd be happy to help you plan the perfect vacation in this truly special place.

Stephan Delbos is an internationally published writer and editor. Born in the US, he has lived, worked and traveled in Europe for a decade. He's fond of oysters and arid martinis.