Who doesn't love Helsinki? Virtually everyone who visits this alluring city on the southern tip of of Finland raves about its laid-back ambience, its pristine green spaces and gorgeous islands, as well as its unique architecture and cool cafes and restaurants. Helsinki's must-see sights are many, but if we had to choose we'd point out three that are a little more idiosyncratic.
Kamppi Chapel of Silence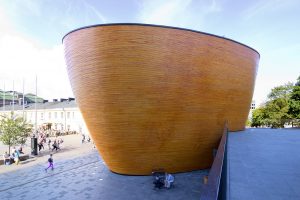 On the corner of Narinkkatori square in the center of the city you'll find the Kamppi Chapel, a unique oasis of peace and calm. Designed as a place where locals and tourists alike can relax and enjoy a moment of silence, it is a rare treat in one of Finland's most populated and bustling areas.
This isn't your ordinary chapel. No actual church services or sacraments like weddings are held here. Instead, the chapel is open all day long to the public, though regular prayer meetings take place here as well.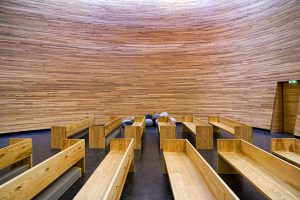 What you'll notice the moment you step inside is that the chapel is absolutely silent, and the bustling city right outside is completely blocked out. The wood and natural light give a warm atmosphere and the cross and altar have a tasteful touch of the sacred. The building was designed by architects Kimmo Lintula, Niko Sirola and Mikko Summanen as part of the World Design Capital Helsinki 2012 program. Its inimitable look and layout has also earned an International Architecture Award from The Chicago Athenaeum.
This is definitely one of Helsinki's truly unique attractions. It's a wonderful way to take a time-out from a busy day of sightseeing.
Hakaniemi Market Square
If you're looking for the urban action in the heart of Helsinki, look no further than Hakaniemi Market Square. This is the bustling center of the city, where you'll always find something happening. As the name suggests, there's a daily market here where you can discover all sorts of traditional Finnish treats, from fresh fruits and vegetables to baked goods and even arts and crafts.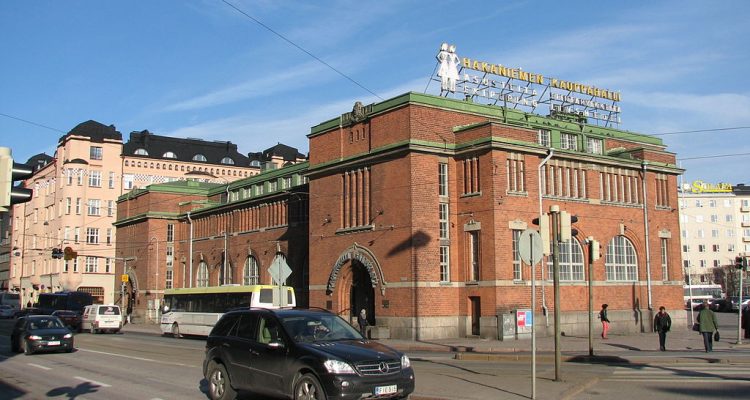 Next to the square is Hakaniemi Market Hall, an indoor version of the market. There's a market on the first Sunday of every month here. You'll also find regular flea markets and all sorts of public events throughout the year. It's a great place to mingle with locals and to get a unique insight into the way they do business.
Whether you're picking up supplies for a picnic, getting souvenirs or just a quick snack on the go, Hakaniemi Market Square is always fun. Bring your camera when you visit because you'll find plenty of interesting sights to photograph. And don't be afraid to haggle with the locals! It's all part of the fun.
Rock Church
This isn't a specifically or even obviously religious city, but it just so happens that two of Helsinki's must-see sights are churches. Like the Kamppi Chapel, the Rock Church isn't your average church. The structure was completed in 1969 and dug directly into solid rock in the center of the city, at the end of Fredrikinkatu. The main hall is a copper-lined dome with walls of rugged rock.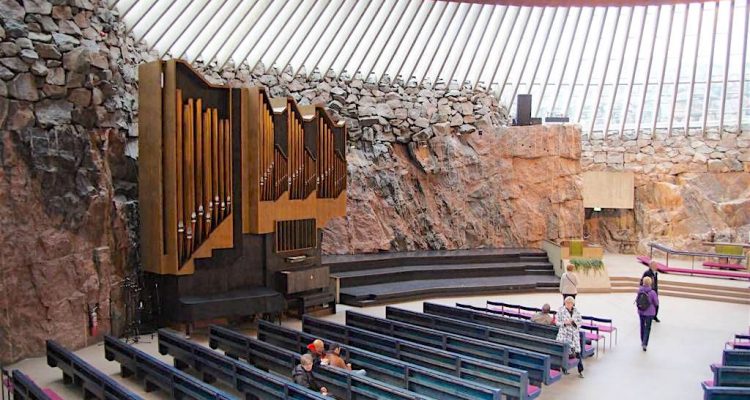 The light here in the morning is spectacular, and the church is atmospheric at any time of day or night. While the building was at first quite controversial, since locals wanted a more traditional church, they were soon won over, and approximately 500,000 people visit the church every year. It is one of the most famous architectural projects in the entire country.
You don't have to be religious to admire the unique design of this singular church, or the special atmosphere here, complete with an ice-age cut in the stone which serves as the altarpiece. Birch benches and colored granite walls, along with lush textiles and a large organ, add unique finishing touches.
Planning a trip to Helsinki? We'd love to put together a Helsinki travel package just for you. Get in touch to find out more!
Image credits:
Kamppi Chapel by Wojtek Gurak via Creative Commons on Flickr
Hakaniemi Market Hall via Wikimedia Commons

Stephan Delbos is an internationally published writer and editor. Born in the US, he has lived, worked and traveled in Europe for a decade. He's fond of oysters and arid martinis.