If Italian weather isn't cooperating with your plans, there are countless options for plans B through Z. Whether visiting museums or some of Europe's oldest cafes, we've got plenty of tips below to keep you more than occupied until the sun decides to return.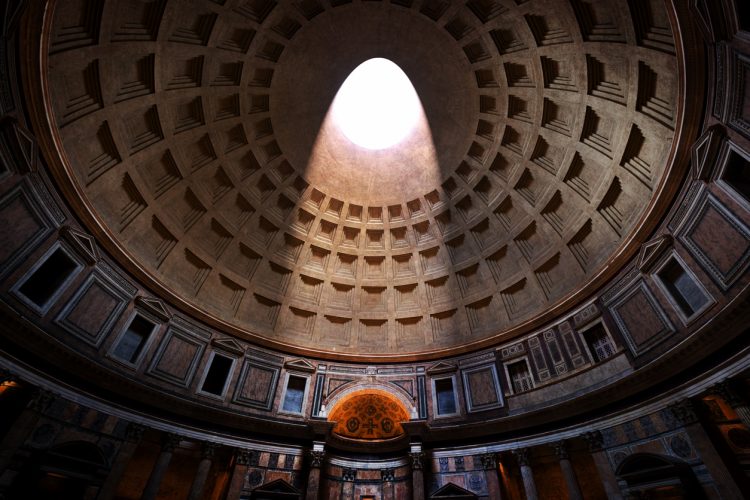 Rome
When the weather outside is frightful, just duck into a museum. If you have any interest in art, history, or both in the form of archaeology, and are anywhere near the center, then you'll be in luck. A legend says that the Pantheon was built so that the hole at the top of the ceiling doesn't let in water. See for yourself where the water goes.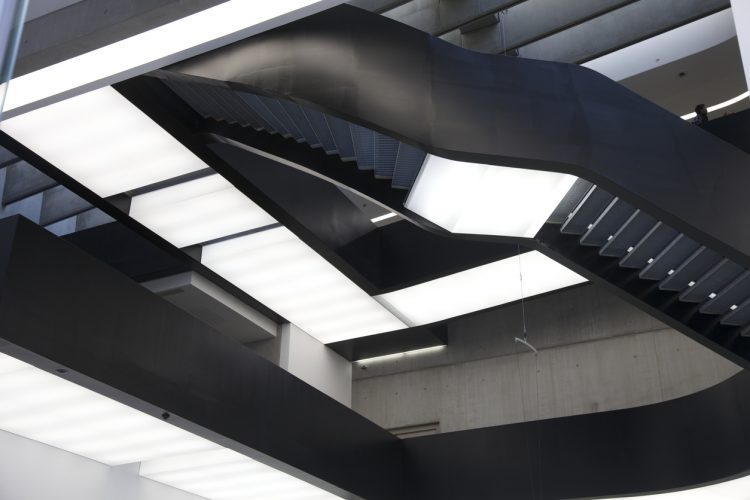 MAXXI may be an awkward acronym (somewhat standing for the "National Museum of XXI Century Arts"), but the museum itself is bold, beginning with the building itself, which won awards and acclaim for architect Zaha Hadid. Focusing on 20th century art and photography as well, this museums organizes workshops (some for kids), and has many activities. The coffee shop is also popular among college students.
If you fancy classical art more, head to the Borghese Gallery, with works from Bernini, Caravaggio, Canova, and more. If the weather improves, feel free to take a break in the surrounding gardens, which compose one of Rome's largest parks (and the largest in the city center). Carefully designed in the naturalistic 18th century English style, the gardens reward the curious.
Another good option for a break, when the weather isn't cooperating, is one of the city's famed coffee bars. We especially recommend the Antico Caffe Greco, by the Spanish Steps. Usually referred to simply as "Caffe Greco," this is Italy's second oldest cafe. In the past 250 years, the cafe has hosted many regular, from Goethe and Keats, to Casanova, Wagner, Liszt, Gogol, Mendelssohn, Ibsen, Hans Christian Andersen, and Lord Byron. Despite its age, the cafe remains popular with today's creative thinkers and VIPs.
You're likely to pass through Rome's central Termini station sooner or later, so why not take advantage of its excellent new food market? Mercato Centrale has an excellent variety of food, from truffles (both sweet and fungal) to meat to an unusual variety of vegan and vegetarian fare. Indeed, you can find the best of Rome's culinary specialties all here, amidst the 18 foot stands. The vaulted ceilings keep the market from feeling claustrophobic, and while there is plenty of table space, you can also head to the market to grab a bite to eat when changing subways below. Unusually for Italy, the market is open 365 days a year, from 8 AM to midnight. For a better idea of what to expect, see our video. If you enjoy the market, be sure to visit its sister location (which shares the same name) in Florence.
Hot, cold, dry, or apocalyptic as it may be outside, the weather in Rome's catacombs is always the same: cool and comfortable with pants and long sleeves. These ancient tunnels (over 40 different networks have been discovered) have been a burial site for nearly 2,000 years, and contain most examples of early Christian art, as many early martyrs were buried here. The Jewish catacombs are also worth a visit.

Florence
Palazzo Vecchio, Florence's town hall, is a must-see, so use poor weather as an excuse to familiarize yourself with it. Overlooking the Piazza della Signoria (the city's unofficial center and main square), this fortified 14th century structure is enhanced by its tall clock tower. While Michelangelo's David no longer stands by the main entrance, the solid copy is still quite photogenic. The interior is no less beautiful, with chambers and rooms decorated by artists including Michelangelo and Da Vinci. You really should be sure to check out the main chamber, the Salone dei Cinquecento.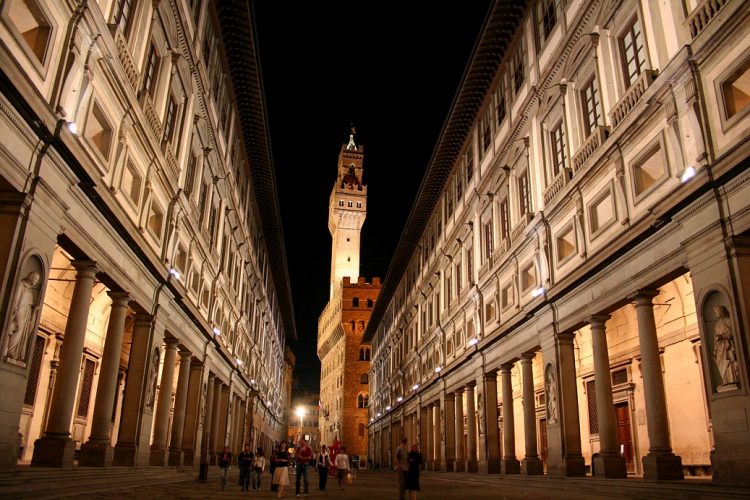 To see Michelangelo's original David, visit the Galleria dell'Accademia. We also recommend the Accademia's rival, the Uffizi Gallery, which hosts many of the city's most famous works. It's best to focus on one per day, with a guide (which will let you skip lines). We can provide guides, with or without walking tours of the city center. Discover more about Da Vinci's legacy in Florence here.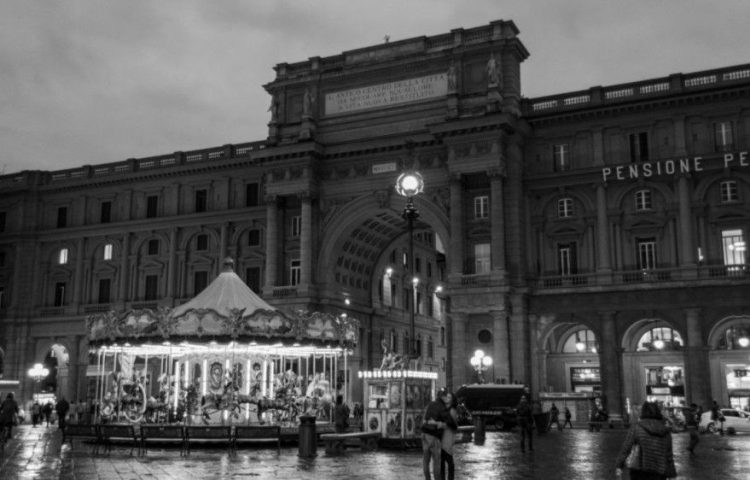 Florence's oldest coffee bar, Caffe Gilli is nearing its 250th birthday. Founded as a pastry shop by a Swiss family, constant success necessitated it move to larger locations until its final move to the Piazza della Repubblica, more than 100 years ago. As the name implies, the Piazza was built during Florence's brief time as capital of a reunified Italy in the 19th century, and has the grand monuments and architecture to match.
For a relaxing break, head to the Cinema Odeon, which is contained within the Renaissance Palazzo dello Strozzino. The cinema shows Italian classics, many shot in Florence, with English subtitles. This golden, gilded cinema has held onto its 1920s decor, making the theater itself worth a visit.

Venice
Venice has many features that makes it unique, and its traditional glass production is one of them. Head to Murano or Burano to watch glassblowers make art before your eyes, then head to the Museo del Vetro on Murano to delve into the history of glass, and just what it's capable of as an art form, from Roman times to today. The museum will familiarize you with fashions and discoveries, amidst impressive works, including those made over the centuries by Barovier and Toso, one of the world's oldest family businesses.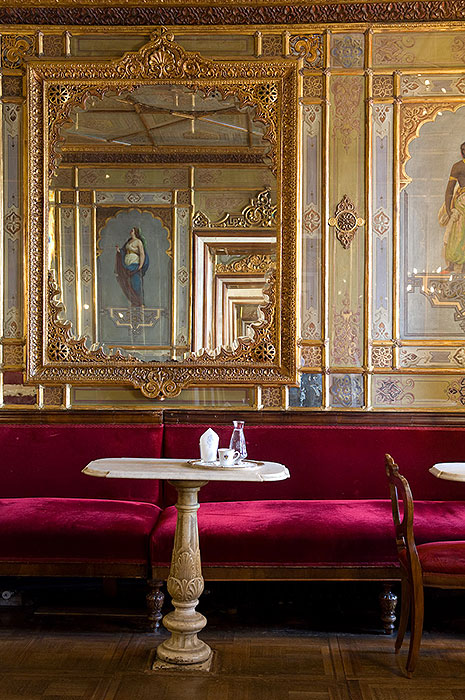 For something much more modern, take in the Peggy Guggenheim Collection, with its stunning displays of international 20th century avant-garde art. Located in an 18th century palazzo on the Grand Canal, this is an excellent way to familiarize yourself with Italian futurism, and everything that followed. Venice's most popular art space, we recommend booking a ticket in advance.
If you're going to a cafe, you might as well go all-out and visit the second oldest in Europe, Caffe Florian. A symbol of the city, this San Marco landmark has attracted many greats since 1720, including Proust, Dickens, Lord Byron, and Goethe, making it the epitome of a grand cafe. The cafe's popularity was boosted by its reputation as a place where different classes, and even unaccompanied women, could meet (which naturally attracted Casanova as well). The cafe's popularity has continued since, thanks in part to its pastries and ample gallery space.
Rain, shine, or something in between, we'll be happy to keep you happy as you explore Italy. We offer a wide range of tours and excursions, indoors and out, alongside recommendations from our local staff. And, of course, we'll have you met and stay in contact with one of our local employees, if you'd like advice, or something goes wrong.

Born and raised in Wisconsin, Kevin lived in Estonia and Finland for several years, traveling widely through Central and Eastern Europe, before settling down in Berlin. Having studied the cultures, histories, and economics of the countries along the Baltic Sea for his Master's degree, Kevin has the knowledge and experience to help you plan the perfect trip anywhere in the region, and also works as JayWay's main writer and editor.