Karlín (pronounced Kar-leen) suffered heavily in the 2002 'hundred years flood'. However that devastation resulted significant urban renewal. I have lived there since 2009 and it was around that time that the gentrification started to set in. This process has made Karlin one of the most sought after neighborhoods to live in. We have started to suggest a couple of hotels in the area as well for guests keen to see more of the real Prague. Even if you're staying in the center and want to burst out of the Prague 1 bubble, Karlin is very easy to reach by tram or metro. Most of the places mentioned are on Sokolovska street or the parallel Krizikova street and mostly around Karlinske Namesti (Karlin Square). Completely refurbished in 2015, it's a great example of how sprucing a public space up can bring people to rediscover it.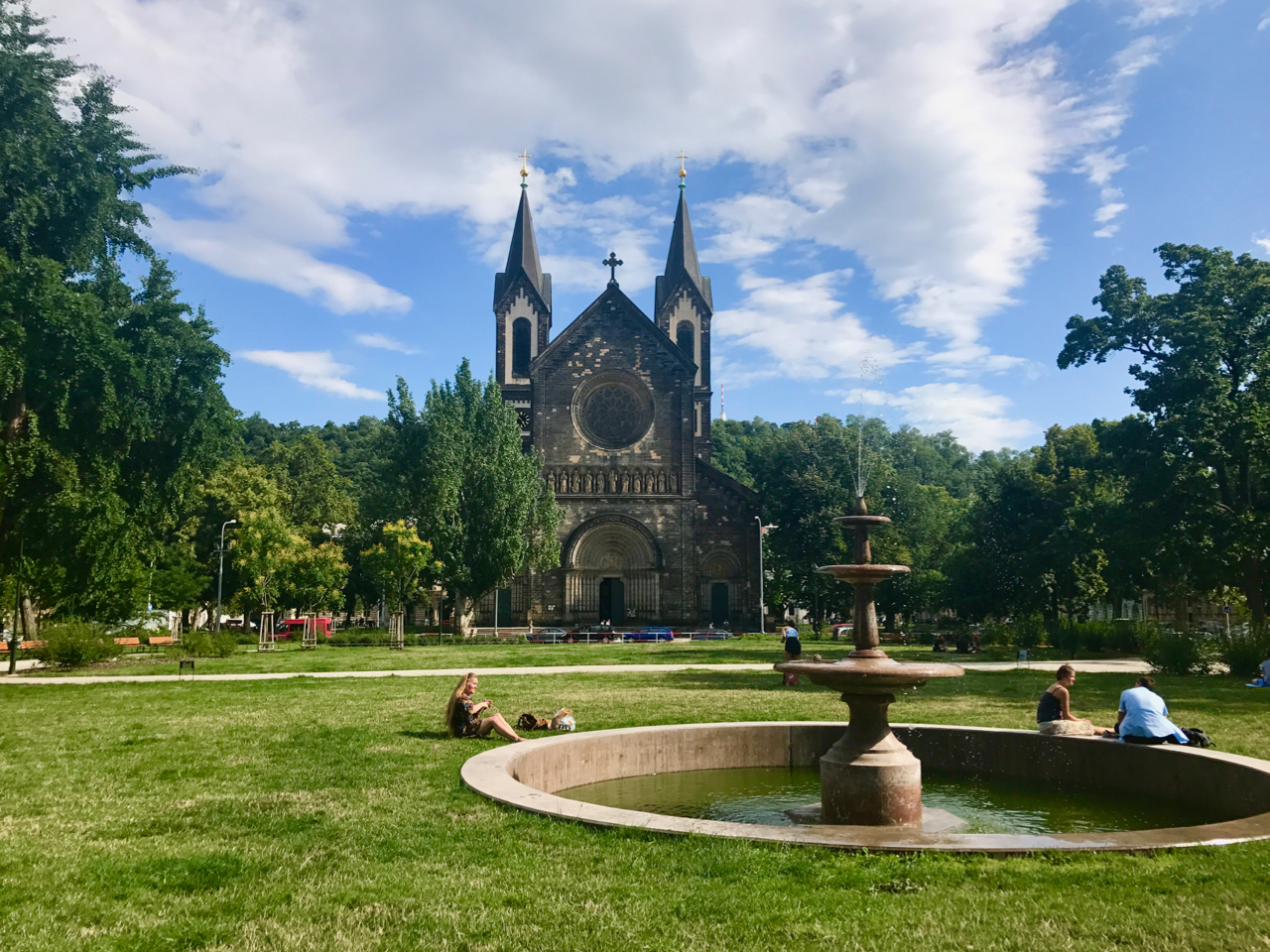 Jump to a section of this article
Restaurants
In all of the restaurants listed there's a low-cost lunch menu offered. There are many more but these are the standouts that people cross town for.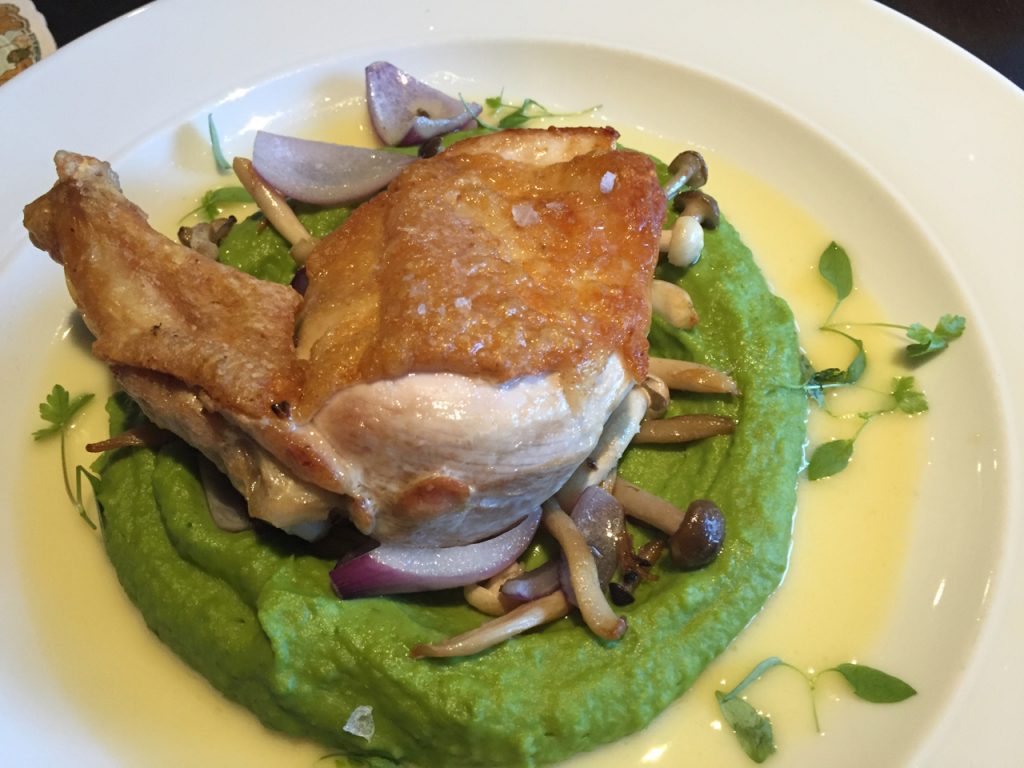 Krystal Bistro
Krystal opened in 2010 as a sister restaurant of Mozaika, then a popular modern European eatery in posher Vinohrady. It has since eclipsed its sister and the frequently updated menu of perfectly done Czech and French dishes, and a mean burger have earned Krystal a place on my must-eat-at list. Reservations advised. In summer months enjoy a seat at a table outside. Beers are from the renowned Matuska microbrewery.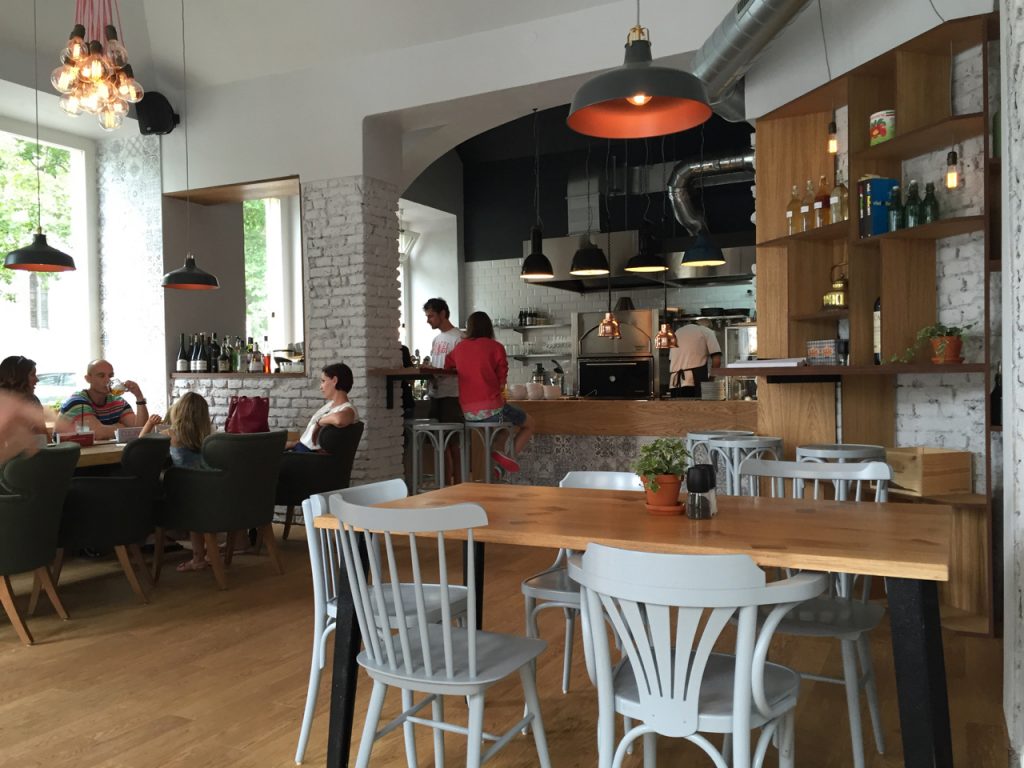 Nejen Bistro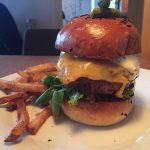 The open kitchen, smart and friendly young staff and well conceived though short menu mean Nejen is always packed with locals. There are microbrewery beers on tap and some excellent homemade lemonades. Their burger is a messy one to attack but worth it. The open kitchen adds to the experience.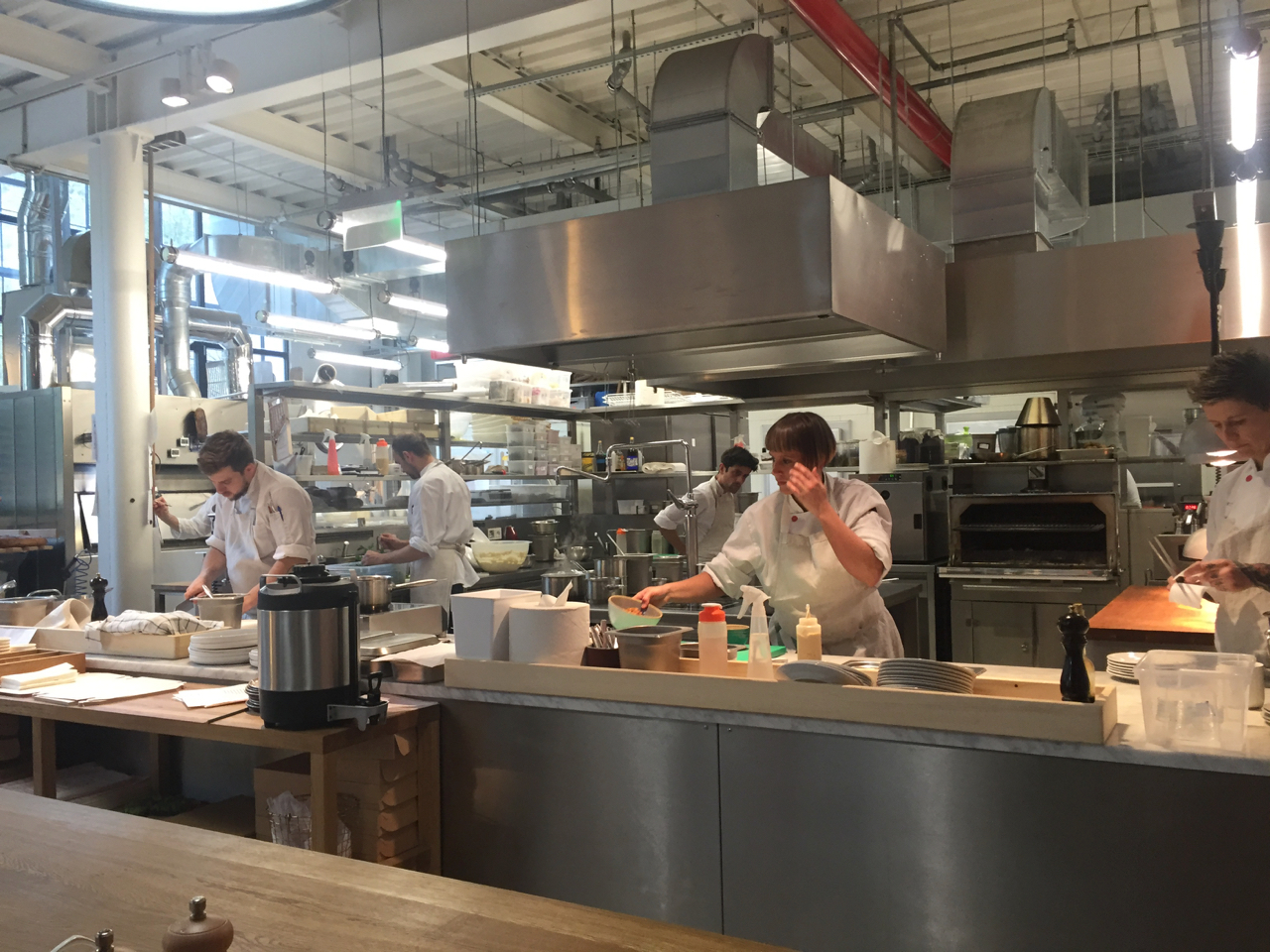 Eska
A little Berlin pretension comes to Prague at Eska. There's a massive staff, a bit too much style over substance in some aspects but the food is unarguably excellent. Lunch specials are particularly good value here.
Bars
Karlin isn't somewhere you go for cocktails, but for beer or wine. In addition to the places listed here there are a few wine shops where you can try some Czech (well, usually Moravian) wine by the glass poured from a barrel.
Lokal Hamburk
A branch of Ambiente Group's Lokal chain opened in place of what was a run of the mill pub. Now you can barely get a seat. That's ok because when the weather allows you can just take a glass and cross the street to the grassy square. There's 'slow-food Czech food' on the menu and a version of Ambiente's Nase Maso's burger called 'Hamburker' on the menu. Like all Lokals they serve unpasteurised Pilsner that's delivered by tanker. The best Pilsner you will ever have.
Dva Kohouti
A paint store turned into a micro-brewery with minimal redecoration, Dva Kohouti is the new home of the star of the Czech micro-brewery scene, Adam Matuska. His eponymous micro-brewery just celebrated 10 years, during which time he brewed beer in a number of locations. This is by far the largest and the expansive menu featuring his work and the occasional guest beer means you will be spoiled for choice. Run in conjunction with the Ambiente group and located in the courtyard behind Lokal Hamburk, with plenty of outdoor seating and stand-up tables indoors. Food takes second place here, with minimal bar snacks but you can get grub from Ambiente's Bufet eatery that's now opened a serving hatch in the courtyard.
Cafe Frida
Unetice beer (a just-outside-Prague microbrewery success story), Mexican bar food, homemade lemonades and chatty locals. That's what Cafe Frida's all about.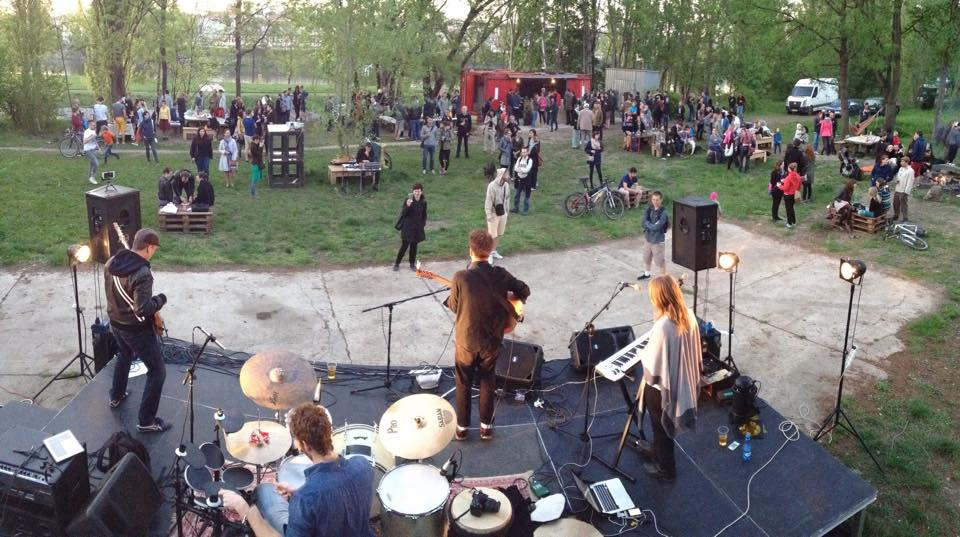 Pristav 18600
Definitely not fancy, this is a shipping container bar on the riverside, reached by passing between two of the new developments along the embankment road. Opens usually in May and closes in October, weather permitting. Sometimes there's food available but you're welcome to bring your own. You can even rent a grill. Check the program on their website or Facebook events, there's often a live concert or a movie.
Lunch only
There are a lot of offices in the area, with blue chip companies putting their Central European headquarters here, so there's a massive demand for lunches. Here's my favorite…
Presto Bistro
What's better than a friendly local butcher's shop? A butcher's shop with a bistro attached. Only open for lunch, and the daily specials sell out by 12:30 usually, but there's always a steak on the menu. Friendly happy staff. It's standing room only inside but when the weather allows (or the patio heaters are on) then a table outside is an option.
There's an adage that in life you can only ever get two of: cheap, fast, good. Presto, and the rest of these lunch spots are the exceptions to that rule. If you're getting your food to go, perhaps to picnic, you'll find plenty of benches and/or space on the lawn in the aforementioned Karlin Square (Karlinske Namesti) and Lyckovo Namesti (mentioned later) and the park just beyond it at Invalidovna.
Fast Food
Bageterie Boulevard
The Bageterie Boulevard chain make great sandwiches, to order, with either grilled or cold fillings. My tip: something from the Chef Menu. They get a local or international chef to create a couple of baguette recipe. The chef menu changes seasonally 3 or 4 times a year.
Garage
Ever had poutine? Also known as Disco Fries. Most Czech people hadn't till Petr came back from Canada after his parents emigrated there when he was a kid. He decided that Prague needed poutine, and so… Open for lunch and dinner (closed mid afternoon), eat in, outside or get it to go. It doesn't make much difference, the poutine comes in a box, with a fork, either way. My tip: the 'Montreal' poutine – with pulled beef.
Polevkarna
Simply translated: soup place. This Georgian-inspired soup shop serves three or four different soups each day and some pastries, notably khachapuri, a cheese-pie popular in Georgia. A cheap, tasty, filling and quick lunch. Eat in, or at one of the tables outside if the weather allows.
Cafes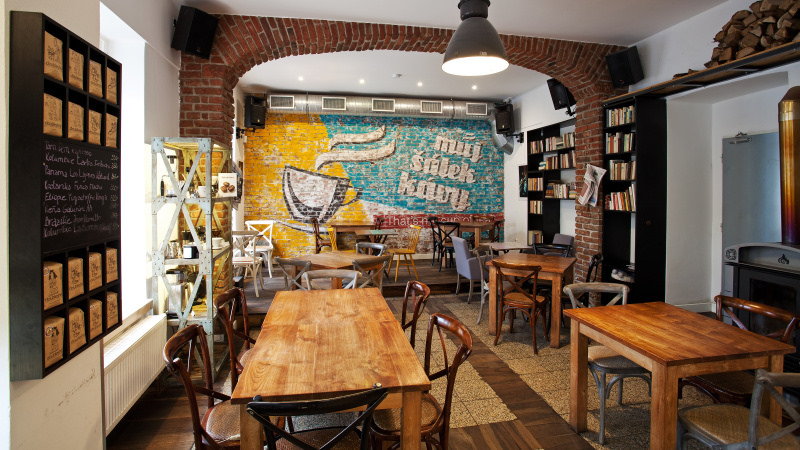 Muj Salek Kavy
About as 'Third Wave' as a cafe can be. Owned by renowned local roasters DoubleShot, who buy their coffee direct from farmers. In case you're wondering Muj Salek Kavy means 'my cup of coffee', the Czech version of the 'my cup of tea' idiom. Choose an espresso-based coffee or one made using your choice of apparatus. You can even do a coffee degustation, trying several specialty single-origin coffees which you absolutely can't have with milk. A brief lunch menu is available and some excellent cakes. On a summer's day take a seat at one of the tables outside. They're open till 10pm Mon-Sat and once the coffee-drinking watershed has passed there are beers and wines too.
Ema Espresso Bar
Some years give, some years take away. Karlin lost its branch of Mama Coffee but gained an Ema Espresso Bar. One of the city's havens for coffee-obsessives added a Karlin outpost in 2020. The food options are limited to a few cakes, but you're there for the coffee right?
Dobra Trafika
"Good Newsstand" is a bit of a misnomer – you aren't going to find newspapers here, but this cozy little café has some specialty teas and coffees, decent cakes and draft beer. More old-school than the two places mentioned above, this is the city's third Dobra Trafika, the other two have been around for decades. They're not afraid to take a stand on certain things (they don't sell 'Russian Ice-cream' (ice cream sandwiches) on the 21st of August (anniversary of the Warsaw Pact invasion of Czechoslovakia that ended the Prague Spring). The signboard simply reads 'Parents, tell your children why'.
Antoninovo Pekarstvi
Another example of a Vinohrady favorite opening up in Karlin, "Antonin's Bakery" is Czech bakery at its best. And soups.
Other stuff
Karlin's a fairly self-contained neighborhood, all the kinds of shops and services you could need (hair salons, gyms, supermarkets) are to be found near here, with the exception of a laundromat. But if you walk through the Karlin-Zizkov tunnel you'll find one on Konevova street.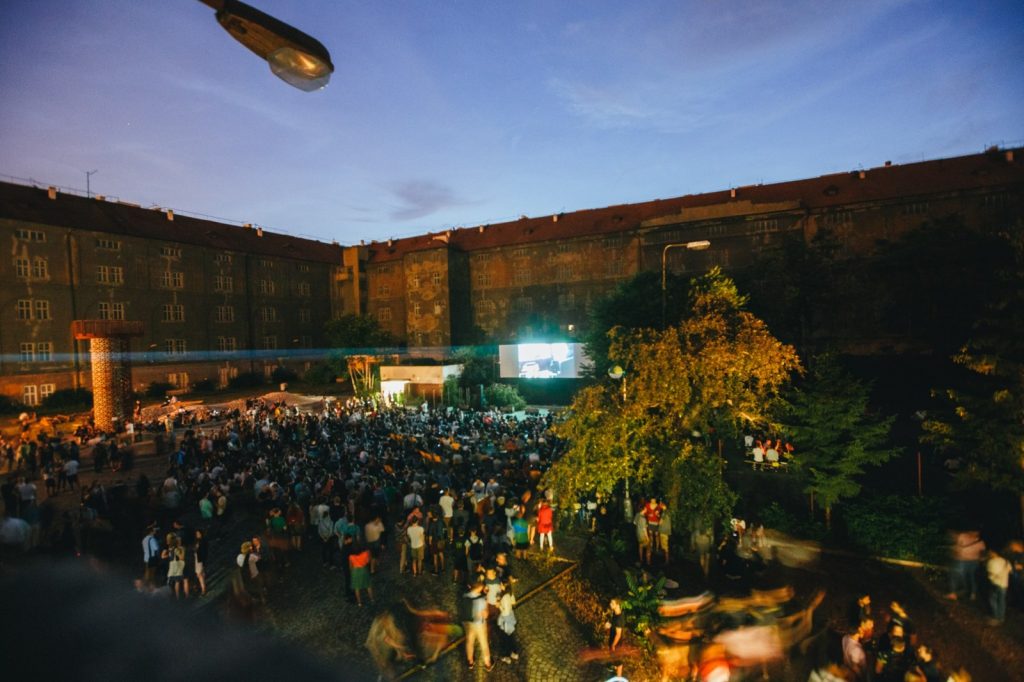 Kasarna Karlin
This is an outdoor (but surrounded by buildings) cinema, bar, art gallery and live music venue. First opened in 2017, we have high hopes for its future. In winter it is home to an ice skating rink. The shabby buildings that surround it are a former barracks that the army haven't quite got round to parting with yet.
Lyčkovo Square
Karlinske Namesti is a lovely square, sure, but does it have a beautifully ornate elementary school building on it? A great place to eat a lunchtime poutine from nearby Garage.
Cyril & Methodius Church
If you're into impressive churches then this is right up your street, or perhaps more precisely, on your square. Dominating the Karlin skyline with its twin spires, it's a vast edifice that's very poorly attended due to the Czech Republic being the most atheist country in Europe. It's pictured at the top of this article.

Charlie is head of marketing at JayWay Travel. A long-term Prague resident, his interests are cooking, eating out, cycling, skiing and of course, travel.