Who doesn't love a beach holiday? The sun in the sky, the sand on the beach, the relaxing sound of the waves, and a tasty Didžkukuliai in your hand. Wait, what? That's a Lithuanian beach vacation for you, and it's more fun than you probably realize. Lithuania's Nida Beach and Palanga Beach are gorgeous spots that are the perfect destinations for a relaxing vacation. Let's take a closer look at both!
Nida Beach: Lithuania's Best-kept Secret?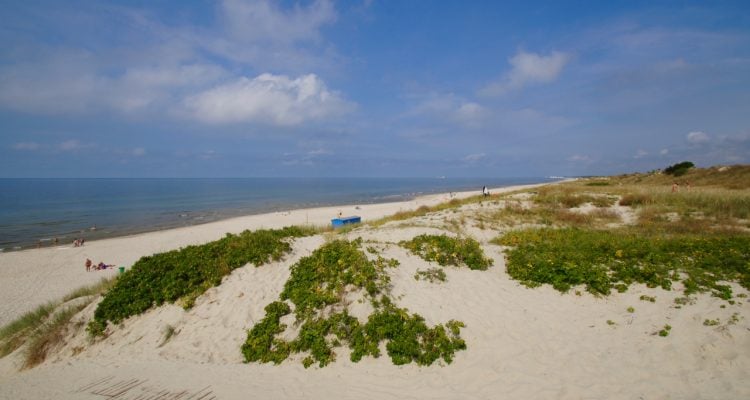 You'll find Lithuania's Nida Beach, and the accompanying beach resort town, on the Curonian Spit. The Spit, a UNESCO World Heritage Site, is divided between Lithuania and Russia – the northern half is in Lithuania and the southern half is part of Kaliningrad. Easily reached from Klaipeda, the Curonian Spit is a natural paradise that should top the list of day trips for anyone visiting the region.
Here, at the westernmost point of Lithuania, you'll find a stunning beach that seems to stretch on forever. The sand is white and powdery and the water is almost always calm. This is a very picturesque beach, and although the temperature of the water remains rather "refreshing" year-round, you won't want to miss the chance to come to Lithuania's Nida Beach when you're in the country.
Nida Beach is one of Lithuania's best-kept secrets. It's far enough from the big city that many travelers don't venture here. But artists and writers like Thomas Mann have exalted its beauty for two centuries, so they must have been onto something!
Getting to Nida Beach
There are several ways to visit the Curonian Spit, depending on your available time and budget. The simplest is the private tour we offer, including a driver/guide. You'll take the short car ferry ride from Klaipeda, with stops at various places of interest along the way.
Visiting on your own is a little more complex. There are buses between Klaipeda and Nida, the furthest of the villages. In July and August there may be a (slow) passenger ferry service between Klaipeda and Juodkrante and Nida.
Palanga Beach: Refresh, Recline, Repeat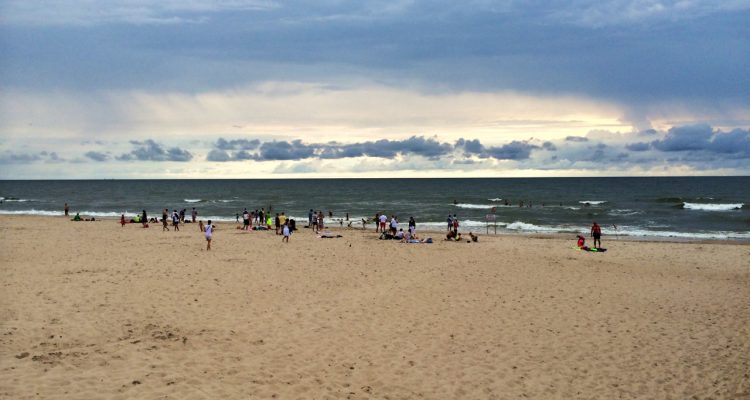 Picture this: you're standing on a pristine beach with your toes in the water, sipping a cold beer and admiring the sunset. Where are you: the Bahamas? Florida? No! Palanga, Lithuania!
Palanga Beach is located in the largest beach resort town in Lithuania. This makes it very different from the rural, more laid-back Nida beach. A visit to Palanga is always a fun and interesting experience, because besides the beach there's so much to do in the town. The 'boardwalk' runs perpendicular to the shore rather than along it, which you might find a little strange and the overwhelming feeling will be that you've walked onto the set of Jersey Shore, Baltic Edition.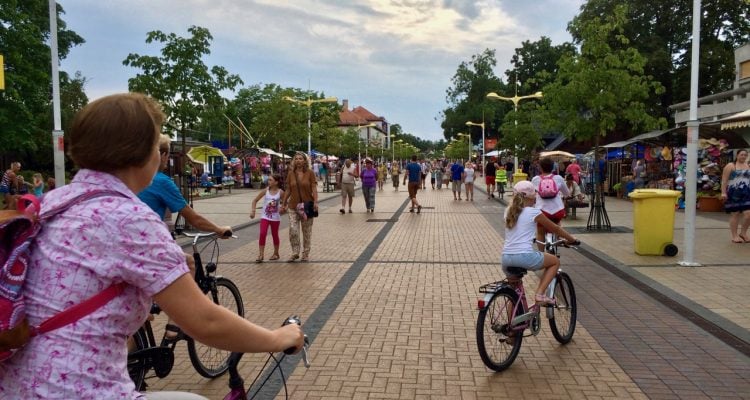 But the beach itself has plenty to recommend it. There are beach bars and snack shacks where you can enjoy a cold drink and some local delicacies while lounging on beanbags or sun chairs. There's also a pier, the perfect place to sit and people-watch. Or take in the sunset, which is always astounding. The city's main cultural site is the Amber Museum.
Palanga Beach is family friendly, so you'll see people of all ages enjoying the sun, waves and sand. If you're looking to stay active, there's a trail that runs parallel to the beach, where you can walk, jog or cycle amid the fragrant pine trees. If you see signs that say "Women Only" or "Men Only," that means you've ventured into one of the nude sections, so be careful!
Getting to Palanga Beach 
If you're thinking about visiting Palanga Beach, you're in luck because there are several convenient options, depending on where you're staying. There are regular buses from cities including Klaipeda, which is only 25 kilometres away, as well as Vilnius, Kaunas, and Siauliai. Railway stations that have trains going to Palanga Beach include Klaipeda and Kretinga.
Why visit Lithuania?
All but closed for western visitors under communism, Lithuania has been open for tourism again since 1990. But many travelers still don't consider it. That's one of the reasons it's special. It's a relatively small country, with a population of just three million. Yet there's so much to do here. You've read about the beaches, and there's also an interesting culinary scene here, as well as a rich culture and history.
Vilnius has Europe's largest Baroque Old Town. It's easy to see why it's on the UNESCO World Heritage List. The Hill of Crosses and Trakai Castle are two more famous sights. In the west, Kaunas is known as a city of museums. Klaipeda is the country's main port. It's a good starting point for exploring the UNESCO-listed Curonian Spit.
Are you planning a holiday in Lithuania? We're Central and Eastern European travel specialists. We'd love to help you plan the perfect vacation. Just get in touch!

Stephan Delbos is an internationally published writer and editor. Born in the US, he has lived, worked and traveled in Europe for a decade. He's fond of oysters and arid martinis.