Every now and again the question of the continuing migrant crisis, and how it affects the destination we cover, comes up in conversation with a prospective guest. We've published a series of posts on the subject, of which this is the latest, updating regularly to explain the situation as clearly as we can, with the benefit of the observations of our own staff based in Europe who are able to see with their own eyes what is happening and not to be swayed by the often sensationalist reporting in the mainstream media.
2015 in Brief
The migrant crisis in Europe has been going on for nearly a year, though it didn't make headlines until the situation reached an inflection point in late August/early September. Refugees from Syria, Iraq and opportunistic migrants from other countries had been making their way through Europe by foot for months before it seemed like the floodgates opened, caused in large part by the German Chancellor, Angela Merkel seeming to invite all-comers. As a result Germany, followed by Sweden, have been the desired final destinations for the waves of migrants.
Since then over a million migrants have made their way to Germany and Sweden, crossing from Syria into Turkey then usually by perilous sea journey to Greece, from where they head north through Macedonia into Serbia, and initially re-entering the EU at the border with Hungary, from where they would cross Austria into Germany. This led to large numbers of migrants gathering at Budapest's main train station, causing enough of a nuisance to sway public opinion. Hungary's right-wing government responded by erecting a border fence, causing the migrants' route to change, instead crossing into the eastern edge of Croatia then across eastern Slovenia before reaching Austria. The map below outlines the route taken.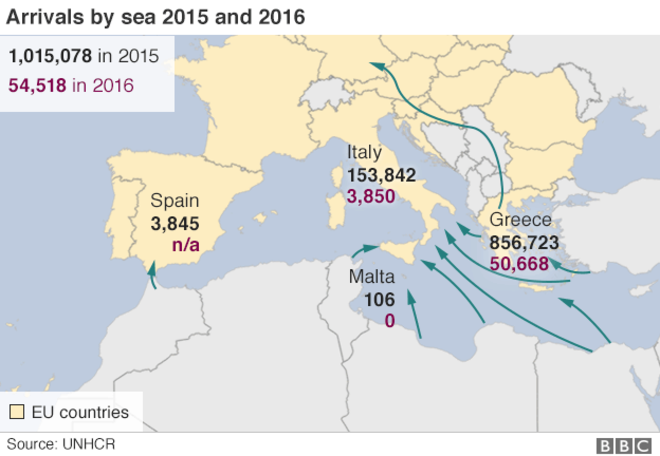 During all of this time, our own people on-the-ground have been monitoring the situation to determine any likely effects on our guests. Aside from those few days when trains were cancelled between Budapest and Vienna, the worst of the problems have been some occasional delays at borders as governments temporarily imposed passport checks, whereas previously as internal borders in the Schengen area you would be able to just drive straight through.
The EU and Turkey
As Turkey is a key transit point, in November 2015 the EU struck a deal with turkey, providing $3.3 billion in funding for efforts to handle the refugees on Turkish territory rather than having them continue into Europe. This is stemming the flow, though at the time of writing Turkey have closed their border with Syria and are providing support to refugees in camps on the Syrian side of the border.
Public Opinion towards migrants and political response
First of all Germany has been repatriating migrants from so-called safe countries, serving to discourage people who know they won't qualify for asylum from making the journey in the first place. Aside from that a couple of incidents that took place in Cologne on New Years Eve and at the traditional Carnival on February 6th have fomented a backlash against Merkel's open arms stance. There are far fewer people unfurling 'refugees welcome' banners across Germany now and there is a clear tightening of restrictions.
Where AREN'T the migrants?
Probably the most surprising fact for the casual observer is that apart from Germany, there is no perceptible presence of migrants in any of the destinations that we cover, as witnessed by our own people and partners across the region. Even as the migrants transit through countries, they are not often to be found in the major cities and tourist destinations. To put it bluntly, these countries and their less than generous welfare states are not of interest to migrants seeking not just safety, but a country that at least at one point seemed to want them there and would look after them well.
To quote some of our guests from last year:
"We were surprised to discover that the widely reported migrant crisis had no effect on our vacation. Crossing country borders which we did three times was no problem. Passports were checked and we went on our way. We never saw any evidence of the migrants"
– Mary F, who traveled in Croatia and Slovenia in October 2015

"The migrant crisis did not have any effect on our vacation. we did not see any evidence of a crisis in any of the places we visited, train stations or bus depots, etc… We did not come across any groups of migrants on the journey."
– Susan K, who traveled for a month in Germany, Czech Republic, Poland, Hungary, Austria, Slovenia & Croatia from mid September to mid October 2015
Outlook for JayWay Guests in 2016
As the civil war in Syria wages on, with Russia and NATO weighing in, there will still be a stream of people fleeing their war-torn country but as you have read, so much has changed since last year, with the EU-Turkey deal and an increasingly unwelcoming stance across the EU that there will be less migrants than last year entering the EU. Even last year, the effect on our guests' trips was minimal so 2016 is a great time to visit Central & Eastern Europe, with the dollar holding its value well against the Euro and even more so against the region's non-Euro currencies.
Planning a trip to Central and Eastern Europe? We'd love to put together a Central and Eastern Europe travel package just for you. Get in touch to find out more!

Charlie is head of marketing at JayWay Travel. A long-term Prague resident, his interests are cooking, eating out, cycling, skiing and of course, travel.