In October 2014, JayWay Travel hosted Lance and Laura Longwell, authors of the popular Travel Addicts blog.  We sat down with them to discuss travel and Budapest, Hungary.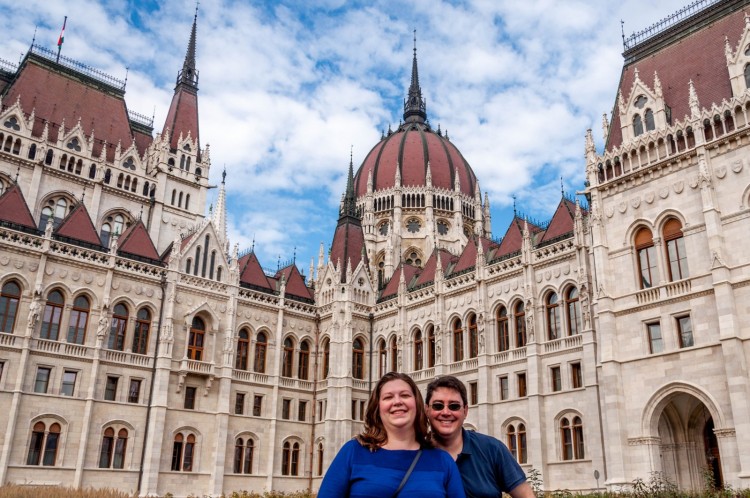 How long have you been traveling and blogging about travel?
We both have a strong love of travel. Lance started as a child visiting all 50 of the United States before going to study in Asia. Laura went to the UK to study during high school. Once we started professional careers, travel became the outlet for relaxation and adventure. Travel is essentially the consuming passion that occupies the time when we're not at work.
Our journey into travel blogging started in 2008 and initially was a way for us to remember our trips. However, as the readership of the blog has grown over the last seven years, we share our experiences and inspire others to travel. Most North Americans have less than three weeks of vacation per year – we show them how it's still possible to see the world.
What's the single most important thing you've learned on your travels?
Over the last seven years, we've visited over 40 countries together. During that time, we've learned the importance of carefully planning your trips in advance and maximizing your time while you're traveling. But the flipside of that coin is also being flexible enough to adapt the inevitable hiccups on the road.
This was your first trip to Budapest. Overall, what were your impressions of Hungary overall, and Budapest specifically?
We'd seen pictures of Budapest, but really didn't have a pre-conceived idea of what we would encounter. Budapest really surprised us. We immediately fell in love with the city's beauty, its delicious food, and rich history.
What's the one thing people should see in Budapest?
In a city as beautiful and diverse as Budapest, it's tough to pick just one thing. We spent days wandering around taking photos of Budapest. If we had to pick just one thing, we'd encourage visitors to go to one of the many baths in Budapest, such as the intimate Gellért Baths or the vast Szechenyi Bath complex. The baths of Budapest are probably one of the most unique aspects of life in Budapest.
Any key takeaways from the Hammer & Sickle tour?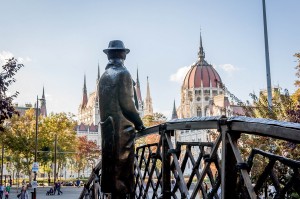 We both grew up in the United States in the waning days of the Cold War.  For us, watching the fall of the Berlin Wall and the celebrations of freedom was a transformative event.  I think the one real takeaway of our Budapest communism tour with JayWay was the extent to which the communist ideology permeated every aspect of Hungarian life.  Our guide László shared with us how children were encouraged to inform on their parents and how ears were always listening.  That really stuck with us.
What did you think of the Food & Wine Tour?  Do you like Hungarian cuisine?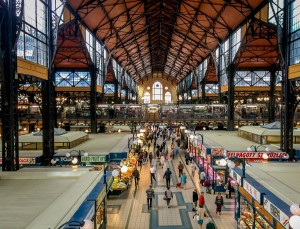 The Food & Wine Tour was the absolute highlight of our entire trip to Central & Eastern Europe. Hungary doesn't have a reputation as a foodie mecca and we can't figure out why.  There is so much more to Hungarian cuisine than goulash!  We'd encourage visitors to Budapest to try the Mangalica – a pig breed native to Hungary.  It is delicious!
What was the best moment of your trip to Budapest?
It's tough to pick just one moment.  It would probably be sitting in the warm waters of the Szechenyi Baths and talking about the morning food tour. We can't imagine a more perfect day.
What one piece of advice would you give to someone traveling to Budapest for the first time?
Our one critical piece of advice is to let the weather dictate your schedule.  It's really important to go visit Buda and the Castle Hill on a pretty day.  If the weather is bad, visiting Budapest's Central Market or the indoor Gellért Baths can be a good use of time.
Bio – Who are the Travel Addicts?
Lance and Laura Longwell are two busy corporate office dwellers who love photography and travel the world as much as their "real world" vacation schedules allow.  They've been writing Travel Addicts since 2008 to show busy professionals how they can see the world on a limited amount of vacation time.  They love street art, trying local food and drinks(!), sleeping in late and taking road trips around the world.
Planning a trip to Budapest? We'd love to put together a Budapest travel package just for you. Get in touch to find out more!

Charlie is head of marketing at JayWay Travel. A long-term Prague resident, his interests are cooking, eating out, cycling, skiing and of course, travel.