It's no secret that Salzburg is a musical city. It is the birthplace of Mozart, after all. But this beautiful Austrian destination isn't simply indebted to the past. You might be surprised to find out that Salzburg maintains a stellar music scene that offers many chances to hear world-class concerts on a daily basis. If you're a music lover, you'll definitely want to schedule a stop at one of these unique venues where you can enjoy the best concerts in Salzburg.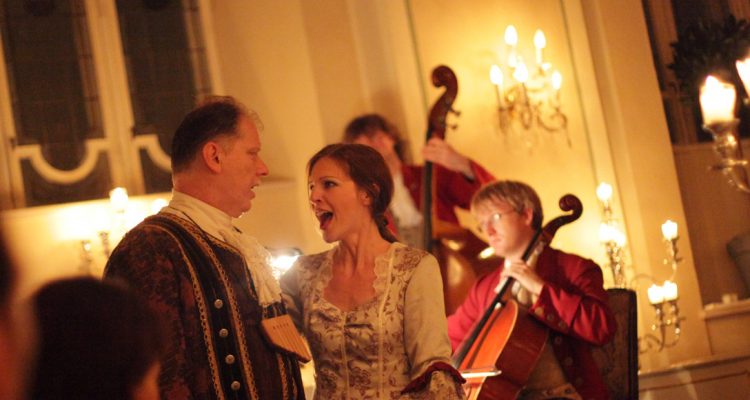 Jump to a section of this article
Mozart Dinner Concert
If you love Mozart, a Mozart Dinner Concert is sure to be an unforgettable evening. Not only will you get to enjoy a three-course dinner in what is known as "the oldest restaurant in Europe," you'll also be able to hear a concert of some of Mozart's most famous compositions. The candlelit baroque hall was built in 1790 and you'll feel steeped in history the moment you step in. The food is based on traditional Austrian recipes and of course the music is phenomenal.
Address: Sankt-Peter-Bezirk 1/4
Großes Festspielhaus
The Large Festival House is one of the best venues for concerts in Salzburg. Built in the 1950s, it's a modernist masterpiece that boasts one of the widest stages in the world. There is a regular concert series here and you can enjoy excellent classical music just about any night of the week. This is also a venue for annual music festivals, which attract concert-goers from around the world.
Address: Hofstallgasse 1
The House for Mozart
The House for Mozart is one of the primary venues of the Salzburg Festival, which takes place every summer. In July and August, the city hosts some of the finest international musicians, who come to Salzburg to give a series of breathtaking concerts of the most famous works of classical music in the repertoire. The program usually features plenty of Mozart but there's also much more to enjoy. This was the festival's first venue, beginning in 1925. Originally known as The Small Festival House, it was dedicated to Mozart in 2006.
Address: Hofstallgasse 1
Jazzit
Jazz lovers will have a great time at Jazzit, which is arguable the best club for jazz concerts in Salzburg. There's a vibrant jazz scene here, even though the city is more famous for its classical music. Check the program in advance, as you'll find a wide range of jazz and blues concerts almost every night. This can be a nice change of pace from the heavy history of the rest of the city.
Address: Elisabethstrasse 11
If you're planning a trip to Salzburg, we can help make it unforgettable. Simply get in touch to create the holiday of your dreams!

Stephan Delbos is an internationally published writer and editor. Born in the US, he has lived, worked and traveled in Europe for a decade. He's fond of oysters and arid martinis.