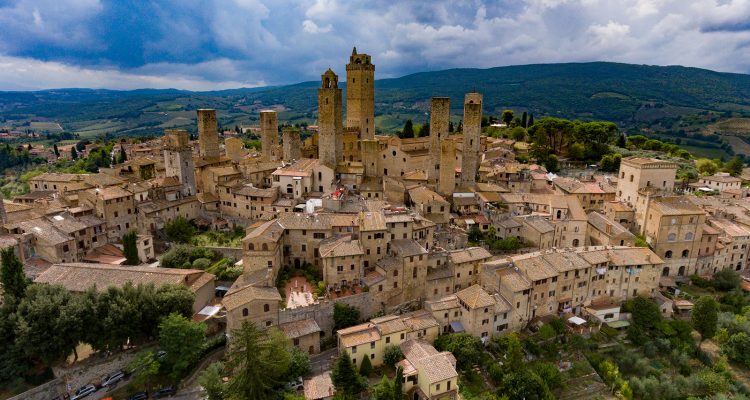 In the heart of Tuscany, the hilltop village of San Gimignano is one of our favorite day trips from Florence or anywhere in Tuscany. This charming little hilltop hamlet not only has some of the best-preserved architecture in the region, with churches and signature towers rising from the rural landscape, it has an interesting history and a rich contemporary cultural scene. Let's take a closer look at what it's like visiting San Gimignano, which just might be your next Italian holiday destination.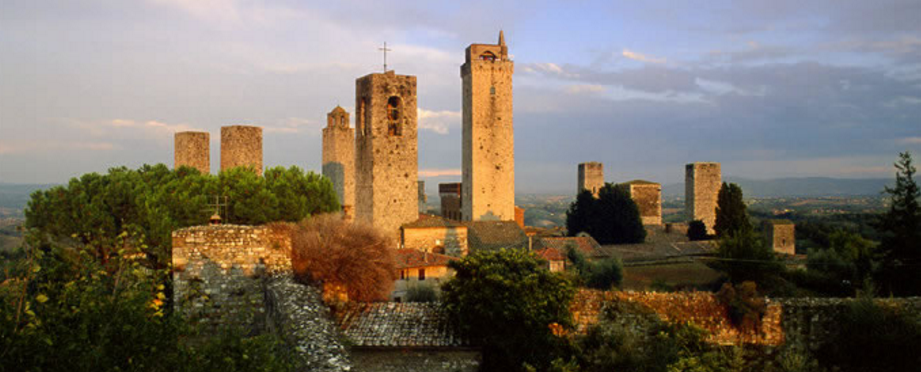 Jump to a section of this article
A Rich, Revealing History
The history of San Gimignano stretches back all the way to the third century BC, when the first settlements were founded here. Two Roman brothers built castles in the area, and over the course of a few hundred years a walled village grew up around the castles, protected by the thick woodland that surrounded it. Visiting San Gimignano will make it immediately clear why it was smart to start a fort here, as the natural terrain makes a perfect defence against invaders, giving the inhabitants of San Gimignano a view over the entire region.
A stop on the Via Francigena pilgrimage route
Because San Gimignano was part of the medieval Via Francigena, it soon became a stop-off point for Catholic pilgrims on their way to Rome. Trade expanded, as did the architecture in what was now becoming a small city. By 1300 it was well-off enough to host the legendary Italian poet Dante Alighieri, who at that time was an ambassador. You might know Dante from his famous epic poem The Divine Comedy, written in the early 14th century. It is one of the foundational texts of Italian culture. When the Black Death swept across Europe later in the 14th century, however, the town was wiped out. San Gimignano was effectively preserved intact until the present time.
A Lovely Setting
Besides the incredible architecture (more about that in a minute) visiting San Gimignano is also about soaking in the special atmosphere. Sitting on a hill amidst a forest, the most obvious point on the skyline is made up of ruins from a 16th century fortress. There are eight entrances in the city walls, and among the beautiful buildings you'll find several impressive squares that divide the city into different areas. The two main churches are the Collegiata, also known as the Duomo and Sant'Agostino, which now doubles as an art museum. The city is also famous for its towers, of which there are more than a dozen. Unlike other Italian cities whose towers have been destroyed by war and weather, almost all of the original towers in San Gimignano are preserved. It's hard to miss them as you stroll through the streets.
If you get a chance to spend the night you'll find that visiting San Gimignano is a good place to enjoy a little rest and relaxation. It's quaint and quiet here at night, after the day trippers go back to the larger cities. We recommend taking advantage of San Gimignano's smaller size to enjoy a relaxing overnight stay. Strolling through the twilit streets might just be one of the highlights of your Italian holiday.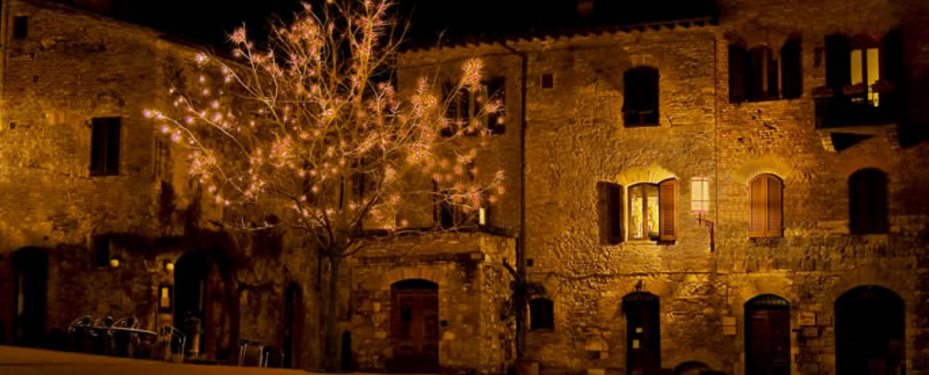 A Fresco-packed Duomo
Standing watch over Piazza del Duomo is the Collegiate Church of Santa Maria Assunta. More of a minor basilica than a cathedral, the walls of the church are decorated with a fresco cycle created by many famous religious artists of centuries past. You could just pay the entrance fee and wander around, but unless you have an expert guide with you, we recommend getting the audio-guide too. The well-expressed explanations will help you make sense of the complex artworks on the walls and ceiling.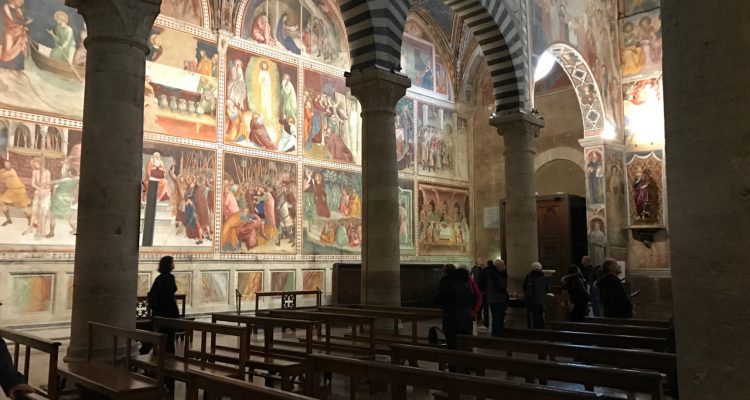 A Cultural and Culinary Epicenter
There's more to do when visiting San Gimignano than look at old buildings. The city maintains a rich program of cultural affairs. There are numerous art museums and exhibitions taking place during most of the year and San Gimignano also hosts an annual music festival. Yes, there always seems to be something happening in the city and tourists are always well taken care of. It's worth checking out the city's official website, where you can even download a San Gimignano app to make your visit that much more convenient. Of course, this being Italy, the city offers no shortage of delicious dining options. The food is fresh and hearty and the wine is always flowing.
Here are some of our favorite restaurants in the city. Visiting San Gimignano will provide ample opportunity for you to sample the local cuisine, but these are at the top of our list, especially if you're short on time. Try them all if you can!
Locanda Sant'Agostino
For authentic Tuscan food, Locanda Sant'Agostino is a good bet. You'll experience a very welcoming family vibe, with the home-cooking to back it up. The pizza is to die for! (Address: Piazza S. Agostino, 15)
Dal Bertelli
For lighter bites and sandwiches, Dal Bertelli can't be beat. The family has been here since 1779 and they have a long history of making delicious sandwiches with local breads, cheeses and salamis. (Address: Via Capassi, 30)
Gelateria Dondoli
For something sweet, look no further than Gelateria Dondoli. This place is run by a former gelato world champion. He's famous internationally for his flavors, which make use of exotic ingredients like saffron and are simply irresistible. (Address: Piazza Della Cisterna, 4)
Ristorante La Mandragola
You'll find this delicious local restaurant beneath crumbling stone walls. It has a courtyard that's marvelous and the food is very impressive. It's often crowded so we recommend coming in early. (Address:Via Diacceto, 23)
Olivieri Bistrot
This is Italian cuisine with a modern twist. Expect creative takes on classic local dishes and more than enough flare to go around. (Address: Via S. Matteo, 47-63)
Planning an Italian holiday? We'd love to help make sure you have the vacation of your dreams, in San Gimignano or anywhere else in Italy. Please get in touch if you'd like to learn more!

Stephan Delbos is an internationally published writer and editor. Born in the US, he has lived, worked and traveled in Europe for a decade. He's fond of oysters and arid martinis.