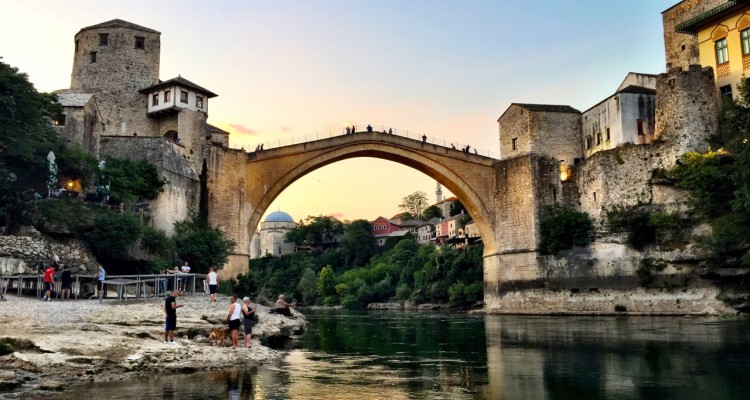 Mostar's Old Bridge Area is one of just two UNESCO World Heritage Listed sites in Bosnia and Herzegovina and sees more visitors than anywhere else in the country but the majority of them stay for just a few hours on a day trip from Dubrovnik or by detouring a little into Bosnia and Herzegovina on the drive between Dubrovnik and Split. While it's fair to say that a few hours is enough to see the main sights of the town there's something to be said for slowing down a little and spending the night.
Mostar began as an Ottoman frontier town in the 15th and 16th centuries and was further developed during the Austro-Hungarian period in the late 19th and early 20th centuries. The iconic sights of Mostar are of course the old bridge which was destroyed by Croatian forces during the 1990s along with much of the old town but thanks to reconstruction efforts much has been restored most famously the bridge itself, which reopened in 2005. You'll find a mixture of pre-Ottoman, eastern Ottoman and western European architecture combining to create an exemplary multi-cultural urban settlement.
Stay in a piece of history – the Musilbegovic House
Not least of the reasons to spend the night is the opportunity to stay in a bona fide Bosnian National Monument, the only hotel we suggest for our guests overnighting in Mostar, the Musilbegovic House.
Named after the noble family that commissioned it and resided in it, the Musilbegovic House was built in the mid 18th century and is an archetype of the residential architecture of the period of Ottoman rule in Herzegovina. Nowadays the House is home to a museum and a hotel and anyone who stays here gets to take the short guided tour of the museum for free. You'll see recreations of living rooms as well as artefacts from the house's history.
Enjoy Mostar without the crowds
The other major benefit of staying the night in Mostar is to enjoy strolling around the old town without the busloads of day trippers, perhaps with a private guide, and eating at one of the many restaurants serving the traditional national cuisine. Definitely get a Mostarski sahan (a selection platter of local specialties like stuffed vegetables and vine leaves) to share, even if you're not too hungry. With a little extra time at your disposal, the next morning before the buses arrive from Dubrovnik you could easily squeeze in a visit to the Old Bridge Museum – climb to the top to take in a 360 degree view of the whole of Mostar.
Planning a trip to Bosnia and Herzegovina? We'd love to put together a travel package just for you. Get in touch to find out more!

Charlie is head of marketing at JayWay Travel. A long-term Prague resident, his interests are cooking, eating out, cycling, skiing and of course, travel.