Evan Rail is one of the world's foremost beer writers and a regular contributor to the New York Times '36 Hours In…' series of travel articles. I first started reading his restaurant reviews in the no-longer-in-print Prague Post back in the early 2000s, He's still based in Prague but travels all over Europe in search of the perfect pint.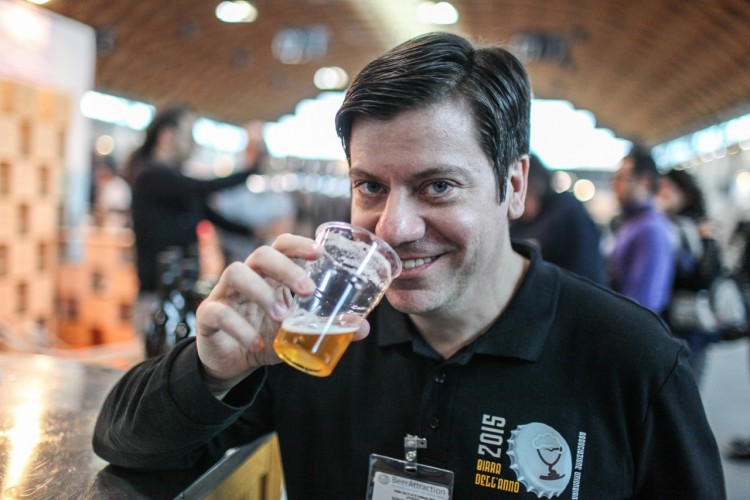 Q. What brought you to the Czech Republic? The beer or something else? Were you into beer before?
I was definitely interested in beer before I got here, but I really developed my interest in beer by studying the very long history of Czech brewing. There's over a thousand years of records to go through, starting with some of the oldest breweries in Europe, and new discoveries are being made every day. The true date of the brewery at Břevnov in Prague was only uncovered about 10 years ago, due to a reference to it that was found in an obscure papal bull from Pope Innocent IV. There's plenty of stuff like that left to discover, so I plan on staying here a long time.
Q. There's been an explosion in micro-brews and a weakening of the big name breweries in the Czech market, what's behind that?
The interest in more flavorful beers is really a worldwide trend, and the Czech Republic is definitely part of that. I think it has to do with the desire for stronger, shaper flavors, which you also see in the restaurant scene here. If you go out to eat in Prague, it's definitely not all gulash and dumplings anymore.
Q. What's an out-of-the-way place in the center that deserves seeking out?
I like the upstairs microbrewery at U Medvídků a lot. The pub is mostly known for its historic Budweiser Budvar taproom, but it also brews its own beers in a small location one floor up from the beer hall that most tourists don't visit. There are also a number of cool cafés with good beer in Old Town, like Standard Café at Karolíny Světlé 23, which serves a rotating line of microbreweries, or Vzorkovná at Bartolomějská 13, which taps the delicious beer from Únětický Pivovar.
Q. Best snack to go with a beer?
I'm partial to pork scratchings when I'm hunting beers in the UK, and chunks of hard cheese in Belgium and the Netherlands. In Prague I like the crusty rye-bread toasts called topinky, with lots of fresh garlic.
Q. There are many beer festivals and brewery festivals here every year, which are the can't miss ones?
There are tons of great festivals here. I prefer the smaller beer festivals, because you can usually meet the brewers in person. In Prague there's a very neighborly festival of small breweries at Prague Castle, usually on the second weekend in June. And in Pilsen, the Slunce ve Skle festival brings together most of the small breweries from around the Czech Republic, as well as smaller German breweries from close to the border, on the third weekend in September. It's paradise. [Editor's note – Slunce ve Skle 2015 is on the 19th of September, just three days after this post was published]
Further reading
If you'd like to read some of Evan Rail's writing about beer, we suggest starting with his memoir about Czech beer, "The Brewery in the Bohemian Forest" or his bestselling Kindle Single "Why Beer Matters".
Planning a trip to Prague? We'd love to put together a Prague travel package just for you. Get in touch to find out more!

Charlie is head of marketing at JayWay Travel. A long-term Prague resident, his interests are cooking, eating out, cycling, skiing and of course, travel.