Not to be outdone by the selection of festivals taking place in Budapest, Prague's got a packed calendar of great events to entice you to visit or, schedule willing. fill your days if you've already made your plans.
You may notice a dead-zone from late July until the end of August. Festival organisers tend to avoid this time as many of the city's residents leave town during this time for their summer vacation.
Prague Spring Music Festival
12 May 14 – 2 Jun 14
With one or two performances of classic, chamber, jazz and other kinds of music per day, this, the 69th Prague Spring Music Festival features an array of local and international talent.
Czech Beer Festival
15 May 14 – 31 May 14
A new location for this year, up on Letna, so it's even closer to the center. Separated into a number of tents – the main tent serves the beer of medium-sized 5 breweries, then the 'Beer diversity' tents feature more from these breweries and lots of smaller breweries from around the country for a total of over 70 different beer brands being represented. There's also a food menu featuring Czech classics such as goulash, strudel, duck and dumplings. There' a musical program to keep you entertained in the main tent too.
Prague Fringe Festival
23 May 14 – 31 May 14
Prague's Mala Strana neighborhood comes alive with well over 100 performances by acts from around the world. Features everything from comedy, serious short plays, magic, music and dance. Tickets for many performances are available on the door and can be bought at relatively late notice, priced at 150Kc (under $8).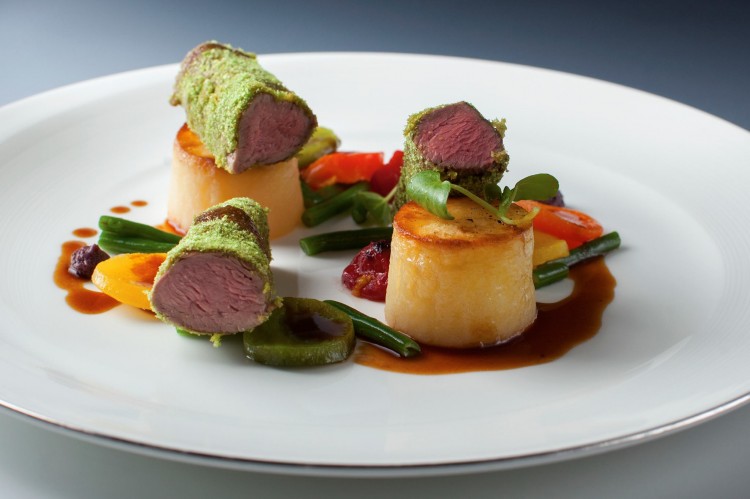 Chef Time Summer Festival
27 May 14 – 8 Jun 14
A series of events taking place at a number of restaurants in the city. Never more than one a night so you won't have FOMO though (fear of missing out). Brings together the cream of Prague's culinary world to work together on menus to surprise and delight. The winter festival featured many excellent dishes. There are many events with different formats to choose from but if we only had one night it would be the 3rd of June at the Mandarin Oriental; three of the city's finest doing what they do best with the added entertainment of Czech vs Slovak wine pairings. if the photo above doesn't get your tastebuds excited you must be vegetarian! Tickets should be bought in advance from the event website.
Beer at the Waterfront (Pivo na Naplavce)
30 May 14 – 31 May 14
A festival celebrating small and micro breweries, tapping kegs of beer, craft lemonade and sodas with a wide array of food offerings to go along with it. There will be music to keep you entertained too. Event website in Czech only.
Prague Drinks Wine
6 Jun 14 – 7 Jun 14
Reviving a tradition of Habsburg era gatherings this 2 day festival features more than 40 winemakers from the Czech Republic and neighbouring countries.
Microbrewery Festival at Prague Castle
14 Jun 14 – 15 Jun 14
The Royal Gardens at Prague Castle play host to a 2 day beer festival featuring over 120 kinds of beers from microbreweries throughout the country. Some of the most pleasant surroundings to sample the amber nectar in. Entry fee of 300Kc includes a tasting glass, catalogue and free tasting of as many beers as you can manage.
Prague Proms
16 Jun 14 – 20 Jul 14
The Czech Symphony Orchestra host an international celebration of all kinds of music. Starting off with a free Movie Music concert on Wenceslas Square on the 16th June it runs the gamut of opera, classical, jazz choral and R&B with a concert by the vocal legend Natalie Cole before finishing up with another movie music concert on the 20th July, this time in the rather more serene surroundings of the Smetana Hall of the Municipal House.
United Islands
19 Jun 14 – 21 Jun 14
A free music festival featuring local and world music acts held on two of the islands in the Vltava, close to Mala Strana (the left bank of the river) and Petrin Hill. The program for a 4th venue, at Kinsky Garden, is contingent on the event reaching its crowdfunding goal.
Bohemia Jazz Fest
15 Jul 14 – 17 Jul 14
Three days of jazz on Old Town Square. As the event name suggests there's more to this fest than just Prague but you'll need to head out of town to places like Plzen Pisek and Brno if you want more jazz-on-the-square events.
BurgerFest
5 Sep 14 – 7 Sep 14
Hopefully learning from the mistakes of last year (massive queues, too small a space and not enough days) the BurgerFest moves to the much roomier environs of the Prague Exhibition Grounds in Prague 7 and adds a third day. English pages are yet to be fully updated but expect most of the city's growing burger scene to be here, flipping their way to greatness.
FoodParade
6 Sep 14 – 7 Sep 14
Prague's upstart food festival, now in its 4th year, is back at the beautiful Troja Chateau gardens for two days of foodie fun. Event website in Czech only, so far.
Prague Grand Prix
6 Sep 14
The center of the city is turned into race course, but for runners not drivers. With the start/finish line for the races (10km individual and team races for men and 5km ones for women) in Old Town Square you can be sure of a party atmosphere.
Dvorak's Prague
7 Sep 14 – 22 Sep 14
With at least one concert almost every day during the festival you're guaranteed to be able to catch at least one performance, from various city orchestras and other performers.
DeliFest – France
12 Sep 14 – 14 Sep 14
The Villa Grebovka area in one of our favorite parks, Havlickovy Sady, plays host to the decadent Champagne and Oyster festival. Free entry, you just pay for what you taste.
Grape Harvest at Prague Castle
20 Sep 14 – 21 Sep 14
Sample Czech (Bohemian) and Moravian wine, enjoy (or endure, depending on your preferences) cimbalom music and watch fencing demonstrations in the rarely-open-to-the-public Production Gardens of Prague Castle.
Whisky Live Prague
26 Sep 14 – 27 Sep 14
It might not be native to Prague but there are plenty of whisk(e)y drinkers in the city and this is their festival. If you are partial to a wee dram yourself then this is your chance to taste as many as 160 varieties. The event will be held at the New Town Hall on Karlovo Namesti, a short walk from Wenceslas Square.
Strings of Autumn
6 Oct 14 – 12 Nov 14
The successor to the Prague Autumn music festival presents a selection of jazz, classical music, crossover, early music, and world music, performed by some of the most important figures on the contemporary music scene.
SIGNAL – Prague Light Festival
16 Oct 14 – 19 Oct 14
Audiovisual installations will be in place around Prague, illuminating the city in unexpected ways. Last year's inaugural festival was a big hit and we expect this one to be too.
Planning a trip to Prague? We'd love to put together a Prague travel package just for you. Get in touch to find out more!

Charlie is head of marketing at JayWay Travel. A long-term Prague resident, his interests are cooking, eating out, cycling, skiing and of course, travel.