Even if you're traveling on a budget, buying souvenirs is always one of the highlights of going on holiday. We always recommend buying local. Choosing products from local artisans is one sure way to keep an authentic memory of your trip. When you're traveling in Europe you're spoiled for choice. The Baltic States especially have a fantastic selection of local crafts. So here are our suggestions for where to shop for mementos of your trip in the Baltics, and what to get.
Lithuania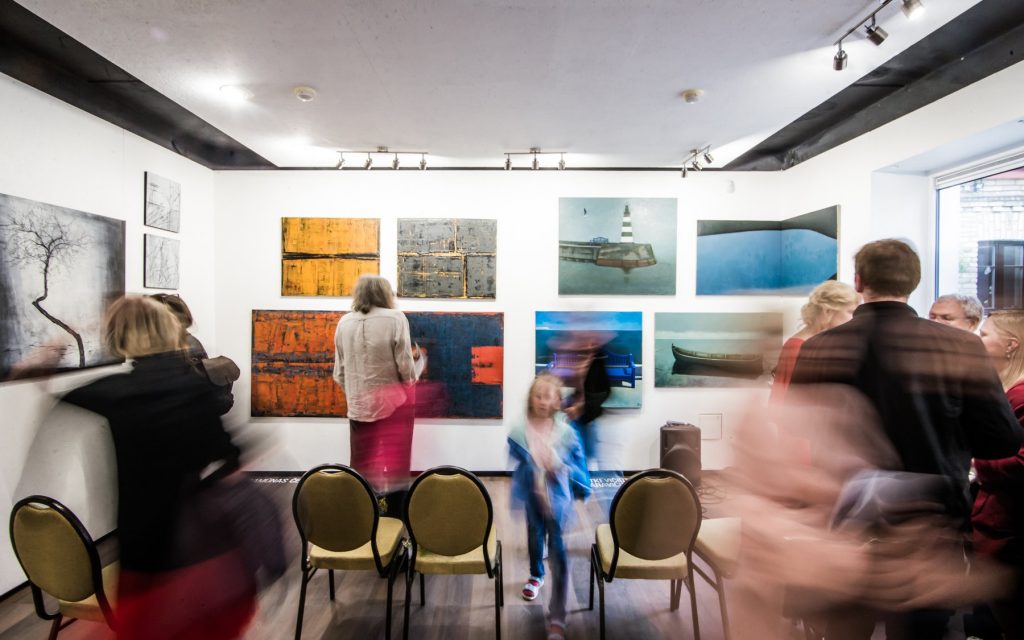 Vilnius
One of our favourite little shops in Vilnius is the Džiugas cheese shop (Vilniaus g. 17a). The local cheese they specialize in is not unlike Parmigianno, and it's very delicious. So you can sit down and sample different types of cheese and light bites. Plus they have nice wine. Make your own cheeseboard from whatever catches you're eye. Then relax and enjoy a local delicacy!
Kaunas
Most souvenirs are meant to be taken home. But it's nice to treat yourself while you're still on holiday. Mobile Market is a mobile farmers' market in Kaunas. They have a variety of fresh produce, cheeses, fish and more. The location is different every day. On Fridays between 8 am and 1 pm you can find it on Karmelitų street in the city center. It's near the entrance to the Akropolis mall. So it's perfect if you're thinking of having a picnic. Pick up some bread, charcuterie and cheese. Then take the Žaliakalnis funicular to the hill overlooking Old Town.
…and more shopping in Kaunas
Want a cultural souvenir from Kaunas? Stop by AP Galerija (Polocko g. 10). Here you can find paintings, photos and other works of art. Another creative option is Minimal Muse (Vilniaus gatvė 23). This is a boutique that's dedicated to Lithuanian design. This is a small shop with a highly curated collection. It's a great place to get a one-of-a-kind souvenir, like a bag, jewellery, or a beautiful dress.
Klaipeda
If you're looking for an interesting combination of cultural center and shopping mall in Klaipeda, check out Herkaus Galerija (H. Manto g. 22). You'll find international clothing stores. There's also a gallery full of work by Lithuanian artists, and local souvenirs and collectables. Akropolis (Taikos pr. 61) is another Klaipeda shopping center. It's decidedly western, but there's also a mechanical clock that puts on an hourly show. Autentic (Žvejų g. 12) is a nice local shop selling traditional amber jewellery and souvenirs. Plus, Amber Queen (Turgaus g. 3) is another great place to purchase this regional precious stone, worked into beautiful and unique jewellery.
Latvia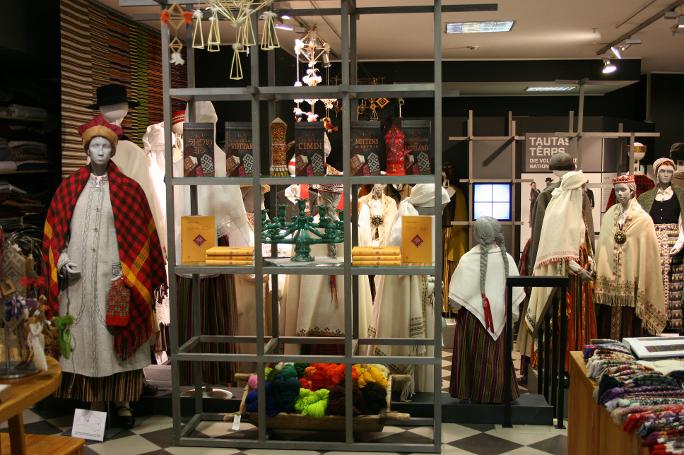 Riga
If it's Saturday when you go shopping in Riga, you should start around the Vanšu bridge. At the corner of Melnsila and Kalnciema streets you'll find a street fair every Saturday from 10 am until 4 pm. Here you can buy unique local handicrafts along with tasty food and drinks. If you're interested in traditional Latvian costumes and crafts, stop by the National Costume Center: Senā Klēts (Rātslaukums 1), where you'll find everything from linen tablecloths and wool mittens to ceramics. All of it has the unmistakeable touch of the authentic. Riga's Central Market (Nēģu iela 7) is also not-to-be-missed. The largest market in the city, it has a huge selection of just about everything, from handicrafts to fresh produce. So bring your camera and take a look around!
Estonia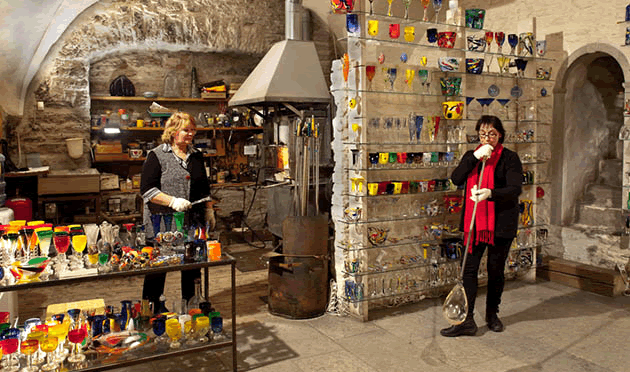 Tallinn
If you're looking for uniquely local souvenirs while you're visiting Tallinn, stroll over to Katariina Käik (Katariina Lane). Here you'll find the Katariina Guild. Eight local artisan studios are here, featuring the work of 14 female artists. There's everything from leather-bound books to clothing, jewellery, quilts, ceramics and more. And everything here is lovingly made by hand. So making a purchase means you'll be taking home a real piece of Estonia.
Old Town Tallinn is UNESCO-listed. And for good reason. It's a beautiful area to stroll and to shop. Check out the handicraft shops and galleries on Pikk Street, surrounding the Handicrafts Museum. Here you'll find plenty of unique souvenirs and keepsakes from your holiday in Tallinn.
Parnu
When traveling in the Baltics keep your eye out for local costumes and handicrafts. So in Parnu, the Maarja-Magdaleena Guild (Uus 5) is a great place to start. This is a collection of workshops and a traditional handicrafts guild. And you can purchase amazing work from local artisans. There are also workshops where you can make your own souvenirs. Venus Bastion Smithy (Ohtu 1) is another worthwhile stop for shopping in Parnu. It's the house of a blacksmith. Here you'll not only see how people used to live and work in Parnu. You'll also get some handmade crafts to take home with you.
Are you planning a trip to the Baltics? We're Baltic travel experts. So just get in touch to start planning the holiday of your dreams!

Moonika is a traveler in every sense of the word, and has a strong adventurous streak, taking solo trips to countries that some might regard as risky or unknown. This passion and travel experience serves her well in her position as the local representative, trip planner, and destination manager for the Baltic States and Russia. A couple of years ago, she returned to her native city of Tallinn, after eight years of living abroad in Australia, where she moved soon after completing her marketing management studies at the Tallinn University of Technology.