Many of the destinations we offer have parks combining stunning beauty with centuries of history and unique attractions, so take a break and spend a serene afternoon soaking up their beauty. We asked all our local staff across our destinations for their favorite picnic spot, and received a plethora of heartfelt responses. This is part I, covering Central Europe. Come back next week for Part II for practically everywhere else on our map: Italy and the Adriatic, as well as Eastern Europe and the Caucasus. Our in-destination team will advise you where you can acquire refreshments for a picnic, though some locations listed also have shacks, booths and concessions that will provide sustenance of some kind.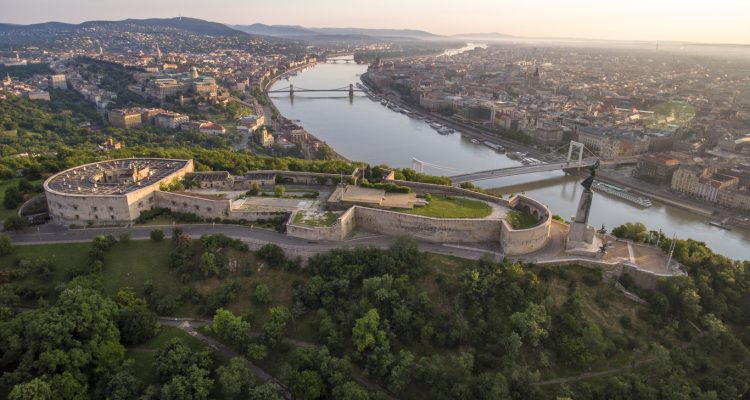 Jump to a section of this article
Budapest
Scenic Gellert Hill is one of the city's most popular spots for a picnic. The city's best view can be found from the Citadel atop the hill, which is especially popular for watching the sun set, an ideal way to end a romantic picnic, beneath the Liberty Statue. After leaving the hill, you could head north to Buda Castle, or south to the Gellert Baths, or the Gellert Hill Cave's shrine.
Budapest's most popular area on nice days, at least for locals, is Margaret Island. Located in the middle of the Danube, near the parliament building, this large island forms a park and botanical garden that stretches for 1.5 miles, with scattered landmarks such as medieval ruins and more recent memorials, fountains, pools, and gardens.
We also recommend City Park, at the end of the UNESCO-listed Andrassy Avenue, Heroes' Square, and the world's second oldest subway line. Here you'll find one of the city's best baths, and Vajdahunyad Castle, a strange combination of architectural styles built in 1893 to celebrate Hungary's 1,000th anniversary, and home to several museums. There are plenty of neat spots with charming views in this large forested park, which has museums, restaurants, and various amusements from a circus to a zoo.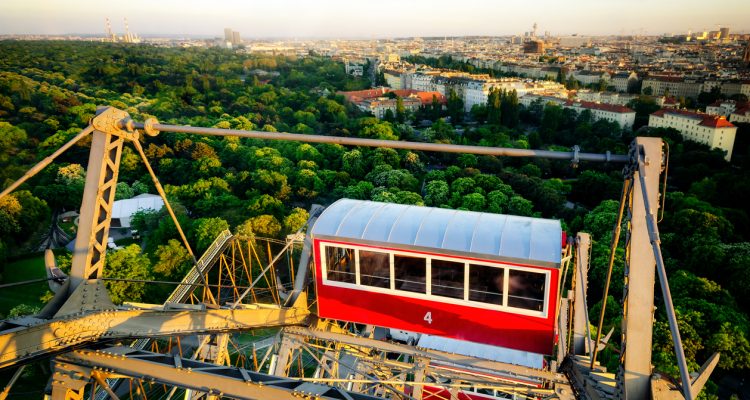 Vienna
There's a reason Vienna's known for its parks. The Prater is Vienna's classic park, in part due to its amusement park, which contains the Riesenrad, the world's largest Ferris wheel from 1920 to 1985. With its three neighboring subway stations, and railroad station (in addition to its children's railroad), the Prater is easy to visit. Sure, there's a museum and a planetarium, but you'll want to visit the Republic of Kugelmugel a large sphere and self-declared nation. The artist who built it in the 70s was unable to get a permit for it, so he took the easy way out and declared the sphere to be its own nation. The authorities were not amused, but you'll be! After you've had your fill (and filled your stomach), cross the Donaukanal and visit the Hundertwasserhaus, the extraordinarily colorful magnum opus of Friedensreich Hundertwasser's idiosyncratic architectural style, which avoids straight lines and emphasizes vitality, biomorphic spirals, and uniqueness (Hundertswasser's name could be translated as "Peace-Realm Hundred-Water."
If you need a refuge from the city and sights, visit the parks that line the ring road that separates Vienna's innermost district from the rest of the city. The City Park is pleasant, with its canal, Kursalon, and pond, but we recommend the City Garden, with its memorials, and palace buildings. These once formed the Imperial Palace's gardens, and are a popular place for a picnic before or after a guided tour. Afterwards, you can head in any direction. Likewise, the Schönbrunn Palace Gardens are a great place to take a break after a tour.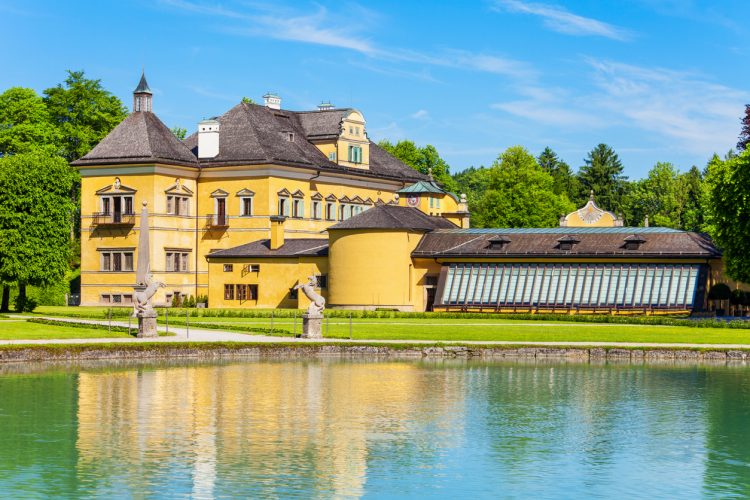 Salzburg
For Salzburg's best views, head to the Hohensalzburg Fortress Gardens. Here, from Central Europe's largest preserved fortress, you can take in breathtaking views of the Alps, and Salzburg's UNESCO-listed center. The gardens cover a small area, but you can find benches and picnic spots on the plateau that runs northwest from the fortress, forming the Old Town's western side.
For something else exotic, head out of town to the neighboring Hellbrunn Palace. On the grounds of this water-obsessed baroque palace ("Hellbrunn" literally translates to "clear spring"), you can find unique Mannerist trick fountains, from a mechanical theater to a music-playing theater, and a crown pushed up and down by water. Beware of the trick fountains that spray guests via elaborate jokes (there is a dining table, for example, with fountains hidden in its stone seats). If you love people-watching, or prefer hidden grottoes, this park will work well.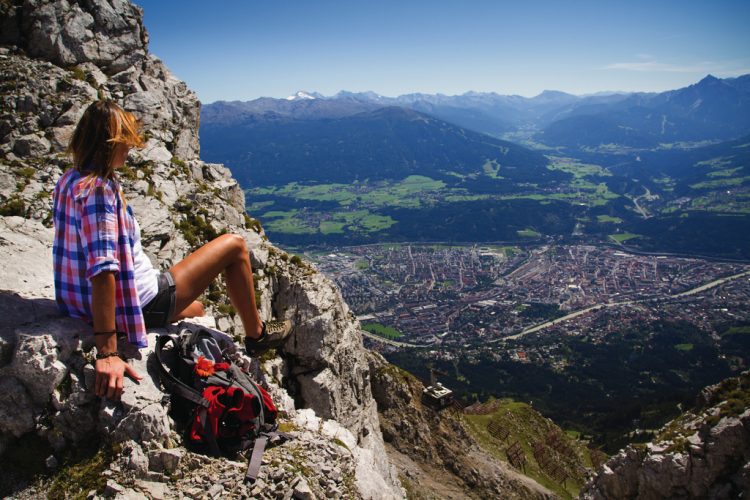 Innsbruck
Reach the sky from the city center of Innsbruck via taking the Nordkettenbahnen (a funicular followed by a cable car, then a chair lift) to the top of the Nordkette Mountain! This mountain is a mecca for those fond of adventurous activities year round, but its many hiking trails make it easy to find the ideal outlooks for a scenic picnic.
For a more central spot, visit the Hofgarten, on the edge of the Old Town. Over the last 600 years, its design has varied from Renaissance to French formal, and now to a traditional English landscape garden. Amidst plants planted personally by Maria Theresa, you can find a palm house, art pavilion, restaurant, and ponds. Save for the sunbathing lawn, visitors aren't allowed to walk on the grass, but there are plenty of benches.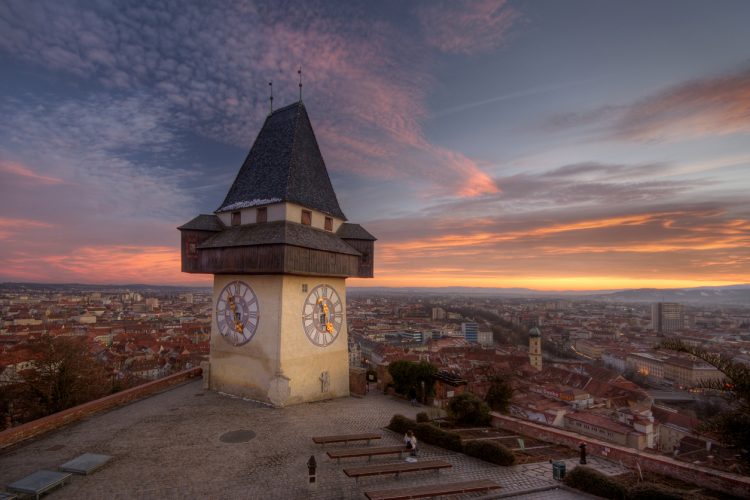 Graz
If you're in Graz, the Schlossberg (Castle Hill) is a must. The fortress that once crowned the hill may be largely gone (thanks to Napoleon) but this hill still has excellent views, alongside cafes, restaurants, and a charming clock tower and bell tower. The hill is steep, but it can be ascended via a funicular, or an elevator, in addition to stairs. We recommend heading into its extensive tunnels, dug as shelters during World War II. Here, you can find a large church, and a railroad for kids.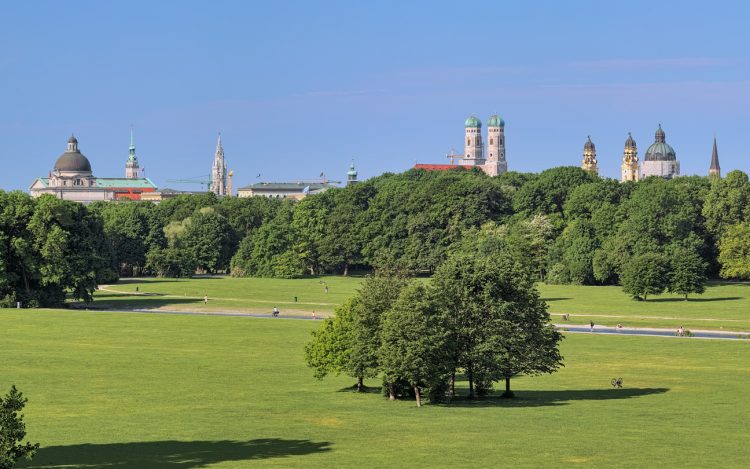 Munich
Munich's classic picnic spot is the beloved English Garden. A must for visitors to Munich, this is one of the world's largest urban parks, and chock-full of unusual places to visit, as well as excellent views of the city's historic skyline. The most unusual attraction is the Eisbach, a stream with a standing wave popular with surfers and playboaters. Open only to experts, the wave is always a good show. The park itself was built around faux Greek ruins, highlights of the park's largest lawns. The park hosts both a Japanese teahouse and garden (a gift from the Japanese for the Olympics) and an 18th-century "Chinese Tower." This five-story pagoda is popular with locals, especially because it's next to the city's second largest beer garden, and a children's carousel. Further north, beyond the park's main lake, is a calmer area, known for sunbathing and often home to flocks of sheep.
Locals often head to the banks of the Isar River, near the Ludwig Bridge and the Isartor. Here, you can walk down the Wehrsteg bridge as it runs down a gravel bar in the middle of the river between islands, which have parks, fountains, and cultural venues such as a theater. This area is rife with beaches, although their size depends on the river level.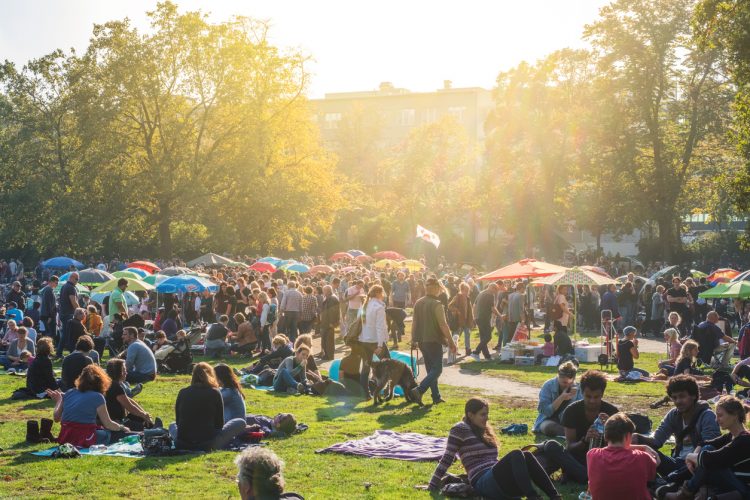 Berlin
Berlin has many parks, each with a different feel. To get a better idea of where to go, please visit our recent blog post about its parks, Berlin: A Park for Every Personality.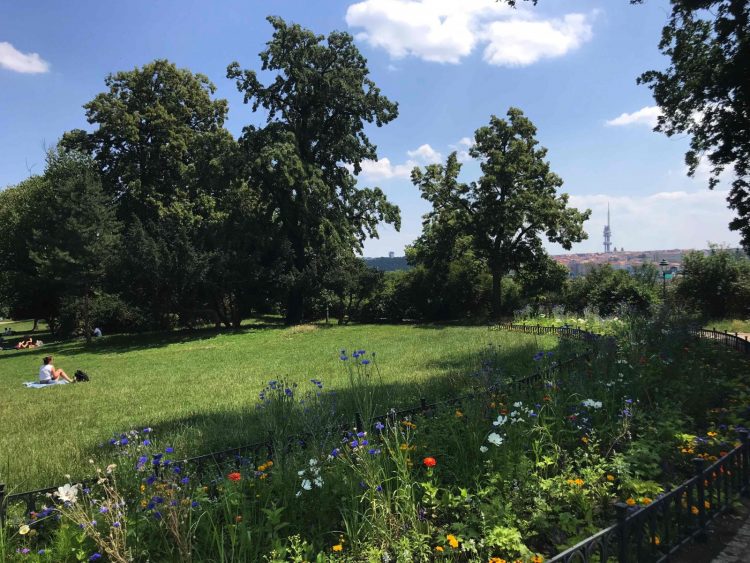 Prague
For picnicking spots that are centrally located yet quiet, head to the Vltava River's islands. Just down the stairs from the Charles Bridge and across a picturesque square, Kampa Island forms a quiet oasis in the heart of Prague. This picturesque spot may not feel like an island, but it's separated from the rest of the city, and its noise, by a narrow channel. There's plenty of lawn to lie down on, and if you forgot to bring cold refreshments, Mlynska Kavarna, a bar and café owned by the famous local sculptor David Cerny, will provide the beers. Cerny's idiosyncratic, surrealistic works can be found everywhere from the Kafka Museum to the side of the TV tower. This area has great views of the Charles Bridge and the Old Town beyond, as well as the Museum Kampa, a modern art gallery featuring several of Cerny's works.
Slovansky Island lies a short distance to the southeast. You can get here from the Old Town by heading south alongside the river. Just past the National Theater, you'll find a bridge to this island. We recommend sitting on its wall and taking in the view, or renting a pedal boat if you're feeling more energetic (skip the swan boats, they're too heavy and slow). If you forgot to pack food, the patio of the Neo-Renaissance Zofin Palace's restaurant is a pleasant spot for a lunch, or for a pre-show dinner if you intend to take in one of the palace's concerts.
If islands aren't your thing, we have two more recommendations popular with locals: Vysehrad and Letna. Both have unsurpassed views of Prague, from opposite sides of the Old Town, alongside beer gardens and historical landmarks. Vysehrad is Prague's original fort, dating back to the 10th century, and still home to a basilica, 11th century rotunda, and a cemetery home to many of the greatest Czechs, including Dvorak and Mucha. We recommend strolling amidst its bastions and ruins. Directly north of the Old Town, Letna's giant metronome is an easy landmark to walk to. Once there, amidst plenty of playgrounds, lawns, and benches, you'll find the eccentric baroque Hanavsky Pavilion, with its stunning views and charming, if understandably pricey, cafe.

Just outside Prague – Pruhonice Country Park
Pruhonice Country Park gets a special mention because since 2010 it was added to Prague's UNESCO World Heritage Listing. The park was founded in the year 1885 by the Count Arnošt Emanuel Silva-Tarouca. The result of his lifelong work is an original masterpiece of garden landscape architecture of worldwide importance. The focal point of the park is its chateau, with an artificial lake. There are ample opportunities to spread out a blanket and enjoy a picnic here, whether you want grassland or woodland.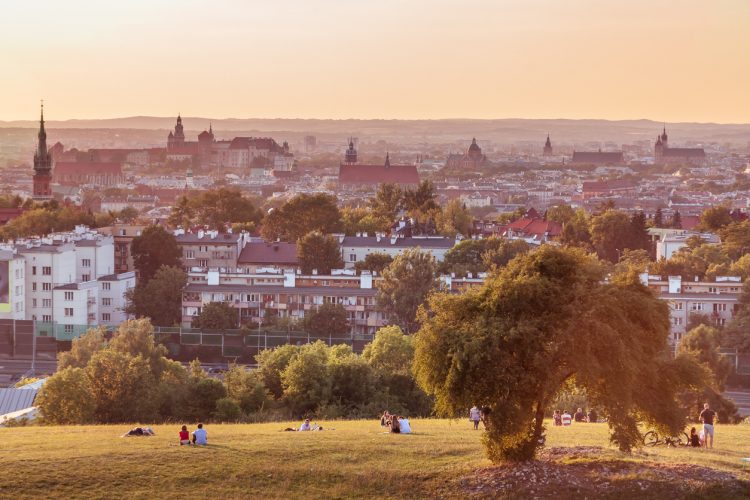 Krakow
A hike to Kopiec Kosciuszki, a memorial mound to Polish leader (and American Revolutionary War hero) Tadeusz Kościuszko erected above the city, offers scenic views and gorgeous hiking paths through the forest. Take a picnic lunch and make an afternoon of it. Alternatively, you can visit the Krakus Mound, a burial mound thought to be the grave of the legendary founder of Krakow, King Krakus. South of the city center, this tumulus offers good views of Krakow. On the opposite side is an abandoned quarry, used to film Schindler's List. A strange site, the quarry's road of Jewish tombstones, and perimeter fencing are not as real as they look, but the lime kilns are.
For a more central, and popular, spot, visit the Vistulan Boulevards, which run alongside the Vistula River past Wawel Hill and the Wawel Castle. Picturesque and a brief walk from the Old Town, these floodplains form one of the city's most scenic areas, while providing room for water when the city is threatened by floods.
To see more picnic suggestions, from Rome to Tallinn to Tbilisi, visit part II of this post.

Born and raised in Wisconsin, Kevin lived in Estonia and Finland for several years, traveling widely through Central and Eastern Europe, before settling down in Berlin. Having studied the cultures, histories, and economics of the countries along the Baltic Sea for his Master's degree, Kevin has the knowledge and experience to help you plan the perfect trip anywhere in the region, and also works as JayWay's main writer and editor.