2020 was a terrible year for all of us. People have lost love ones. Lives and businesses have affected badly by the pandemic. And yet in the sadness, humans always look for the positive elements.
There have been plenty of articles being written about what travel will look like, specifically the precautions and restrictions in place to guarantee the safety of travelers and local populations. We've documented a lot of them on this page, but that's not what we want to talk about here.
What we want to tell you about is how travel might FEEL. Our staff throughout Europe have all endured months of lockdown over the past year, and almost everywhere visitor numbers were down. We asked our staff across Europe what it was like. They told us about how the last year gave them a new appreciation for their city, and the rest of the country, or even other places in Europe that they took the opportunity to visit.
Jump to a section of this article
Charlie's Calm on Charles Bridge
Living in Prague you become accustomed to the crowds that visit every year. There are quiet months in the winter, but once Spring has spring, the city is a magnet for people from all over the world. There are ways to avoid the throngs of course – take a different street to the most obvious one and you won't find it lined with souvenir shops and packed with people. But Charles Bridge is part of the main artery for tourists going from Old Town Square to the castle. It's an attraction in its own right, and it's usually packed for much of the day. One afternoon in mid June, I walked across the bridge from Mala Strana to Old Town Square. It wasn't empty, but it wasn't crowded. People were smiling as they passed each other – masks outdoors were but a memory at this point. Something else was different. I stopped and noticed birds chirping. Usually a sound that would be drowned out by traffic, maybe a plane in the distance, and the numerous pleasure boats that pass under the bridge every hour.
Aeon Admired Prague's Old Town Square Anew
"Locals never go for a beer or meal on Old Town Square, normally. Or spend much time in the historic center. Last summer in Prague was one when the locals got to take back their city. Through necessity, restaurants on Old Town Square were charging normal prices. Being able to enjoy my adopted city like this, on days with beautiful weather, was a real treat. One that I will miss, but also, hope not to get to repeat."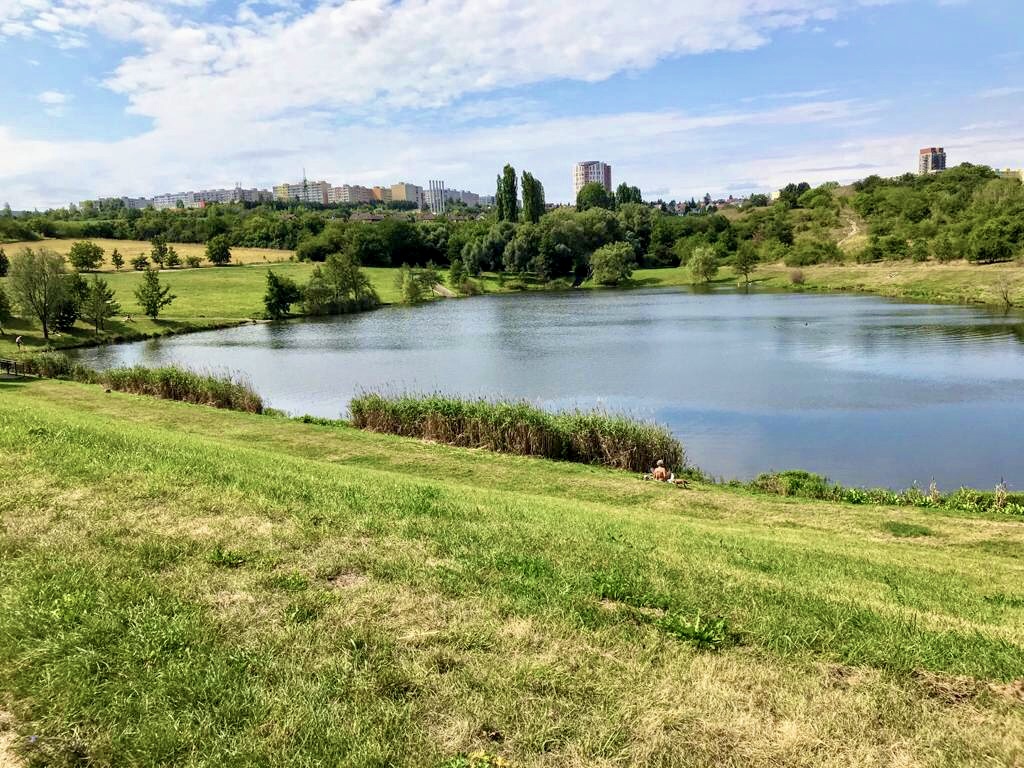 Sasha's Special Summer Moments
Usually the day-to-day of our local teams in Europe is filled with making detailed trip arrangements, and adjusting them, meeting guests, and hosting meetups. Essentially it's about helping people create wonderful memories. With assigned tasks and work patterns shifted, work hours became more predictable. Sasha, also based in Prague, made some memories of her own. Even within the city limits there's some impressive natural scenery and walking through Prokopske and Dalejske Udoli is a slice of countryside that even in the first lockdown was a green and welcoming escape. Making the most of the slower pace, Sasha got to enjoy special events like the Lucerna rooftop evenings, and the lowkey pleasure of a brewed-onsite beer at Brevnov Monastery. On a trip home to Bratislava, not a hugely popular destination in normal times, Sasha was struck by the relaxed pace of life in the city.
Giorgia's Rome for locals
Hardest hit in the pandemic's first wave, Italy was hurting. While local and European tourists did return, numbers were nothing like normal. Although tinged with some sadness, Giorgia told us she was interesting, enjoying the city without crowds everywhere. "I had never, NEVER, seen the city with no people around, and it wasn't just tourists, as also locals weren't going around as much as they are doing now (despite the restrictions), so all the main highlights were empty and so good to visit. I have visited (again, but it was almost like seeing them for the first time) the Colosseum, Vatican Museums, wandered around Piazza Navona, Trevi Fountain and so on."
A Quieter Croatia
We have quite a few team members in Croatia. Croatia was one of the few countries on our map that non-Europeans were able to travel to, and we did arrange a number of tours there, but for many of our staff 2020 provided a rare opportunity to take their own vacations in the summer. Croatia was by no means devoid of tourists. Many Europeans who live within driving distance (from as far away as Romania, Germany and Poland) headed to the country, but the majority ventured no further south than central Dalmatia.
Ivana's stress-free Dubrovnik…
"Summer in Dubrovnik is always stressful for locals. Stressing over parking, traffic jams and so many other things was something completely forgotten in 2020. It was a bit strange in the beginning but it was so easy to get used to this because I can't remember the last time when things were 'easy going' (maybe some 15 years ago). For me it was a great experience to walk around and be a tourist in my own town, I was enjoying my city walks, I even went on the City Walls a couple of times and I honestly can't remember when was the last time I did that in the summer as they are always packed. It was also great to replace sitting in the bars, with sitting by the beach front and enjoying a glass or two of wine with friends. These are all small things, but really fulfilling."
…and laid-back Lastovo
"One of my favourite memories is finally visiting Lastovo. This was something that was on my wish list for years, but when you work in tourism summer is not part of the year when you can have holidays and travel, and this place is a bit remote with only two boats weekly departing from Dubrovnik, so this was a mission impossible for many years. Although it might sound as a cliche, Lastovo is really a place of crystal clear water, amazing nature and such peace and tranquility. At certain moments when I was walking around the only sound I could hear was the wind in the cypress trees. Climbing to the highest point and soaking these endless views… With nothing on the horizon it felt like I was looking into infinity… So unrealistic 🙂 Even during 'normal' times Lastovo is not as busy as other islands are, but it was great that just after two days, people already knew us, they were saying hi and chatting with us, in the local cafe they didn't even bother to ask what coffee we drink as they already knew…"
Antonia's adventures on Vis
"One of the best memories from summer 2020 is definitely a trip to Vis Island for me. This season was a very unique one, I had extra time on my hands and Croatia's islands were less packed with tourists than ever. This is how we came to the idea to visit Vis. We drove from Dubrovnik and took our car on the ferry as we wanted to have the freedom to explore the whole island and the hidden beaches by ourselves. We booked our apartment but left everything else open. We spent 4 days there and had time of our lives. We went to so many beautiful beaches, we took a private boat trip around the island for a very affordable price. We ate at great restaurants. It was just very relaxing and beautiful. We didn't have any plan when we left Dubrovnik, we just enjoyed the island at our own pace. The island was not empty though, a lot of locals took the opportunity to visit Vis but it was far from packed. It was just perfect! A highlight of Vis is a visit to Stiniva Beach, known as one of the most beautiful beaches of Europe!"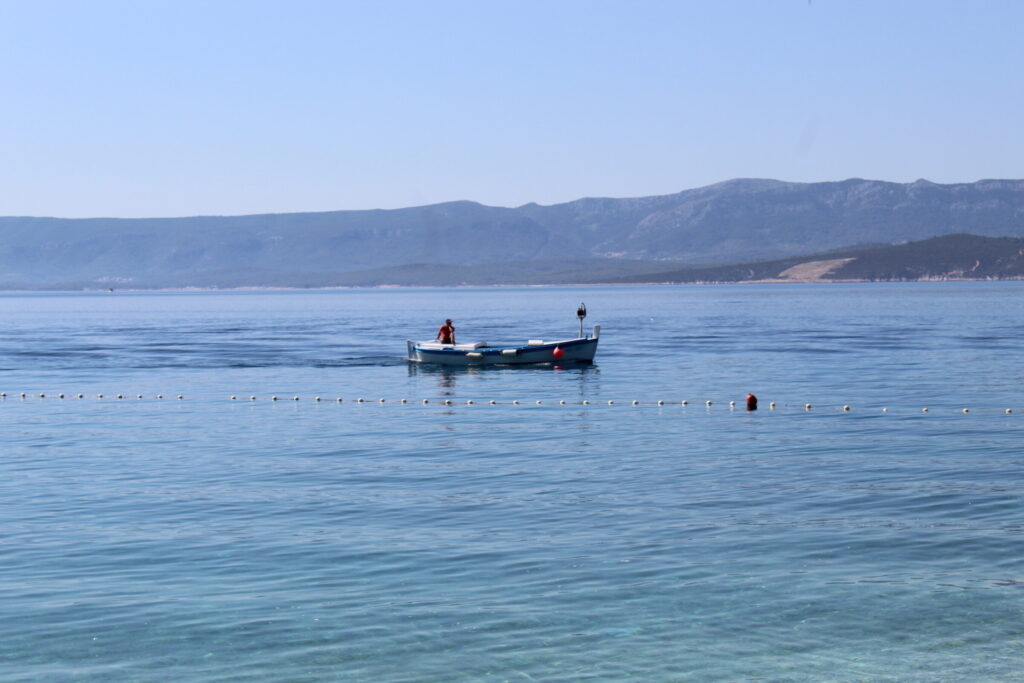 Josipa's Perfect Brač Break
"My favourite memories from the last year fit in four just perfect days on Brac island. My long-held desire to visit this beautiful island in the mid Croatia's coast finally fulfilled as the slow 2020 season and more free time opened the possibility for a perfect getaway. Together with my husband and our daughter we chose Bol as our overnight base. And it was a good call. We would spend leisurely afternoons at one of the most peaceful areas of Brac island – a small pebble beach next to fisherman's house rather than world-famous Zlatni Rat. A white coffee slowly enjoyed next to the perfectly clear beach is the best companion for a restful vacation. At the same time we also tried to stay active and our mornings were filled with different activities. Each day we went to a different side of the island and we explored almost every corner."
"The remains of a small three-nave church from the early Christian period from the sixth century in particular occupied our interests since both I and my husband are tourist guides. Next on our list was the stonemason school situated in Pucisca – the stone heart of the island where they still teach stone-working using ancient Roman-era tools. Hermitage Blaca, hidden from civilization, awoke a huge respect in us towards sacral heritage. At a glance, this very simple monastery reveals many interesting details of its history during the guided tour. This somehow physically strenuous experience definitely paid off. The island is dotted with villages that seem happily stuck in the past. Coastal Milna with its marina for luxury yachts is a place where you can still see locals casually playing cards in the cafes."
"Not only did we enjoy the history and cultural heritage of the island but we also immersed ourselves in the authentic gastronomy. Brac lamb baked under the bell alongside some out-of-the-way delicacies such as traditional Vitalac and beautifly simple Harpacusa rounded out our island experience."
Lidija's Moments of Bliss
Lidija's summers have typically been spent in either Split or Zagreb, looking after our guests arriving in either city. a recent internal move to our trip planning department meant her summer was already going to be a little different. We asked her about her favorite memory from the summer and she found it hard to pick. Maybe chilling in the hidden bays of Lastovo island, which Ivana already mentioned. Or it might have been island-hopping through the Sibenik archipelago and the Telascica nature park. It could have been hiking around Vransko Lake, or visiting Brijuni National Park, one-time summer retreat of Yugoslav dictator Tito, minus the usual crowds. Or maybe it was hiking and eating her way through Istria, with almost nobody around, and the food as fabulous as ever.
Antonija's Time as a Tourist in her Hometown
"Although the pandemic has brought us all very difficult times with many questions and concerns and without real answers and solutions, the summer of 2020 I will remember for a few unique moments. As concern cannot bring a solution or any good for the situation, my decision was to get the most out of the current situation and try to see the good side."
"When you live in a coastal area with beaches steps away that are usually crowded during the summer season, and when you have the busiest work schedule during the high season, you can't really relax or fully enjoy the time on the beach in Omiš, my hometown. The pandemic did the job, so the beaches in summer 2020 weren't packed (sometimes they felt like private beaches) and although kind of eery, it felt great not having to share the beach with many other people. On the other hand, the workload was reduced so in terms of relaxation and beach-wise I got the opportunity to enjoy the summer fully, as a regular tourist. It was a truly unique experience."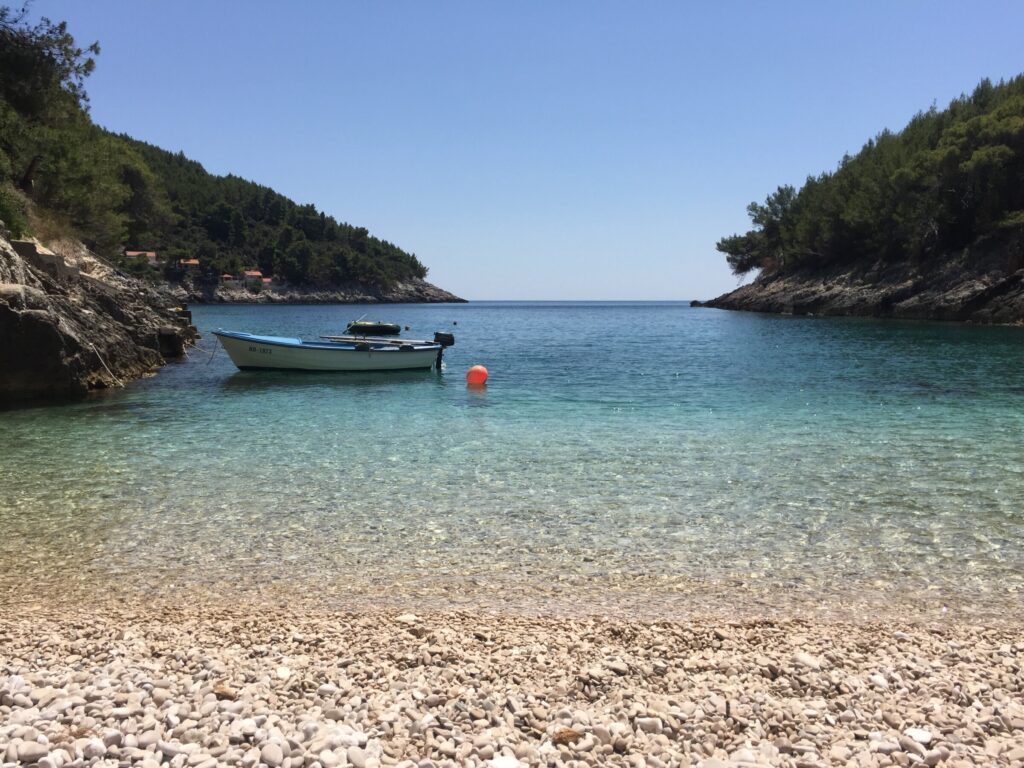 Andrea's Korčula Reunion
!I have a tradition of meeting few of my best high school friends every summer somewhere in Croatia as we all live in different cities now. One of us got a job and moved to Korčula last year so six of us went to visit her for a couple of days. Although there weren't many tourists on the island, a lot of locals were taking the opportunity to enjoy a crowd-free summer vacation. The only thing is that a lot of bars and restaurants were closing much earlier than usual because there was not that many customers. However, we enjoyed strolling around Korčula town and driving around the entire island as well. It was early July, the weather was perfect so we really managed to make the most of our time there."
"We spent one day at one of my favorite places on the island, Pupnatska Luka beach, a long beach with a crystal blue sea surrounded by untouched nature and the relaxing sound of cicadas. This is one of the places I always come back to whenever I am on Korcula Island. There is also a beach bar and the tavern above the beach so we ate lunch there and then returned back to enjoy some more swimming and sunbathing. Another beach we visited is a much smaller, hidden and mostly unknown – Bratinja Luka beach. The thing is that there is almost thirty minutes drive on unpaved, bumpy road with very bad phone service so we were starting to get nervous and impatient. Luckily, our friend who already became local, promised us it will pay off, and it was definitely true. That beach was probably the most relaxing place I've ever been to with nothing but the sea, the sun and nature around you, away from real world, phones and social media influencers. If coming to this beach, you should definitely bring water and snacks with you as there is nothing around."
Kinga's Balaton Escape
Kinga's based in Budapest, the capital of landlocked Hungary. Back in the communist era, when travel wasn't so easy, Hungarians would head to Lake Balaton for their summer vacations. This year Balaton's popularity surged. Kinga tells us "the highlight of my last summer was definitely exploring another side of Lake Balaton. I'm a big fan of the lake and every summer I spend at least a weekend there, but this year the usual places I go to were too crowded with everyone who was missing some sunshine and couldn't reach the sea for their vacation due to the restrictions. I decided it was time to explore the Badacsony region, known for its hills, beautiful landscape and vineyards. It turned out to be the best decision: though there were people there, it never felt crowded because of the space between places and the huge vineyards. I spent some time on the beach, hiked to see the most beautiful sunset from a lookout, visited a castle, and an underground thermal lake, swam in another thermal lake, ate delicious food and drank great wine. I plan to visit this place this summer too."
Bettina's Balaton Break
Although by the time Kinga went to Balaton, many of the towns were quite busy, Bettina beat the crowds by heading there as soon as the first lockdown was lifted in June. "We had a lovely quiet weekend by the Lake Balaton and it's most popular towns on the North: Balatonfured, Tihany, Csopak with no tourists at all. The towns were absolutely calm, nobody on the lake side, wineries, bars. It was fantastic. Normally, places like Tihany would be packed tourists, the accommodation prices would be much higher and it would be challenging to make last minute reservations, you would need to make reservations for the restaurants and the wine terraces would be full of people. This time was nothing like in a regular year and I truly enjoyed seeing the Lake Balaton from a different perspective."
Elisa's Most Serene Venice
"One of the strongest memories of last summer was strolling through Venice as soon as the lockdown ended and we were able to leave our homes and go out for walks in the city center. I had never seen Venice so empty before, there were very few people in the streets, the restaurants were half empty and some of the stores were still closed. It was also very sad to see that some cafes, restaurants and shops had to shut down due to the lockdown. One of the most impressive things for me was seeing the Grand Canal basically empty, with almost no boats, gondolas or water buses, on a sunny day in June, when the city is usually at its busiest. Even though the scene seemed almost surreal, it was definitely great to enjoy the city with no crowds around, to stroll though the small streets without having to wait for other people to pass of being stuck behind huge groups of tourists, to be able to eat at the restaurant without making a reservation days before… I think I will always remember the quietness of those days, the still water on the canals and the silence around the city."
Igor Swapped Poland for Portugal
Igor, our man in Krakow, took advantage of the easing of restrictions for intra-European travel in the summer to visit a destination that had long been on his bucket list and at the same time, check out how traveling during the pandemic times could look like.
"I decided to split my week's long journey in half, between Porto in the north, and the hilly capital of Portugal, Lisbon, in the south."
"What I learned primarily during that week in Portugal is that people, while keen to adhere to the safety protocols, to not inflict dangerous disease onto themselves or the others, also cherish their freedoms above maybe anything else. The ability to move around, explore, and travel, whenever feasible chance occurs. Virtually wherever I went, I saw smiling faces, wandering around the charming, narrow, cobblestone streets of the aforementioned cities. I saw groups of friends hanging around in parks, chatting, and laughing, laying on the grass, while enjoying the light kisses of the late afternoon sun on their faces. I witnessed folks dining in the restaurants, settling in the garden seatings, relishing in the meal, and the whole ambience of the moment."
"Granted, that the numbers of the travellers, and natives out in the open, were significantly smaller, in comparison to the times before the virus hit, but I could already see the urge, and necessity for the "our way of life" to prevail.
I learned that, while we are all going through a trying times, by many not comparable to any world altering/shattering event in the past, impossible to be recalled through the span of their whole lifetimes, we will in the end, come out of this stronger, equipped with new layers of the durability, while being at the same time more gentle, and appreciative for all the things that we once again can enjoy."
"I have a feeling that the traveling is going to take a high spot on the list of things, we are grateful for, having it back again in our lives."
Olivia's Transylvanian Travels
"One of the best memories I have from last summer is the week spent at a mountain resort, around Bran-Moeciu area. The most incredible day was actually the first one. We drove from Bucharest to Brasov and stopped there for lunch, before heading to the mountains. I've been to Brasov countless times, either with our guests or as tourist myself and never in my life had I seen the Council Square virtually empty. There were only a few people on the streets of Old Town! I felt like the whole Old Town was mine and mine alone. I could take photos with the Black Church as long as I wished, with no one else in the background to ruin the shot. I could buy ice-cream and my favourite pancakes without waiting for ages in a long line. I even took the cable car up to Mount Tampa without the need to buy a ticket beforehand! Basically, I could do whatever I wanted the instant an idea came through."
"After a couple of hours in a surprisingly quiet and relaxed Brasov, we hopped back in the car and resumed our drive towards Moeciu de Sus, up in the mountains. Along the way, we had another 'crazy' idea. We were passing through Bran Village and were shocked by the lack of traffic. Usually traffic jams here are absolutely insane – everybody wants to see Bran Castle, the "home of Dracula". Normally we would go past the village on an alternative route but, since it was empty, we gave it a try. When we were right in front of the castle, there were still no people around! Normally, the waiting lines at the ticket offices stretch for dozens of meters. Like Brasov, I've been to Bran castles more times that I can remember. Still, I could not resist this once in a lifetime opportunity to take a photo with the castle, and only me in it! No Photoshop hahaha! At that time I was 7 months pregnant so it was very nice to be able to see these places without huge crowds around me, giving me some space to breathe and walk at a slow pace."
Moonika Explored More of Estonia
Like in Prague, Krakow, and Dubrovnik, it felt like locals got to take the tourist core of their cities back, with restaurants and bars trying hard to draw locals into the medieval heart of Tallinn. But Moonika's most memorable moment of 2020 was road-tripping in southern Estonia, with no tourists around at all, and the only foreigners she came across were a school group.
Lorina's Albanian Riviera Relaxation
"Being a not-so-well-known small country in the Balkans we usually have very few tourists compared to our neighbors, which has its upsides. You get to enjoy the good weather in non-crowded places and eat delicious food for a very reasonable price. Of course the pandemic was hard on us just like any other country, however, having a small population and no overcrowded areas resulted in a very low numbers of infections and made it easier to enjoy the holidays. Even for a worrier like myself who was always very careful, to enjoy the sun and beach in distanced sun-beds or coffeshops/bars was much easier than I expected. Although Albania never closed to tourists, and we still had many visitors, the harmony of the everyday life was not much affected."
"Together with friends I took a private boat tour to Karaburun, visiting many abandoned and amazing beaches. It was definitely the highlight of the season. I might be biassed but I highly recommend choosing Albania as your next destination for this summer as after such a long and tough year we all deserve a much needed holiday full of sun, sea and local food."
Elena's Hellenic Epic
In July 2020 I took a 2-week road trip across the Peloponnese. On most of the occasions driving through the raw landscape dotted with olive and citrus trees, there were almost no cars in sight and it felt like I was there alone, surrounded by nature and the warm summer sun shining down on me as I drove along. One of the stops that I made was at Ancient Olympia, one of the most significant archaeological sites in Greece and the world, the birthplace of the ancient Olympic Games – it was mid-July and the place was almost deserted, the most visited archaeological site stood empty, with just a few visitors, here and there. Truly, a once in a lifetime experience.
Kateryna's Motherland Discoveries
"Ukrainian citizens were unable to enter most countries, so we went to Odessa on the Black Sea coast several times. Since my mother lives in Saint Petersburg and we were allowed to travel to Russia, we drove there from Kyiv, but on the way decided to visit the cities of Briansk, Yaroslavl and Uglich. All the restaurants and museums were open during our stay there, so we fully enjoyed the views and entertainments. We stayed only one day in Briansk, then several days in Yaroslavl, which is beautiful, and very cosy city, and then one more day in Uglich. Yaroslavl and Uglich are cities on the great river Volga."
Petra's Berlin Beginnings
Our videographer Petra moved to Berlin in early 2020, so her whole first year in the city has been colored by COVID. "I've never really known Berlin at peak tourist season as we've only moved here in March 2020 but the summer of that year felt special anyways. Maybe it was because indoor spaces were mostly closed that any time good weather struck (and from what I've heard, the summer of 2020 in the german capital was one of the most sun-blessed in recent history) people populated every park surface, they sat on the river bank like birds on a power line and clubs and bars competed in creative solutions to sell drinks. The famous club scene definitely suffered (personally, I don't know many details) but music lovers still found solace in outdoor performances, socially-distant sessions and outdoor music clubs that required a simple registration to enter, so that contact tracing could be done just in case. Whoever wanted to upgrade their outdoor beer-drinking game plopped themselves on anything that would float and the river and various ponds around the city were full of boats, small moving party houseboats, cayaks and other boat-like structures populated by smiling people enjoying the warm sunshine. The cocktails were flowing, the masks were creative, the culture moved outdoors, the smell of food overtook the streets as restaurants moved seats outside,…summer 2020 felt hopeful, despite everything. Berlin didn't abandon rules as other places did so the consequences allowed for the hope to persist."
Will 2021 be like 2020?
In a lot of ways we hope not. But travel will resume, and it'll resume gradually. There won't instantly be bus-loads of tourists showing up, or cruise ships docking in Venice, Tallinn, and Dubrovnik. We're in the fortunate position at JayWay to be able to share our destinations with our guests on a more individual basis. That was the kind of travel we saw in 2020 and it will be the first to return. We can't promise that you'll have exactly the same zero crowds experience as we witnessed last year, but there's a window of opportunity for the first few months, maybe for most of the 2020 season, to see Europe in a way that would have been impossible otherwise.

Charlie is head of marketing at JayWay Travel. A long-term Prague resident, his interests are cooking, eating out, cycling, skiing and of course, travel.