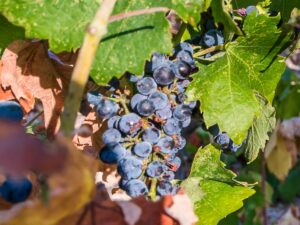 Real estate with a waterfront view isn't exactly in short supply in Croatia, however, the Plavac Mali grape variety enjoys the sort of views that most can only dream of. This red grape, whose name translates to 'small blue', is indigenous to Croatia and the most widely used grape in central and southern Dalmatia. However, the popularity of Plavac Mali reaches far beyond the borders of its home country.
Jump to a section of this article
Why is Plavac Mali such a special grape variety?
If grown under appropriate conditions, Plavac Mali, an ancient brother to Californian Zinfandel and the Italian Primitivo grapes, has extraordinary potential! It is a variety that easily results in excellent wine. The mild Mediterranean climate, with dry and hot summers and relatively mild and rainy winters, is ideal for growing Plavac Mali. It also doesn't mind the poor rocky soil! Higher altitudes facing the sea, with direct exposure to sunlight, seem to suit it. The best locations are in the south and southwest coastal areas of Croatia. They happen to have the highest amount of sunlight. The proximity of the sea also prevents sudden and large temperature fluctuations. Since Plavac Mali is a late-ripening variety, the additional light reflected from the water's surface is equally important to obtain the full potential of the cultivar.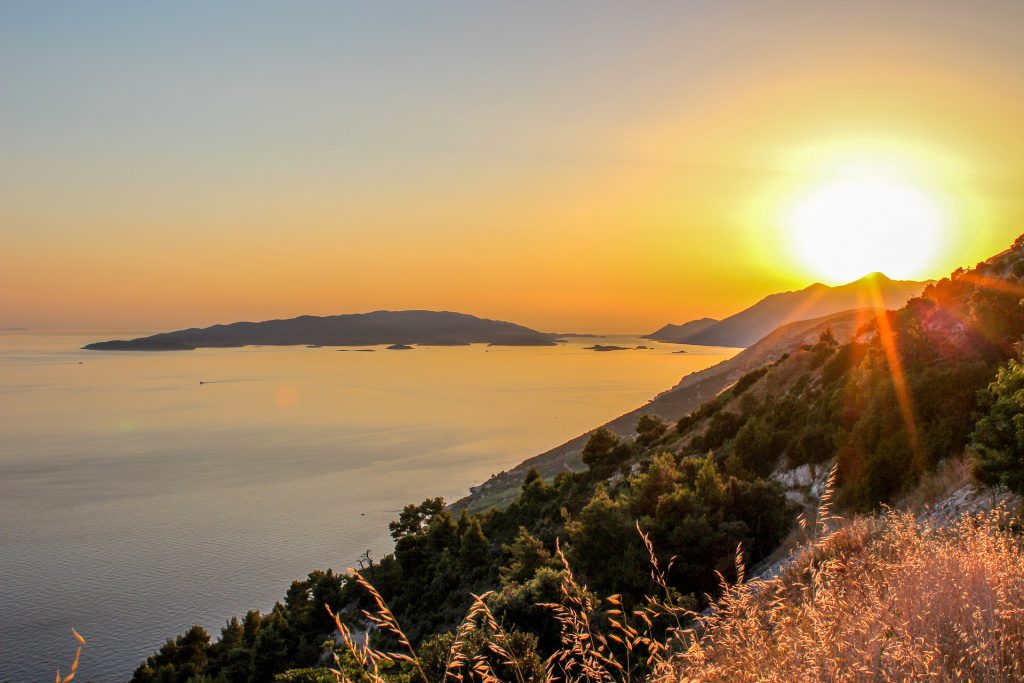 Where does Plavac Mali grow?
The top locations to grow Plavac Mali are Dingač and Postup in the Pelješac peninsula (between Dubrovnik and Korčula) and Sveta Nedjelja and Ivan Dolac on Hvar Island. It is also traditionally grown on some other Croatian islands such as Brač, Vis, and Korčula, and even at some locations close to Split, Zadar, and Šibenik, but only in smaller quantities. Although Plavac Mali is the most widespread red grape variety in Croatia, overall not more than 3000ha have been planted with this cultivar. Thanks to its significant economical and high-quality wine production potential as well as great disease resistance, we are recently witnessing the expansion of Plavac Mali in some new wine regions on Croatia's map. 
Wines of Plavac Mali
Different types of wine can be produced from Plavac Mali. Their quality primarily depends on the position of the vineyards and quality of production techniques. If planted on flat terrains with rich soil, Plavac Mali will produce high yields and the result will be a wine of lower quality. On the other hand, if planted in ideal conditions that require high sloping terrains, a warm climate, and direct exposure to sunlight, with relatively poor soil, Plavac Mali will produce full-bodied, deep-colored wines that usually contain a high alcohol percentage (more than 13.5 %). These are the wines of the highest quality with great ageing potential. Plavac Mali is a variety that requires a longer time to mature and preferably it should mature in oak. High-quality wines are known as full-bodied with intense and persistent grape flavors and a long finish. Plavac Mali is also suitable for the production of quality roses (the traditional Opolo wines) as well as dessert wines.
A special tribute to Dingač
Both the full-bodied red wine and the region share the Dingač name and since 1963 have been protected under the EU's Geographical Indication. It signifies the quality and reputation of wine from this winegrowing region of just 65 hectares. It has long been known that Dingač's special environmental privileges produce a highly-prized wine. As far back as the 15th century, Dingač wines were retailing for 3-4 times the price of other local wines on the market. Dingač production is very limited due to the size of the region which results in high demand locally and from foreign interests. In the past, there were frequent counterfeits of this wine that came to the market. In order to overcome this and protect the wine from the competition which produced the type of commercial Dingač in unlimited quantities, winegrowers requested special protection for the name and origin of Dingač wine. In 1963 it became Croatia's first legally protected famous wine.
Locals in the Pelješac peninsula say "Praise each vine variety, but grow Plavac Mali" due to its ability to adapt to various environments. Plavac Mali grown in Dingač survives some of the harshest conditions in which this grape can be naturally cultivated. The steep southern slopes of Pelješac play host to a trifecta of exposure to the sun, otherwise known as triple insolation. The "three suns" which the vine is exposed to begin with direct rays of the sun, followed by indirect reflections from the surrounding sea and white limestone rocks. This is combined with 30 foot-long roots, potassium-rich soil, and a natural heat regulator in the form of the deep sea to the south of the vineyards which warms the air during winter and alleviates higher temperatures in summer. Owing to extreme 45-degree slopes, which allow heavy rains to wash away, and the drought-resistance of Plavac Mali, Dingač rarely experiences interruptions during the wine-growing season due to adverse weather conditions. For anyone imagining the daily slog of trudging up the miraculous slopes for local growers, one positive to note is that these locations don't require much supervision. Cultivation occurs naturally resulting in wine with a high alcohol percentage (up to 17.6 %!). This creates another challenge for the winemakers to preserve the character of the wine.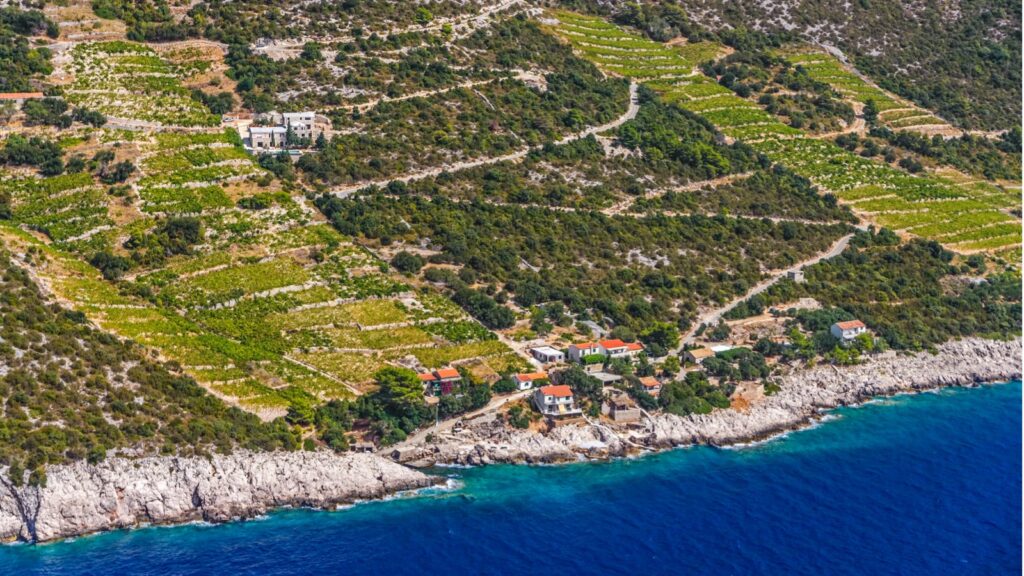 Dingač is said to be of sun and rocks, a strong wine with character, dark-red to purple-red color, warm, full, and pleasantly bitter. The aromas and bouquet are peculiar and unique to Dingač. The fruit notes on offer are hints of dry figs and carob. The tannic qualities of Plavac Mali are legendary, which necessitates a skilled cellar master who knows how to soften the tannins using wooden barrels. Due to uneven ripening because of the presence of dried berries in the Plavac Mali grape, the alcohol content sometimes approaches the highest possible limit of alcohol content achieved by natural fermentation of alcoholic yeast. Sometimes fermentation can stop spontaneously leaving unfermented sugar which makes Dingač, in these cases, a semi-dry wine. Local insight dictates that the best harvests ripen for a minimum of 24 months and within this timeframe at least 18 months will be spent maturing in oak barrels of various dimensions.
Although some are of the opinion that Dingač wines can be overpriced, wines coming from the most-prized locations are at the zenith of Croatian wine production and they retail for between €15 and €50 a bottle.
The origin of Plavac Mali and its connections to Zinfandel
In an attempt to determine how old Plavac Mali could be, researchers found the document "Viticulture of the Austrian Empire", issued in 1821. Among some other Croatia's white and red grape varieties, the document also mentions Plavac Mali. At the time, Croatia was a part of the Austrian Empire and the best grape varieties were often planted in Austrian experimental vineyards close to Vienna. On Hvar Island, we can find some small but very old portions of vineyards planted with Plavac Mali, older than 150 years! With all mentioned, we can conclude that Plavac Mali could be at least 250-300 years old.
Thanks to Mike Grgić, the famous Californian winemaker with Croatian roots, Plavac Mali is also well-known to America's wine lovers. When he arrived in California, Mike realized the Zinfandel grape variety has a similar small and dark blue berry to Plavac Mali. Since there was no information about how Zinfandel reached the US, Mike was stubborn enough to prove Croatia is home to the widely popular Zinfandel. There were also theories that Zinfandel came to the US from Italy or even Hungary. After years of detailed research by Mike's American-Croatian team on 150 samples from 40 vineyards, a conclusion was made that Plavac Mali is a crossbreed between Zinfandel and a very old grape variety called Dobričić. It was also discovered that Zinfandel in California, Primitivo in Italy, and Crljenak or Pribidrag in Croatia are just different names for the same grape variety that originated from Croatia. And there were only 25 vines of this Crljenak in Croatia at the time! Thankfully, in recent years, more vines were planted, and soon we'll be able to see if Crljenak will reach the fame of Plavac Mali in Croatia
Good with everything, and for you health
Moderate wine consumption is long known as a key to a long and healthy life and Plavac Mali has great nutritional values. It is rich in minerals and vitamins as well as in powerful antioxidants important in the prevention of cardiovascular diseases and even some forms of cancer. Depending on your preferred choice of either light roses or full-bodied red wines, Plavac Mali is a great complement to both seafood and meat dishes. Of course, a fairly high percentage of alcohol means you should enjoy Plavac Mali but also know your limits at the same time. In the end, we invite you warmly to explore Croatia's shore and experience for yourself why Plavac Mali is the most popular Croatian red wine grape variety.

Josipa comes to us with a strong background in the tourism business in Dubrovnik. With us, she returned to one of her favorite roles, direct contact with guests, after several years in sales roles with one of Dubrovnik's larger high-end hotels. Although Josipa was not born in Dubrovnik, she finished her studies and started her family life here and she feels Dubrovnik to be her hometown. She knows the best places in the city and the surrounding countryside, which she loves visiting with her family. If you're starting your trip in Dubrovnik, Josipa will greet you upon arrival and will be your local contact, via the cellphone we provide, throughout your trip.