Over the last few years, Georgian cuisine has been growing in recognition and popularity worldwide. Hospitality-trend forecaster AF&CO declared Georgia's food its 2019 "Cuisine of the Year". You might have already tried Georgian food in your hometown, but there's no substitute for feasting on khinkali, khachapuri, lobio, and more, in Tbilisi. We would like to introduce you to several fine representatives of our capital's rich culinary scene.
Jump to a section of this article
Lolita
This distinctive urban cafe bar is one of the best places to have a flavorful breakfast, lunch, or refresh with a couple of cocktails in the evening. The open kitchen gives you the opportunity to taste Georgian-European cuisine with a glass of wine or homemade Georgian lemonade while watching how your next meal is cooked. Located opposite one of our favorite design hotels, in the 'new' part of Tbilisi, Lolita is modern Georgia in a nutshell.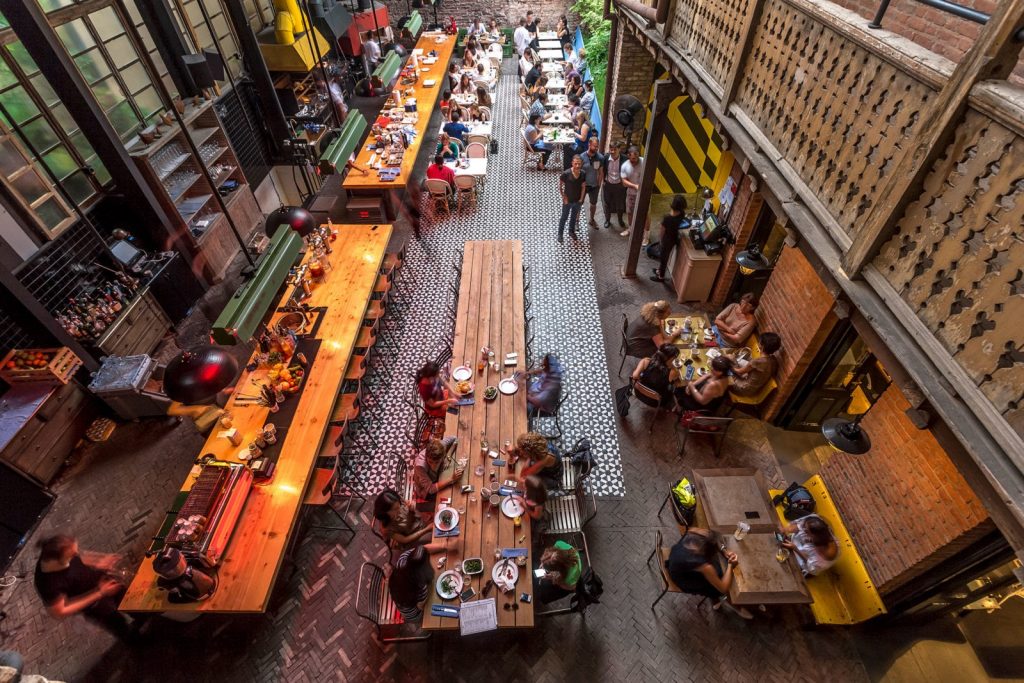 8000 Vintages
8000 Vintages is named in reference to the fact that the Georgian winemaking tradition started 8000 years ago. Accordingly, you will find countless types of specially collected wines to meet your taste, accompanied by platters of cheese, cold cuts, and local delicacies perfectly paired with your choice. There are several branches but the most central is at R. Tabukashvili st. 27.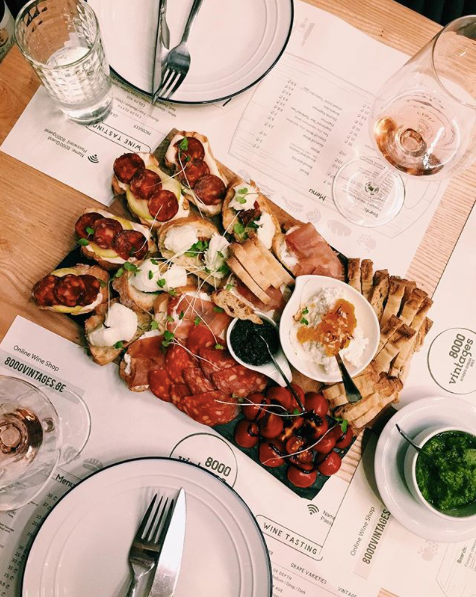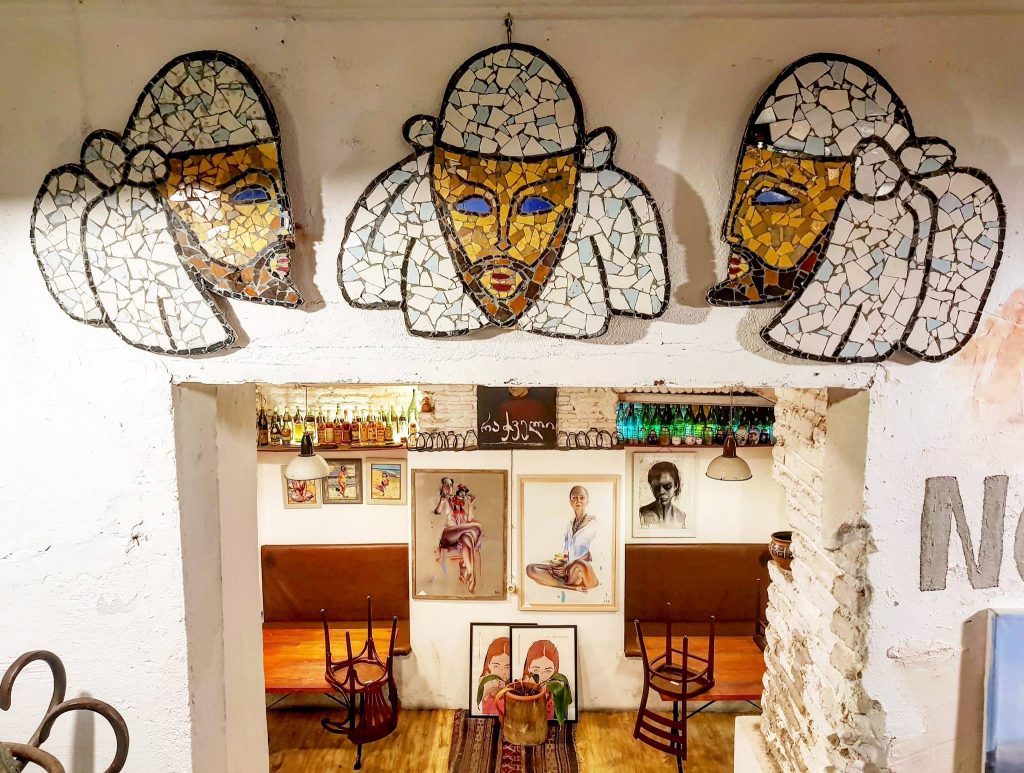 Salobie Bia
At Salobie Bia one of the well-renowned local chefs, Giorgi Iosava, offers you his variations of authentic western-Georgian traditional dishes in a post-communism interior restaurant combined with modern art, which you can buy.
Shavi Lomi
This small restaurant with an authentic style and cozy environment, located in a non-touristy residential area, pleases its guests with a modernized traditional cuisine. In warmer weather the leafy garden area is open. The convivial atmosphere under the trees adds further to the pleasure of eating at Shavi Lomi.
The most famous dish here is Gobi, pictured here – a colorful assortment of famous Georgian dips and spreads served in a traditional dish from the past century. Shavi Lomi's Gobi is beloved by locals and tourists alike. As an added bonus there's usually a cat or kitten or two in the garden.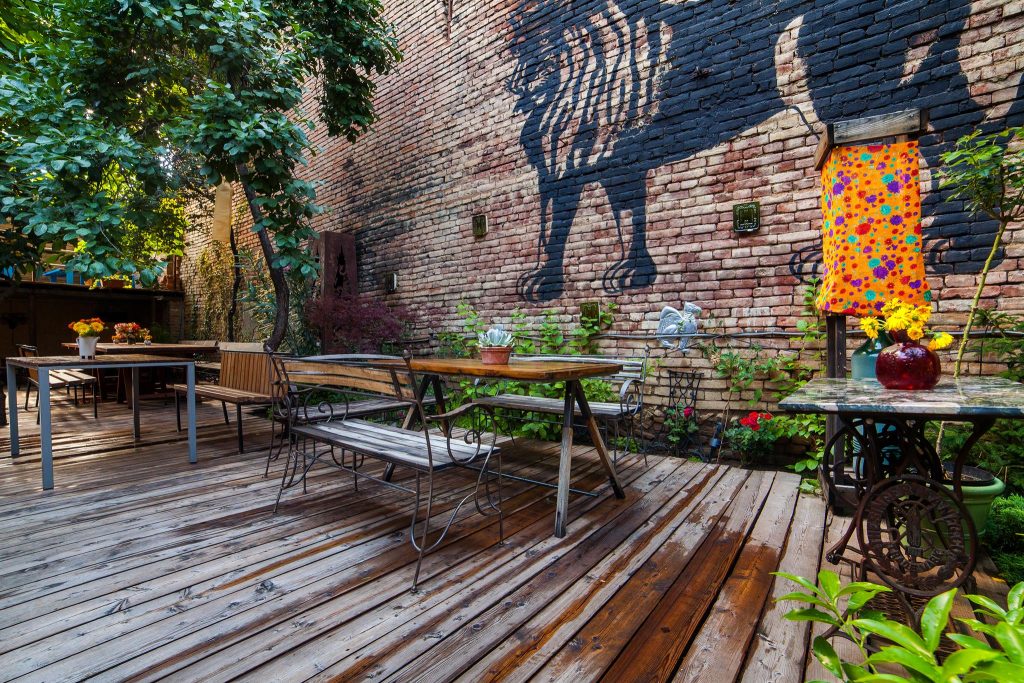 Tsiskvili
Tsiskvili is a traditional restaurant away from the busy city center, with a diverse variety of local dishes accompanied by live music and folk dance. Dinner here will give you an opportunity to fully immerse yourself in the tradition of a Georgian feast and feel the local spirit.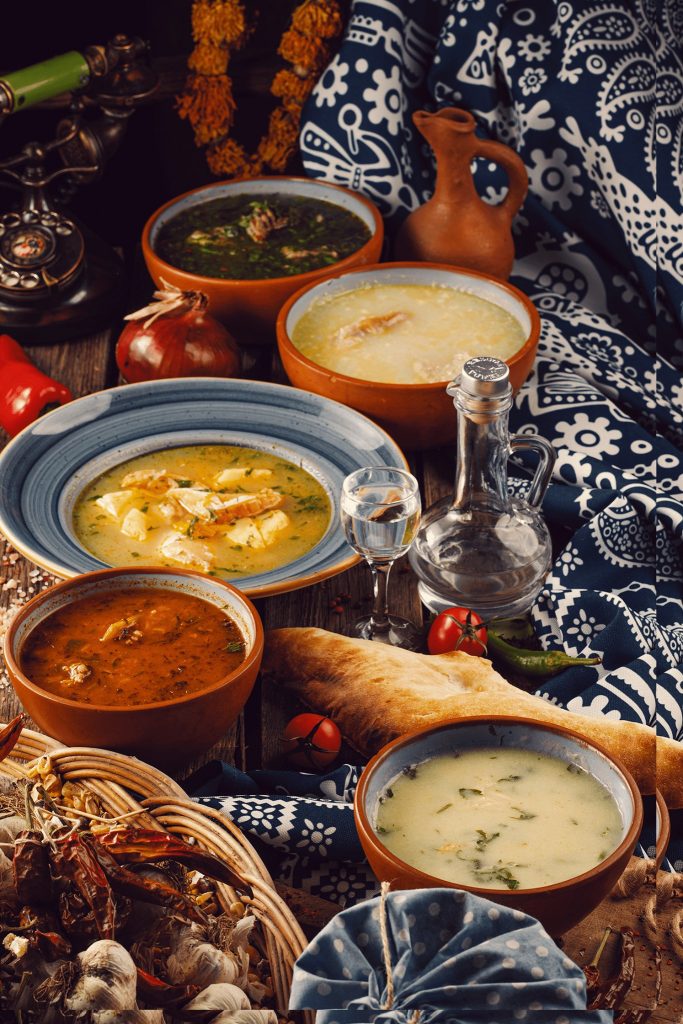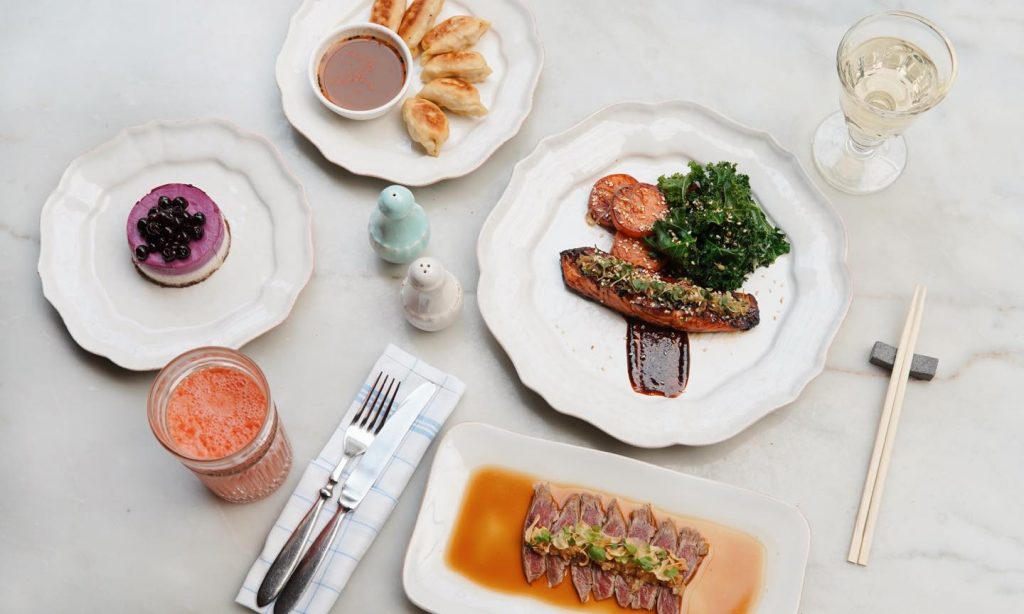 The Kitchen
When I think of the best brunch in Tbilisi, the first place that comes to my mind is The Kitchen. Buffet-style brunch, where you can order the desired dish according to your own taste. It has a wonderful ambiance with an open-concept kitchen. Their main concept is "farm to table" – all product ingredients are purchased from local entrepreneurs or collected from their own farms
Keto & Kote
This lovely restaurant hidden in the bohemian Vera district is a 2-minute walk from Rustaveli Metro station and offers a cozy ambiance and views of chaotic Tbilisian roofs. Another place with a modern look at Georgian traditional cuisine, where authentic recipes meet creative modern techniques.
Amo Rame Khinkali
Ano Rame Khinkali: The name says it all. This place is all about khinkali. A cozy small cafe nestled in the heart of Sololaki district with one of the finest khinkali in the city. Tastes and feels almost like true homemade khinkali. If someone wants to taste real homemade khinkali in the center of Tbilisi, they definitely should head to Amo Rame Khinkali. One important note: its sister restaurant Amo Rame is just across the street so one should be attentive not to miss the correct place!
Kikliko
One of the best breakfast places in town, Kikliko is open on weekdays from 8 a.m. and offers a large selection of Georgian breakfasts – mainly different variations of eggs. Eggy bread is crisped up and served with different toppings – kiklikos with cheese, eggs, ham, and mushrooms in various combinations.

Chaduna
Chaduna's menu is a fusion of healthy Georgian and European cuisines. It makes for a cozy quiet place for lunch in downtown Tbilisi. The chef will introduce you to his homemade lunches and drinks, will help you choose the wine, and will gladly talk to you about the concept of his family-owned cafe.
Puri Guliani
The main concept of this restaurant is Georgian bread. Puri Guliani, the name of the place, literally means "bread with heart". They offer a wide range of local pastries – khachapuri from different regions of Georgia, sweets, pies, and of course famous soviet style donuts accompanied with Georgian lemonade which was invented back in 1887.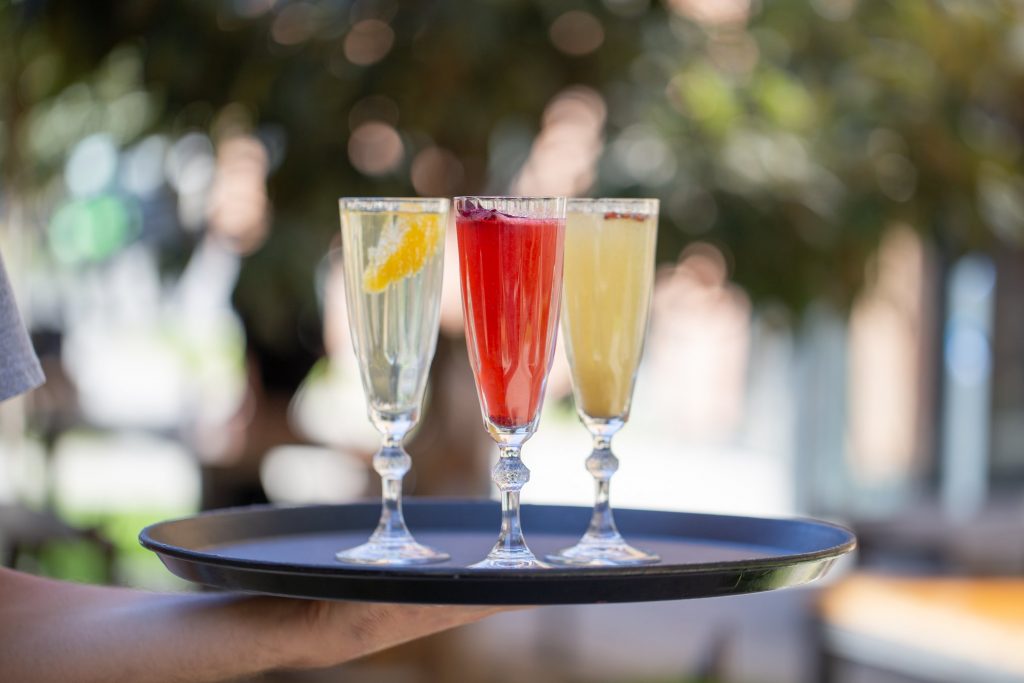 Cafe Stamba
The ground floor of the Stamba Hotel repurposes an industrial space with a little Art Deco flair. The menu combines avant-garde takes on classic Georgian dishes with some international crowd-pleasers. A collaboration with the Georgian Farmers' Association guarantees farm-fresh seasonal produce goes into the kitchen's creations. A broad breakfast menu has firmly cemented Cafe Stamba's place on Tbilisi's brunch circuit.
Tbilisi's dining scene is fast-changing, and new places are popping up all the time. Let us know in the comments if you discover a new gem that should be added to this list of the coolest restaurants in Tbilisi.

Gio was our man in Tbilisi, Georgia 2019-2022. Before coming to JayWay, Gio had already spent more than seven years in tourism, designing one of Tbilisi's most popular tours, and learning how to show destinations from different points of view, revealing their hidden beauty. To better serve guests, Gio is fond of hiking beyond the city, especially in the mountains, or even taking part in extreme sports.