With over 3,500 miles of coastline, it's no surprise that Croatians love their seafood! The Adriatic Sea lines the entire western side of Croatia and has influenced the cuisine of the whole country. From the familiar mussels and oysters to the perhaps more exotic black risotto, there is no shortage of seafood to try while enjoying your vacation in Croatia! Here are some of the most delicious Croatian dishes, according to our local guides.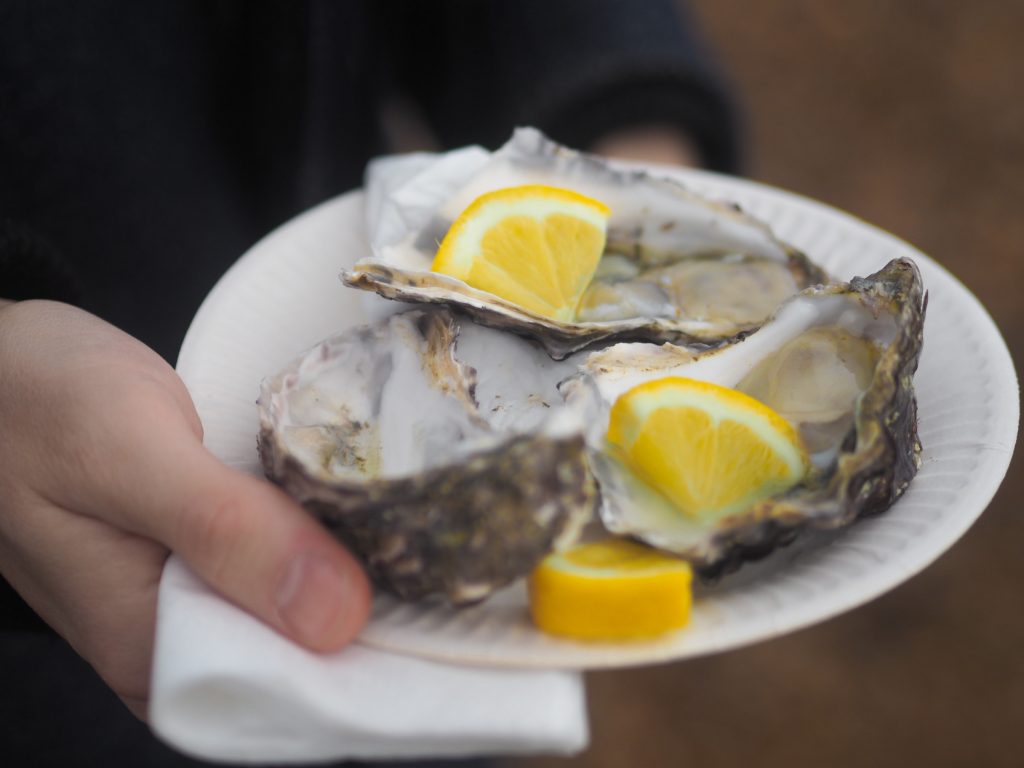 Jump to a section of this article
Kamenice s Limunom (Oysters with Lemon Juice)
We dare say that Croatia might be the best place in the world to try oysters! Oysters are grown in the pristine waters of Lim Bay in Istria, near Rovinj, and the Bay of Mali Ston, in the south of Croatia, close to Dubrovnik. A recipe for the most delicious oysters is quite simple. Pull a fresh one out of the sea (or order in a reputable restaurant), open it, squeeze a few drops of lemon juice over the delicate meat, and eat it! Lemon juice brings out the savory flavor of the oyster and gives an extra kick to this perfect bite!
Hobotnica pod Pekom (Octopus Peka)
Octopus prepared under the bell, or peka, is unquestionably one of the most popular Croatian seafood dishes. This special preparation makes any dish very tasty and juicy. In this instance, octopus, potatoes, and spices are put into a round tray, covered with a bell-shaped iron lid, and placed inside the fireplace. The dish is both cooked and roasted simultaneously. Delicious! Although this is a common way of preparing various kinds of meats in Croatia, it's certainly not easy. Timing is crucial! But don't worry, we'll make sure to recommend the best places for octopus peka no matter what coastal town you are in. It's best to book a day in advance if you want a peka.
Salata od Hobotnice (Octopus Salad)
Move aside the boring lettuce salad! Another popular way of preparing octopus in Croatia is as octopus salad. This is usually served as an appetizer or as a light lunch. The octopus needs to be cooked before adding the rest of the ingredients. Unusually, this is one of the few dishes that tastes better if the octopus was frozen before cooking since it becomes more tender and juicer. Cooked octopus is cut into small pieces and served with olive oil, vinegar, capers, and onions. You will find variations to this dish with different vegetables, but we are sure they will be equally appetizing!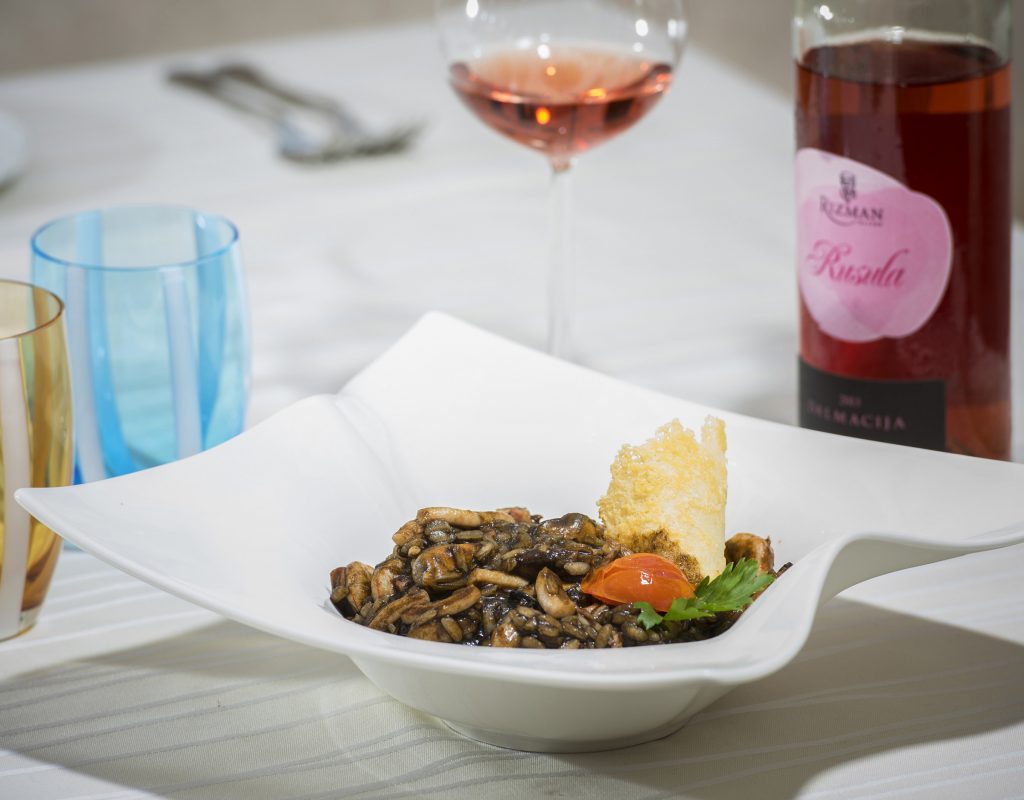 Crni Rižoto (Black Risotto)
Black risotto may not be exclusively Croatian, as it is widespread along the entire Adriatic and Mediterranean coast. However, the quality of Dalmatian seafood specifically makes this dish one of the best meals you will try in Croatia! Typical types of seafood used for black risotto are cuttlefish, squid, mussels, and shrimp. Cuttlefish ink is used to create the deep black color of this dish, while the other fresh ingredients will make this meal smell and taste like the sea. Because of the intense flavors of this dish, we recommend it only to the most die-hard seafood lovers! Don't forget to also order a glass of local red wine for a uniquely Croatian gastronomic experience!
Dagnje na Buzaru (Mussels alla Buzara)
Buzara is a typical Dalmatian dish that can be prepared with a few different main ingredients, but the most popular version is mussels alla buzara. First things first, the mussels must be fresh. Luckily, that is not a problem in Croatia! Mussels are the most widespread shellfish in the Adriatic and are available throughout the year. Before cooking, they need to be cleaned from the outside and washed in cold water. There are two types of buzara sauces – white and red, depending on the ingredients. For either sauce, fresh-pressed olive oil is essential. White buzara sauce has garlic, parsley, white wine, and breadcrumbs, while the red sauce adds tomatoes. Fun fact – salt is not used at all during the preparation of mussels alla buzara, as the mussels will naturally release a salty flavor as they cook, thanks to the seawater.
Brodet (Fish Broth)
Brodet is a traditional Croatian fish soup prepared all in one pot, without stirring. This delicacy can be prepared with many different types of fish, depending on the season and location, but the most common are grouper, eel, frogfish, or even lobster. Locals know that brodet is best when it has a mix of various kinds of fish and shellfish, to enhance the complexity of its flavors. The fish need to be cut into large enough pieces so that they don't fall apart while cooking. You cook the fish with onions, garlic, extra virgin olive oil, tomato, parsley and bay leaf, and some wine and water. Mouth-watering! The dish is most often served with creamy polenta to soak up the extra broth.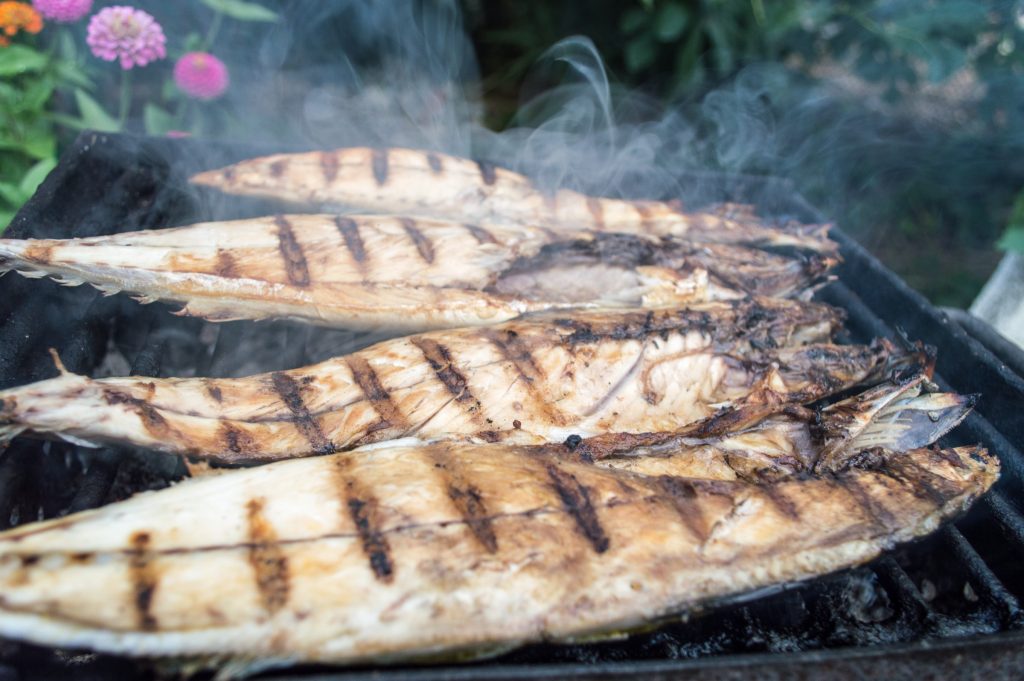 Gradele (Grilled Fish)
Gradele isn't technically a seafood dish, but rather a way to prepare food. Croatians prepare their grilled fish on a special metal grill, typical for this part of Adriatic, called gradele. Preparing fresh fish on an open fire grill is one of the most common ways of preparing fish in Dalmatia. Some types of fish that are typical for gradele are bream, sardines, sea bass, and grouper. Before serving, it is really important to season the fish with homemade olive oil, garlic, and parsley. That is a real taste of Dalmatia – simple, fresh, and delicious!
Gregada (Fish Stew)
Gregada is a simple yet delicious fish stew you can find on the island of Hvar and in Central Dalmatia. The ingredients are simple: onions, garlic, and potatoes, olive oil, dry white wine, parsley and bay leaf, salt and pepper, and white fish from the Adriatic. Any firm-fleshed white fish works, but locals prefer sea bass, grouper, sea bream, monkfish, and dentex. They leave the head on as well as bones, as these are parts that give the full flavor. Ideally, homemade bread and a glass of white wine should accompany gregada, making this humble, yet nutritious meal a feast for your tastebuds!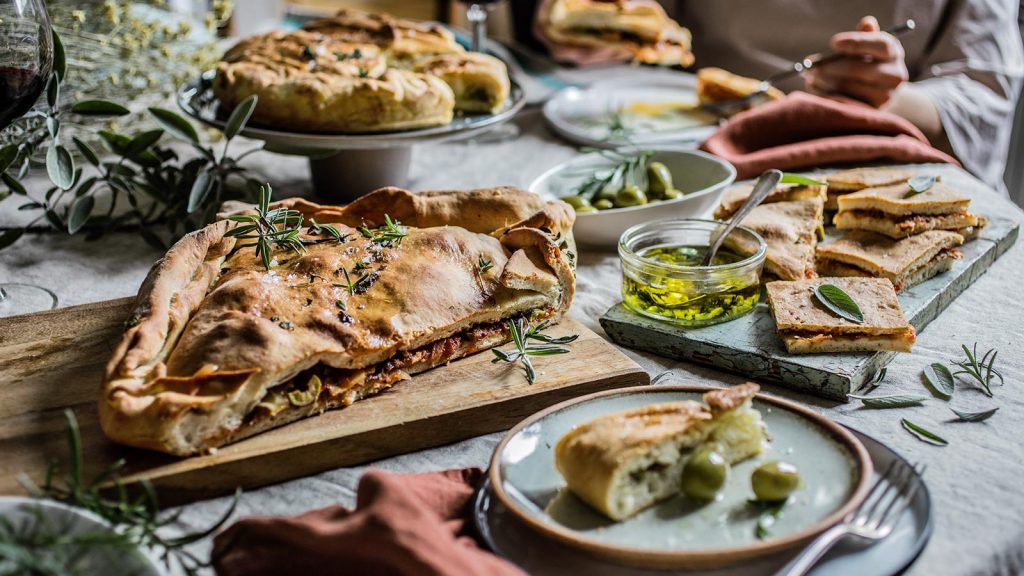 Viška Pogača (Vis Bread Pie)
Viška pogača is a savory bread pie made of flour, olive oil, onions, and salted fish. This filling dish is a specialty on the island of Vis, usually served for lunch. Every house on the island has its unique recipe, adding different herbs and spices, or capers, olives, and garlic. The dough, very similar to bread dough, is filled with salted sardines or anchovies mixed with stewed onions and olive oil. You coat it generously with olive oil and soak the edges, so they don't burn before the inside of the rest of the pogača is baked. Ideally, you bake it in a bread oven and cut it into cubes before serving. Viška pogača is best enjoyed with a glass of good red wine!
Where to eat the best seafood?
Almost every restaurant on the coast will serve seafood, however, some are perhaps a bit better than others. For the most delicious seafood, from Istria to south Dalmatia, try one of the following:
Taverna De Amicis, Rovinj
Recently opened restaurant in a calm street in the center of Rovinj. Mainly a fish and pasta restaurant with homemade pasta and only the best and fresh ingredients. Hosts are very proud of their homemade desserts and cakes.
Pet Bunara, Zadar
At Pet Bunara they strive for culinary excellence by paying close attention to the source and quality of our ingredients. They create a dining experience like no other by using as much as possible in-season, locally-grown ingredients, using organic and sustainable meat, game, fish, poultry, vegetables, and grains. They cultivate their own herb garden to provide the freshest ingredients possible as well as organically grown olive & fig yards exclusively for Pet Bunara.
Konoba Matejuška, Split
How many times can you say you've eaten at a UNESCO-protected restaurant? The Konoba and wine cellar Matejuska are located in heart of Split. The simple interior of bare stone walls, light wood furniture , old and rustic ambience is all part of the charm and Konoba Matejuška will transport you back to simpler times. In the evenings, treat yourself to a little romance with their traditional Dalmatian cuisine accompanied by fine wines.
Štajun, Hvar
In a town where many people are there to see and be seen, Štajun takes a slightly different approach. An understated, cozy terrace area in a small side street away from the waterfront, is the setting for some delicious dining. The menu changes seasonally and with this being a recent addition to Hvar's restaurant scene, they go all out to impress.
Kapetanova Kuća, Mali Ston
When you're eating oysters and looking at the bay they're grown in you can have no doubt as to their freshness. Order some mussels too.
Proto, Dubrovnik
The long tradition of this popular Dubrovnik restaurant attests to its reputation and lasting quality based on its unparalleled preparation of diverse seafood and meat dishes. Proto's gourmet menu is inspired by indigenous dishes and the culinary artistry of Dubrovnik's aristocratic and commoner families, passed down from one generation to the next. Their top local chefs add a touch of contemporary culinary trends to traditional recipes.
If you'd like to try any of the above restaurants, make sure you book a table in advance or ask your local JayWay representative to do it for you. These are some of the most popular restaurants in the country for a reason!

Born and raised in Dubrovnik, Andrea's involvement in tourism began as a child as her family rents apartments for tourists. Her inquisitive nature led her to study journalism in the Croatian capital, Zagreb, though her heart remained in her hometown and she returned there after her studies. One of Andrea's biggest passions is singing and she has been a member of the Dubrovnik Folk Ensemble Lindjo for over 13 years.