Although we Georgians are fond of meat, we don't get upset if you prefer vegan or vegetarian fare. There are plenty of vegan-friendly places in Tbilisi, and Georgian cuisine itself has a variety of vegetarian and vegan dishes fit for any gourmand! I would like to introduce you to a few places you can try in Tbilisi.
Places:
Muhudo
Muhudo is a small falafel shop situated in the very center of the city (right behind the Rustaveli subway station). Although Muhudo has its own delivery service, its offerings are so simple that it has no menu: cheap and healthy falafel and juice.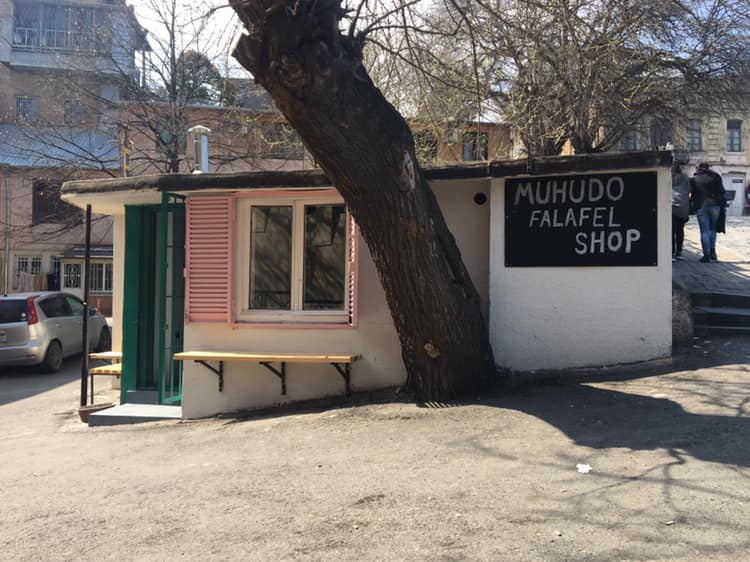 Zero Effect
Zero Effect is Tbilisi's first zero-waste concept space, and doubles as a vegetarian cafe full of vegan options. In addition to the clothing, decorations, and household items for sale, you can find an enjoyable breakfast, lunch, or even dinner here. In this central location, you'll find a friendly atmosphere combined with delicious vegan cuisine.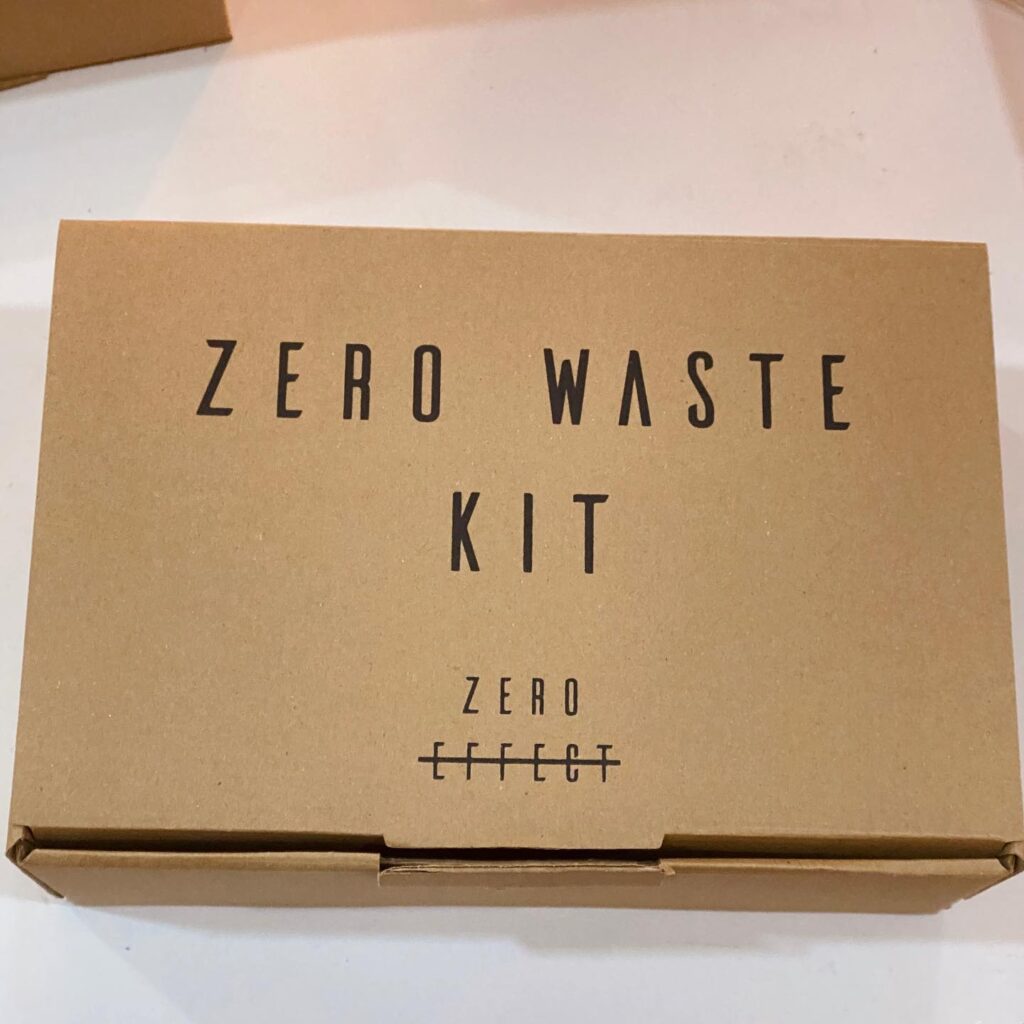 Namu
This project is the first of its kind in Georgia, providing some of the country's only plant-based raw vegan cuisine, for a price. Namu's fare is prepared from raw, organic ingredients and is completely free from meat, dairy, gluten, sugar, and table salt. Namu has a cafe to dine in, but you can also get their food delivered.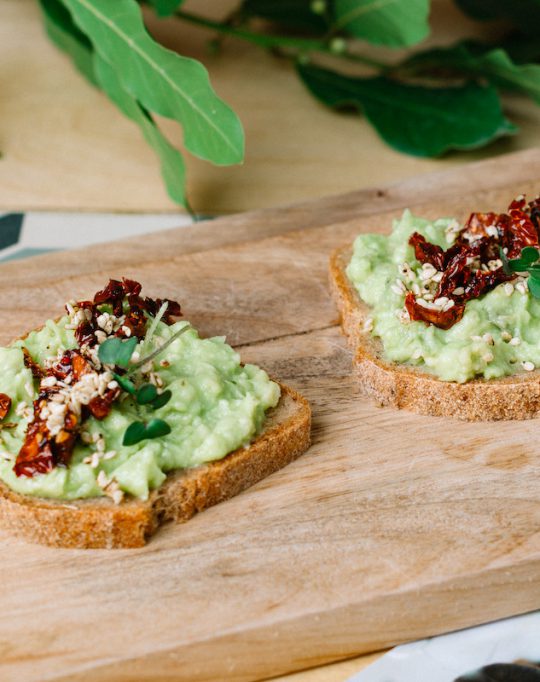 Mama Terra – Veggie Corner
More affordable than some of its competitors, Mama Terra is a cozy, warm place with cheap vegetarian, and even some raw vegan, dishes on offer. Located in the Sololaki area on the Old Town's edge, this is a brief walk from Liberty Square.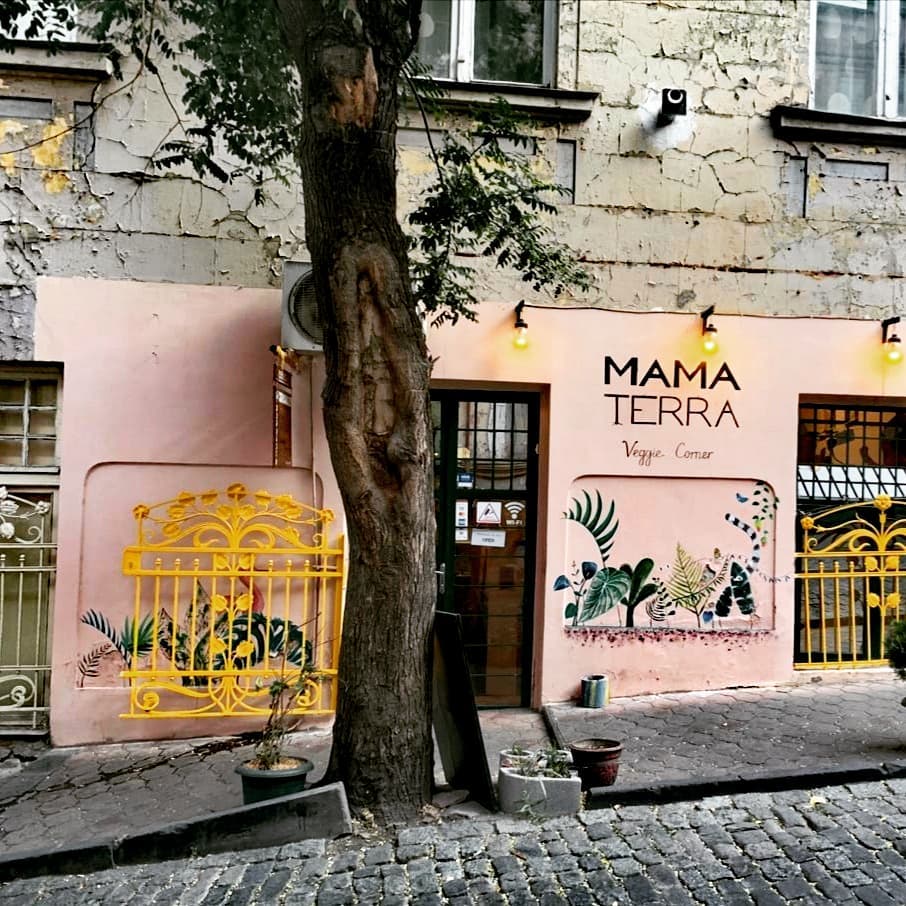 Cafe Leila
One of the city's most beloved vegetarian spots, this cafe is actually pescatarian, offering a few food dishes, alongside more plentiful vegetarian and vegan options. Even in an eccentric neighborhood (the cafe is located directly across from the Anchiskhati Basilica, next to the Rezo Gabriadze Marionette Theater's quirky leaning tower), Leila stands out for its memorable interior design.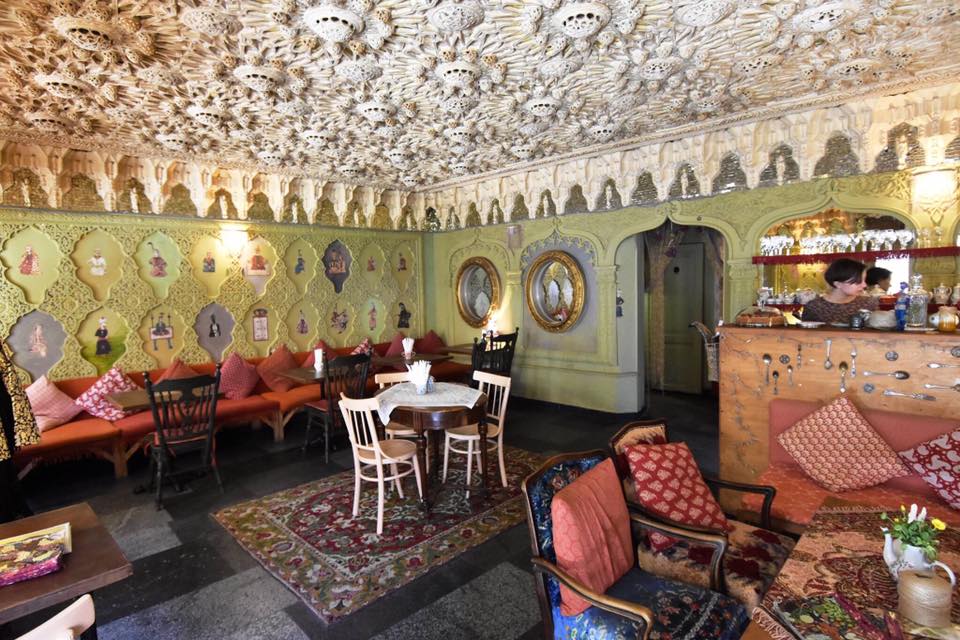 Kiwi Vegan Cafe

Tbilisi's first vegan cafe, Kiwi is meant to serve as a place, not just for meals, but also a place for meetings, or even those who just need a quiet place to study or work. Along with a rich menu and friendly atmosphere, you can use the cafe's wifi without feeling an obligation to order anything, although we doubt you'll be able to resist the temptation!
Salobie Bia
At Salobie Bia one of the well renowned local chefs, Giorgi Iosava, offers you his variations of authentic western-Georgian traditional dishes in a post-communism interior restaurant combined with modern art, which you can buy. The name means 'Bean House' and the lobio here are a must-order. The menu isn't entirely vegetarian but there are plenty of choices.
Cafe Chaduna
A new member of Tbilisi's culinary scene, this place combines an interesting interior with creative takes on Georgian cuisine, 90% of which is vegetarian. We recommend this place for breakfast or lunch.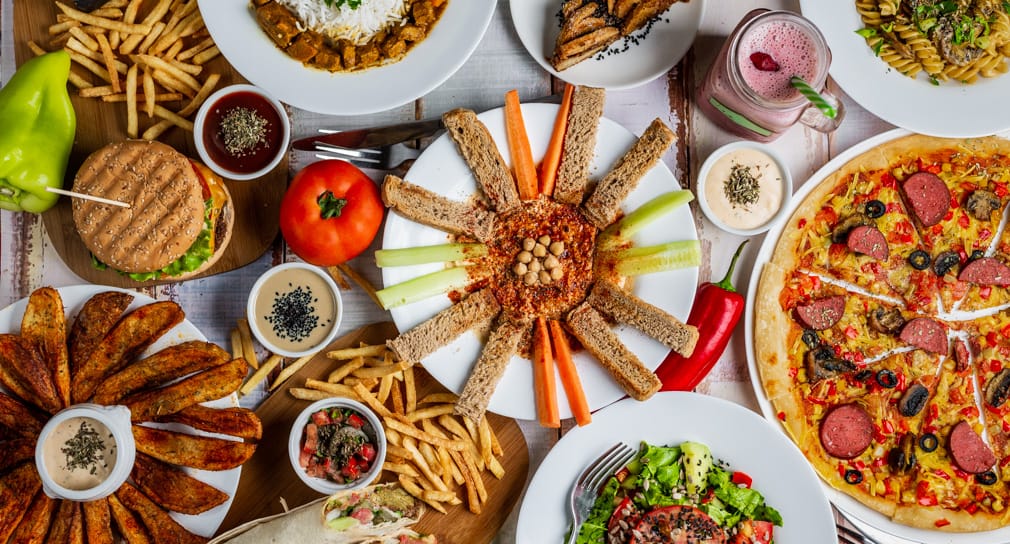 Eating Veggie in Georgia
If you find yourself craving something meat-free and far beyond Tbilisi, don't fret, Georgian cuisine has plenty of vegetarian and vegan classics. If you're considering a typical Georgian restaurant, just ask your server for vegetarian options, or what ingredients were used in dishes, as many regions and cities have their own takes on food found across the country. Here are a few traditional vegan dishes to seek out:
Eggplant with walnuts
Simple and delicious! Fried eggplant slices are usually stuffed with ground walnuts and Georgian spices, especially garlic and coriander, though there are many other common variations.
Georgian Salad
This salad is made from regular cucumber and tomato, but small additions such as Osmin purple basil, Kakhetian sunflower oil, and ground walnuts make it super delicious. Like the dish above, the additions vary from cook to cook, depending on taste. I usually add a bit of vinegar as well.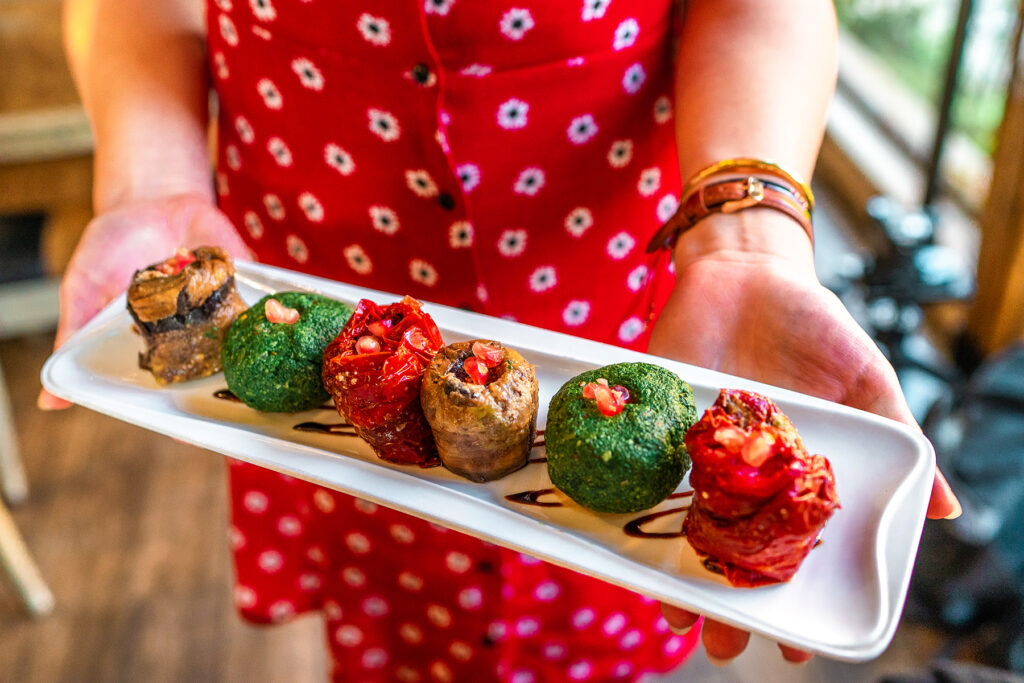 Pkhali
Pkhali is made of ground vegetables and herbs, mixed with Georgian spices and walnuts (perhaps by now you're starting to understand just how omnipresent they are in local cooking!) The most popular and common variation is made with spinach, but restaurants will often provide an assortment made with carrots, beets, and even bell peppers. In some places, eggplant with walnuts also comes with a pkhali assortment.
Lobio (cooked or stewed beans) in a clay pot
Lobio is one of Georgia's most beloved dishes, among vegetarians and carnivores alike. Naturally, there are many ways to prepare it, with different herbs and seasonings, and approaches that can make the dish more of a stew. Based on beans, this is also an affordable meal, even if paired with Georgian salad, Mchadi (cornmeal flatbread), and some cheese.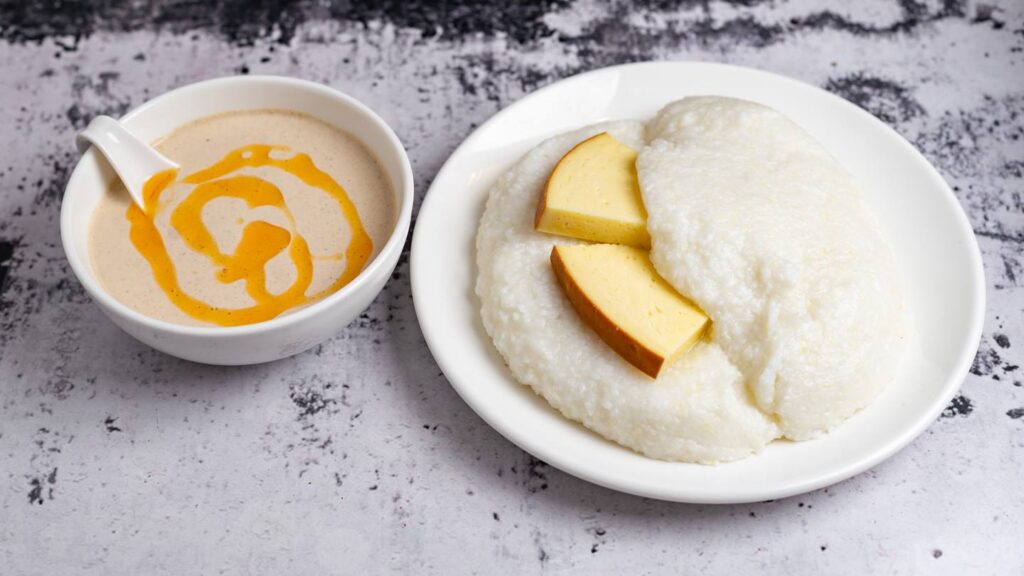 Ghomi
A simple dish composed of corn flour and cornmeal, this is often served with cheese (which melts into the dish). Fortunately, there's a popular, and potentially more richly flavored, vegan alternative made using Bazhe, a common walnut sauce that contains garlic and spices. Vegetarians should seek out Elarji, a variation made with ample portions of salty Sulguni cheese. Originally hailing from Mingrelia, the region north of Batumi and west of Kutaisi, this is a must-eat if you find yourself there as well.
Ajapsandali
Yes, it's eggplant again, but prepared in an entirely new way. Aubergine is boiled together with potatoes and tomatoes, as well as herbs, garlic, and spices. Although a good dish for winter, this is a popular entree in the summer.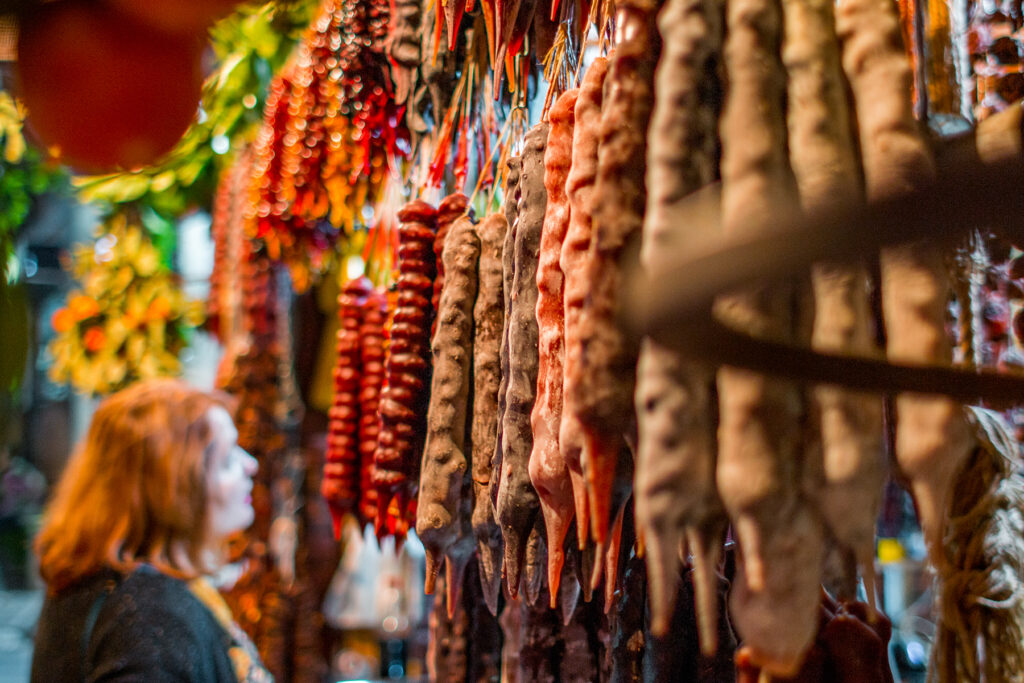 Churchkhela & Pelamushi (Tatara)
Churchkhela is one of the oldest sweets in Georgia, dating back to the 14th century. Nutritious and hardy, it was carried by soldiers as a quick source of energy. A string is threaded through walnuts or hazelnuts, then dumped into a bowl of grape juice thickened with flour (occasionally corn flour), and boiled. The mixture is then hung and left to dry for several days (then generally hung somewhere else to sell). Pleamushi is the chewy mixture coating the nuts, and is sometimes served separately, which makes for a great treat in its own right.
Although Georgians love meat, and you can find it served anywhere, at any time, even the biggest meat lover sometimes needs something lighter. This is one reason why even traditional restaurants abound in quality vegetarian and vegan dishes, using ingredients that have naturally been far easier for the typical peasant to acquire.
I highly recommend Georgian salad and Lobio in a clay pot, which perfectly pair together, served with Mchadi and cheese. For a different flavor, I advise adding some grape vinegar or adjika (a spicy sauce resembling pesto but made with red peppers, ground walnut, salt, and various herbs and spices), like I do myself. When in Tbilisi, go out and find your perfect vegetarian dish. You won't regret the results!

Gio was our man in Tbilisi, Georgia 2019-2022. Before coming to JayWay, Gio had already spent more than seven years in tourism, designing one of Tbilisi's most popular tours, and learning how to show destinations from different points of view, revealing their hidden beauty. To better serve guests, Gio is fond of hiking beyond the city, especially in the mountains, or even taking part in extreme sports.