For most people their initial impression of Tirana is that it's a chaotic city. That perception isn't totally wrong, but at the same time that chaos is a sign of the city's youthfulness and vibrancy. Tirana's welcoming vibes and lively atmosphere will definitely make you want to return.
Jump to a section of this article
Welcome to Tirana – the evening of your arrival
Tirana is surprisingly compact, so it's easy to reach anywhere by foot. After checking in, let's walk to the New Bazaar, a newly renovated and modern market in the Old Town, for a quick introduction to the city. The Home, where we'll have our dinner, is at the Bazaar's heart, and offers great views and unique dishes combining traditional recipes with fine dining techniques and ingredients. I recommend the wild boar with quince, tomato spogue, and beet, then ending with a delicious chocolate cremeux tart with pistachio cream and wild strawberry.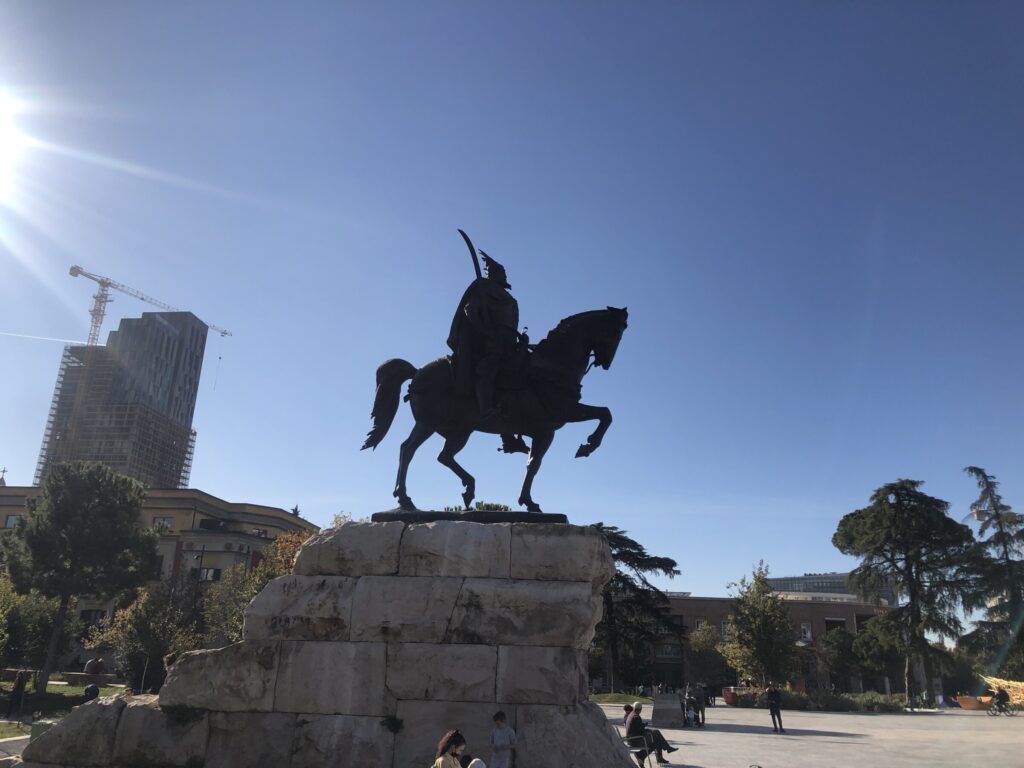 Day 1: Getting to know Tirana
Morning:
Let's start again with the New Bazaar, where you can see people trading goods in the open air, surrounded by old-fashioned villas in the local style. We'll then stop for breakfast at Café Botánica in the National Opera building, which offers a full view of the city center from the central Skanderbeg Square, facing the National Museum, Skanderbeg statue, and other attractions.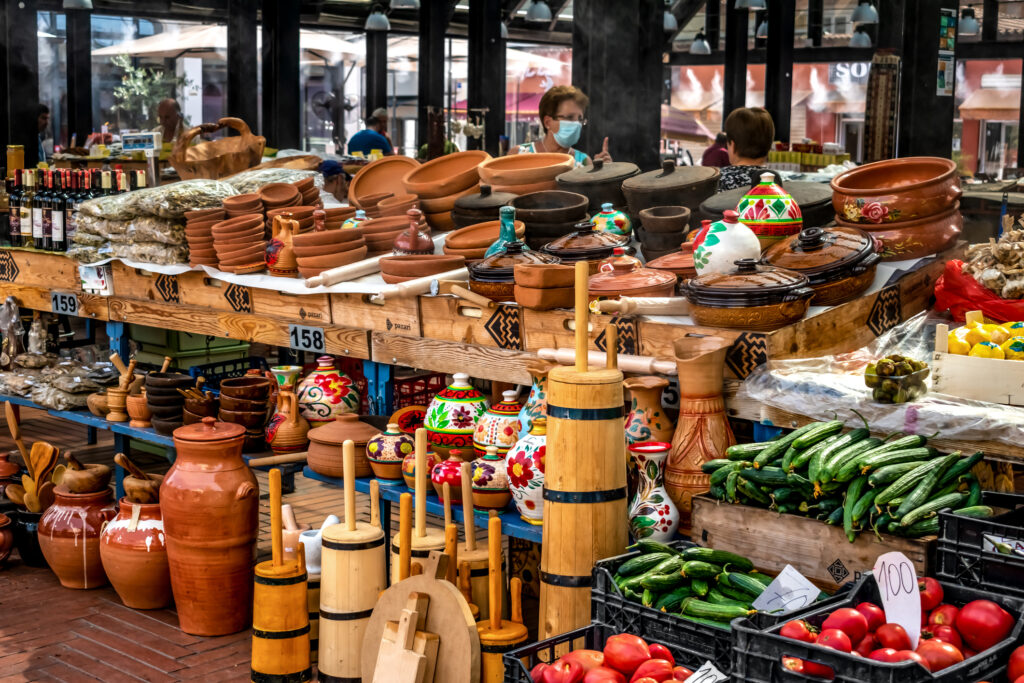 Once fully breakfasted, we'll continue our tour along the Martyrs of the Nation Boulevard, the capital's main street, where we can see the Pyramid (originally a museum for Enver Hoxha, the communist-era dictator), the Prime Minister's Office, Presidential Palace, and new Tirana stadium, then do as the locals do and enjoy a quick coffee break, at the unique Komiteti – Kafe Muzeum. This bohemian place is filled with communist-era furniture and decorations, and thus serves as both a cafe and museum. You can enjoy a coffee or opt for a local aperitif in the form of one of 25 varieties of raki, Albania's strong, popular fruit brandy.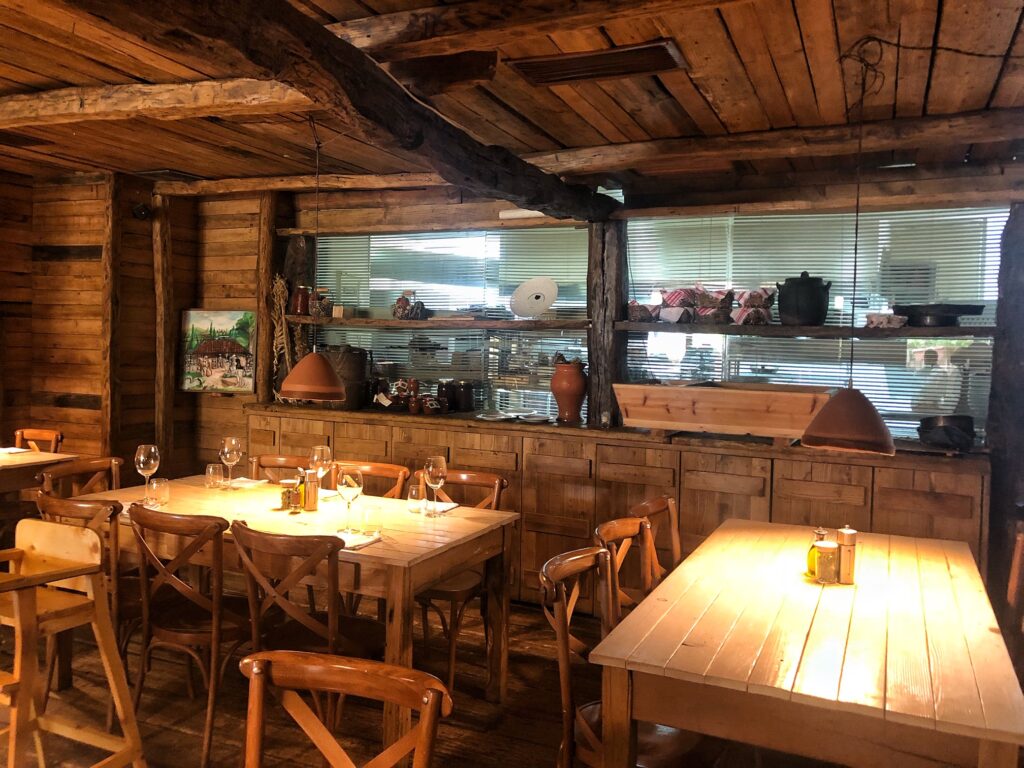 Lunch:
We'll continue our tour by moving on to the Blloku ("Block") area, where we can find Hoxha's home (the district was the place of choice for Albania's communist elites). After gawking at the facades and learning the stories behind them, we'll continue to the Grand Park and its Artificial Lake (the city's naming committee aren't always the most creative). The park is a great place to enjoy a walk in fresh air. After working up an appetite, we'll enjoy a delicious lunch at Mullixhiu. This restaurant has been cited in endless international articles and won various culinary awards. This mix of fine dining and a traditional restaurant offers a degustation menu where you can taste a sizable amount of each dish of the menu. This is a must try!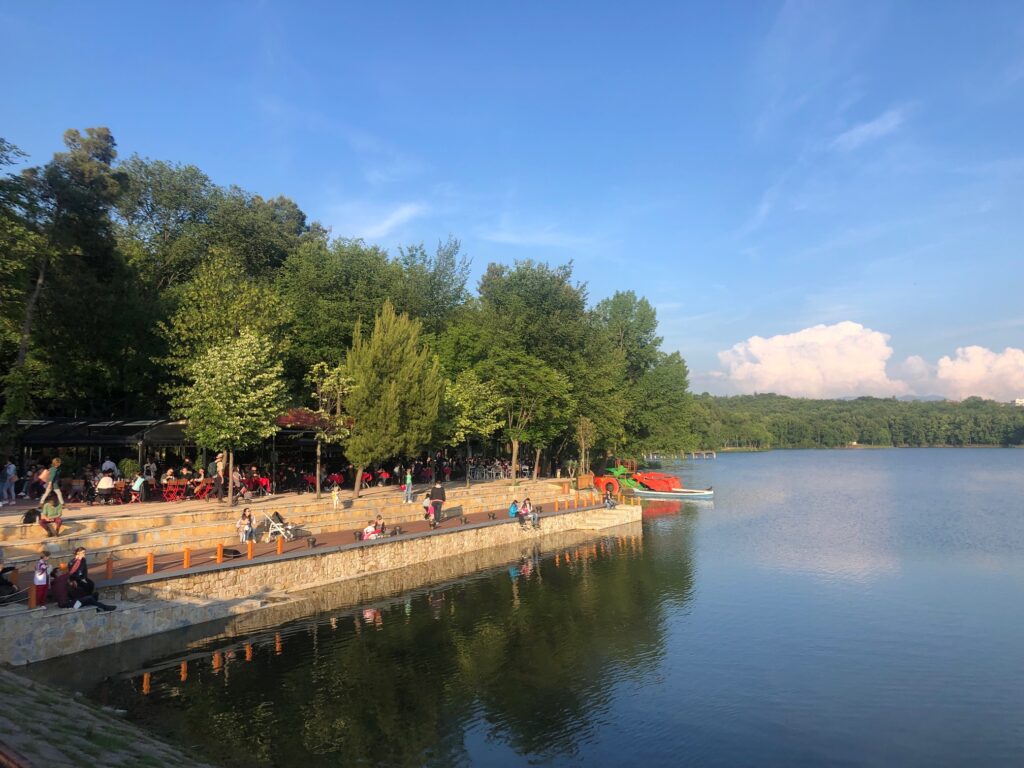 Afternoon/Dinner:
After a short break, we'll have a more relaxing afternoon, enjoying a nice cocktail at Muma Bistro Bar, then another across the busy street at City Art, where you can practice Tirana's most popular hobby: people-watching.
Once we're on the move again, we'll proceed to Tirana Castle, which blends Byzantine ruins with more modern construction. Also known as the Fortress of Justinian (after its probable Byzantine founder). There, within the later Ottoman walls, we'll find not only diverse restaurants, coffeeshops, and stores, but also various cultural and art shows and exhibitions.
One of the castle's crown jewels is the traditional restaurant Luga e Argjendte. The owner of this unique restaurant only uses organic ingredients from local farmers. This is definitely a "love at first bite" experience.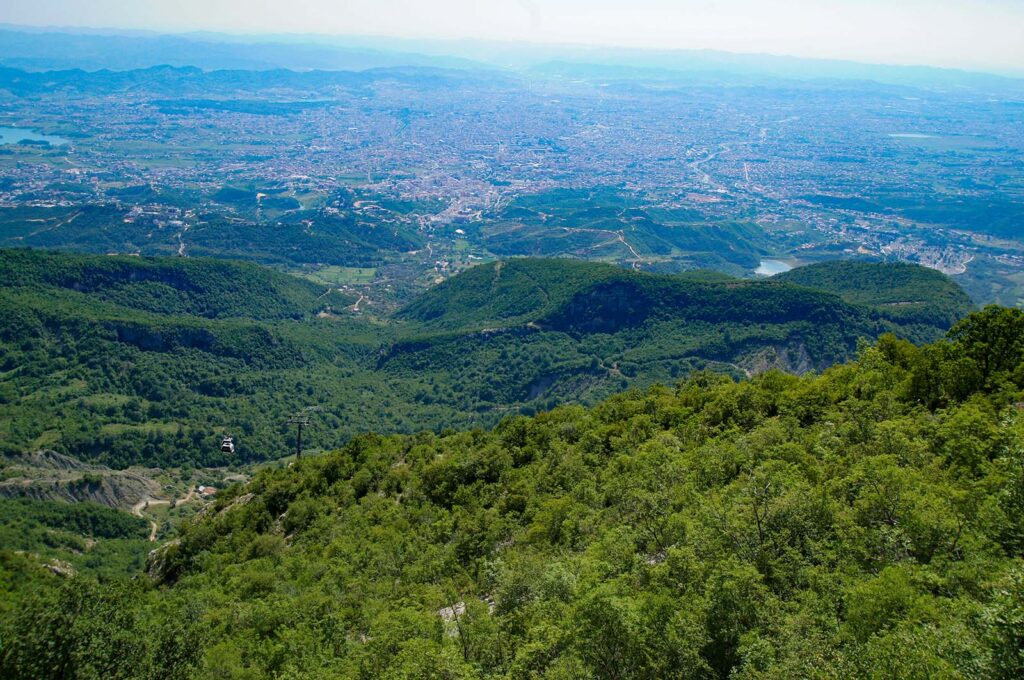 Day 2: Exploring the city's outskirts
Morning:
Today we'll get a new perspective, by riding the cable car up Mount Dajti, the mountain that looms over Tirana. We can reach the Dajti Ekspres cable car by taking a bus, followed by some walking, but we'll be taking a taxi, which should cost 5 euros each way at most. Rising to 1,613 meters (5,300 feet) above sea level, this mountain and its national park offers plenty of opportunities for hikes, horseback rides, and delicious traditional desserts. With clear weather, you can see the whole of Tirana from up here (as one of Europe's sunniest capitals, your chances of a rewarding view are good).
After we take the cable car back down, right by the station we'll find BunkArt 1. Once the underground command center intended to protect Hoxha and his cabinet from nuclear attack, this is now a museum devoted to daily life under communism, and Albania's communist-era military. As the name implies, the bunker also hosts a contemporary art museum.
Lunch:
We'll stay on the city's edge and continue to the hilltop Petrela Castle, another Byzantine reminder. The beautiful 5th century tower in the center was later used to keep an eye on Ottoman incursions, and still offers amazing views. Skanderbeg, the national hero, used to visit this beloved castle often, as it was owned by his sister. This is best avoided if you're not sure of foot as the stairs to the castle are not well protected.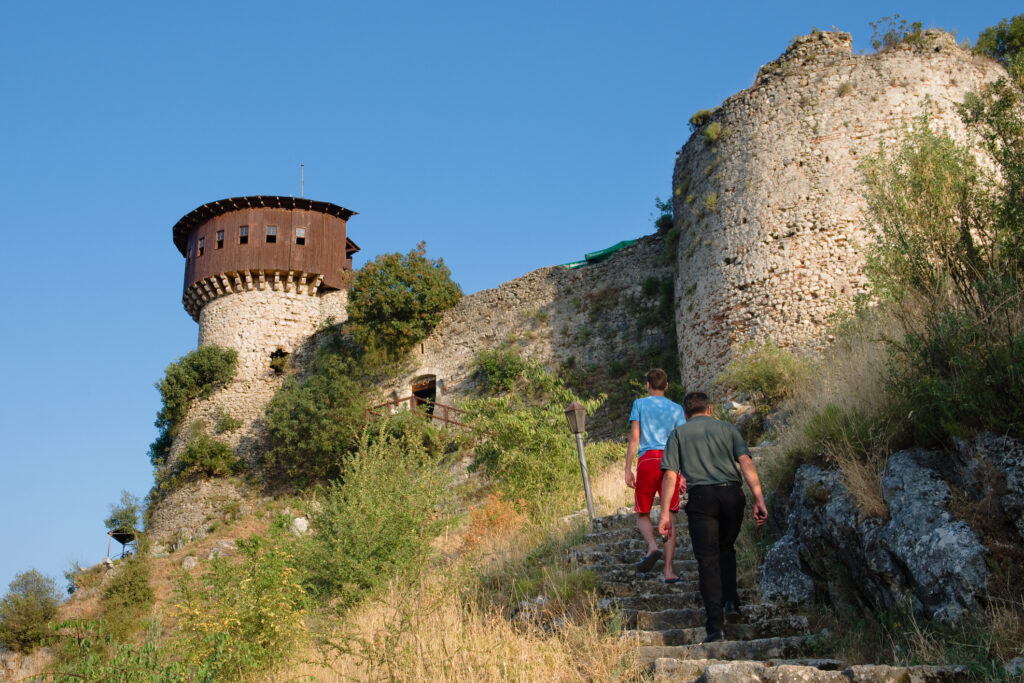 On a short ride from the castle, we'll enjoy lunch in one of Tirana's newest, but best, eateries: Fustanella Farm. This organic farm and slow food restaurant is hard to forget. The menu changes weekly, depending on the seasonal ingredients available. Sated, we'll enjoy the verdant greenery surrounding the road back to the hotel.
Dinner:
With the sun setting, it's time for one of the city's biggest attractions, Blloku's nightlife. We'll make sure to get a full stomach there by enjoying some traditional dishes at Era Restaurant, especially the "Tave Kosi" (a yoghurt and lamb casserole).
Right next to Era Restaurant is one of the city's most iconic alternative spots, "Radio Bar." As the name hints, this bar is full of old radios collected over the years, as well as communist-era furniture, and unique cocktails featuring Albanian ingredients. We can also continue the night at the more formal and sophisticated Salt, a bar and restaurant nearby that often offers up live music.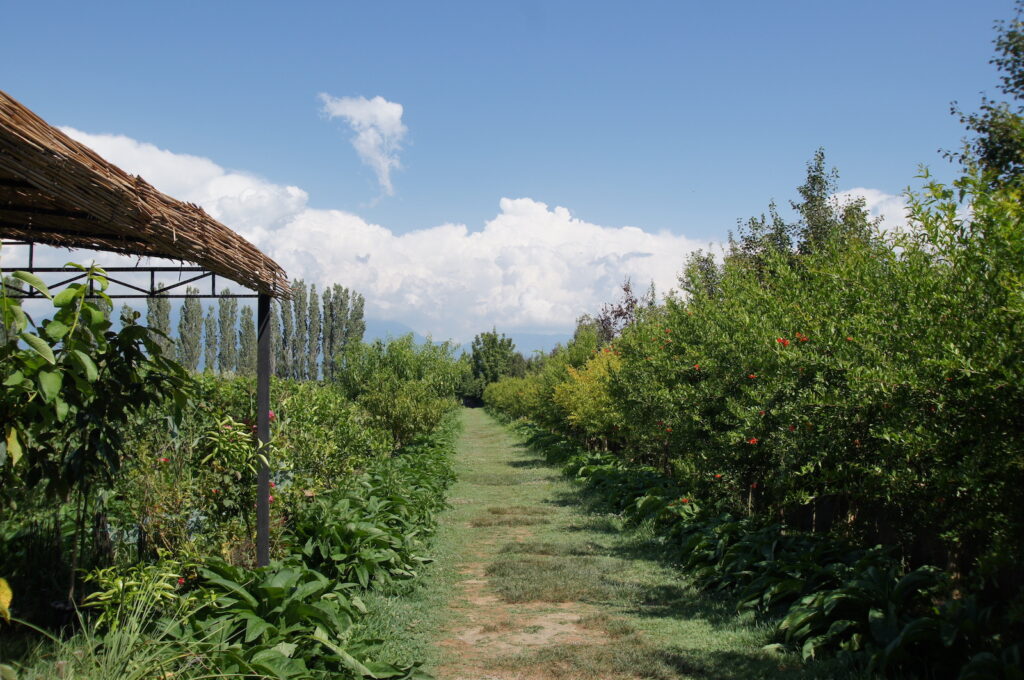 Day 3: The Cape of Rodon and an Organic Farm & Winery
Morning:
Let's get out a bit further for your last day in town. We'll enjoy an hour's drive to the Cape of Rodon, also known as the Cape of Skanderbeg. This peninsula offers amazing views, and the ruins of the 15th century Church of St. Anthony and seaside Rodoni Castle, built by Skanderbeg.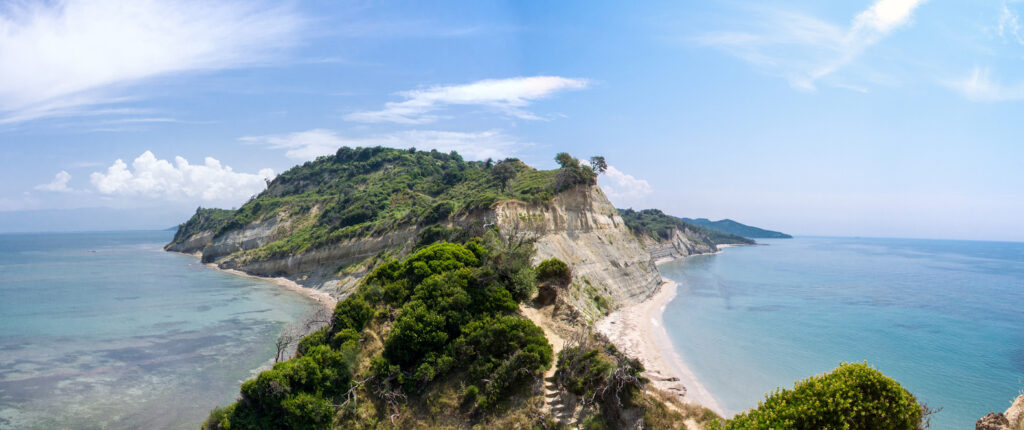 Lunch:
If the weather is good, we can go for a swim by the castle, but either way, we'll head to another unique farm and eatery, Uka Farm. This restaurant has amazing traditional dishes, great sampler platters offering a taste of many of the place's dishes. The story of Uka Farm is an interesting one. Rexhep Uka, a professor of entomology, initially created this biodynamic organic garden for teaching his students. Now it is run by his son, Flori, a sommelier turned winemaker. The quality of the food and wine you'll be served here with stay in your memory forever.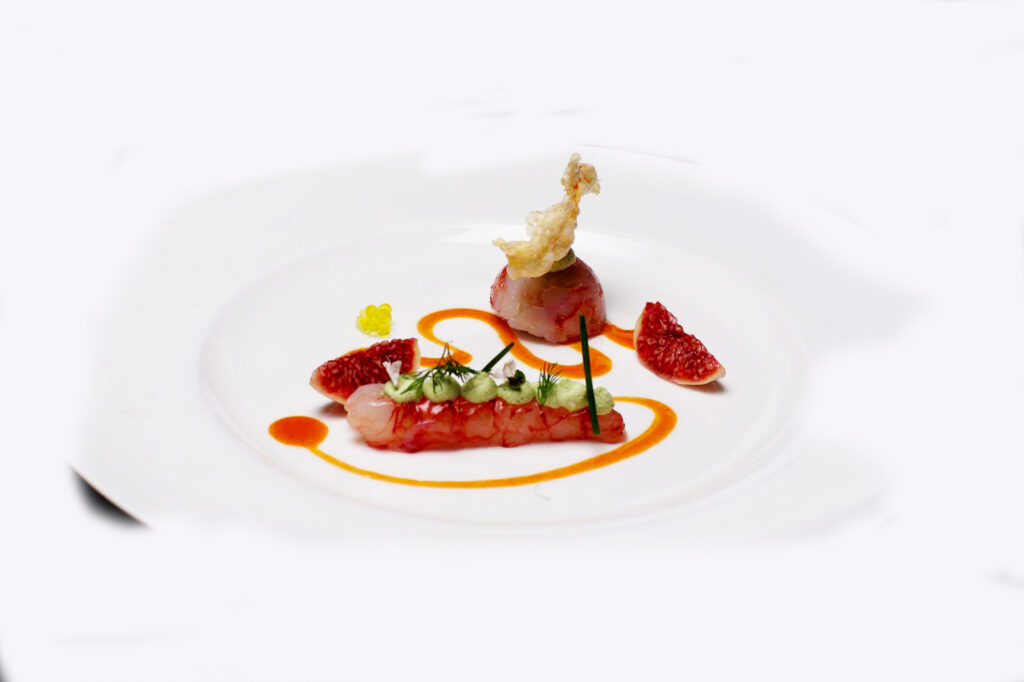 Dinner:
End on an especially memorable note with fine dining at Aba 21. Situated on the roof of the colorful ABA Business Center, this restaurant offers fine Italian and Mediterranean cuisine and amazing city views. Enjoy one last cocktail, and live jazz, at Hemingway Bar. Fittingly, this friendly place offers over 100 types of rum, and often organizes live music on the street in front.
What are you waiting for? Come to Albania!
From an artsy nuclear command bunker to the panoramic heights of a mountain looming over the city, Tirana has plenty to offer those seeking natural beauty or manmade art, great food or unique history. Come to Albania, and we'll be happy to show you around.

Lorina's strong background in both travel and travel marketing make her ideal for her dual role as marketing executive and destination manager/city host for Albania. Albania is still slowly becoming known to Americans as the exciting destination it is, and Lorina's role allows her to shape our offering in the region to showcase the best of it. Being based in Tirana, her hometown, she relishes every opportunity to meet our guests and welcome them to her country.