Beyond goulash, most people don't know what to expect of Hungarian cuisine when they arrive in Budapest but leave the country pleasantly surprised by the rich flavors and variety of ingredients.
If you think that Hungarian cuisine is mostly about reddish paprika flavored dishes, you wouldnt be too far off the mark. There's hardly any Hungarian dish which could not be enhanced with some more "sweet" paprika. That "sweet is a bit of a misnomer though, it's not sweet, so much as "soft" – the clue is in the French translation on the packet, "doux" meaning soft. De-strengthening of paprika is a Hungarian invention and has been praised for more than a century. But no worries, hot paprika is not underrepresented either. You can always put it into a good soup, 'paprikás' or stew.
We asked our team in Budapest to tell us their favorite Hungarian dishes that they enjoy eating and cooking themselves and recommend to our guests to try when they come to Hungary. Some you'll find in restaurants, but others are usually only cooked for special occasions or at home.
If you're hungry for more details on any of the above dishes, just google the Hungarian name + recipe.
Jump to a section of this article
How Many Courses to Order?
Traditionally Hungarian meals at home would consist of a rich soup such as goulash or fish soup, followed by a hearty dessert such as dumplings filled with fruit. In restaurants you'll find fully filled out appetizer and main dishes sections on menus. Portion sizes aren't as large as you might be used to in the US, so we recommend ordering at least a soup or appetizer, and a main. The decision on whether to order a dessert can be delayed, and that's between you, your conscience, and your waistline.
Appetizers
Given the popularity of soups, many Hungarians skip the appetizers section of a menu, but there's one popular app that locals find hard to resist when they see it, and that's Körözött, a cottage cheese spread. You'll very often come across goose liver occupying the upper reaches of prices in the apps section at Hungarian restaurants. Hungary is the world's second largest producer of foie gras after France. Production in Hungary, as in France, is not humane. We leave the decision to order it up to you.
Körözött – cottage cheese spread
It seems everyone has their own way of making Körözött. The key ingredients are cow of sheep's milk cottage cheese, a little sweet red paprika which gives a light orange color, diced onions, butter, and sour cream. Add ground caraway seeds to give further taste dimension – that hint of citrus, anise and pepper. If you're making it at home, you should leave the spread in the fridge for a few hours to chill and for the flavors to come together nicely. Körözött is served on slices of bread or with crusty rolls, often garnished with scallions or a slice of tomato, for that extra touch of freshness.
Soups
Hungarians take their soups seriously. Only order a soup and a main if you're especially ravenous. Most Hungarian soups pack a lot of pieces of protein, as well as flavor!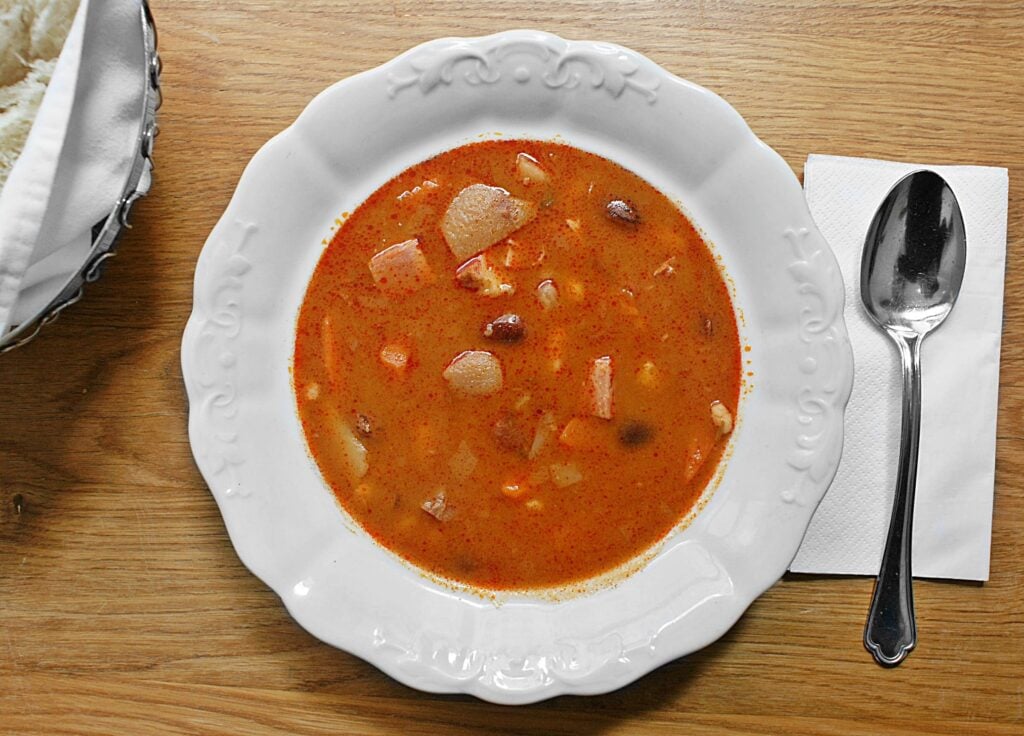 Gulyás – goulash soup
Unless you're eating a plant-based diet, it would be a shame to go to Hungary and not try a classic goulash soup. You might have had something called goulash elsewhere, but in some countries, like the Czech Republic, the goulash bears very little resemblance to the original. Hungarian chefs and home cooks alike tend not to stray far from the timeless recipe by the famous Karoly Gundel (he of the famous restaurant near Heroes Square).
A traditional goulash starts with onions cooked in lard or oil over a low heat till they become clear – you don't want to brown them – then a few spoonfuls of sweet red paprika powder. Cubes of beef – almost any cut will do, and there's no need for expensive meat – are added and sauteed until brown. Then add water to make a broth, and cook the soup for a couple of hours at least. Shortly before serving cubes of potatoes and "pinched pasta" are added, just long enough to cook them. Then your goulash is ready. Root vegetables such as diced carrot or parsnip might be added. Some cooks make the gulyás their own by adding a little garlic, a dash of wine, or some herbs like marjoram.
Újházy tyúkhúsleves – chicken soup
If you're ever invited to a Hungarian wedding, you're guaranteed to find this served at the reception. Újházi is a flavorful chicken soup packed with a vegetables — most common are carrots, green peas, and mushrooms — and noodles. This filling soup is named after Ede Újházi, a 19th-century Hungarian actor and a rambunctious character would would have the kitchen of Wampetics restaurant (the predecessor of the aforementioned Gundel) make it for him.
Halászlé – fish soup
This freshwater fish soup traces its origins to the fisherman who lived along the banks of the Danube and Tisza rivers. It is a staple of family dining tables on Christmas Eve throughout Hungary. The recipe usually calls for a mix of fish found in Hungary's lakes and rivers, such as carp, catfish, perch, and pike. As with any good Hungarian recipe halászlé contains a good helping of paprika powder. The paprika forms the base of the soup, as it should be dissolved in oil or lard at the beginning. Besides water and the fish itself the only other ingredients are a chopped onion and a pinch or two of salt. Served with some fresh soft white bread to mop up the leftovers.
Palócgulyás – "summer goulash"
The Palóc soup is frequently referred to as the summer version of a goulash soup. It is said to have been inspired by Kálmán Mikszáth, one of the most famous Hungarian writers. To be faithful to the original recipe, the base should be lamb or young mutton. For some people the gamey flavor might be a bit much, so if you're making it at home you could use beef or pork. The summer aspect of Palócgulyás comes from the combination of fresh dill and an intentionally sour flavor. This is achieved with vinegar, better yet, tarragon vinegar, or at a push, lemon juice (though that wouldn't be very Hungarian).
Main Dishes
Vegetarians will be pleased by the variety of authentic meat-free dishes among Hungarian entrees. Some are traditionally made without meat, and others can have the meat left out without changing the dish all that much. Omnivores will have their pick of various kinds of meat and fish based dishes. Here are a few we suggest from when you're visiting the country.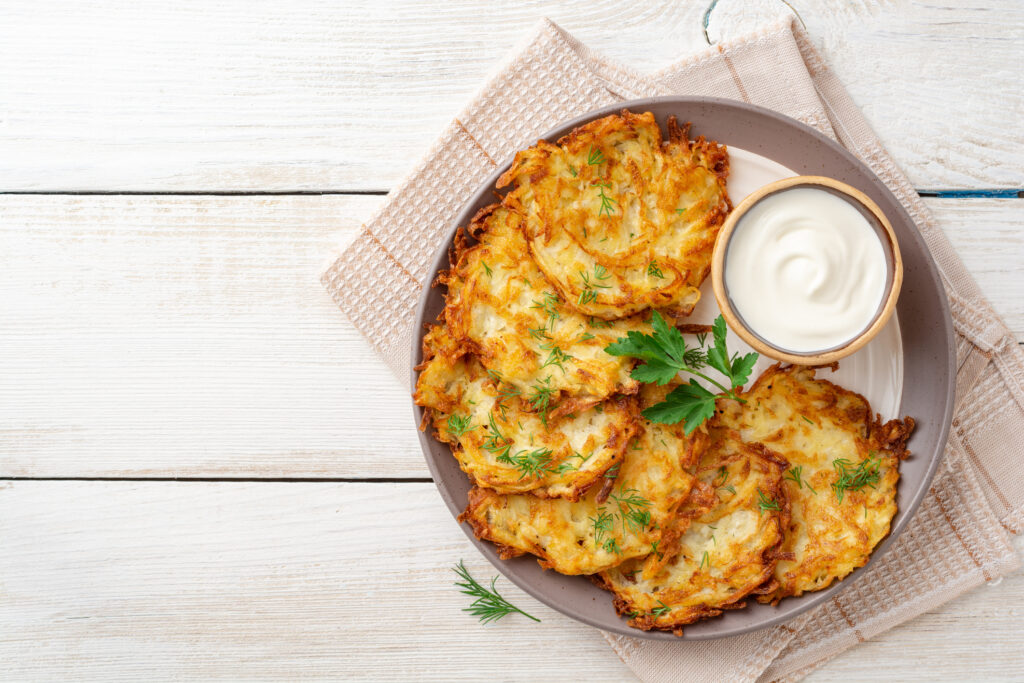 Tócsni – potato pancakes
These fried potato pancakes are popular at fairs, markets, and festivals, and can be considered a side dish, or the main event, especially when topped with sour cream or a yogurt. Made from grated potatoes, flour, and eggs, this national dish traces its roots back to the poorest of times, when inexpensive ingredients were all people could afford. Flavor is in the simple form of garlic, salt, and pepper.
Csirkepaprikás – chicken paprikash
A staple of every Hungarian kitchen, chicken paprikash is a dish you'll find almost everywhere you go in the country. The dish gets its name from the, you guessed it, sweet Hungarian paprika that gives it both color and taste. To give a better understanding of the simplicity of a paprikash, and maybe inspire you to make it at home, here's how to make it:
The base is a roux including sweet paprika, and diced onions. Once the onions are glassy, add some water, and chopped tomatoes. Stir, then add the chicken legs and drumsticks, season, and cover. Cook on a low heat for half an hour. Add in bell pepper rings and leave for another 10 minutes. Remove the chicken onto serving plates. Add a sour cream and heavy cream mixture to the pot and stir till blended. Pour the sauce over the chicken and adorn with a spponful of sour cream if desired. A chicken paprikash is usually paired with galuska (like Austrian spaetzle) or a polenta mash.
Harcsapaprikás – catfish paprikas
Catfish paprika is not an everyday dish at all. If you're interested in trying it, it's worth checking the restaurant's menu ahead of time. Harcsapaprikás is usually prepared for festive occasions, as catfish is an unusual, impressive ingredient that all dinner guests will notice. Catfish paprika recipe is often served for Christmas, but families will often prepare it for birthdays and name days. The preparation is similar to the chicken paprikas above. The catfish fillet is cut into chunks before cooking. Served with cottage cheese dumplings for the most authentic experience. Vegetarian versions of the dish substitute the catfish with mushrooms.
Finomfőzelék – vegetable pottage
This dish's name directly translates to "yummy pottage" and is something that will instantly remind any Hungarian of their childhood. The vegetables are carrots, peas, and kohlrabi, which are boiled in a mix of water and milk. A little sugar is sometimes added too, explaining the popularity of this mild and sweet dish with kids. It can be eaten on its own or as a side dish to simply cooked meat, fish, or eggs, or just a hunk of bread.
Hortobágyi húsos palacsinta – stuffed savory crepes
Not all crepes are sweet! Take a stew of onions, ground meat, tomatoes, sweet paprika, and sour cream. Drain the sauce from the meat, and wrap the meat in crepes, in a baking dish. Whisk flour and sour cream into the meat sauce until blended, then pour the sauce over the crepes. Put the baking dish in the oven and bake until the sauce bubbles.
Rántott hús rizibizivel – chicken schnitzel and rice with peas
A weekend family favorite, and a mainstay at family celebrations. Similar to a Viennese schnitzel, the meat is pounded, salted, battered, breaded, and fried. Chicken is sometimes switched out for pork or veal. Rice with green peas is most traditional but you could serve it with pickled red cabbage and mashed potato, or boiled potatoes with parsley.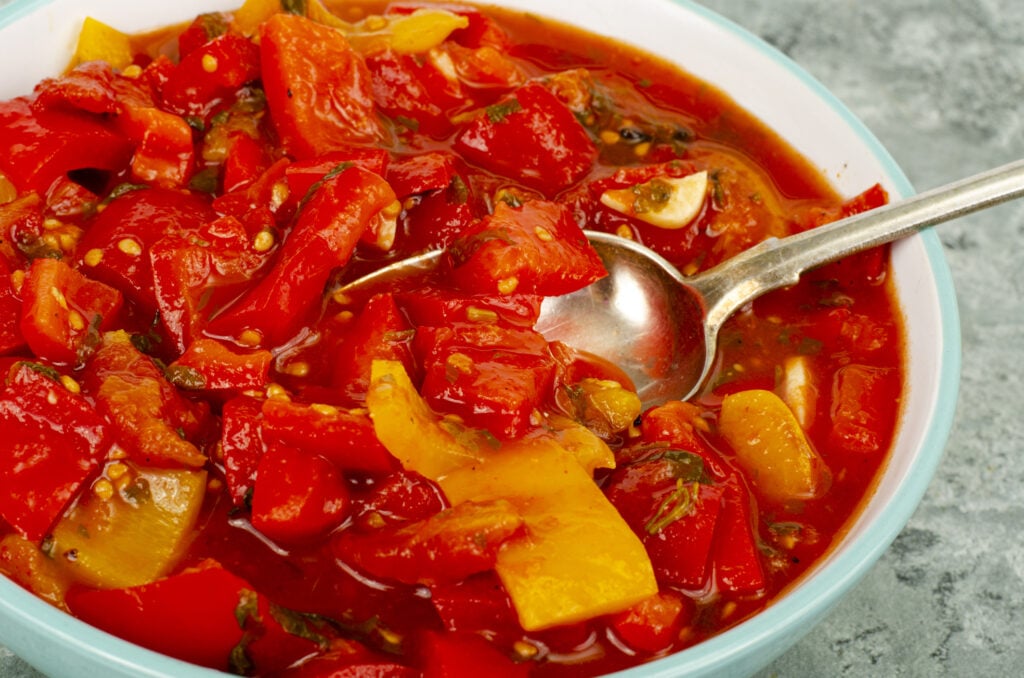 Lecsó – tomato and bell pepper ragout
This simple vegetable ragout can be served as a side dish, or a main with added fresh spicy Hungarian sausage, or eggplant for vegetarians. Lecsó (pronounced letch-oh) features three of Hungary's favorite ingredients, tomatoes, peppers, and paprika. Ideally use Hungarian green peppers (the long, light green pointy kind). Green bell peppers can be used in a pinch. Saute onion cut into strips, add strips of peppper, then tomato, salt, sugar, and sweet paprika. Cook until it's all soft and looks like a chunky tomato sauce. You'll find variations of this dish all over the Balkans, Central Europe, and Russia. Most countries fully acknowledge the Hungarian origins. In Czech and Slovak it's lečo, in German Letscho, and in Polish leczo, all pronounced the same as the Hungarian dish.
Desserts
Hopefully you've saved some room for dessert. Hungary's varied history means there's plenty of variety when it comes to the final course.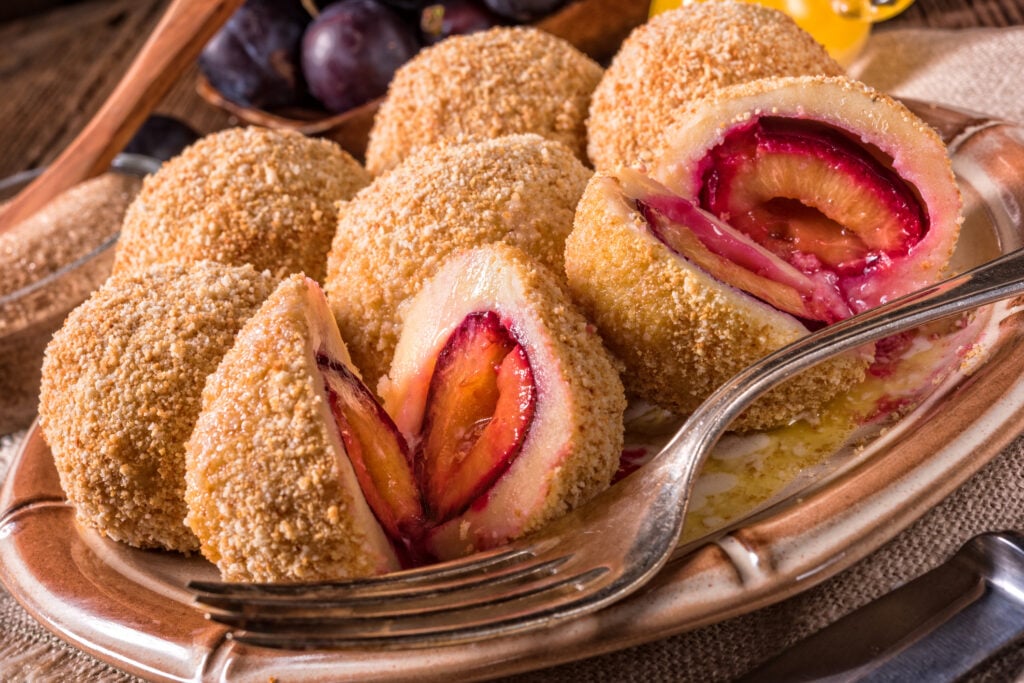 Szilvás gombóc – plum-filled dumplings
Easing us into the dessert section is a dish that can even be ordered as a meatless main. The first surprise for a "dessert" might be that the dough is made from cooled mash potatoes. This should be just potatoes, no additions like butter, cream, or salt. This is the same as Polish, Romanian, and Croatian plum dumplings. The Czechs and Slovaks usually use a dough from flour and quark. Unlike their neighbors, the dumpling dough is rolled with a pin, not hand-formed. The dough is wrapped around a pitted fresh ripe plum (not a jam) to seal in the plum. Put the dumpling in a pan of boiling salted water. When it floats, it's ready. For a finishing touch, coat with a melted butter and breadcrumb mix, and dust with cinnamon sugar.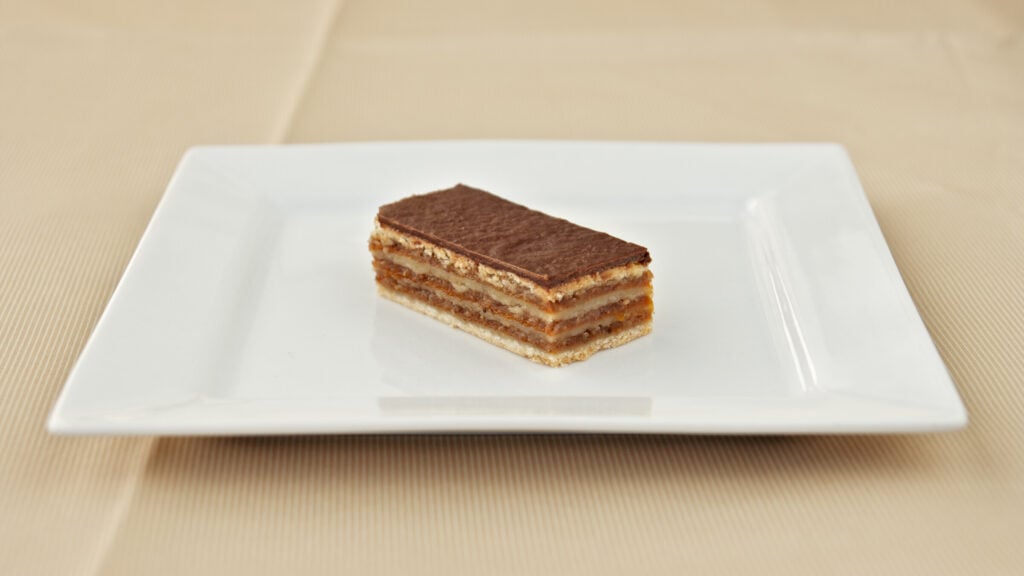 Zserbó – Gerbeaud Cake
Probably the most famous Hungarian cake, and café. Invented by the Swiss-born French confectioner who made Budapest his home. This layered cake with walnut, apricot jam, and a chocolate covering has been delighting visitors to the iconic Gerbeaud cafe in central Budapest for decades.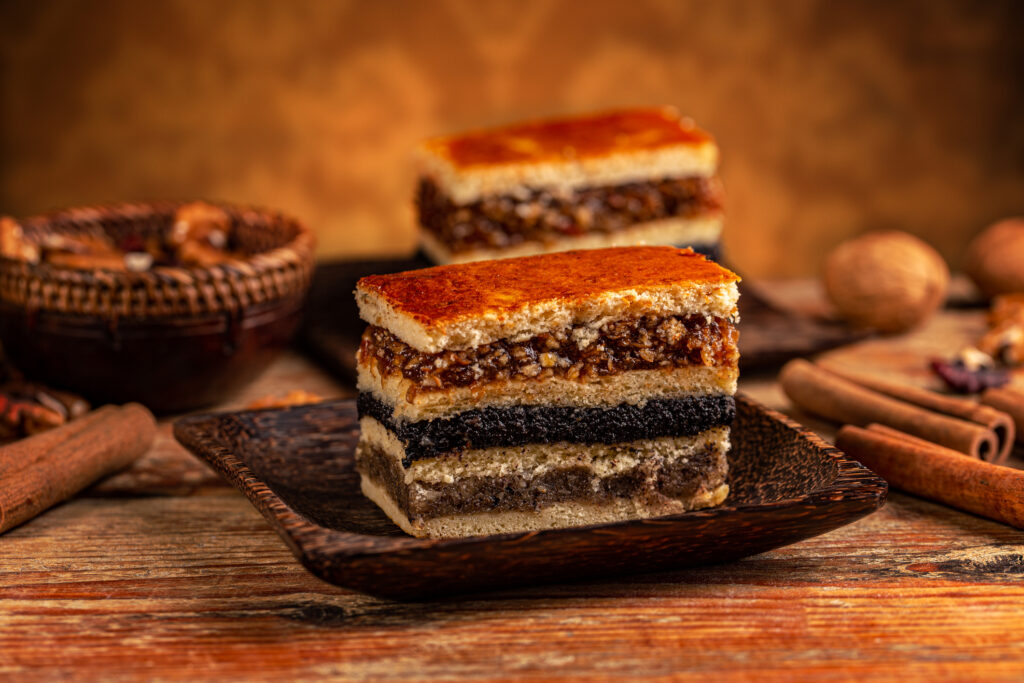 Flódni – layered cake with poppyseed, walnut, apple, and plum jam
Layered cakes are big in Hungary it seems but Flódni is said to have originated in the Jewish communities of the Carpathian basin, but it is now synonymous with Budapest. The most authentic original recipe calls for goose fat, but vegetarians will be pleased to know butter is now standard. A semi-dry wine is used in the many of the pastry layers, so it's not so kid-friendly as other desserts.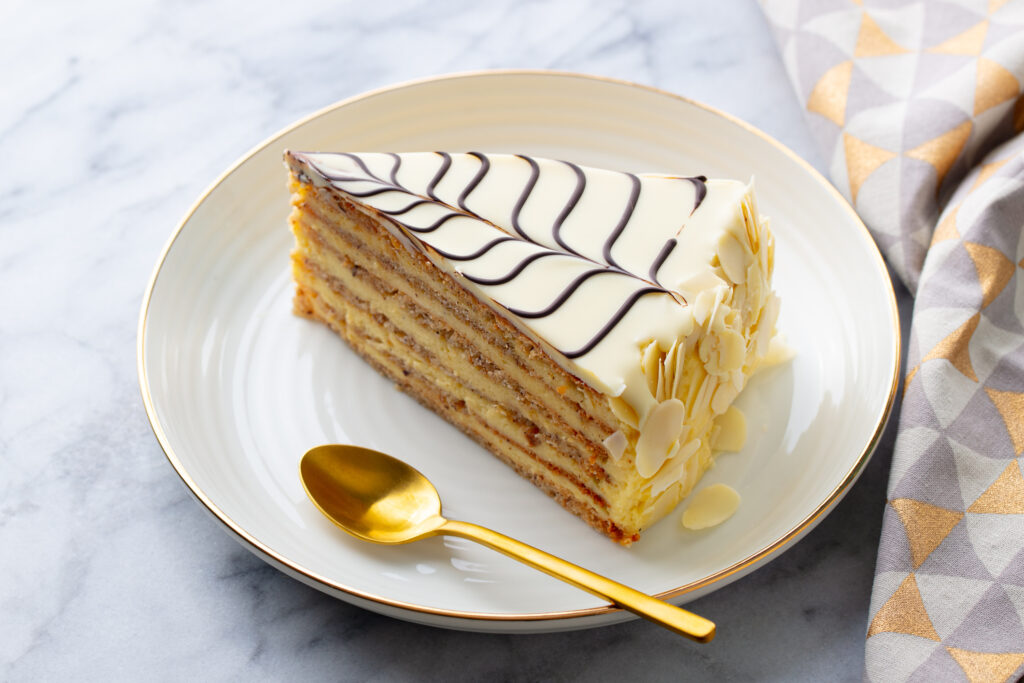 Eszterházy cake
A tour-de-force of layered cakes, the Eszterházy cake is a masterpiece of hazelnut or almond meringue and buttercream layers, finished with a glaze with a distinctive chocolate striped pattern. Seek this out in any of Budapest's finer cafes and you won't be disappointed.
Hungry yet?
We make it a priority that our guests never waste an opportunity to try delicious local dishes, wherever on our map they travel. If you'd like to take a tour of Hungary and any of her neighbors in Central Europe or Eastern Europe, we'll plan a custom itinerary for you. You'll stay at boutique hotels, take local food tours, and for your free time, you'll find your Guest Page packed with well-researched and tested dining recommendations,

Norbi's our City Host in Budapest and loves showing our guests his hometown. He loves keeping up to date on all the coolest things to do in the city and sharing that knowledge with our guests via our blog and Youtube channel (he edits all how own videos).