For the first-time visitor, Albanian cuisine might seem mysterious, but if you're a keen student of geography and history, you might be able to imagine what it could be like. A country's cuisine is shaped by both its place and its past, and you'll find that in Albania these forces come together with delicious results.
Jump to a section of this article
Mediterranean Ingredients
Albania's location in the Mediterranean means you can expect all the hallmarks of the Mediterranean diet. Key ingredients are olive oil, fresh fruits and vegetables, and fish as the main source of protein. Olive oil is the most frequently used vegetable fat in Albanian cooking, produced since ancient times throughout the country particularly along the coasts.
Balkan Flavors
As part of the Balkans, with its telltale Ottoman influences, you'll find Albanian dishes warm, with rounded flavors that combine to great effect with these Mediterranean ingredients. One fortunate legacy of the isolation of the communist regime is that farming in Albania has remained small-scale and locally owned, resulting in fruits and vegetables that arrive on your table tasting as you remember from your childhood.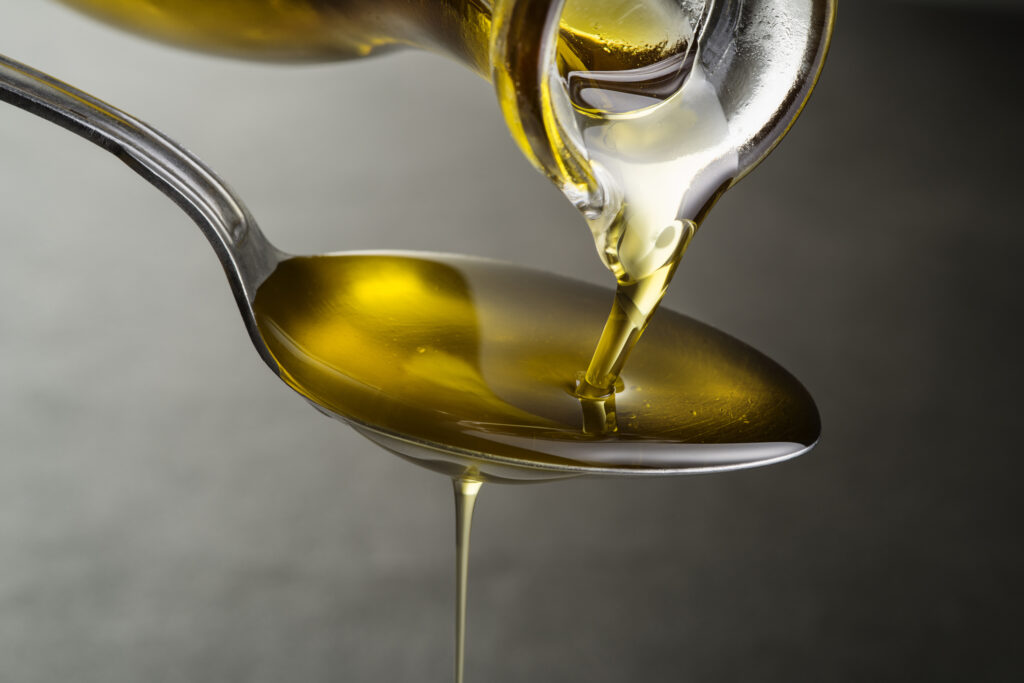 What's on the menu?
With such abundance from land and sea, you'll find a rich choice of dishes. From Balkan and Ottoman-influenced pies, pastries, and desserts, to well-prepared Mediterranean staples with tender meat fish, and an emphasis on simple, tasty ingredients. Don't expect the menu to stay the same throughout the country, even though it's relatively small. The terrain plays a big part too. Locally grown, raised, and caught, produce is preferred, and tradition runs deep here. Always ask what the local specialty is, to be sure you're really tasting the best Albania has to offer. KM-Zero eating is a way of life.
Albanian Breakfast Dishes
Fresh yogurt with honey and nuts
It sounds simple, and like something you might even have at home. If you find this at your breakfast buffet, give it a try. Albanian fresh yogurt is next level. And if you're traveling on the road that goes through the Llogara pass, be sure to stop at the place with the best yogurt and honey in the country. Your driver will know the place!
Petulla – Albanian donuts
Imagine donuts, but without the sugar. That's pretty much a petulla – it's fried dough made from flour, water, salt, and yeast. They're eaten on their own, with a salty feta-style cheese, or sweetened with honey, or berry fruit like raspberry. If you've had a Calabrian zeppole, then you're familiar with this. In fact the Arbëreshë, Albanian communities living in the South of Italy might have imported them to Italy.
Trahana
Ask an Albanian who remembers communism and they'll tell you all about trahana. Times of scarcity and hardship can lead to innovation. Trahana is made with wheat flour or semolina mixed with yogurt or milk. You might find it served as a plain porridge, on dry bread, with olive oil, or melted butter mixed with red pepper. Sour trahana is shaped into small balls, or rectangular blocks, and dried in the sun. When dry it is very light and can keep for a very long time. Although born from poverty, trahana is gaining ground in restaurants where it is combined with a risotto or a soup.
Byrek
Byrek, or burek, depending on the country you're in, is THE street food of the Balkans. It traces its origins back to the Ottoman era, and originates in what is now known as Turkey. It can be eaten any time of the day but makes for a fantastic breakfast on the go. Fillings you'll find range from the fairly standard cheese, meat, and potato, to more intriguing pumpkin, nettles, cabbage, zucchini or leek versions. Most byrek will look like those found in other countries, but in the central and southern part of Albania, you'll find pispili, a version made with corn flour.
Albanian Appetizers, Soups, and Side Dishes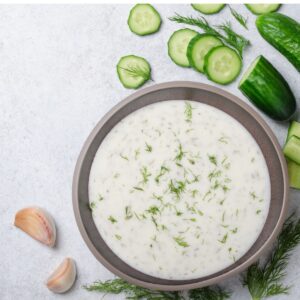 Tarator – Cold Yogurt Appetizer
If you've been to Turkey you might think you know Tarator, a dip made from walnut, bread and garlic, but you don't know Albanian Tarator. Here it's a cold cucumber soup with dill and yogurt. Bulgaria's version is similar too, and in Hungary you'll also find a version, with a few different ingredients. It is usually served with some fresh bread, and a salty feta-style cheese.
Kackavall – baked cheese
This traditional cheese is very similar to Italian ​​​​Caciocavallo, itself not too different from an aged provolone. Made from cow or sheep milk the consistency depends on which animal's milk it was made with. Usually baked and melted, with chopped tomatoes and herbs served as a side dish with meat, or as an appetizer.
Speca te Mbushur me Salce Kosi – Peppers Stuffed with Sour Cream
This unusual dish combines pickled green peppers with sour cream. The spiciness of the pepper and the sour cream play off each other to great effect.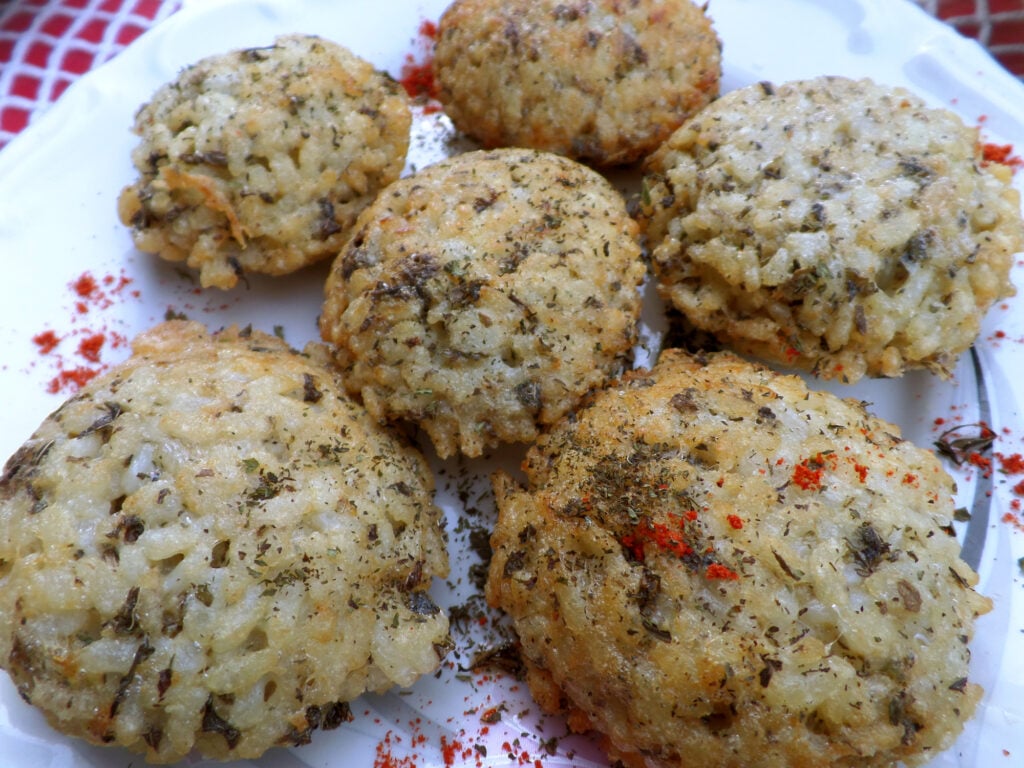 Qifqi – deep-fried balls of rice, egg, and herb 
Qifqi (pictured above) is a traditional dish from Gjirokastra that's hard to find anywhere else. If you're visiting this UNESCO listed town on your tour of Albania, be sure to try it. You'll find it on most restaurant menus throughout the town. Qifqi is a simple but tasty dish. Boiled rice, egg, and herbs, including mint, are mixed together and formed into balls, fried in a special pan with preserves the round shape. Some versions contain cheese. Try both and pick your favorite! Qifqi are usually served with a dip or sauce of some kind.
Qofte – Minced meat kabobs
You've probably heard of kofta, the family of meatball, meatloaf, or skewered minced meat dishes found all over the world, from the Balkans, the Middle East, and South Asia. Qofte is the
Albanian version. In the classic meatball shape, they are either grilled, baked, or fried. The protein used is quite flexible too, you'll find them made from minced beef, lamb, pork, or even chicken. As well as the meat, various vegetables, herbs, and spices may feature. Qofte are usually served as an appetizer or side dish. It is often served with a salad, and a yogurt to dip it in, along with some bread. The most traditional recipe is made with diced lamb and herbs.
Albanian Main Dishes & Stews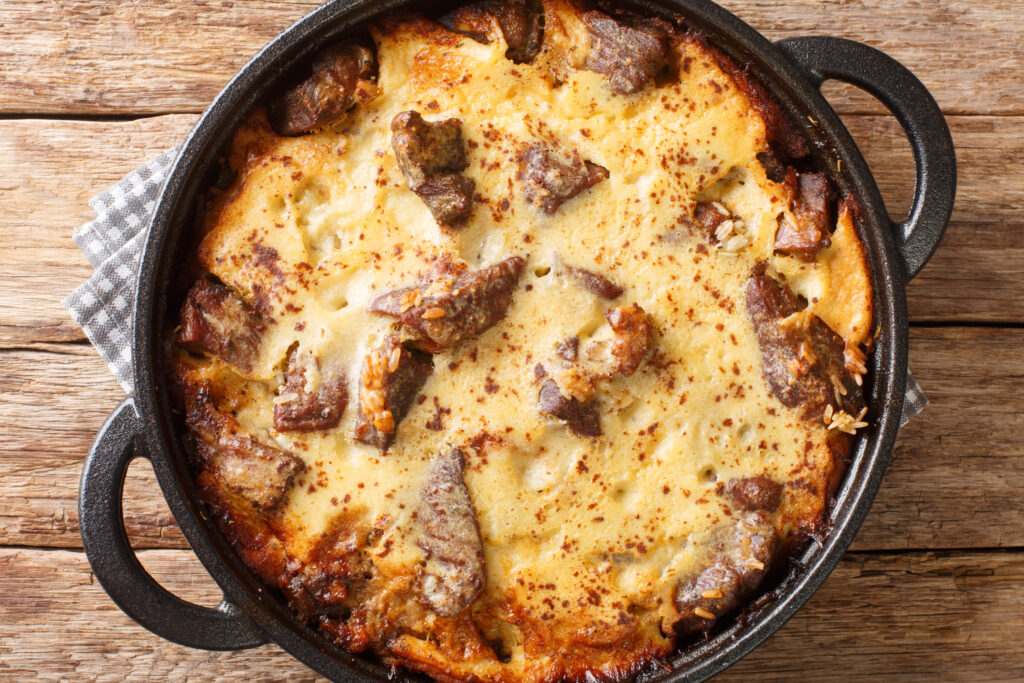 Tavë kosi
"Tavë kosi" (above)is an authentic Albanian casserole that originates from Elbasan, a city near Tirana. You'll find slight variations of this dish all over the country and in Kosovo. The recipe changes subtly depending on the local preferences but the main ingredients include lamb, rice eggs, and yogurt. Along with other herbs, the ingredients are then put in a casserole and cooked in the oven. Tracing its origins back to the 15th century, the original recipe calls for kos, Albanian soured milk made from sheep or goat milk. In modern versions of the recipe the soured milk has been replaced with yogurt and eggs. Tavë kosi me mish pule is the name of the chicken version.
Jani me Fasule – White Bean Soup
This simple meatless soup was one of the most frequently prepared during the famine of the communist era, thanks to its low cost of ingredients and being very filling all the same. The ingredients used are white beans, tomato sauce and onions. Often finished with pickled vegetables and yogurt. Even after the famine passed, Jani me Fasule remained very popular.

Paçe koke – Lamb or Goat Head Stew
Stews don't come any more traditional than this in Albania, and how many of us can say we've eaten a stew made from the head of a ruminant? The animal's head is boiled in water, and a selection of fresh vegetables and herbs are added, such as celery, carrots, onions, parsley, and bay leaves. When the meat is falling off the bone, it is removed and added to a roux, along with garlic and tomato sauce. The final step recombines the meat and the clear broth until it reaches the right consistency. Paçe koke is usually served with plain white rice.
Gjel deti me përshesh
Just as in the US or the UK, turkey is a traditional feature of holiday dining tables, usually prepared for Christmas or New Years Eve. Gjel deti me përshesh is baked turkey with cornbread mash. The cornbread is crumbled into the cooking juices of the turkey, along with small pieces of turkey liver, onion, leeks, and a mix herbs and spices. The turkey is finished separately, and at the end served with the përshesh (crumble), topped with melted butter. The unique flavor combination is quite spectacular.
Koran fish casserole with nuts
If you're spending any time in Albania you'll almost certainly be drawn to the coast, with its fresh fish and seafood from the Adriatic and Ionian seas a big part of the gastronomic appeal. But Albania is also a land of river and lakes, and freshwater fish are served more inland. Trout is most common and is the fish of choice for the koran fish casserole, which also features tomatoes and nuts.
Albanian Desserts
Not to be outdone by the starters and mains, traditional Albanian cuisine has a few sweet surprises for you to finish your meal with.
Gliko – Preserved whole fruits or nuts
Preserving whole fruits or nuts is popular throughout the Balkans and mediterranean. In Albania these are all called Gliko, and it has a strong tradition. Gliko is made by preserving various fruits and vegetables, all grown locally by small-scale farmers, in either spirits, juices, or syrup. The most popular kind is made from fresh whole green walnuts, but you'll often find white cherry. fig, apricot, plum, and even eggplant. Usually served in a small dish, you eat gliko with a spoon. One of the most surprising and unique varieties of gliko is made with watermelon rind. Now you know what to do with all the leftovers after you have a watermelon!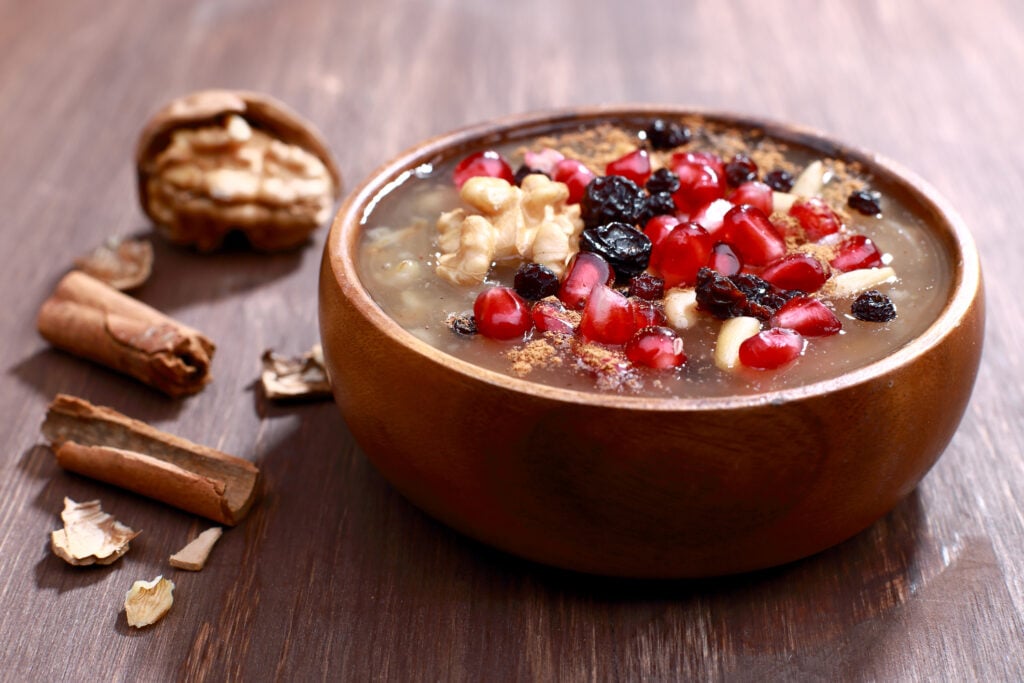 Ashure – sweet porridge
Another dish with its origins in the Ottoman era, ashure is a sweet porridge, served cold and made from nuts or dry fruit, and has a gelatinous consistency that melts in the mouth, giving you the chance to appreciate the taste of the ingredients.
Ballokume
We'll round out our list with a very Albanian cookie. Ballokoume, like tavë kosi, originates from the city of Elbasan. Traditionally prepared to celebrate the pagan holiday of Dita e Verës, which takes place on March 14th, first only in Elbasan, and since 2004 the whole country as a national holiday. Made from just four ingredients: cornflour, butter, sugar, eggs, this sweet and chewy cookie is a sweet treat worth seeking out.

Lorina's strong background in both travel and travel marketing make her ideal for her dual role as marketing executive and destination manager/city host for Albania. Albania is still slowly becoming known to Americans as the exciting destination it is, and Lorina's role allows her to shape our offering in the region to showcase the best of it. Being based in Tirana, her hometown, she relishes every opportunity to meet our guests and welcome them to her country.