Dresden is one of the most famous cities in Germany. Unfortunately it's famous in part for being nearly totally destroyed during World War II. Dresden's Old Town has been marvelously rebuilt and these days you can hardly tell there was any damage done here. When you're visiting Dresden you'll definitely want to tour this fascinating, historic part of the city. But I can't say enough about the other, more local side of Dresden.
On the other side of the Elbe you'll find plenty of interesting Dresden sites. Though they're not hard to discover, they are on the other side of the river from Old Town, where most of the tourist hordes end up. The Äussere Neustadt, or the outer New Town, is not as polished as Old Town, but it's well worth exploring.
Jump to a section of this article
Getting to Äussere Neustadt
The easiest way to get to Äussere Neustadt is to climb aboard the hop-on-hop-off bus in Dresden. The bus makes 22 stops throughout Old Town and Äussere Neustadt. If it's cold or rainy, this is a great way to see the city while staying dry and warm (though you should bring some tissues because the windows tend to fog up!) You'll drive along the river where you can see some of Neustadt's villas, then cut through the winding streets past many of the coziest neighborhoods in Dresden. There are bus stops near several of the most interesting sites in Neustadt so it couldn't be more convenient. If you have a car driving is another good option. But I wouldn't recommend walking as the distances are too great.
Things to Do in Dresden's Äussere Neustadt
Ball und Brauhaus Watzke
Kötzschenbroder Str. 1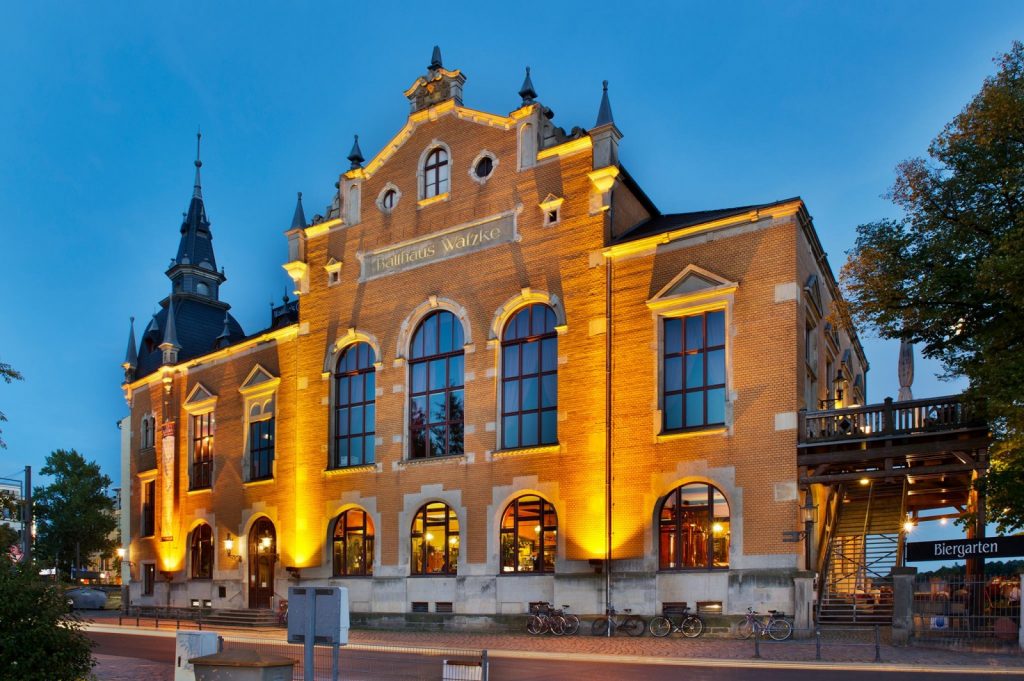 At the beer hall Ball und Brauhaus Watzke you'll find great beer and food, a lovely ambience and perfect views over the Elbe. If the weather is nice you can sit outdoors in the beer garden. But don't forget to take a peek inside! The atmosphere and decor is classic German beerhall, with dark wood and decorative steins. This place has a distinctly local feel, with families dining together and elderly beer lovers coming in to have growlers filled to take home. All of the beers on tap are excellent, and the schnitzel—there's a huge variety on the menu—are some of the best in Dresden.
Pfunds Molkerei
Bautzner Strasse 79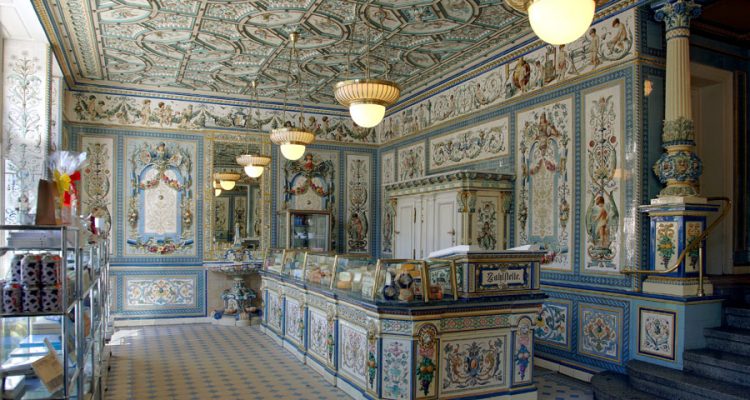 Known as "the world's most beautiful milk shop," Pfunds Molkerei started in 1880 as a small affair supplying fresh milk to Dresden from farmer Paul Pfund's six cows. Today their products—including milk, cheese, and chocolate—are known around the world. But Pfunds Molkerei is most famous for being a beautiful shop. It's even in the Guinness Book of World Records. The place is decorated with hand-painted tiles from Villeroy & Boch. They're simply stunning. You'll definitely want to stop in while you're visiting Dresden, even if it's just to look around. Best of all, there's a bus stop right outside.
Kunsthoffpassage 
Alaunstrasse 70 or Görlitzerstrasse 21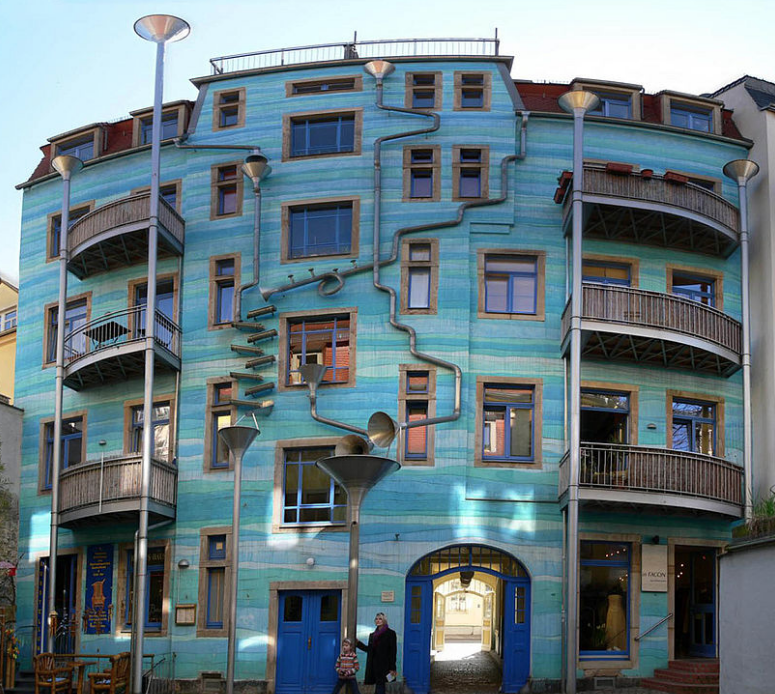 Dresden's Kunsthof Passage translates to English roughly as "Art Courtyard Passage." It connects two streets, Alaunstrasse 70 with Görlitzer Strasse 23-25, in the north of Neustadt. But it is more than a mere convenience. Stepping into the passage, you'll discover a place of creative abandon and colorful activity. The passage has five courtyards. And each follows a specific theme, including Mythical Creatures, Elements and Metamorphosis. They will astonish you. Kunsthof Passage is also home to numerous shops, restaurants, galleries and cafes. So don't forget to check it out when you're visiting Dresden!
Weisser Hirsch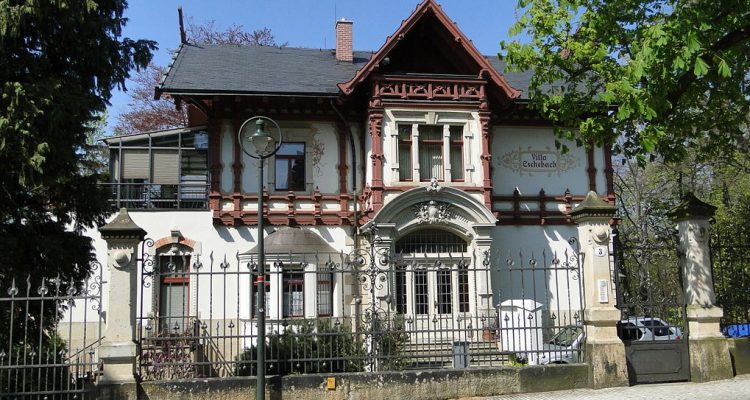 Weisser Hirsch is a lovely neighborhood on a hill overlooking Dresden. So you'll notice it immediately if you're in Old Town looking across the river, where villa after elegant villa lines the hill. Actually each villa was required by law to be designed differently from the ones around it, which has led to a plethora of interesting design. Some of the villas are falling into a state of disrepair but most still have the air of elegance of ages past, when the area was home to likes of Rachmaninov, Wagner and Kokoschka.
Luisenhof
Bergbahnstrasse 8

Luisenhof is the highest restaurant in Dresden. It offers amazing views over the entire city, to Old Town and far beyond. But it's not just high in elevation. This is a high-class white tablecloth restaurant where you can find some of the finest dining in Dresden. This might be one of the culinary highlights when you're visiting Dresden. And there's also a great selection of wines. Reservations are highly recommended!
Christmas in Dresden's Äussere Neustadt
If you're lucky enough to be visiting Dresden during Christmas you're really in for a treat. Dresden's Christmas markets are some of the most atmospheric and Europe. Two of the city's exceptional markets take place in Äussere Neustadt's pedestrian zone.
The Augustus Market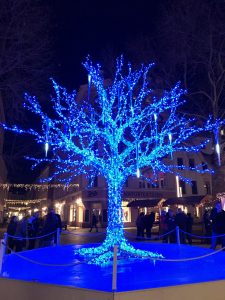 The Augustus Market has a decidedly local feel, especially at night. And you can find some of the best gluhwein you'll ever have here. The streets are decked out in white and gold, and there are food and drink stands as well as a traditional Ferris wheel and other rides. Live music completes the atmosphere. This is the place to have a merry Christmas in Dresden. It's a nice way to escape the bustle too, since this side of the city is typically less crowded than in the historic center. This is the place where the locals gather to celebrate the holidays.
Hauptstraße between Goldener Reiter (Golden Horseman) and Gomondai-Platz
The St. Nicholas Market
You'll find this lovely Dresden Christmas market in the Kunsthof arcade. It's a Christmas fair surrounded by fantastic Baroque architecture. You'll love the live music from choirs and other local groups, and there are plenty of snacks and drinks. This is one of Dresden's quieter Christmas markets, but if you're in the neighborhood you won't regret stopping by. You might even find a souvenir to take home!
Kunsthofpassage
A Tale of Two Dresdens
So Dresden really is a city with two distinct halves. You won't want to miss the stunning architecture and historical sites of Old Town, but Äussere Neustadt is a distinct part of the city as well. It's a little slower, more local and laid-back, but no less scenic and atmospheric. You'll have a wonderful time strolling among the unique architecture and sampling life on the other side of the river. There are fewer tourists here and a much more local atmosphere. At JayWay we always encourage our guests to go out of their way to have an authentic local experience. Äussere Neustadt in Dresden is the perfect place to do that. Of course you don't want to miss the history and architecture of Old Town, but don't miss out on the fun and relaxation that awaits when you cross one of Dresden's many bridges to explore farther afield.
Are you planning a trip to Dresden? We're Germany travel experts. Just get in touch to plan a lovely trip!

Stephan Delbos is an internationally published writer and editor. Born in the US, he has lived, worked and traveled in Europe for a decade. He's fond of oysters and arid martinis.