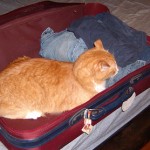 The temperature in Prague varies between -15 celcius (5 Farenheit) and 35 celcius (95 F) so it's handy to know what to pack for your trip. Fortunately the seasons here are very consistent (unlike my homeland, England, where the only reliable aspect of the weather is that it will rain). Here's a seasonal overview of what you're likely to need to bring with you:
January through March
Stout shoes (it may be icy under foot) and warm clothes are the order of the day. Dress in layers so you can adjust to the temperature as needed. January and February can be very cold. March has occasional warmer days. A warm hat will be useful too.
April and May
Spring here is usually confined to these two months. No need for a heavy coat and lighter shoes are fine. Temperatures are in the 70s. This is also the rainiest time of the year, so a light waterproof jacket will come in handy. In late May there's the occasional heatwave.
June to early September
Summer in Prague can get hot, up to the 90s. Pack your swim gear and spend a day at the open air pool at Podoli if you can (not for prudes, as topless sunbathing is popular there). The weather often goes in 5 day cycles, so it will be very hot for a few days and you'll feel the air pressure build on the last day of the cycle and a storm about to break. It usually does this around 6pm, for a few hours. (As a Brit, it amazed me that even the rain here is punctual). Everything is washed clean by the warm rain, then the cycle begins again.
Mid September to November
The temperatures gradually cool in the autumnal months, you'll have a mix of warm and cool days. A selection of jeans, sweaters and a mid-weight jacket will serve you well.
December
Temperatures hover around freezing in December, and can get much colder at night. See January through March for clothing suggestions. This is the time of year for the Christmas markets, where you can warm your spirits with mulled wine and medovina (literally honey-wine) and enjoy roasted chestnuts, just don't forget that even though you feel toasty on the inside, you should still wrap up well.
Dressing for dinner, or the opera?
Prague restaurants don't have a dress code. That said you may feel underdressed in a higher end place if you're wearing shorts. If you're planning to go to an opera or classical concert, bring smart clothes unless you want to stick out. Again there's no enforced dress code but the locals usually dress up for such occasions.
Roll don't fold
Frequent travelers will be doing this already, but your clothes take up space and are less likely to get crumpled if you roll them instead of folding.
Everything else
It's always tempting to bring as much as you can fit in your suitcase and carry-on but remember you'll have to lift, carry or pull it around in various places during your trip and you don't want to take up all the space that you could use for mementos of your trip. If you're staying in hotels, basic toiletries (soap, shower gel, shampoo) will be provided. For apartments that isn't always the case but you can always find a drugstore or convenience store close by. For your gadgets, make sure the power supply is auto-switching (Europe's electricity standard is 220 volts, not 110 like the US), most laptop or phone chargers usually are. Even if you have a plug adaptor, items like hairdryers, curling irons etc may not have this capability and plugging them in will damage them permanently so these are best left at home, your hotel or apartment should have a hair dryer available.
Planning a trip to Prague? We'd love to put together a Prague travel package just for you. Get in touch to find out more!
Image credit: ClintJCL via Creative Commons on Flickr

Charlie is head of marketing at JayWay Travel. A long-term Prague resident, his interests are cooking, eating out, cycling, skiing and of course, travel.