American writer Anatole Broyard said that Rome was "A poem pressed into service as a city." When you visit Rome you'll know exactly what he meant. But in fact you don't have to visit Rome to get a feel for the magic of The Eternal City. And we might add that many works of fiction have taken inspiration from Rome, so it's not only a poem. In this blog I'll share my favorite books about Rome. But first, what can I say about the city?
The capital of Italy is vibrant, energetic and stylish. While thoroughly modern in sensibility, Rome is home to some of the world's most important works of classic art and architecture. This city has been an epicenter for culture, politics and religion for more than 2,500 years. Of course, the museums are fantastic. Think of the Colosseum, the Spanish Steps and the Vatican. There are more than enough sights to keep even the most active tourists busy in Rome. Even somewhere as popular as Rome you can find places just off the tourist trail and bustling with locals.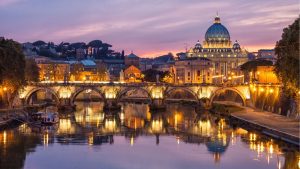 But it's also nice to slow down and enjoy Rome's famous cafes and restaurants. They can be just as beguiling as the buildings. Lounge with an espresso on the Campo de Fiori and watch the changing light on the fountains and facades in a piazza. Visit the Vatican and explore some of the world's most beautiful churches. Rome really comes alive at night. That's when restaurants and wine bars bring a renewed vitality to the city. You can also take day trips from Rome to local vineyards, olive groves, and other places producing regional delicacies. No matter what your interests, Rome will be an enjoyable destination.
Every visitor to Rome will be enticed by the city's charm. And before you get there, pick up one of these books, or better yet, find them at one of Rome's English-language bookshops!
The Ragazzi by Pier Paolo Pasolini
Pasolini might be better known as a controversial film director, but he was also an accomplished poet and novelist. This novel follows 12-year-old Riccetto, a young boy growing up in the notorious Roman slums of Monteverde. Pasolini shows the often-ignored underbelly of Rome, a place of peasants and thieves who use their own dialect. It is a vivid and sometimes startling portrayal of what it's like to grow up in Rome without a real connection to the history and beauty of the parts of town that tourists frequent.
The Roman Spring of Mrs. Stone by Tennessee Williams
Fresh off the success of his famous play "A Streetcar Named Desire," American writer Tennessee Williams moved to Rome for several years beginning in 1948. While in the city he wrote this lovely short novel which narrates the story of a middle-aged widow named Karen Stone. An actress, Stone is trying to deal with the death of her husband and her own ageing. Drifting through the city she observes the historic allure of Rome. Williams captures the beauty and mystery of the city and puts a surprise twist on the ending of the story that's sure to surprise you.
Rome Tales by Helen Constantine
This collection of short stories about the city of Rome throughout history is just delightful. Diverse voices, time periods and literary styles all come together around the theme of the city as setting and even character. There are 20 Italian authors collected in the book. Reading so many different interpretations of Rome and its magic and marvels will convince you that Rome truly is the Eternal City.
I, Claudius by Robert Graves
This is a rare book because it is both a novel and a history lesson. A fictionalized autobiography of Claudius that is set in the waning days of the Roman Empire, it is a masterpiece of imagination. You could read a traditional history book to prepare you for your visit to Rome, but this will do just as well and is much more interesting. The BBC made a television show based on the novel in the 1970s and it's easy to see why it was so popular.
English-language Bookstores in Rome
The Almost Corner Bookshop
Founded by an Irish expat, this is a cozy, welcoming bookshop that specializes in both new releases and old favorites. There really is a little bit of everything here, so if you're looking for a good book while traveling, stop by!
Address: Via del Moro 45
La Feltrinelli
This is a massive bookstore and cafe that's worth visiting even if you're just going to look around. The majority of the books are in Italian but there is a large selection of new English books as well. There are several branches of La Feltrinelli throughout Rome, but the one on Largo di Torre Argentina is one of our favorites. Come to check out the books and stay for an espresso and an Italian treat!
Address: Largo di Torre Argentina, 5/A
The Open Door Bookshop
You'll find this comfortable used bookshop in the atmospheric Trastevere district. They have just about everything here, with a huge collection of books in many languages, including English. This place has been in Rome for nearly 50 years and always run by the same family. So it has a local, authentic atmosphere that's perfect for bookworms. It's charming, to be sure!
Address: Via della Lungaretta, 23
Are you planning a trip to Rome? We're Italy travel experts. Just get in touch to start planning a perfectly tailored holiday with all the local highlights.

Stephan Delbos is an internationally published writer and editor. Born in the US, he has lived, worked and traveled in Europe for a decade. He's fond of oysters and arid martinis.