With over 1,000 islands, you might think choosing the perfect isle, or isles, to include in your Croatia vacation would be an impossible task. Thankfully we can rule out several hundred because they're more uninhabited atolls than viable vacation destinations, but when it comes to the larger Croatian islands, it still helps to know the differences, because each of them has its pros and cons. In this guide, we'll focus mostly on the islands we include in the custom tour itineraries we create for our guests, but at the end we'll also mention a few of the others that we've chosen not to offer.
Jump to a section of this article
For all of the major islands we offer, you'll find a link to a more in-depth guide linked under each section. Each one is penned by our locals in Croatia, based on their own experiences, and years of helping our guests enjoy the best of each island.
The islands we have selected to offer make the cut because they all offer something unique, have good-to-great facilities and levels of service, and in many cases serve as a good base for visiting other less-developed islands on day trips.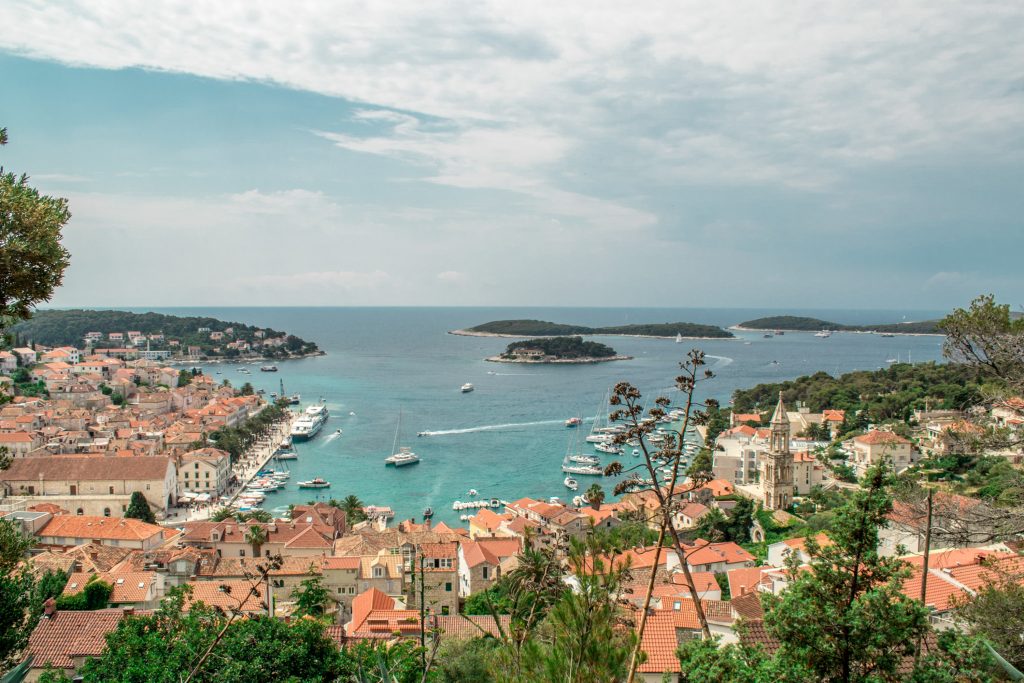 Hvar
"Europe's sunniest island" is the tourist board's boast, and while that title is hotly contested, Hvar undoubtedly is known as a playground for the rich and famous, as well as a party destination in the summer. However we feel that Hvar's reputation precedes it to an extent, and there's more depth if you look further, and a very authentic experience to be had, especially if you opt to stay in Stari Grad or are visiting outside the peak summer months.
Location: Hvar is part of Split-Dalmatia County and can be reached in an hour by catamaran (Hvar Town) or two hours (Stari Grad) by car ferry from Split.
Main towns: Hvar Town and Stari Grad are the main tourist destinations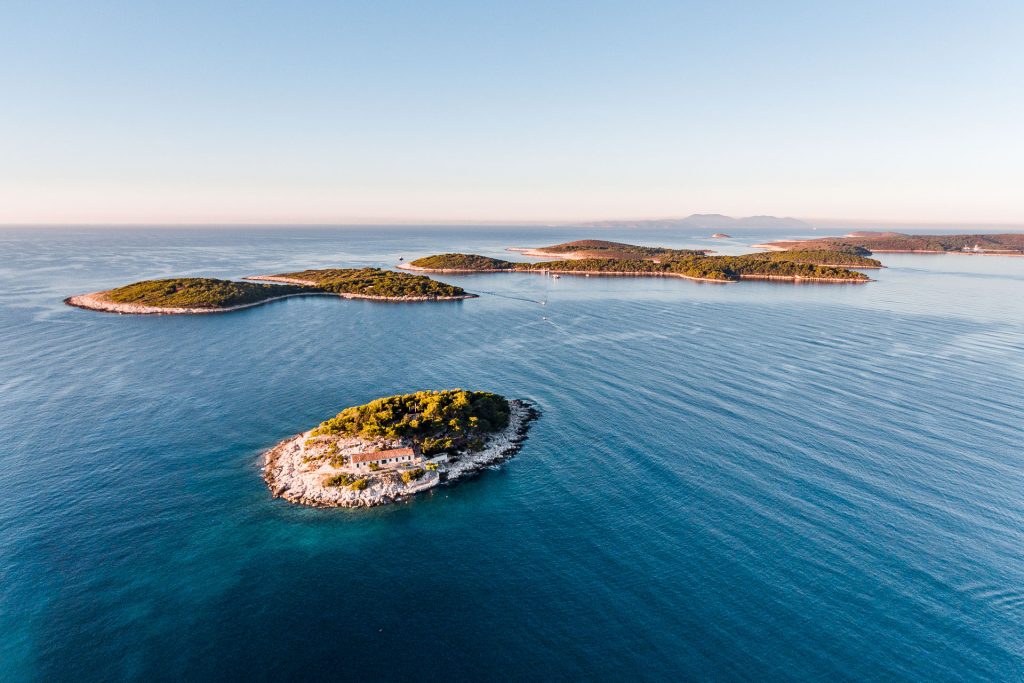 What to do: Sailing trips around the Pakleni archipelago, tours of the island, boat trips to Vis Blue Cave or Brač island, hiking, bays and beaches, winery visits
Who should go to Hvar: Hvar's tourist offer is very well developed, so you can generally find something for almost everyone, from kids to honeymooners to culturally and historically interested tourists.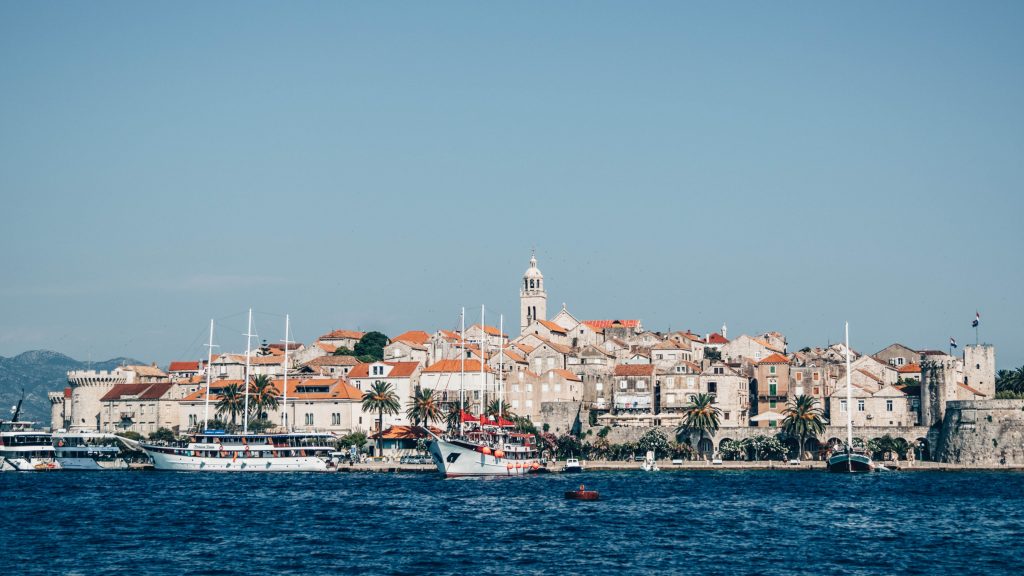 Korčula
Croatia's greenest island isn't as easy to get to as some islands, and that has helped it retain a certain exclusivity in terms of mass tourism. Marco Polo's alleged hometown, simply known as Korčula, is the place to stay on Korčula, as most other towns are far smaller and harder to reach. It's also a historical beauty, with the legacy of its time as part of the Venetian empire plan to see. Rich in traditions, with some fabulous food, not only at Michelin-starred LD, and superb wines, Korčula is an island that rewards the extra effort taken to get there.
Location: Korčula is in Dubrovnik-Neretva County in southern Dalmatia. It takes at least two hours to get to Korčula from Dubrovnik, and a little longer from Split, all by catamaran.
Main towns: Korčula town and Vela Luka are the largest towns, but Vela Luka is quite far from everywhere else you might want to visit, so we wouldn't recommend staying there.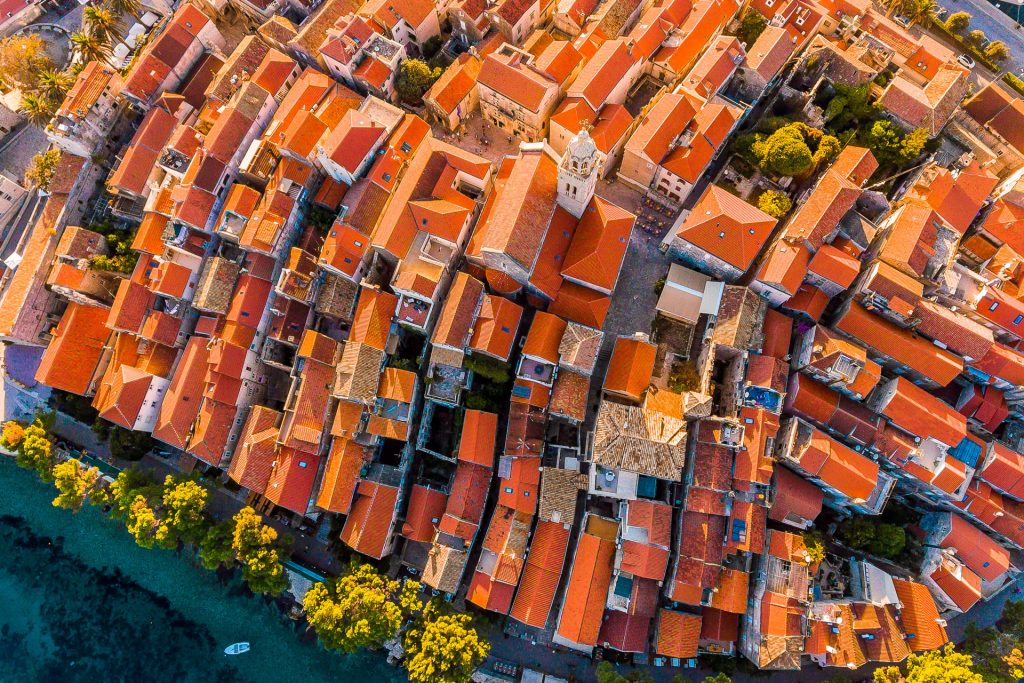 What to do: tour historic Korčula Old Town, take taxi boats to the beaches on the small islands off Korčula, visiting wineries on a tour of the interior by e-bike, or for the very active, kite-surfing and wind-surfing are an option as the Pelješac channel is ideal for both.
Who should go to Korcula: The perfect foil to Hvar Town in peak season, Korčula is always laid-back. We recommend Korcula to anyone interested in history. Gourmets will be very well taken care of and wine-lovers, in particular, will enjoy Korcula's native white varieties, Grk and Pošip.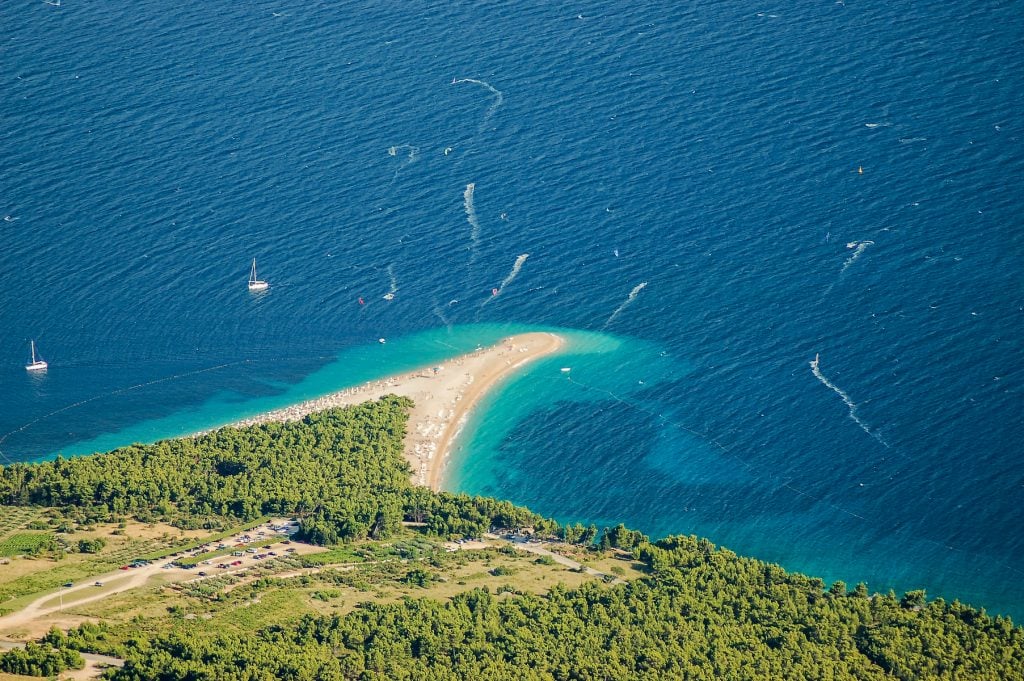 Brač
Another of the Central Dalmatian islands, Brač is the largest of Croatia's islands as well as having the tallest point on any Croatian island (Vidova Gora), and is closer to the mainland than the others. Brač runs parallel to Croatia's mainland coast. Most famous for the Golden Horn beach at Bol, Brač's tourism offerings are less developed than you'll find on glitzier neighbor Hvar. A relatively large island, it is best explored by car, especially if you want to visit some of its beautiful hidden beaches. Brač is famous for its white stone and you'll find it on sale all over the island, fashioned into all kinds of souvenirs.
How to get there: Brač is located less close to Split and is well connected by car ferry and catamaran to Split. Due to the relatively short 50 minute crossing, the fare for a car is quite reasonable. From Sumartin at the eastern end of Brač, another car ferry line will take you to Makarska further along the coast towards Dubrovnik. In summer catamarans connect Split to Bol on the seaward side of the island as well as Sutivan and Milna.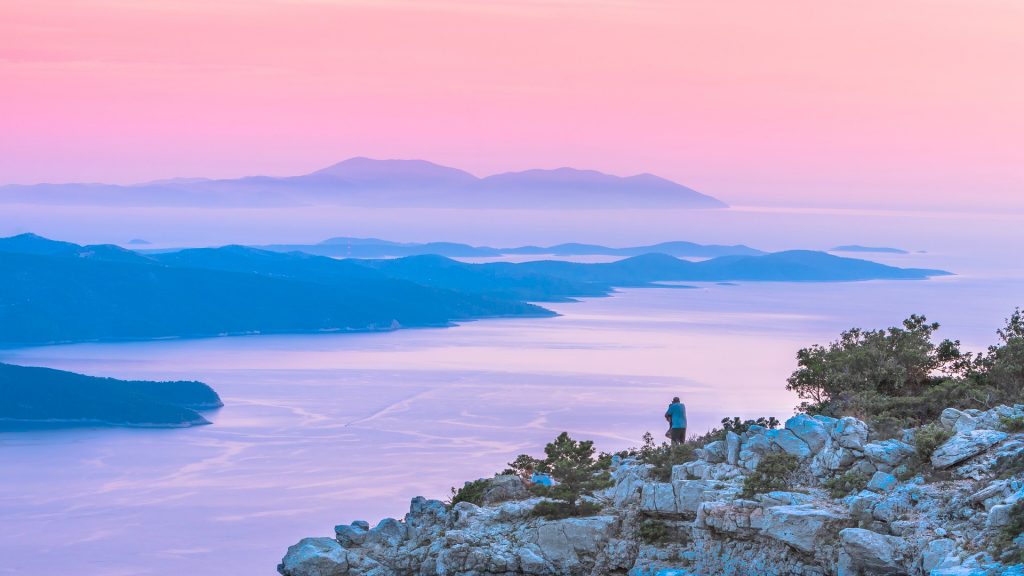 Main towns: Bol is the most developed in terms of tourism, and the majority of the island's hotels are located here, but Sutivan and Milna are pleasant harbor towns. Pučišća is a small coastal town renowned for its stonemasonry school, but otherwise unremarkable.
Who should go to Brač: Brač is perfect for families looking for somewhere with beaches and plenty for the kids to do, as well as people who love exploring on their own.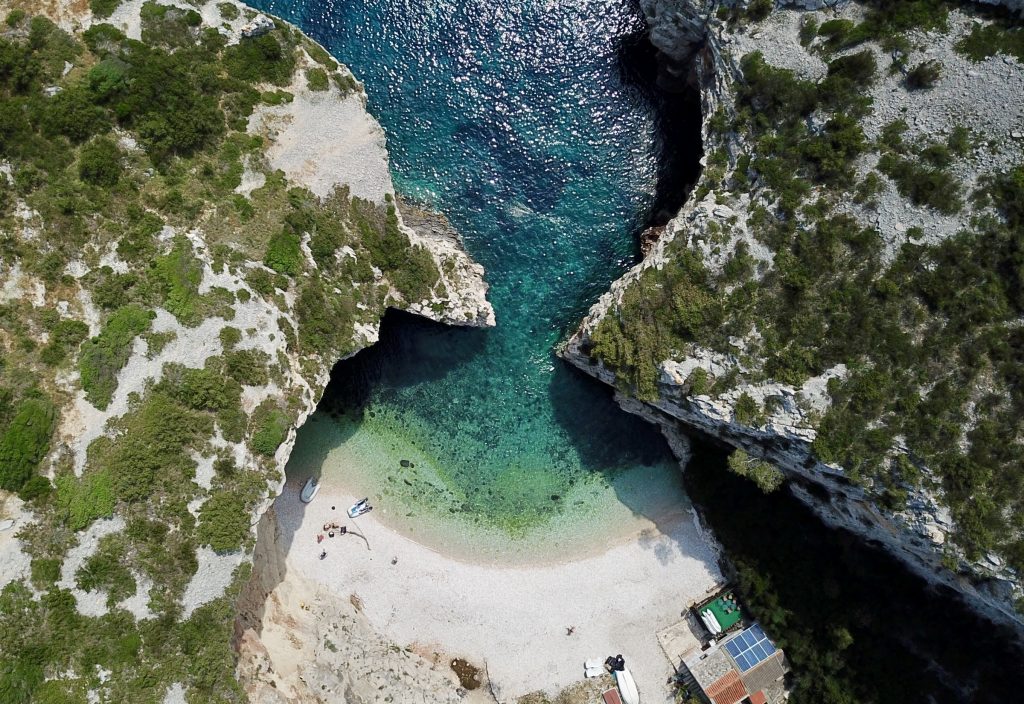 Vis
With limited tourism due to its past life as a naval base which was due to its strategically important position closer to the center of the Adriatic, Vis is one of Croatia's most fascinating islands to visit. There are no large hotels on the island and a lack of fast ferry service keeps it pleasingly low-key. It seems more people arrive by sailboat (and sleep aboard) than any other method.
How to get there: Vis is located in Split-Dalmatia County and has 2-3 daily car ferry connections to Split. The journey takes two and a half hours. Catamarans run one or two days a week, also calling at Hvar Town, and these take around 90 minutes. Vis is the furthest permanently inhabited island from Croatia's mainland.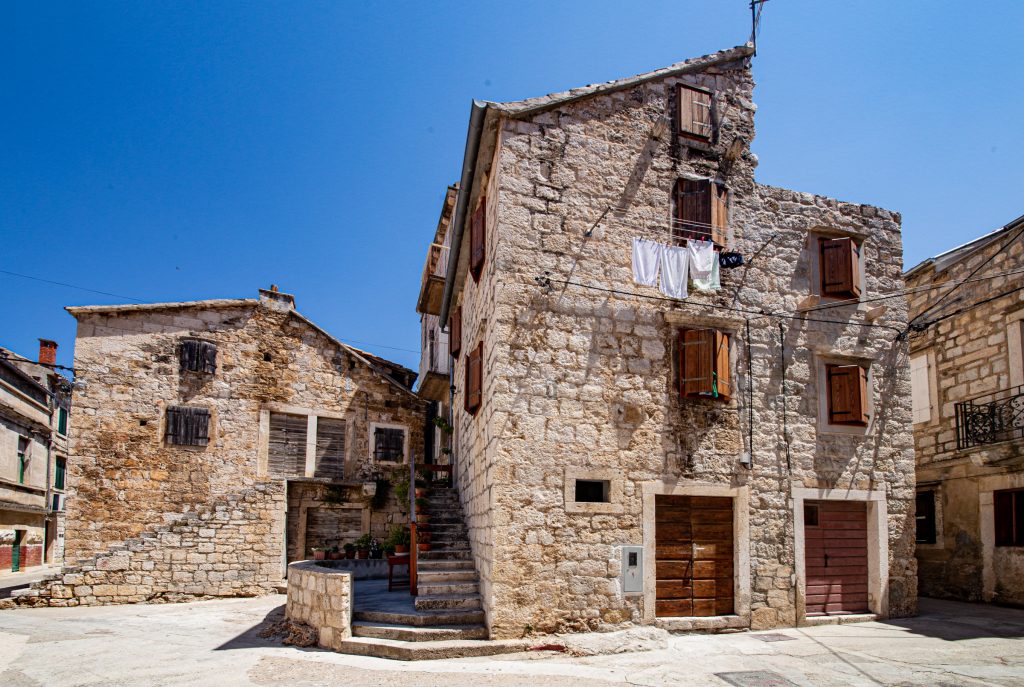 Main Towns: Ferries and catamarans only call at Vis Town. The only other town on the island is Komiža, a fishing village, but to reach there you need to take a transfer across the island.
Who should go to Vis: Military history buffs will have a field day, but there's far more to see than old fortifications. Vis has a relaxed vibe that's infectious, so it's perfect for honeymooners looking to escape the crowds.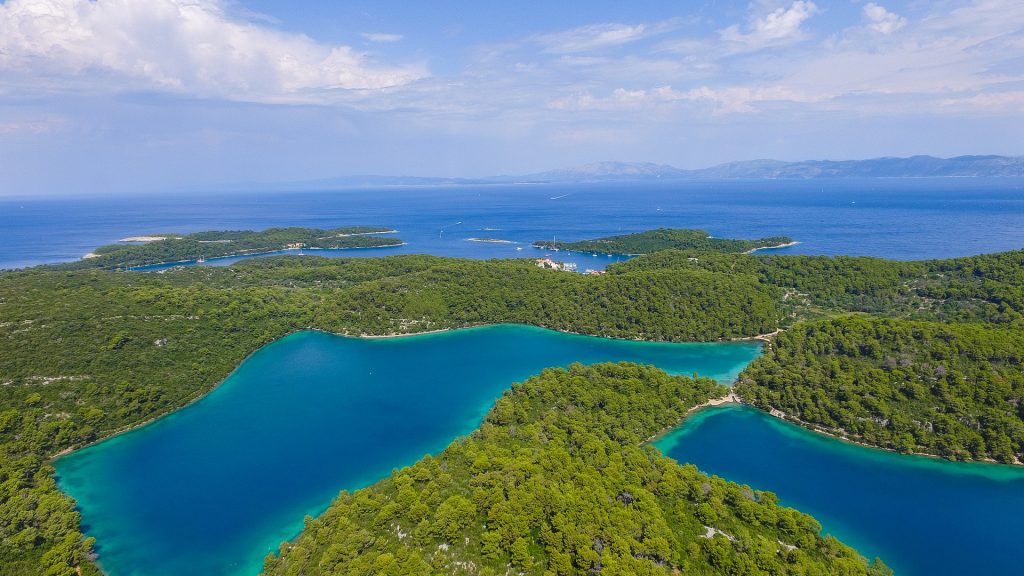 Mljet
Mljet is an island oasis in the southern part of Dalmatia, belonging to Dubrovnik-Neretva County. Around a third of the island is National Park and its undoubted gems are the small and big lake, which are saltwater lakes with high levels of salinity, not unlike the Dead Sea. Mljet is a peaceful place where nightlife is non-existent, and luxury is hard to come by.
How to get there: The simplest way to reach Mljet is by catamaran from Dubrovnik to Polače, located in the National Park section of the island. A car ferry between the Pelješac peninsula is also an option, stopping at Sobra, outside the national park.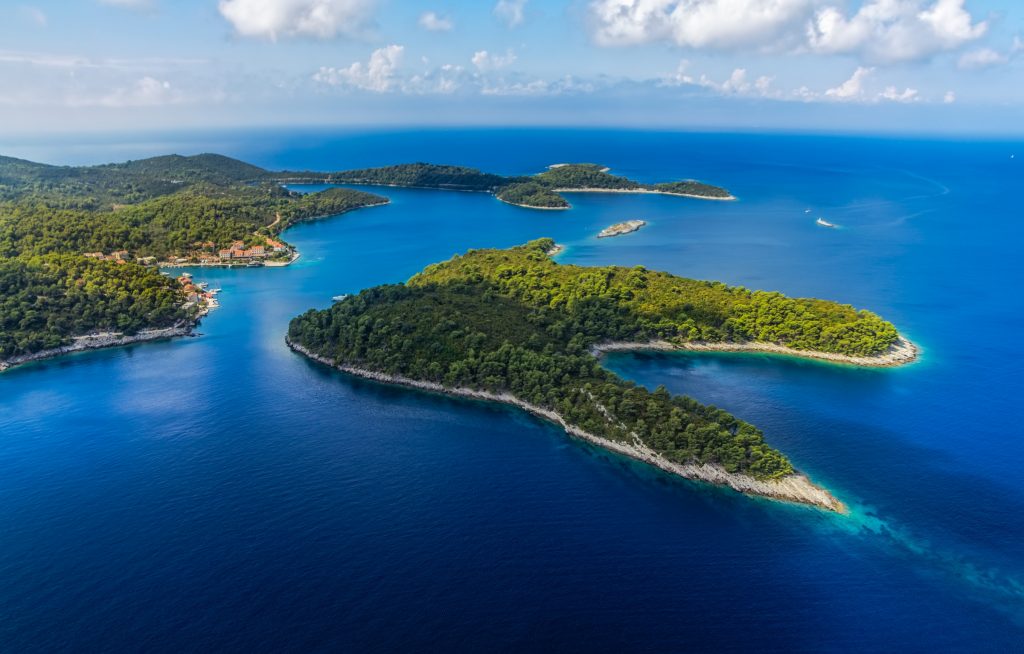 Main towns: All the settlements on Mljet are better thought of as villages. Polače is where the catamaran will bring you to and is where one of the island's few hotels is found.
Who should go to Mljet: Anyone looking for a place to truly unwind, and aren't too fussy about luxury, who enjoys hiking, cycling, swimming, or kayaking. Mljet doesn't have a wide range of child-friendly activities. Unfussy active honeymooners will love it.
What about Croatia's other main vacation islands?
We've chosen to concentrate this article on the islands we offer travel to. We selected these islands because they provide a diversity of experiences. Over the years we've spent time on many of Croatia's other popular vacation islands, as have our team in Croatia. For a combination of reasons such as travel time, lack of remarkable features or a poor fit for our primarily US customer base, we have decided not to offer them. Below we'll cover each of them in brief.
Pag
Pag is another beautiful Croatian island, but pretty vast, barren, and in a way undefined and dislocated. It is mostly known as a party island and is famous for its cheese, and delicious lamb, both thanks to the salt-rich diet of the island's sheep. If you're on a tight schedule and already will be visiting other Central and Southern Dalmatian islands, which we highly suggest over Pag, we'd recommend staying in historic and unique Zadar town and taking a day trip from there to Pag island where you'll get a chance to visit all the main sights of this island, as well as taste some of their famous products. Otherwise, if staying on Pag island we believe you'd lose much of your precious time and still wouldn't be experiencing more than our day tour from Zadar offers.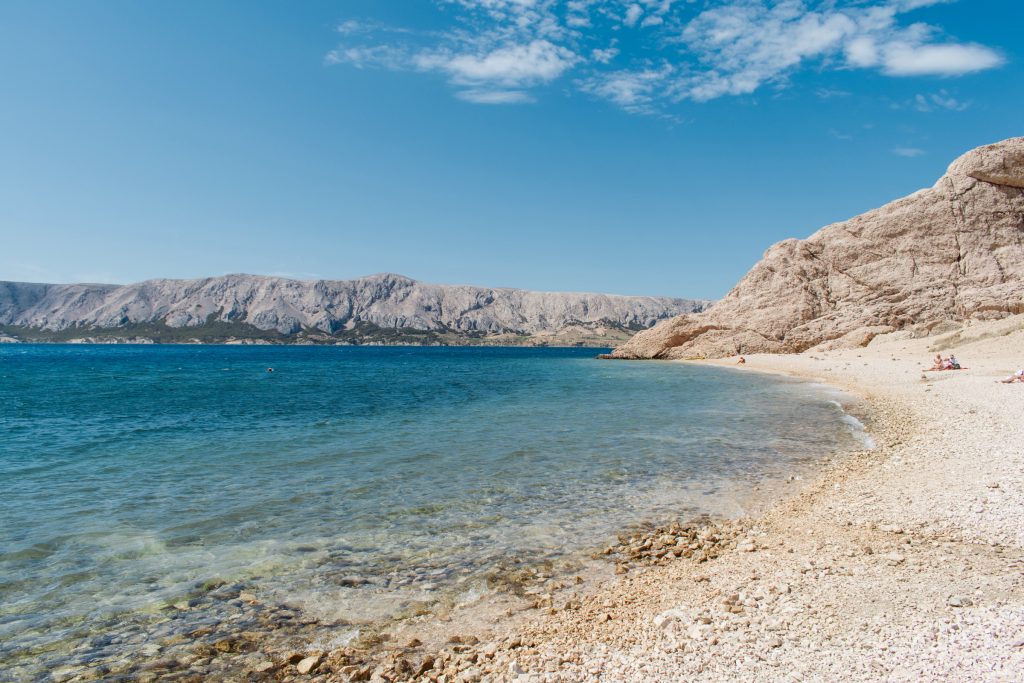 Krk
Croatia's most accessible island, reached by road bridge from Rijeka and home to Rijeka's airport, Krk is however relatively poor in standout features. The main historical claim to fame is that it is home to Bašćanska ploča (Baška tablet) – the first written monument in the Croatian language, which was found near the village Baška on Krk island. It's one of the most important Croatian monuments dating back to 1100 AD. The ease of reaching the island has long shaped its popularity with Northern Europeans, who arrive by car, camper, and caravan, to enjoy some beach time every summer, usually at the same spot.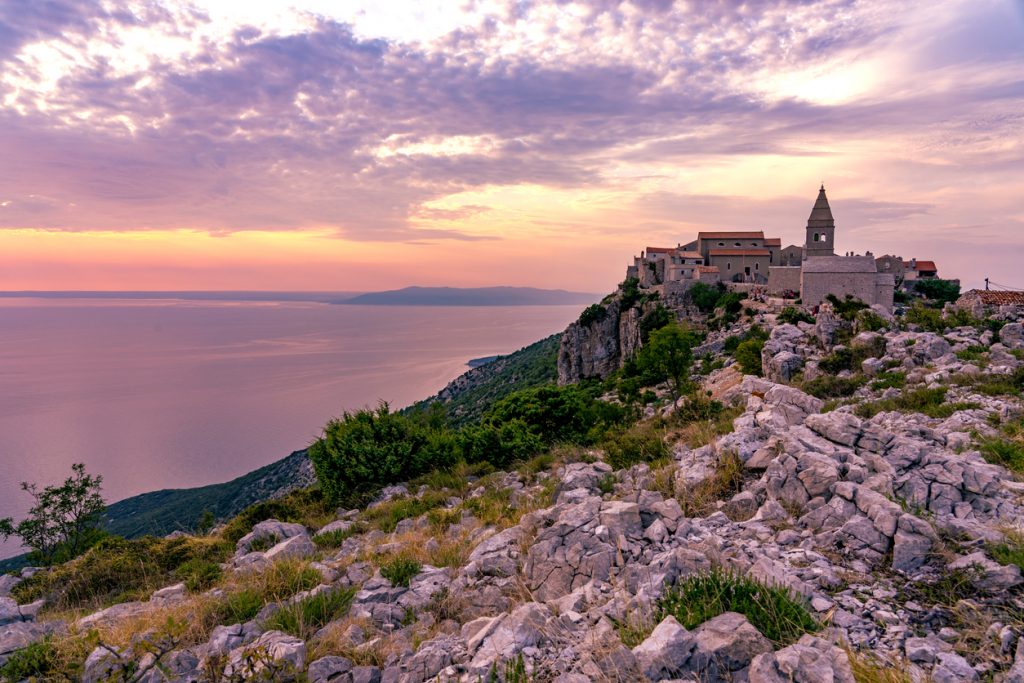 Cres
Cres is one of the most northern islands in Croatia, and it is celebrated for its lamb. This is a very green island, with strong agriculture and a few historical small towns. People here are mostly involved in growing animals and food, so it is very quiet with a few historical spots. Cres is connected to the mainland via a short car ferry journey from Brestova in Istria or Krk island (Valbiska). It can also be reached by high-speed ferry from Rijeka, which only runs once a day. The most interesting thing on Cres is its freshwater lake, the only one of its kind in Croatia since islands rarely have their own water supply (other than rain and of course water pipes from the mainland installed in the 20th century). Other than that, Cres has nothing you wouldn't see on other islands, it's just harder to get to.
Mali Lošinj
Mali Lošinj is different from most Croatian islands. First, the appearance – while other islands are all stone houses and narrow streets, Lošinj towns are more Central European in style with big houses and high ceilings, but colorful (this is the Mediterranean, after all!) Each house has a different color facade and it makes for a pleasing, fun view. Second, while most of Croatia's islands traditionally live off of agriculture, Lošinj has always been a nautical center, with shipyards and nautical schools. In addition to this, the whole island is a big pine forest, and it has been a medical resort of sorts from the 18th century onwards. Its unique microclimate is very beneficial to people suffering from pulmonary problems (asthma, lung inflammation, lung cancer, etc.).
Due to the above and the fact that it is very far from the coast, it has some stunning natural scenery and it is famous for the pods of dolphins spotted around the island regularly.
Our Croatia team likes Mali Lošinj a lot, and we'd love to offer it to our guests but the island's remote location makes it a tough sell for anyone spending less than a month in Croatia. It takes so long to get there that a stay of fewer than five days doesn't make sense. Connections are from Rijeka (5 hours) and Zadar (4 hours by high-speed catamaran, 9 by car ferry). This doesn't fit well with the average 7-10 days that most people allocate for their Croatia tour.
Lastovo
Lastovo is an island where time truly does seem to stand still. When you ask Croatians to name their favorite island they'll mention Lastovo, but a lot of the reasons they love it don't make for a great fit for a tourist visiting Croatia. Croatians go to Lastovo to relax and to swim. Its main town is a small inland hilltop settlement, unlike most other islands where the main towns tend to be on the coast. This anecdote from Josipa, one of our team in Dubrovnik sums up Lastovo perfectly.
The town looks like the prettiest postcard, it is stuck in time and very romantic. Stone houses lined up the hill, one by one making the perfect image while looking down from the valley. When we walked through we ran into an old lady washing her linen the old-fashioned way, just using a big bucket, water, and old-fashioned soap made of animal fat, water, and caustic soda. I stopped and asked her why she isn't using a washing machine and she seemed to be offended claiming no washing machine can do her linen as well as she can with her hands.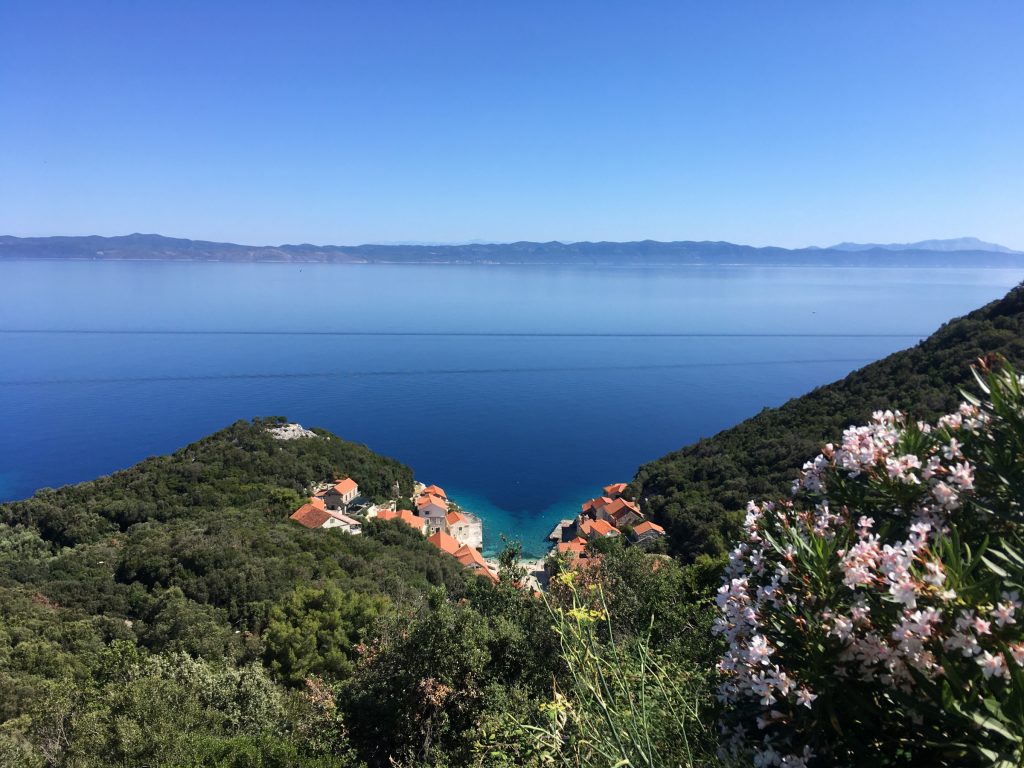 Frequently Asked Questions about Choosing a Croatian Vacation Island
Need more help choosing the right island for your trip?
Our expert travel advisors will ask you about your preferences and interests and help you make the right choice for inclusion in your custom Croatia itinerary.