When it comes to beaches in Croatia you shouldn't miss, the best beaches in Korcula need a special mention. During your trip to Croatia, you will find that several beaches in and around the town of Korcula and further afield on the island will compete for your time and a place in your heart. So, let's have a look at the best beaches in Korcula!
The Best Beaches in Korcula
Korčula Town Beaches
The Old Town of Korčula itself doesn't have many beaches within walking distance, but here's a guide to those you can get to easily.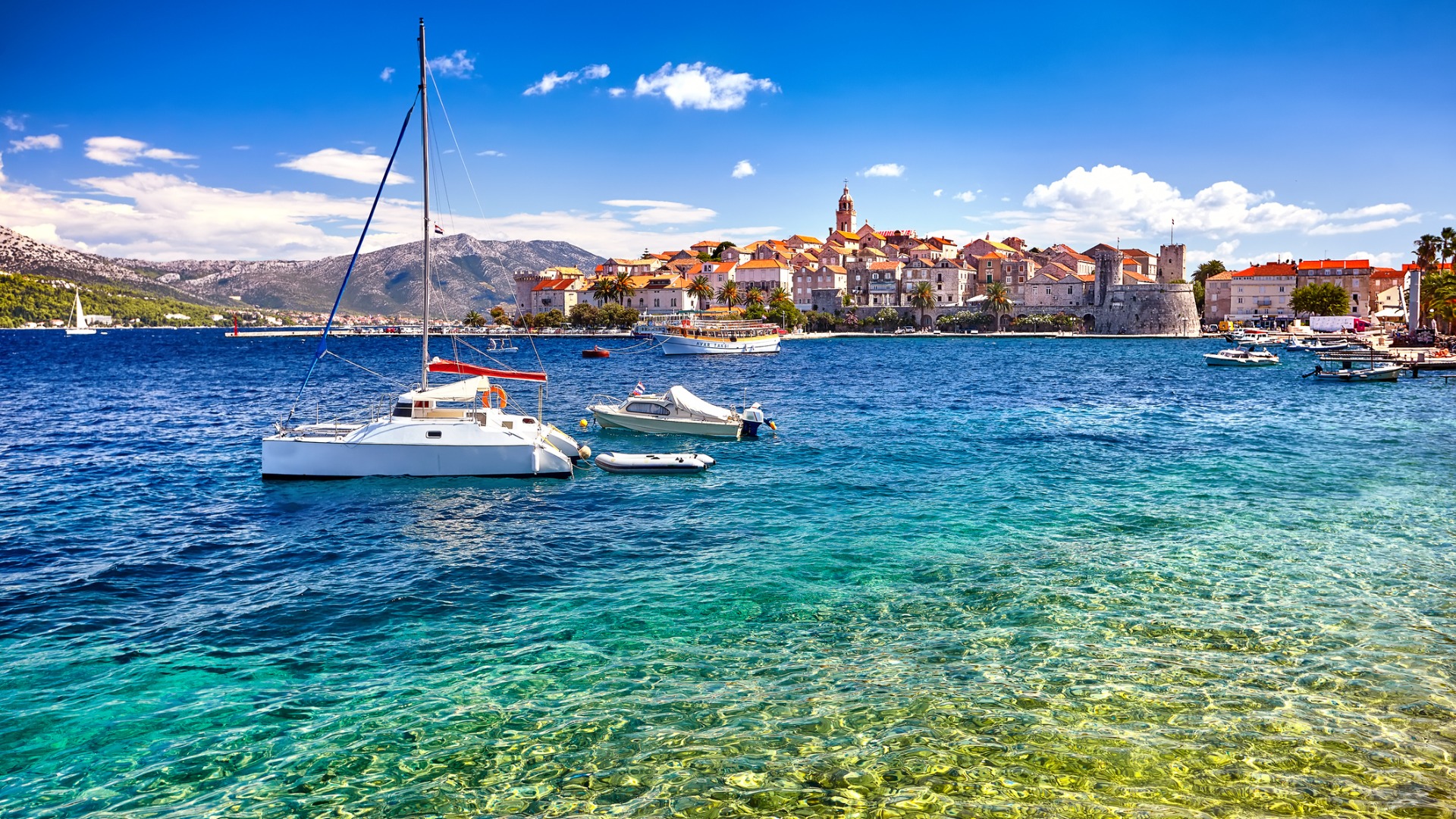 Banje Beach
Banje Beach is right in the center of Korcula Old Town, close to Hotel Korsal and the local swimming and water polo club KPK. This pebbled beach can get very busy and crowded with tourists and locals alike. The beach is very popular with locals who live around the Borak area, as well as the members of the swimming and water polo club, who like to go for a swim at Banje after their training sessions at the adjacent pool.
With several cafés and restaurants close by, you can get a drink or a bite to eat without the need to change out of beachwear.
Zakerjan Beach
Zakerjan Beach below Zakerjan Kula or Zakerjan Tower, on the northern side of the city walls, is very popular with locals. Although it's a mixture of rocks, more rocks, and jetties, it's one of the best beaches in Korcula. Zakejan Beach is in the center of the town, but the water is very clear and it is also great for snorkeling. As the promenade is just around the corner, it is convenient to grab a bite or a drink.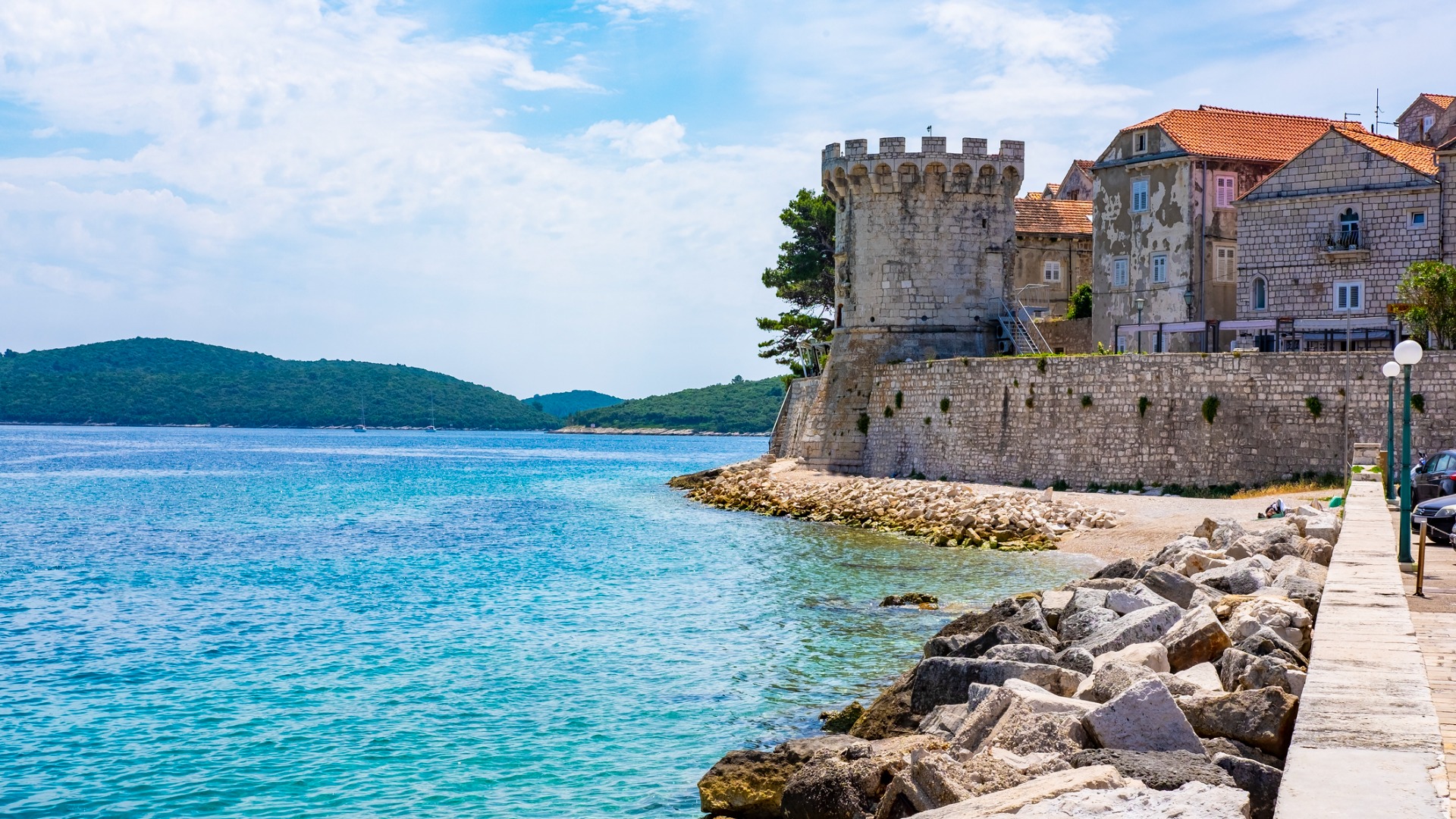 Sveti Nikola
For locals, any place you can get into the sea is called a beach. To prove that, we have Sveti Nikola. It's purely stone slabs and jetties, but if all you want is a convenient way to get in and out of the water for a quick dip, it'll do.
Ispod Duvana
This pebbled beach is close to Sveti Nikola and is popular with locals. There are a couple of cafés and a restaurant on the nearby promenade.
Luka Korculanska Bay
If you're staying in Korcula Town and don't feel like going to Lumbarda, the good news is that a sandy beach can be found only a 15-minute walk from the Old Town in Luka Korculanska Bay. Near the beach, several bars serve food and refreshing cold drinks. If you're looking for a relaxing time on the beach, the bad news is that this beach is usually overcrowded with families with small children.
Lumbarda Town Beaches
Lumbarda is a small town just a few miles from the Old Town of Korčula with plenty of restaurants popular with locals. There are several ways to get there from Korcula. You can grab a water taxi from the city center, but one of our favorite options is to rent a bike and enjoy the scenery while cycling through the vineyards – also you can always make a stop and go for some wine tasting en route.
Alternatively, you can take one of the hop-on-and-off taxi boats from Korčula Town. Walking is also an option but on warm summer days it is just too hot. Besides being a cute spot for a quick getaway from the city, Lumbarda has a few beaches worth a visit. Two of the most beautiful sandy beaches in the area, Bilin Zal and Vela Przina, are located in Lumbarda.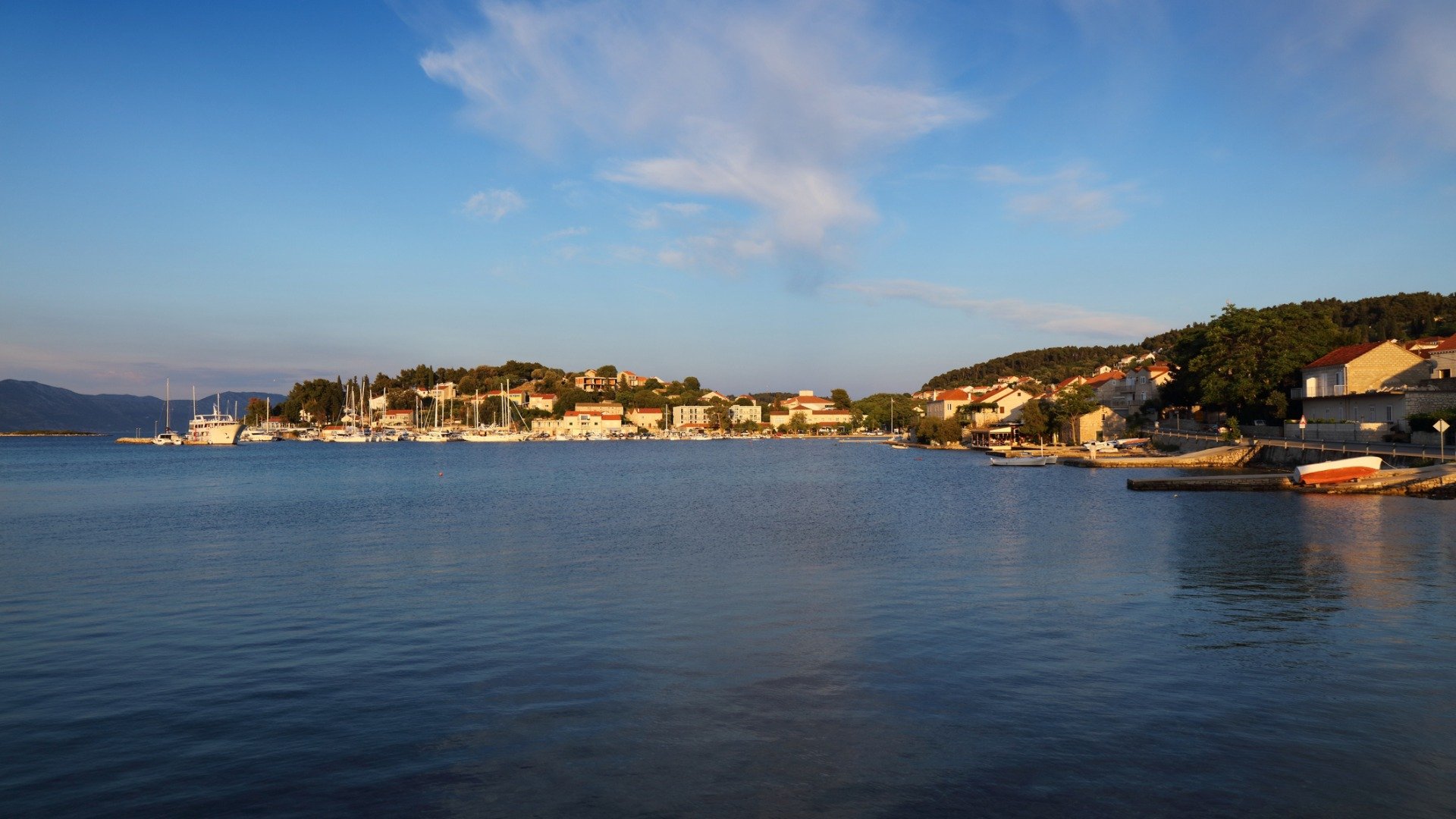 Prvi žal
Prvi žal Beach is located in the center. Unlike the other Lumbarda beaches, this is a pebbled beach. There are a few bars close by so if you are in the mood for a refreshing cocktail you don't have to go very far.
Bilin žal
Bilin Zal is a small beach, popular with locals, especially those with kids. It's about 10 to 15 minutes along the coast on foot from Prvi žal. Although it's a sandy beach, the water is still crystal clear. Near the beach, there is a small restaurant where you can get a snack and a drink.
Vela Przina
Carry on the coast a little further to Vela Przina. This is a long beach and in the summer it fills up from early in the day with both tourists and locals. There's a small restaurant serving cold drinks and snacks. If you're up for some skinny dipping, just follow the road straight ahead after the sandy beaches and turn left when you get to the pine forest. Soon, you will reach a nudist area.
Beaches on The Islands Near Korčula
To reach the islands and islets off Korcula's coast you can take one of the regular water taxi services that leave from Korcula Town's main harbor. You can buy one-way tickets as you wish, or a hop-on-hop-off ticket for the whole day for around $32, which makes sense if you want to visit more than a couple of islands.
Badija Island Beaches
The beaches of Badija Island are just a short water taxi ride from Korcula Town's main harbor. Badija has a lot of swimming spots and pebbled beaches all over the island. There are many naturist beaches on Badija, so if that's not your thing, consider yourself advised. Badija is very popular among locals too for day trips and picnics, so it can get crowded at the weekends. Although there's a small café – restaurant on the island, we advise taking snacks with you.
There are plenty of other things to see on the island, particularly the sprawling Franciscan Monastery, which was seized by Tito's government after WWII and has been recently returned to the order. The monks have been busy restoring the monastery and cleaning up the island ever since. Besides the beaches and the monastery, Badija is a lovely place to take a walk under the shade of pine trees.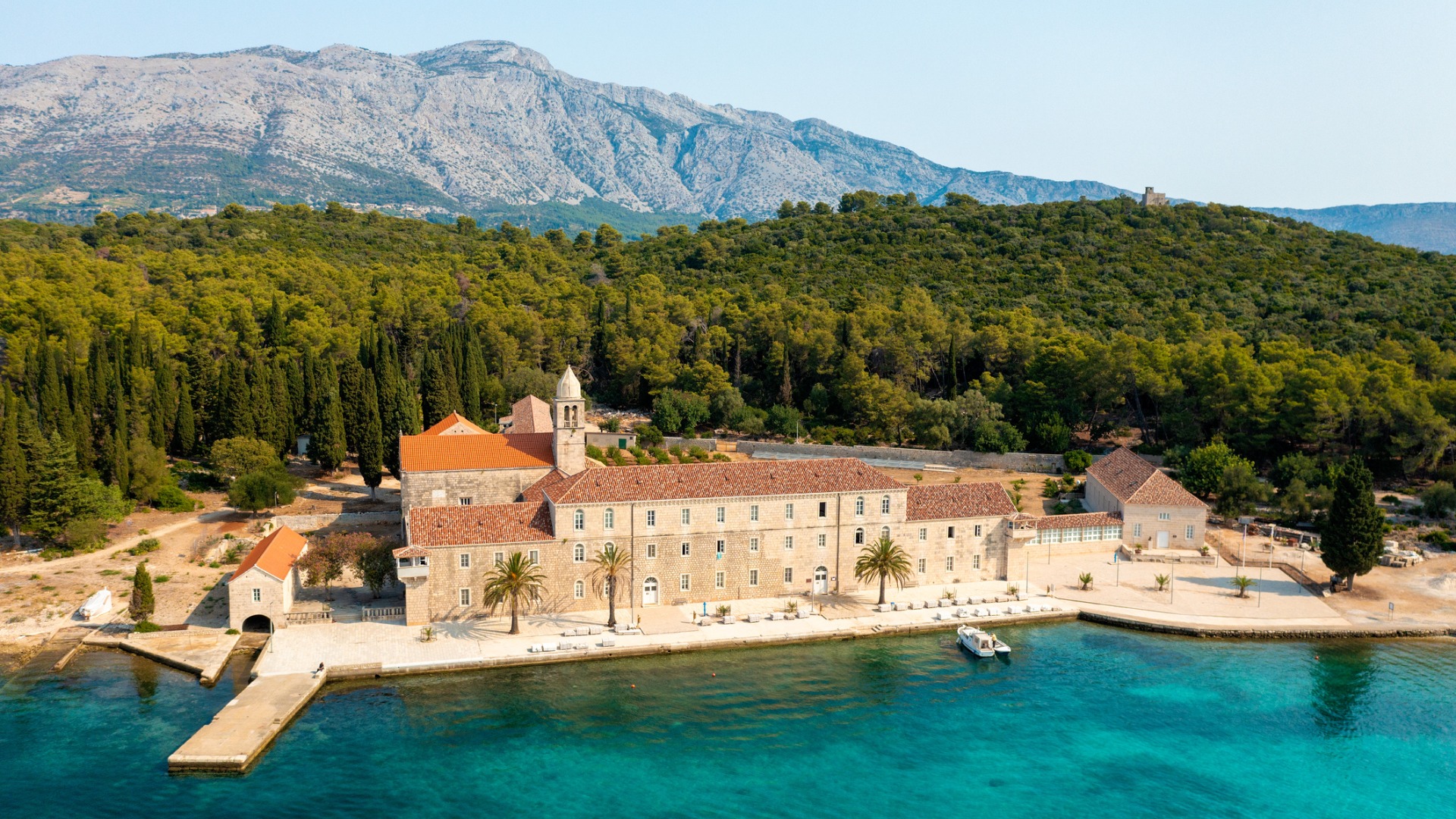 Vrnik
This is another place to enjoy secluded swimming spots and pine tree shades. Vrnik is an islet closer to Lumbarda. Like Badija, it can be reached by water taxi. Only a few families live here nowadays, but there is a restaurant and also a fast food place on the island if you'd like to enjoy a snack or a meal. While in Vrnik, you can also visit the church of Our Lady of Succors.
Vrnik is home to some of the oldest and most famous quarries in Korcula. There are 29 quarries on this tiny island! Fun fact: Korcula limestone is incorporated in some famous buildings – Hagia Sophia in Istanbul, the Austrian Parliament building in Vienna, and the Stockholm Town Hall!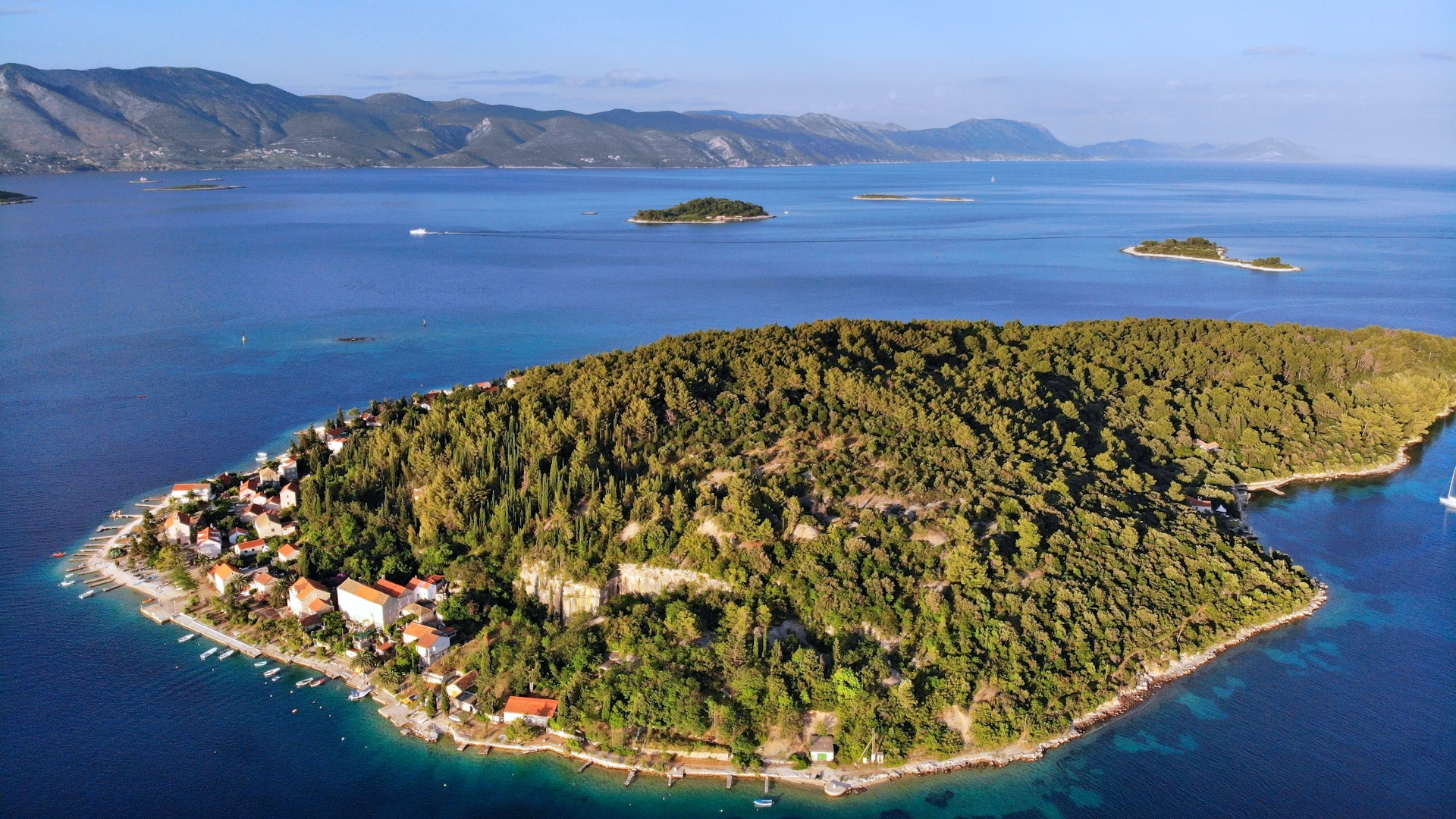 Stupe
Home to a famous Instagram spot with a swing in the sea, this pebbly beach also features a beach bar, which is very popular in the summer.
Beaches Within Driving Distance From Korčula Town
Some of the best beaches on Korčula Island are quite a distance from the Old Town. If you've got a car, or feel like renting a scooter, then your beach possibilities are much wider. For all of these beaches, however, do keep in mind that the roads leading there aren't always paved, or particularly easy to navigate, so be careful.
Bačva Beach
This small secluded bay has a lovely pebbly beach. It takes some time to reach by car, and a lot of curves but it is worth it as this is one of the best beaches in Korcula. Don't forget to make a stop while going down to take some amazing pictures. You might be out of phone service here. There is also a small tavern on the beach where you can have refreshments and a meal. However, as they sometimes run out of food, we recommend bringing a snack. There's not much shade here, so be careful!
Pupnatska Luka
This pebbled beach is situated on the southern side of the island in a charming cove. The road to get there can be slightly discouraging as you need to take an unpaved road with a lot of bends but, in the end, it is definitely worth it. After about a 15-minute drive from the main road, you'll find yourself on a long beach with crystal blue waters surrounded by untouched nature and filled with the sound of cicadas. There is also a beach bar and a restaurant above the beach so you can plan to spend the entire day relaxing at this small paradise.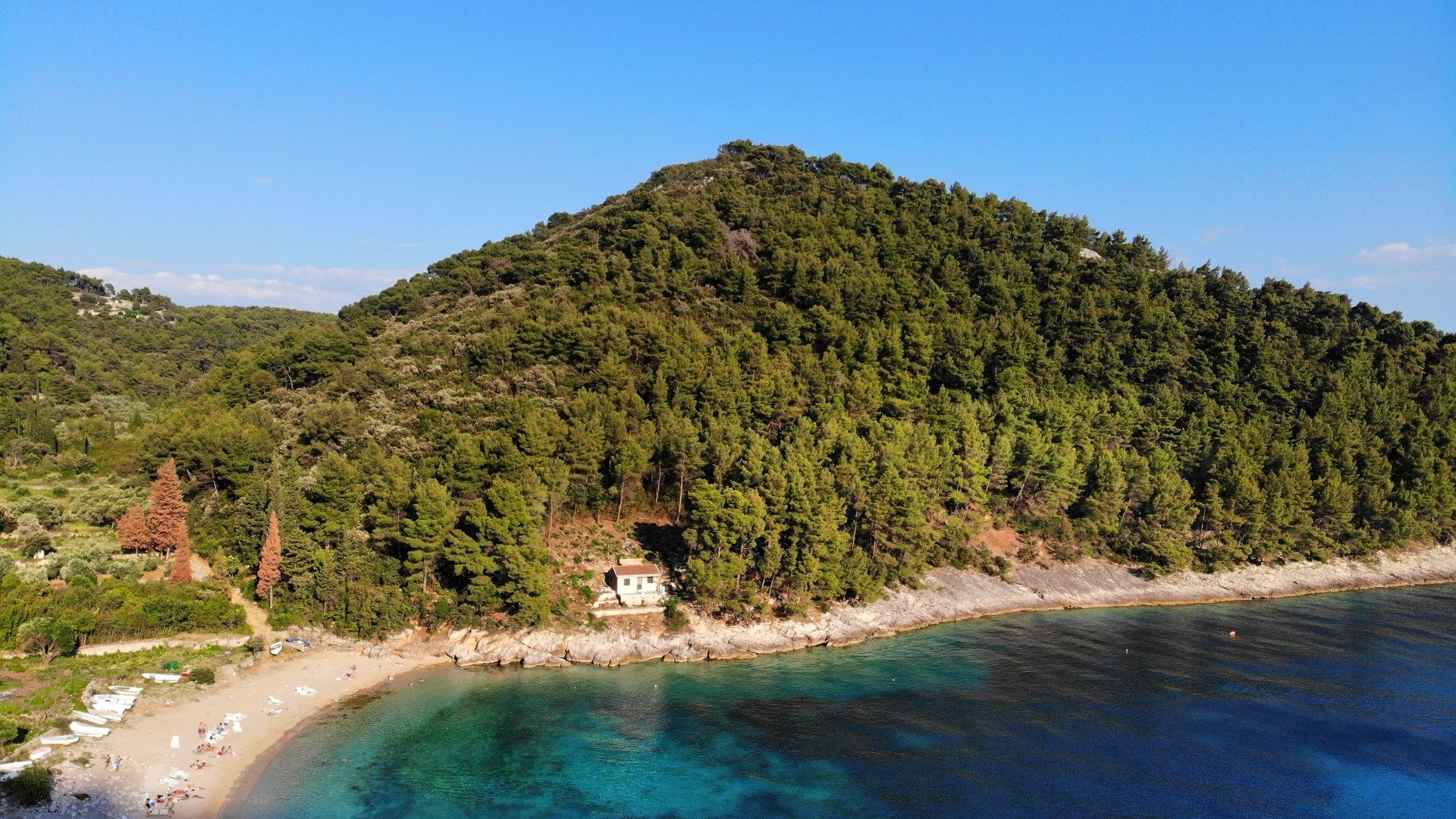 Zrnovska Banja
As it's quite close to Korcula Town, this can be a bit of a busier area, but it has nice pebbly beaches, and you'll have lovely views of the Peljesac Peninsula across the channel. It's about a 35-minute walk or 10-minute drive from town. As such, it's a great candidate for reaching by bike. There are a few spots to grab a meal and also a beach bar where you can rent sun beds or cabanas, enjoy music, and have some drinks. For something a bit fancier this is the place. There is also the possibility of renting paddle boards.
Vela Luka
Vela Luka (Croatian for Big Harbor) is at the opposite end of Korčula Island to the main town. This is where the car ferries from Split dock. The drive takes around 40 minutes by car.
Although there are many beaches around the town of Vela Luka – from pebbly or rocky ones to some in secluded bays and others with facilities – one of the attractions is for sure the islet of Proizd. Reachable by taxi boat service from Vela Luka, this is also an Instagram spot – white beaches, turquoise sea, a small paradise. You can also enjoy views of Hvar Island. There is a restaurant where you can have a meal and a drink there.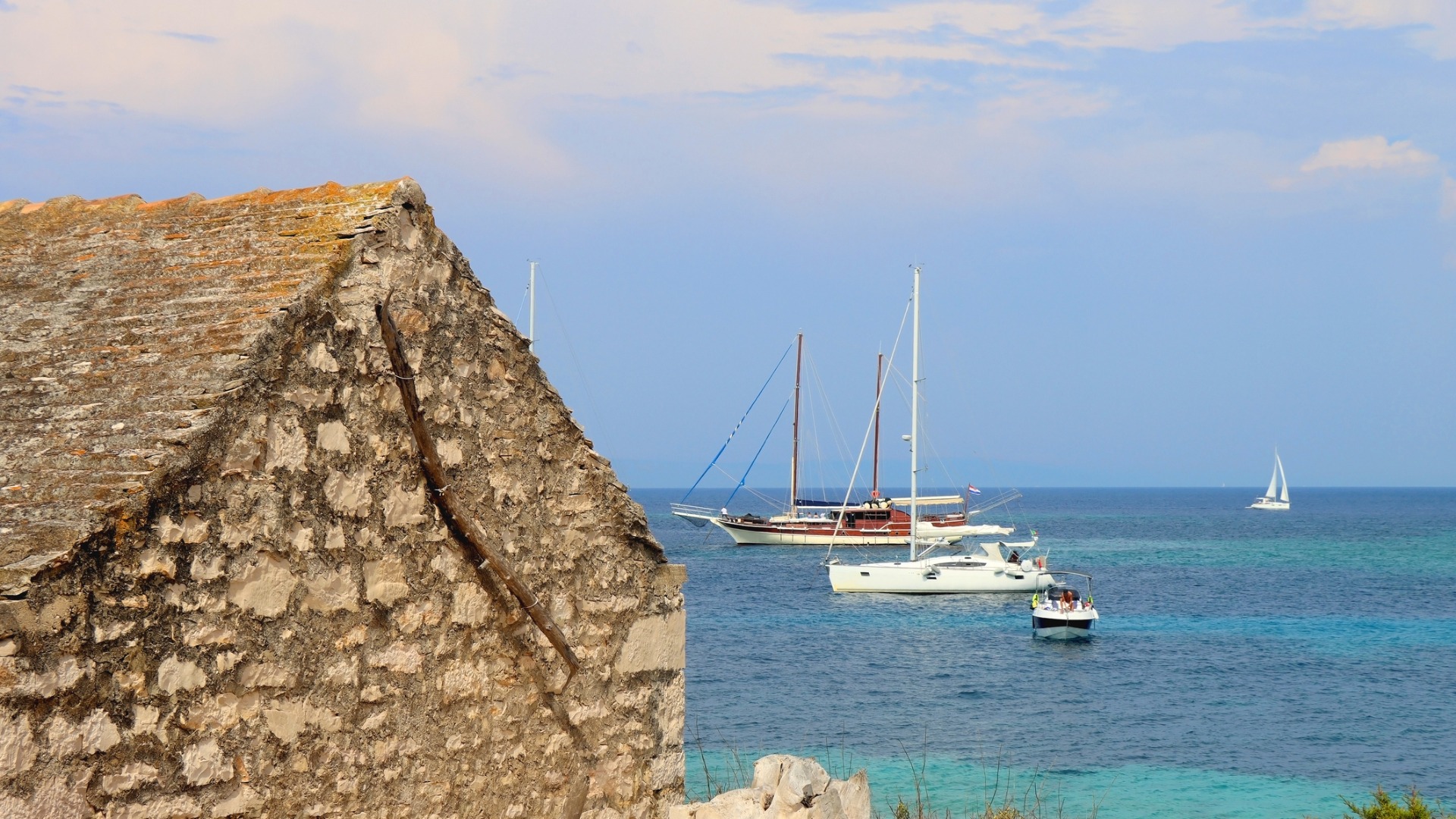 Are you considering a trip to Croatia to check out the best beaches in Korcula? We'd love to put together a customized Croatia itinerary just for you. Get in touch to find out more!

Ivana came to JayWay with plenty of experience in tourism, alongside a degree in Tourism and Marketing. Although she worked with several big British tour operators over the years, Ivana found that working with big group tours wasn't for her, since she preferred to get to know the people she was working for, and devote time to them, so JayWay was a perfect fit. Ivana naturally loves to travel, and is a big foodie, but she especially loves to read a good book, and enjoy excellent Croatian wine.